On the main island of Okinawa, there is a chain restaurant called "Ishigufu" which serves Okinawa soba. I've been hooked on the taste of "Buckwheat Noodles" here since I ate it years ago and have been there many times.
This time I visited for the first time in several years, and there were places where the location of the shop changed from before, and the menu was different depending on the shop, so I couldn't eat the Shirokoku soba I was looking for. …。 But the taste is still good! I would like to make a food report of Okinawa soba which is highly recommended "Ishigufu".
Access to Ishigufu Port Town Shop and Parking
Currently, there are 7 "Ishigufu" on the main island of Okinawa. This time I visited "Minatomachi restaurant" at the Shinko Wharf of Naha Port.
This place is very far from the monorail station (Yui rail), so you can't get there unless you drive. However, some chain stores of Ishigufu are within walking distance from the monorail station, so you don't have to rent a car, so you can go there. → Information of stores on HP.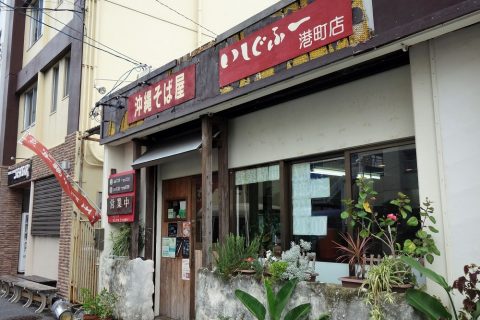 The Minato-machi Restaurant is open 7: 30 ~ 15: 30 and 17: 30 ~ 21: 00 (Closed on Mondays). You need to be careful because the business hours vary greatly depending on the store.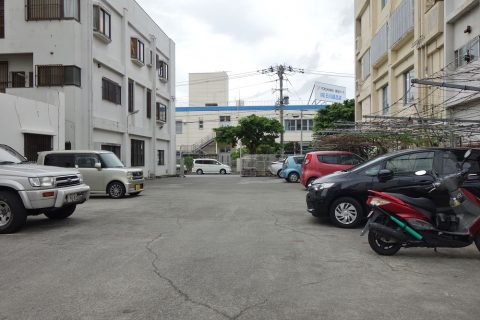 Also, there is a parking lot next to the store, which is large enough to park about 15 cars.
Menu varies by store
The restaurant has 5 counter seats, 3 tables for 4 ~ 5 people and 1 table for 2 people. At that time, there were only a few customers since it was around 13: 30, but you might have to wait during peak hours.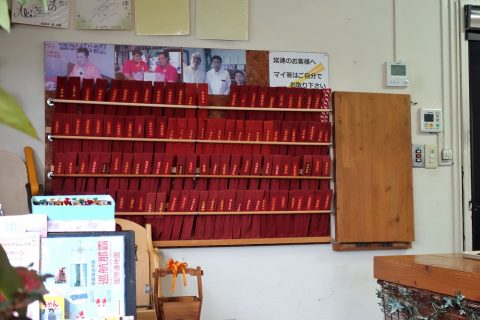 When I looked inside the store, there was something like "My chopsticks". When I counted, there were 107 pairs of chopsticks in total. Is Kosugi from Black Mayonnaise also a regular customer?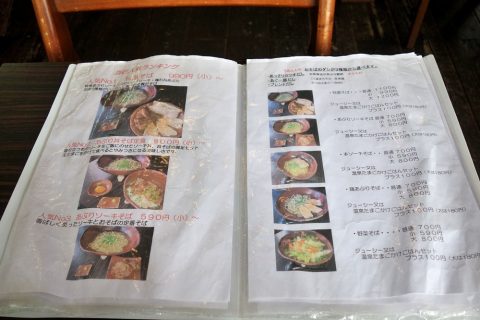 The basic menu at this Minato-machi restaurant has 5 types of soba depending on the ingredients, and you can choose from 3 dashi and 3 sizes (Medium, Small, Large). Ishigufu has different menus depending on the restaurant, and the "Buckwheat Noodles" that I ate before and liked is not available at this restaurant.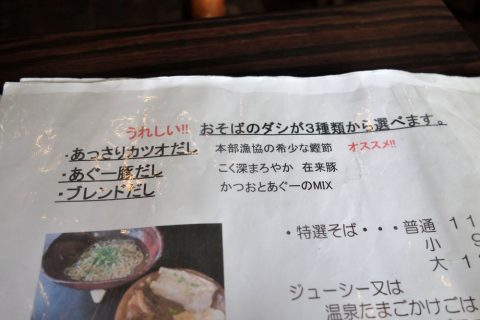 You can choose from 3 types of soba broth, "Light bonito soup stock", "Agu pork soup" and "Blended dashi stock". When I told the staff that I wanted to eat "Buckwheat Noodles" they recommended "Agu pork soup" which is said to be close to that.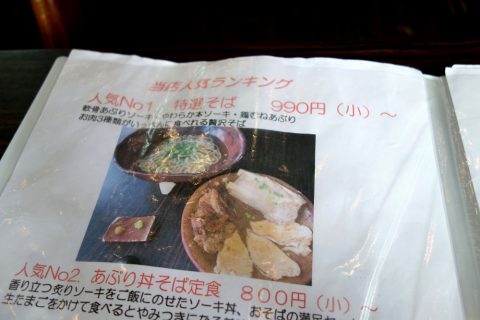 Select "Specially Selected Soba Noodles" for soba. It is a luxurious menu that you can try 3 types of meat, "Broiled gristle soki", "Tender Soki" and "Broiled Chicken Breast" aside from soba. It costs 1,100 yen for a regular portion, but it is cheaper than eating it in Tokyo.
Delicious! Agu pork soup special soba noodles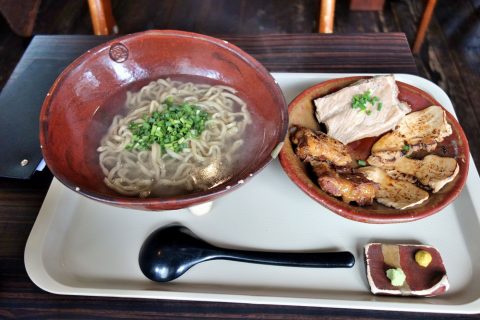 Here is the "Specially Selected Soba Noodles" that was brought in 5 minutes after I ordered! The 3 kinds of meat that are the ingredients for soba are not in the soba from the beginning and are served on a separate plate. Please eat each meat with mustard or wasabi as you like.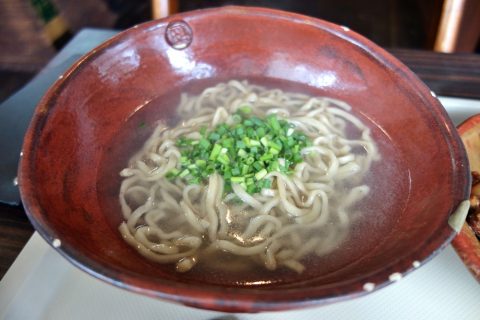 This slightly cloudy soup! This is the characteristic of "Ishigufu". The Shirokoku soba I had before was even whiter than this, but it reminds me of that.
It is light yet has a rich and deep taste, and the soba of "Ishigufu" is delicious whenever you eat it! It goes well with green onions and the noodles are firm.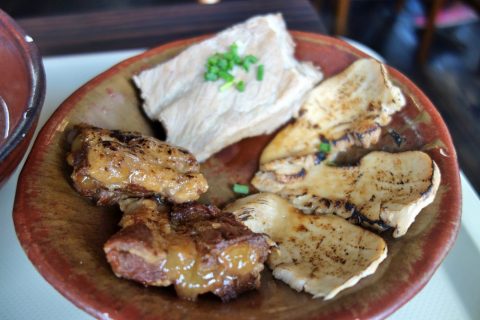 And all three kinds of meat are thick! "Broiled gristle soki" and "Broiled Chicken Breast" are fragrant and good! These 2 go well with wasabi and "Tender Soki" with mustard.
Highly recommended Okinawa Soba restaurant!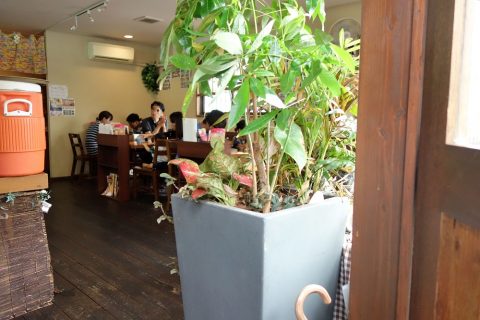 There is no big difference in the taste of Okinawan soba such as Okinawan soba of the main island of Okinawa or Miyako soba of Miyakojima in any restaurant, but this "Ishigufu" is exceptional! I could not eat "Buckwheat Noodles" this time, but the delicious soba was still there.
However, as stated above, the menu of "Ishigufu" differs from store to store, and it is not written on the website which store has what menu, so I would like them to improve the points that I cannot know until I actually go there. I will go to another store next time.
♪Click here for a List of articles on "Okinawa Main Island"