Dubai in the UAE has developed transportation systems such as the Dubai Metro (Railroads) and buses. This time, I would like to introduce in detail how to use IC tickets "Nol Card", where to buy them, and the fare, and also the route map that I used conveniently.
Dubai Route Map
There are 3 types of transportation in Dubai, UAE: railroad (Dubai Metro), bus and tram.
Dubai Metro has two routes, the Red Line and the Green Line, but it covers everything from the airport to the Old City, to downtown Burj Khalifa and the Marina area, so if you just want to visit the main tourist spots, Dubai Metro should be enough.
The only time I took a fixed route bus on this trip was when I went to Jumeirah Mosque, which is far from the station.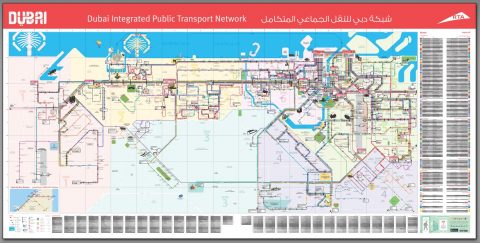 Regarding route MAP, I used this (DL is here → dubai-metro-bus-map). This MAP can be downloaded from the page of Dubai Bus .com, but it is useful because it contains not only Dubai Metro but also detailed numbers and routes of route buses.
However, there is 6 MB of data, so be careful when downloading.
Fares are by zone.
The fare for the Dubai Metro Bus Tram is the same regardless of the mode of transportation, as it is a zone ticket.
There are mainly 3 kinds of fares, and the fare differs depending on the usage of 1 zone, 2 zones and 3 zones.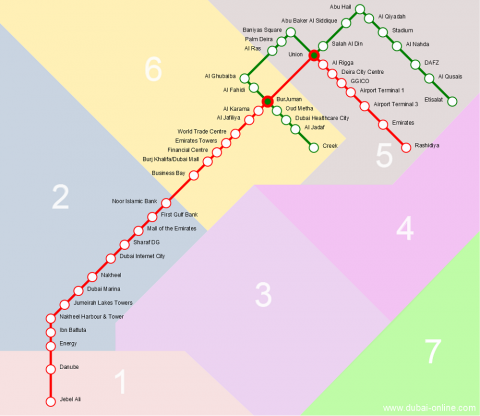 Dubai is divided into seven zones: ZONE 5 for the old city with the airport and souk, ZONE 6 for downtown Burj Khalifa, and ZONE 2 for the marina area.
Within the same zone, transfer to a different mode of transportation (For example, metro → bus) does not incur additional charges (However, limited to transit within 30 minutes).
Nol card required! Ticket Type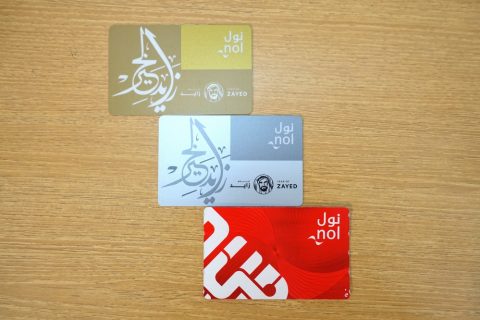 All tickets for the Dubai Metro Bus Tram are IC cards called "Nol Card" and can be used either by charging a certain amount like Suica or by charging the fare for each ride (Click here for the Nol Card website.).
Unlike Japanese railways, there are no paper tickets to be thrown away at once, and you cannot use cash to get on buses.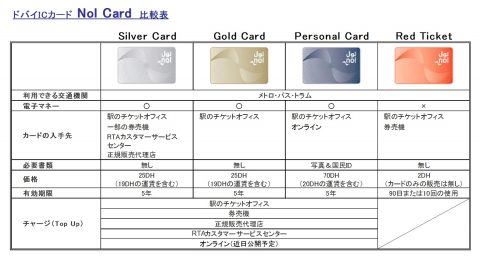 There are four types of Nol cards depending on the purpose of use. The Personal Card is designed for local residents and long-term residents, so travelers will use Silver, Gold, and Red.
Silver and Gold are plastic IC cards that can be used in much the same way as Japan's Suica. First, you buy a card with 25 DH (You can use 6DH as the card fee and 19 DH as the fare.), and charge the necessary amount (Top Up).
The charge is up to 5000 DH and the card is valid for 5 years.
The difference between Silver Card and Gold Card is the usage class. Dubai Metro and trams have regular vehicles (Silver Class) as well as special vehicles (Gold Class) with higher fares, and Gold Cards are used for these vehicles.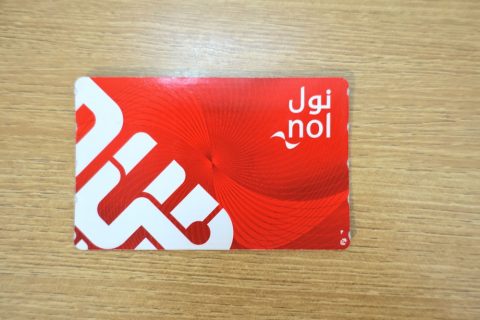 Red Ticket, on the other hand, is a paper ticket. Unlike Silver Card and Gold Card, you need to buy a ticket at a ticket machine or a ticket window for each ride.
The card price is 2DH, but you cannot buy only a card. When you purchase a ticket for the first time, a red ticket with "Fares and card fees for the usage section" is issued, and you can save the card fee (2DH) by reusing the red ticket after the second time (Use up to 10 times).
Fare table for each Nol Card
The fare for each Nol Card is shown in the table below. Gold Class is twice as expensive as Silver Class, and Red Ticket is more expensive than Silver Card or Gold Card.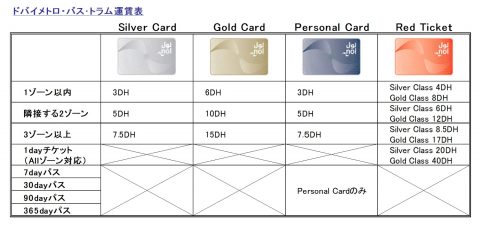 If you use it many times a day, the 1dya ticket, which gives you unlimited rides in all zones, is a good deal, but it doesn't support both Silver and Gold cards, and you can only purchase Red Ticket. Also, the 7 dya- 365 day pass only supports Personal Cards, so basically travelers cannot buy it.
If you use a bus without gold class, the fare will be the same as silver card even with gold card.
Tickets can be purchased at the ticket office and credit cards can be used!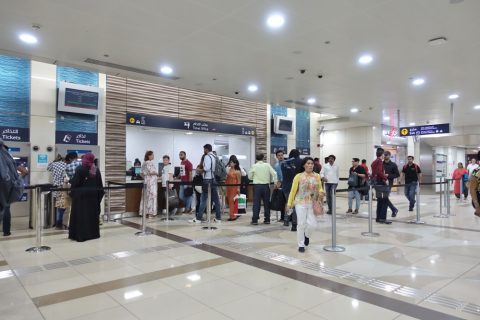 You can purchase Nol Card tickets at the ticket office at the Dubai Metro station. I understand English, so there was no problem even if I ordered orally.
However, there is usually only one window at every station, so there is always a line! Especially at the Burj Khalifa/Dubai Mall station after evening, you have to wait for a long time, so it is better to use it during the daytime when it is not crowded.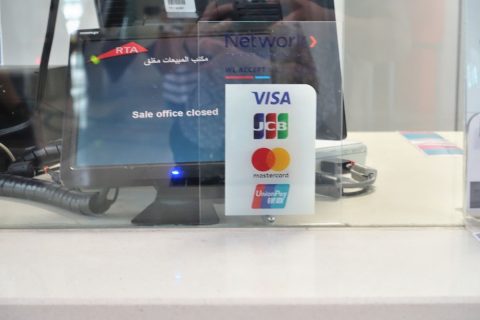 You can pay by credit card. You just need to enter your PIN, so it's easy! The receipt will be issued, so you don't have to worry.
Can't I use my credit card with the vending machine?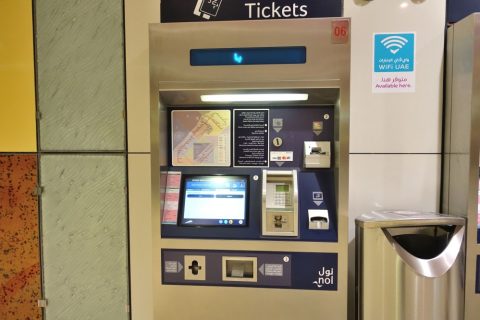 You can also use the ticket-vending machine for top-up or Red Ticket purchases. There is no congestion like the window, but there is only one place in some stations, and there is often a line.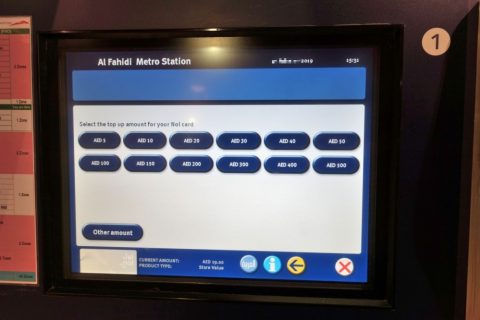 The ticket machine is easy because it can display in English and there are no difficult words. Select a usage class or ticket type.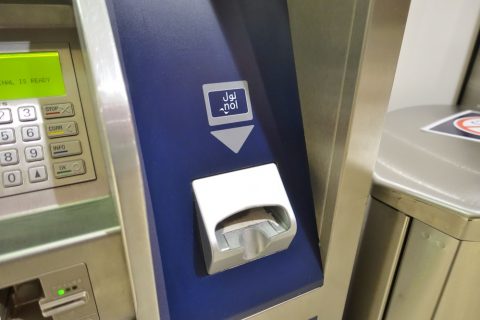 To charge (Top Up) with a Silver or Gold card, first load the Nol card into the reader. The minimum charge is 5DH.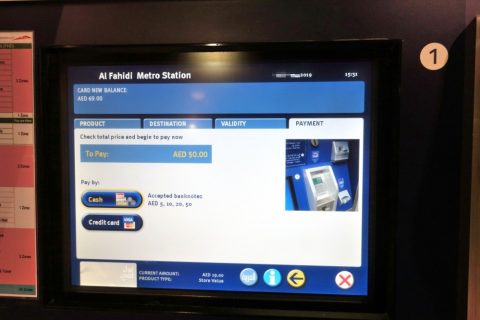 You should be able to use your credit card for payment, but unfortunately all my VISA and Master cards have been stolen. It doesn't seem to accept Japanese credit cards.
Plus, it only accepts small bills and coins, and bills can only use up to 50 DH (20 DH or less in some stations), so it's the worst! The most reliable way to purchase a ticket is to use the ticket window.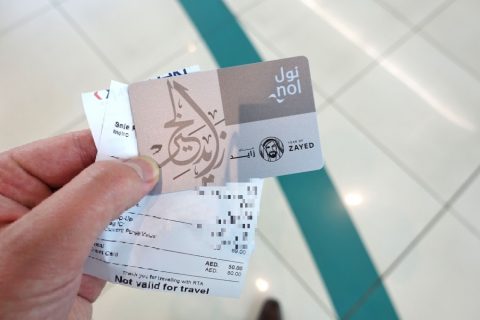 So, I got Nol Card safely! Next time, I will tell you about how to get on and on the Dubai Metro.→Complete dissection of Dubai Metro! How to get on and the equipment in the car/Is the cost performance of gold class bad?
♪Click here for a List of articles on "Dubai"