One of the world heritage sites in Kyoto, it is famous as the head temple of Omuro school of Shingon sect "Ninna-ji Temple". The temple grounds are dotted with national treasures and important cultural properties, and is also known as a spot for Omuro-zakura "Omuro Flower Festival".
This time it was just around the same time, so I visited for cherry blossoms! I would like to report on the state of blooming in early April, the state of the precincts and the highlights.
Access is by Keifuku Electric Railroad
This is the location of Ninna-ji Temple. It is located in the northern part of Kyoto City, close to Ryoanji Temple and Kinkakuji Temple.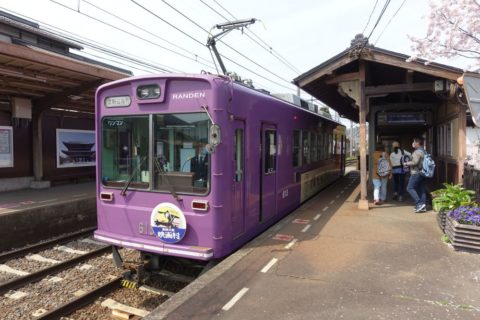 The Keifuku Electric Railroad is convenient to access Ninnaji Temple! This time I went from Arashiyama, but after changing trains along the way "Katabiranotsuji Station", it takes 15 minutes and is very close to the nearest "Omuro Ninnaji Temple" station.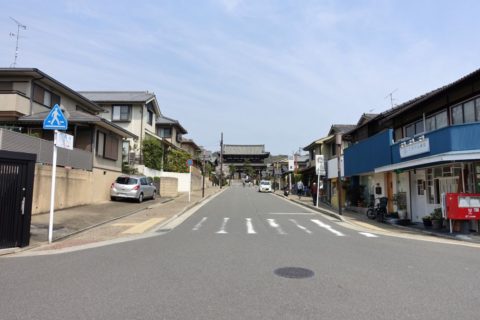 The "Nio-mon Gate" of Ninna-ji Temple can be seen from the ticket gate of Omuro-Ninna-ji Station. There are some cafes where you can have a meal on the way to Sando.
Admission fees vary by season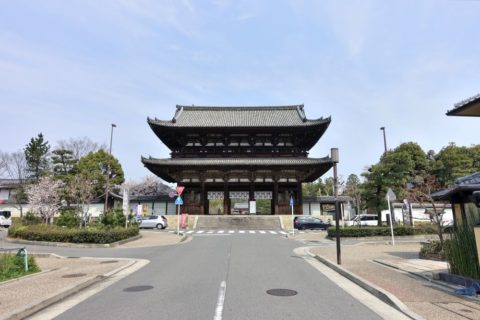 The main entrance of Ninna-ji Temple is the Nio-mon Gate, which is designated as an important cultural property of this country. It has quite a historical appearance.
Ninna-ji Temple was built in 888 and burned down in the Onin War that broke out in 1467, but since it was rebuilt in 1646 years ago, it is said that there are still many buildings that have survived from the Edo period.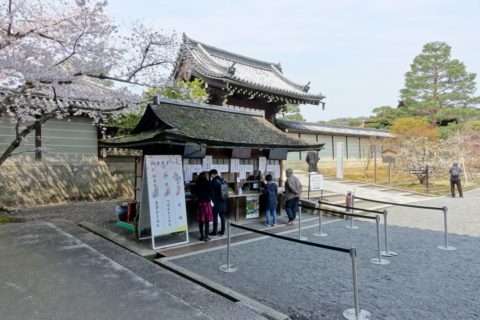 There is a ticket booth on the left side of the Nio-mon Gate, where you can buy tickets. Admission to the grounds is free, but entry to "Goten" and "Reihokan Museum" costs 500 yen each.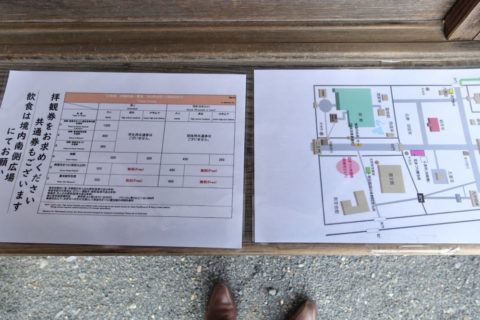 However, as it was during the spring "Omuro Flower Festival" season, a special admission fee of 500 yen was charged even to the normally free precincts …
Instead, you will get a 200 yen discount if you buy a set of "Goten" or "Reihokan Museum", 800 yen if you buy a set of one ticket and enter the precincts, and 1,300 yen if you buy both tickets.
You can enjoy the feeling of a period drama "Goten"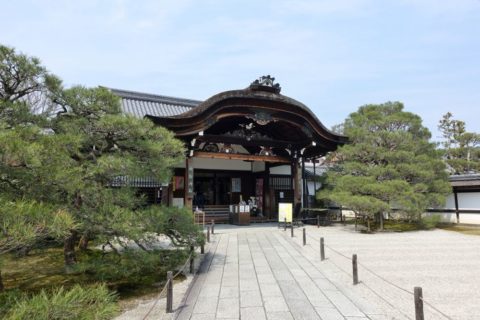 The temple grounds are dotted with a variety of cultural properties, but my personal favorite is the (West) to the left of the Nio-mon "Goten". It is also called "Omuro-gosho" because it is located where the Imperial Palace of Emperor Uda (887 ~ 897) used to be.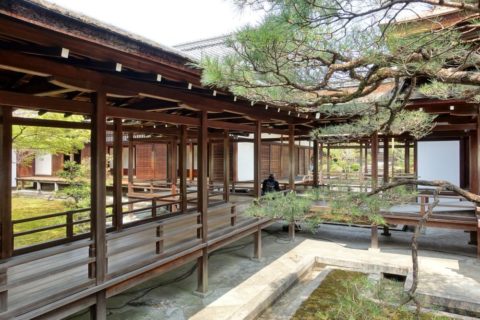 The inside of the palace is made up of many buildings such as "Kuroshoin" and "Reimei-den Hall", and there are many connecting corridors, and it has a very nice atmosphere with the atmosphere that makes you feel like you are in a period drama!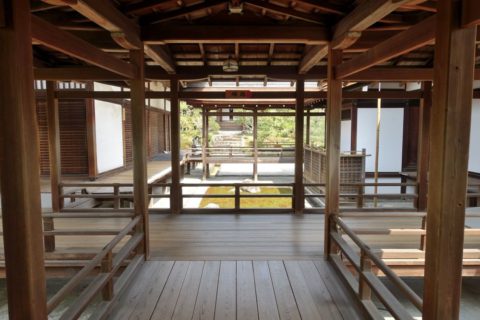 In this palace, the route is fixed, but there are places that loop, so you can actually visit freely. There are Japanese style rooms decorated with flower arrangement and veranda facing the garden, so you can fully enjoy the ancient Japanese "Wa".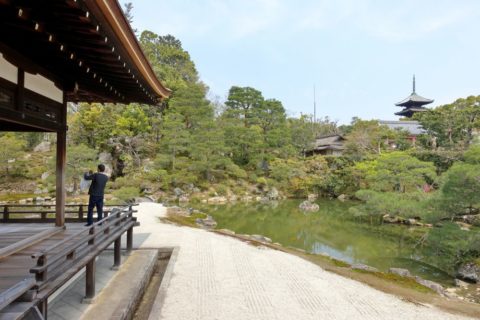 The garden, which is said to have been built in the Edo period, is designated as a scenic beauty by Kyoto City, and has a nice view with a five-storied pagoda in the back! Some people sat on the veranda and kept looking at this garden.
There are many important cultural properties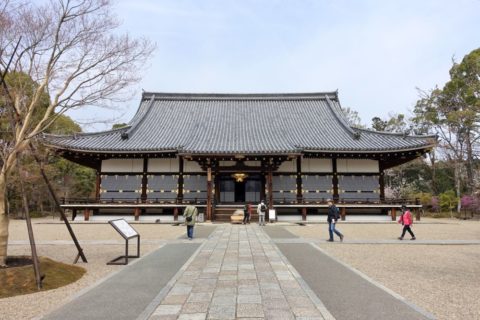 In addition to the palace, various cultural properties are built in the precincts, and there are many national treasures and important cultural properties! The most important of these is the "Kondo" designated as a national treasure. This was built in 1613, and it is said that a statue to be worshipped as a principal image is enshrined in it.
The inside is not open to the public, but "Statue of Amida Nyorai" was specially designated as gokaicho at that time. However, they only open the sliding door a little, so I can hardly see them …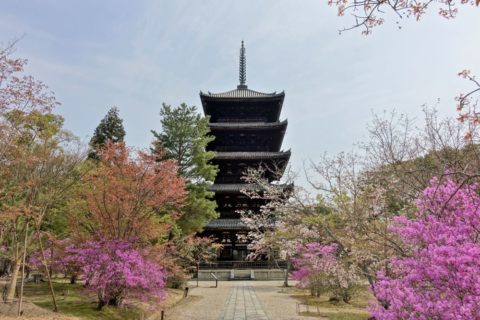 The tallest building in Ninna-ji Temple is the "Gojunoto". It was built in 1644 and is said to be 36 meters high, and within it, Dainichi Nyorai (Mahavairocana) and others are enshrined.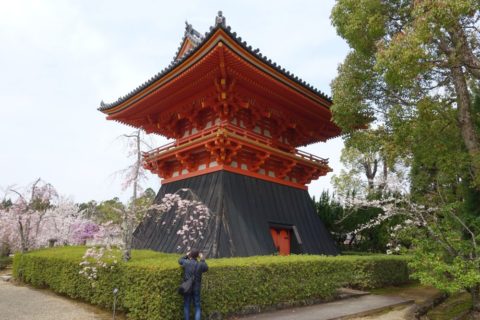 The vermilion building that stands out in the grounds is the "Belfry". This is also a national important cultural property, built in a rather unusual architectural style called Hakamagoshi style.
The feature is that the area of the base is unusually large. It is very rare as a bell tower built in the Edo period.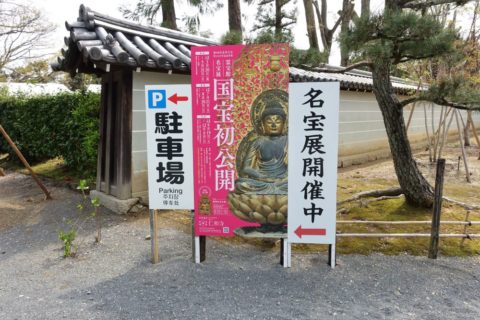 Also, I did not visit this time, but the seated statue of Amida Nyorai and the seated statue of Aizen Myoo which are designated as national important cultural properties are expected to go to Reiho-kan. There are planned exhibitions, so if you are interested, you should check the website.
It's a little late to see "Omurozakura"
By the way, Ninna-ji Temple is also known for its "Omurozakura" which is one of Kyoto's' cherry blossom 'spots, but when I visited it at the beginning of April, unfortunately it didn't bloom and most of them were buds.
It is said that Omurozakura is "late-blooming cherry tree" and the best time to see it is around mid to late April every year. When Someiyoshino is in full bloom, it is still far from the best time to see it.
However, the Someiyoshino trees planted throughout the precincts are already in full bloom, and I was able to take pictures of the collaboration with the temple! The dark pink "Omuro Tsutsuji" was also at its best, and it was pretty beautiful.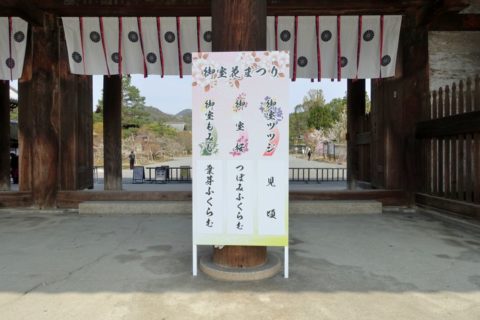 The cherry blossoms' blooming status is posted at Nio-mon, so you can check it before entering.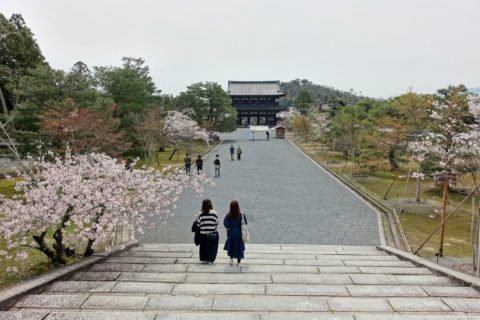 "Ninna-ji Temple" is one of the World Heritage Sites in Kyoto. I felt it was a very good place to fully experience the ancient history of Japan! The entrance fee is rather expensive, but if you want to enjoy the atmosphere of a period drama, please try it!
Ninna-ji Temple
Address: 33 Omuro Ouchi, Ukyo Ward, Kyoto City
Opening hours: 9:00 ~ 16:30 (From December to February until 16: 00)
Click here for the website
The list of articles about sightseeing in Kyoto is here → "Kyoto"