There are many nostalgic eateries that make you feel "Showa" in Okinawa, and this time I visited "Mikasa" which is a restaurant open 24 hours. I would like to make a food report at a cheap restaurant "Mikasa" where you can eat Okinawan soba and set meals for around 600 yen and various Okinawan dishes.
Oshokujidokoro "Mikasa" Kume
The cheap restaurant "Mikasa" I visited this time is close to "Naha West Inn" where I stayed. It is about an 8 minute walk from Asahibashi Station on the monorail (Yui rail).
I searched about Mikasa and found that there is another shop (Matsuyama) near Kenchomae station besides this shop. Kenchomae is the next station, so it takes about 10 minutes on foot from here.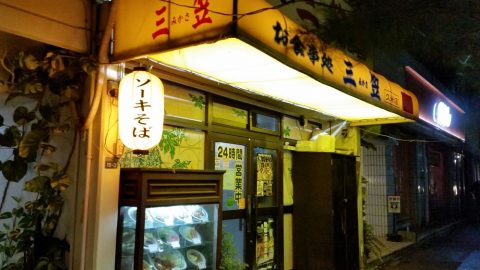 Mikasa is marked by its yellow eaves. "Open 24 hours" also has reliable characters! It's like a cheap restaurant, and it's nice that it has a sophisticated atmosphere.
Menu and ticket vending machine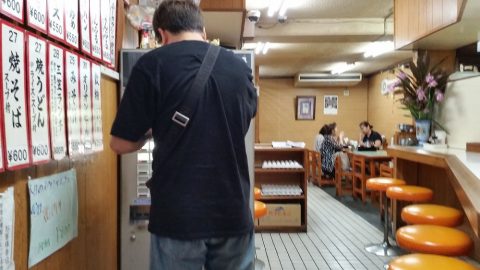 There is a ticket machine inside. The store continues for a long time in the back, and there are about 10 counter seats in the front, and the table seats in the back can accommodate about 20 people.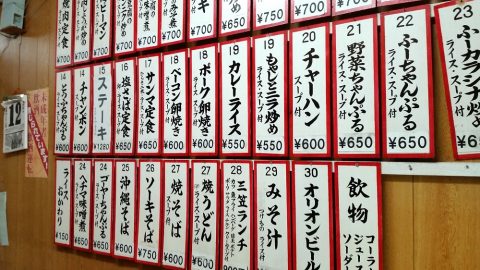 If you take a look at the menu, you can see the Okinawan menu such as "Soki soba noodles" and "Champuru", as well as the standard menu such as "Other Meals and Menus" and "curry rice". Most of them are priced between 600 yen and 700 yen.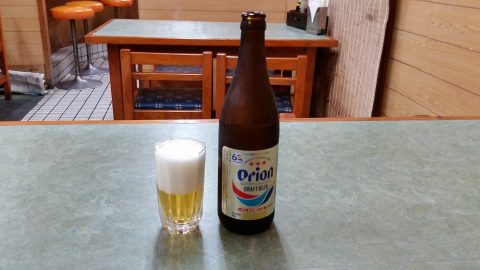 Orion beer is the only alcohol. It looks like a cheap restaurant that comes out in a bottle. It would be great if I could have a glass of beer that costs 600 yen for one bottle, or 300 yen if possible, but it can't be helped.
Thick "Okinawa Soba 600 yen" noodles are delicious!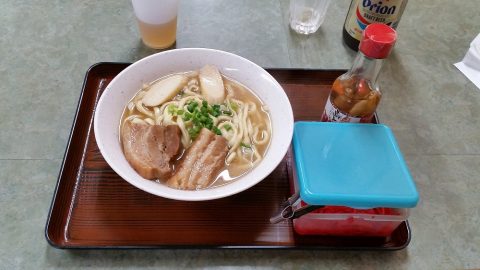 You might think, "Okinawa soba again!" but I'd like to try the flavors of various restaurants. The Okinawa soba that was served less than 10 minutes after I ordered was served with curry goose and red pickled ginger on a tray.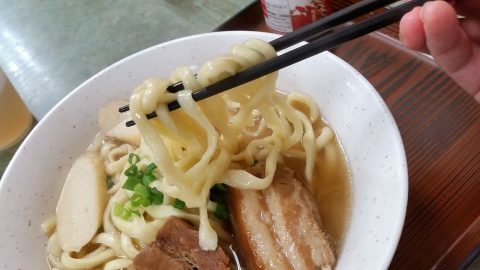 The noodles are quite thick! It is now an area of "Udon noodles". It may be the thickest Okinawa soba I've ever had. It is a curly noodle and the soup mixes well, and the taste comes through.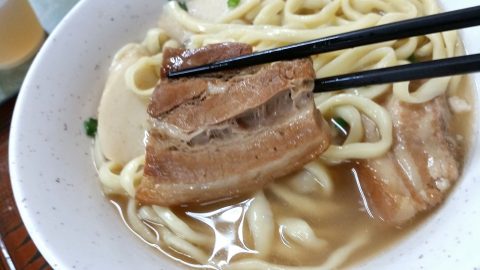 And the trot is soft 3 pieces of meat! This is quite delicious Okinawa soba with chewy noodles.
Add red pickled ginger if you'd like.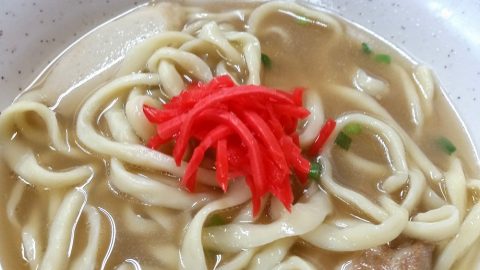 I will add the red pickled ginger that was brought with me here. As I mentioned in the article about the taste of Okinawa Soba at 750 yen in Naha Airport/Arrival Lobby "Ryūfu", the combination of Okinawa Soba and red pickled ginger is surprisingly good! Add a small amount to accentuate the taste. I recommend adding it in the middle to freshen your mouth after thoroughly checking the taste of the soba!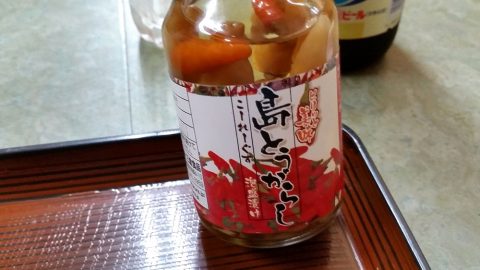 I also tried another one, Koregusu (Island Togarashi pepper). In Okinawa, you can find coffee goose in any shop. It has a unique taste of vinegar, awamori, and red pepper. It's very spicy, and I think many people don't like it.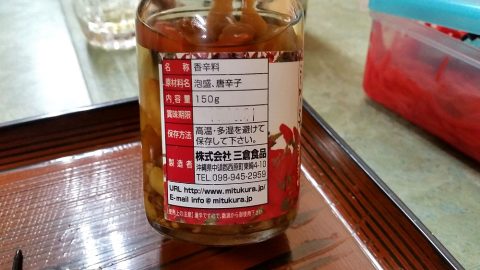 But this coffee goose doesn't have the smell of awamori or the sourness of vinegar, so it's a wonder that the taste doesn't fight and only the spiciness increases. Does the date after opening have anything to do with it? Unfortunately, the best-before date has expired and I cannot read it …
24 hour snack bar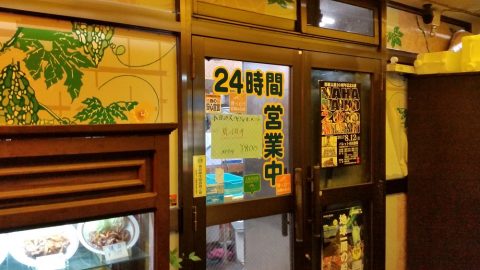 I had Okinawa soba at a cheap restaurant "Mikasa", and it was quite delicious! Each set meal costs around 600 yen, so it's amazing that they are open 24 hours!
It's close to Kokusai-douri St., so it's good to visit after a drinking party or a night out. Are there many hotels within walking distance from here? Next time, I would like to visit another store (Matsuyama).
♪Click here for a List of articles on "Okinawa Main Island"