After arriving at Naha Airport by JAL from Haneda, I dropped by the Okinawa Soba shop "Ryūfu" in the arrival lobby. It was a small restaurant, but it was not crowded, so I could have a meal calmly, but the price was a little high as it was at an airport. I would like to report on the taste.
As soon as you get out of the Naha Airport arrival lobby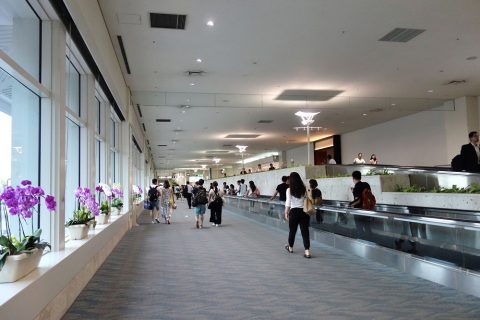 In the arrival lobby of Naha Airport, there is a "Ryūfu" for this food report. When you arrive at Naha from various directions, go straight to the exit.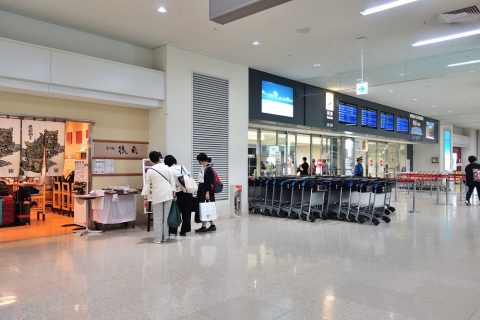 When you exit the restricted area through the baggage claim area, "Soba-dokoro Ryufu" is on the right. It is not too much to say that it is the first place to eat Okinawa soba after arriving in Naha.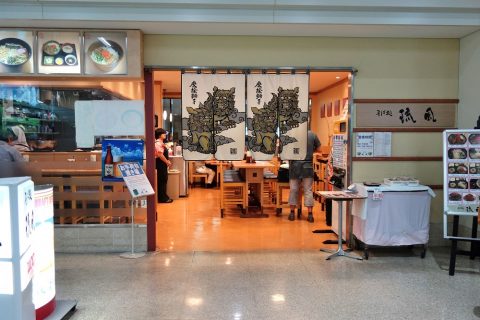 There is a "baggage room" in front of the store, so you have to leave your large suitcase here and go into the store, but I'm a bit worried about it being stolen or lost …。 In the first place, it might be possible to leave your luggage in front of the store in the airport because it's Japan.
"Ryūfu" Menus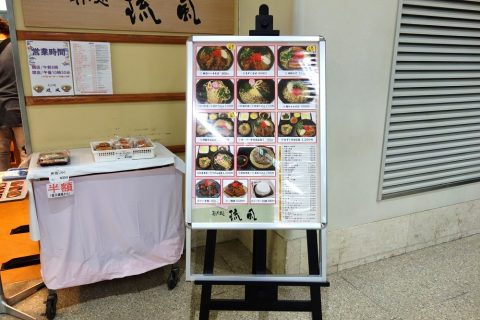 Let's take a look at the menu list at the store! The Ryu-style menu consists of a la carte soba, set meals, side dishes, and drinks. Soba is served with the standard "Buckwheat Noodles" "Okinawa soba noodles", as well as "Buckwheat Noodles served on a Bamboo Strainer" and "Udon noodles".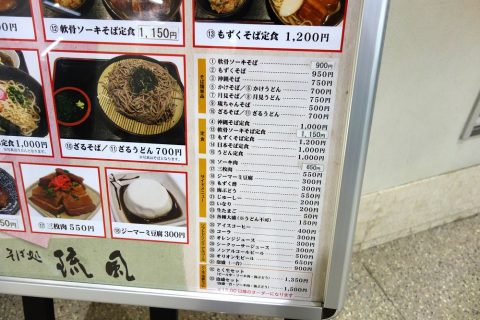 It seems that when rice and pickles are added to these soba and udon, it becomes "set meal" but both are expensive. Especially, 900 yen for soki soba is a very aggressive price setting.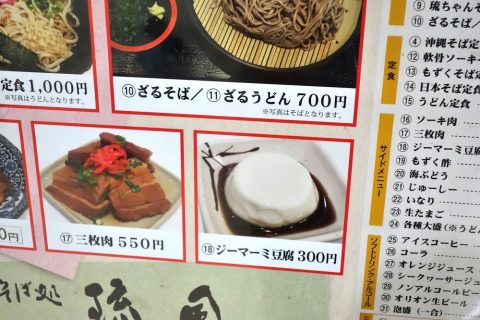 There are standard Okinawan dishes such as "Vinegared Mozuku Seaweed" and "Sea grapes" on the side menu, so you can feel Okinawa just here. However, if you want to eat Okinawa soba "It is cheap and delicious.", you might want to go out into the town.
buy a meal ticket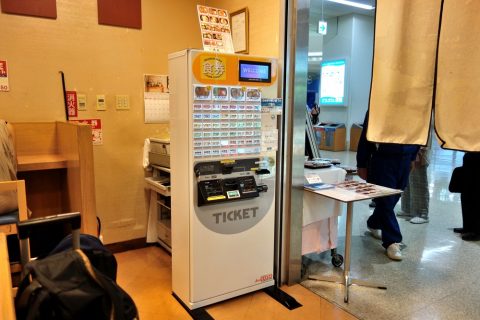 When you enter the restaurant, the ticket vending machine is right next to it. It's a system where you buy a meal ticket, sit down, give it to the staff and order. There is only one ticket vending machine, so you should decide what to order in advance on the menu at the store.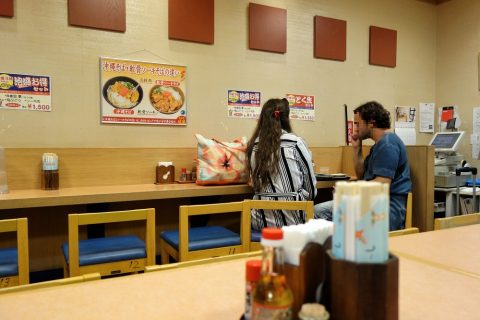 This is a small restaurant with 2 table seats for 4 people and around 20 counter seats. There were only a few guests around 18 o'clock in the evening when I visited.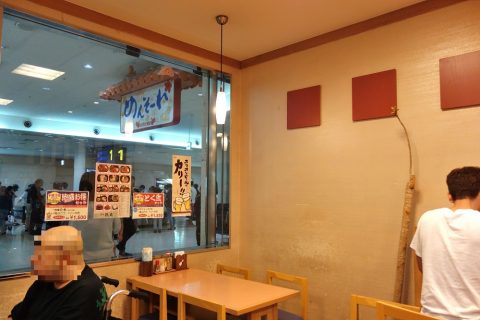 The back window faces the baggage claim area in the restricted area, so you might want to check the congestion situation of the store when you go to the exit from the arrival of the plane.
Okinawa Soba 750 yen, with red pickled ginger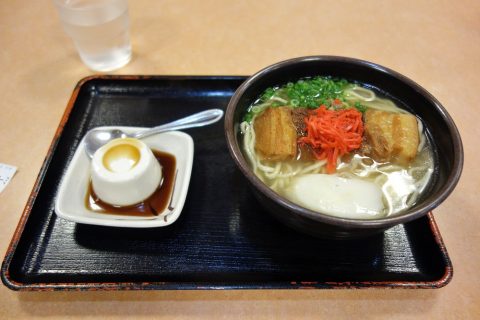 It came out in a minute! This time I would like to try "Okinawa soba noodles" for 750 yen and "Jimami tofu" for 300 yen.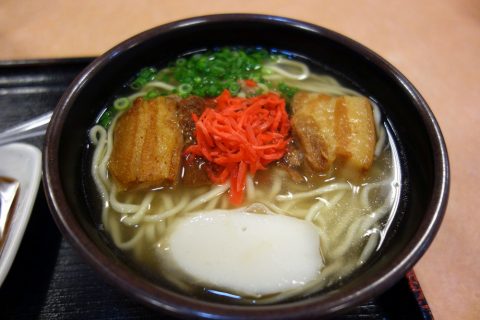 There is red pickled ginger in it, but they will ask if you can put it in when you order. I used to think that beni-shoga (red pickled ginger) is a bad way to eat soba, but it goes well with Okinawa soba unexpectedly, and recently I have found that this salty-sweet taste serves as an accent, so I sometimes add it.
The light soup with bonito flavor, soft pork belly, and the Okinawa soba is as delicious as it is in the town, but I don't feel that it is particularly attractive compared to other restaurants. In that sense, it may be less satisfying than restaurants in town where you can eat for around 500 yen.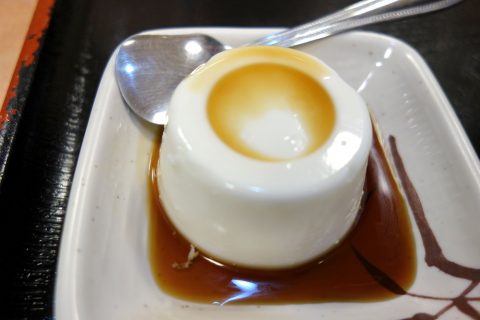 Next is Jimami tofu. This is a local cuisine of Nansei Islands using peanuts. Tofu itself has a flavor like white sesame and a sweet soy sauce-based sauce, but even if you eat tofu only, the milky aftertaste spreads in your mouth. As an accompaniment to soba, it was a good choice for refreshing the mouth.
Okinawa Soba Restaurant "Ryūfu"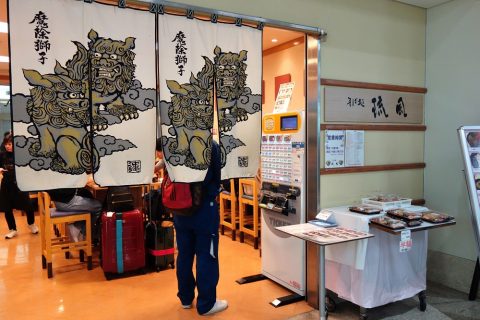 Located in the arrival lobby of Naha Airport, "Soba-dokoro Ryufu" is an Okinawa soba restaurant that you can drop by right after arriving in Naha. Since it is in the airport, the price is a little high, but you can easily enjoy the standard Okinawa soba and a la carte menu, and there is no problem with the taste. Also, it is not noisy like the restaurant in the departure lobby, so I think you can use it again when you eat at Naha Airport.
♪Click here for a List of articles on "Okinawa Main Island"