"Fujiya Zenzai" is famous for its unique Okinawa zenzai with shaved ice. The shop is in Naha city, but you can also eat at the shop in front of the gate of Naha Airport.
Zenzai in Okinawa is served with shaved ice, which is unique to an island of perpetual summer. By the way, it seems that the ordinary warm zenzai is called "hot spring" which is the same as the difference in the contents of "Oden" between Kanto and Kansai. This time, I would like to report the taste of Okinawa Zenzai.
Shop in front of departure gate "Coralway"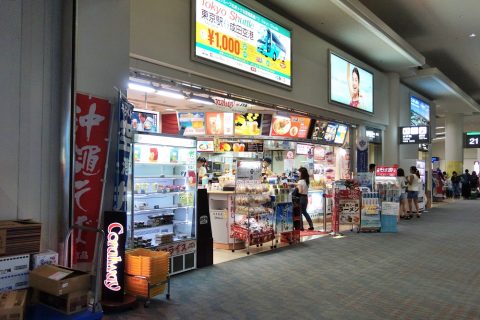 At Naha Airport, you can buy Fujiya Zenzai at the shop "Coralway" just before you go to the gate of JTA (JAL side). In addition to sweets, sweets and simple dishes such as "Soraben", there are also customized dishes such as Blue Seal Ice Cream and Okinawa Soba.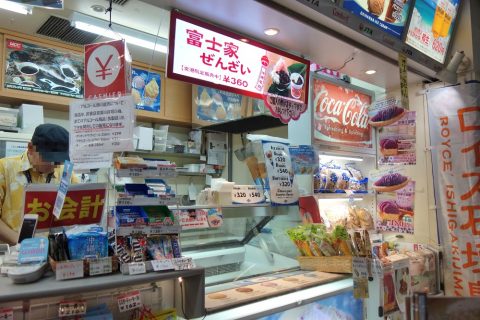 The large "Fujiya Zenzai" sign is the landmark. In the case of take-out, it seems to be served in a cup. When I ordered right away, they asked me, "Would you like to eat now?" and when I said yes, they heated me up in the microwave. Apparently, it's too hard when it's just out of the freezer, so if you want to eat it right away, defrost it a little before serving.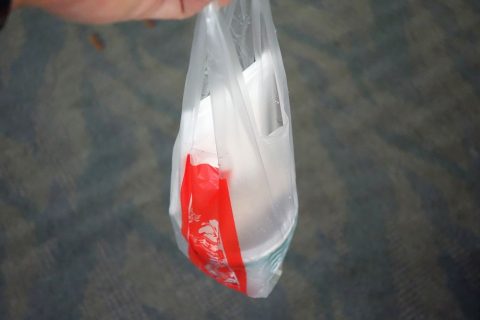 They put it in an easy-to-carry bag like this. When you bring it on an airplane, you should ask the staff to adjust the thawing condition by calculating the time you eat in the sky.
Enjoy with Awamori at Sakura Lounge.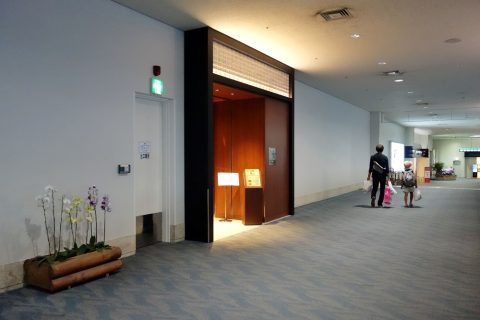 I have time until boarding this time, so I would like to have it at Sakura Lounge near here. The Sakura Lounge in Naha Airport was renovated and reopened this spring.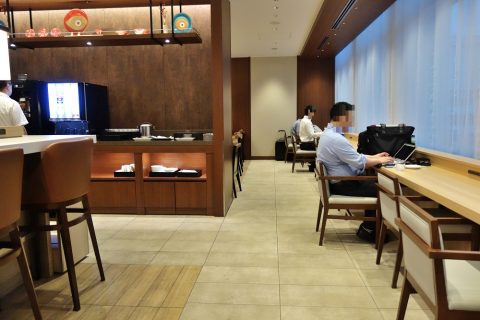 This lounge is quite small compared to Haneda Airport, and it is often full depending on the time. However, it was helpful because it was relatively empty, maybe because I just passed the peak of the departure flight.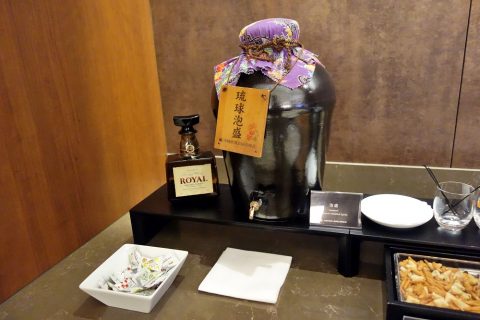 Speaking of Sakura Lounge in Naha Airport, this Awamori. I don't know what brand it is because it says "Ryukyu Awamori", but I liked the taste of Awamori even before the renewal.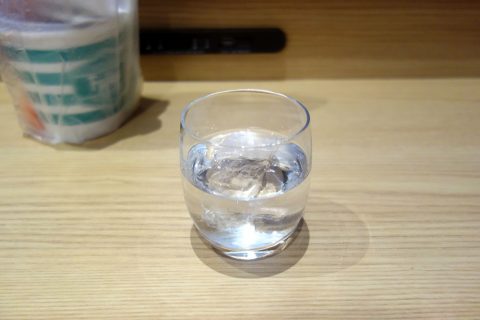 When I put it in my mouth, there was a lingering feeling in the back and a little strong insistence, and the Awamori of Sakura Lounge was delicious as usual! It has a peculiar taste, so it might not be suitable for beginners.
Unique sweetness and great volume!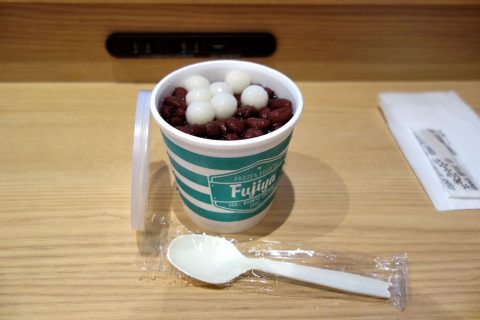 Now, the real title "Fujiya Zenzai" is here! Inside the heavy cup, there are rice flour dumplings and large beans! The aroma of the beans will float in the air.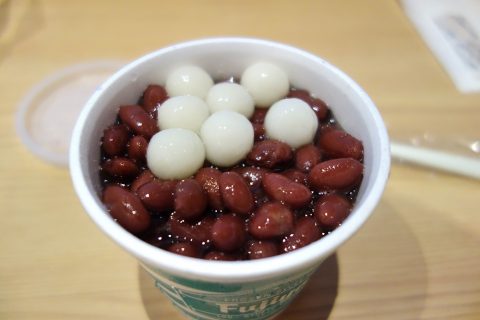 Not too sweet. However, I can feel the characteristic sweetness of Okinawa that is like brown sugar. It is different from Zenzai in Honshu represented by "Oshiruko" and it doesn't feel like eating general sweets.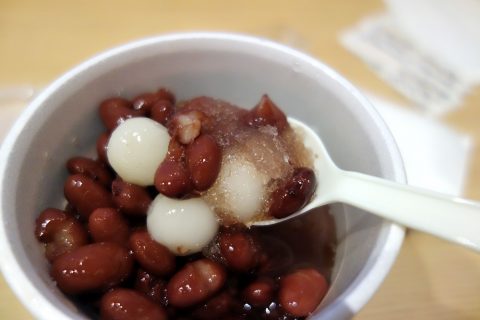 The large beans are crunchy! But the bottom 2/3 is filled with shaved ice. It's just the flavor of the beans, there's no extra seasoning, and the taste is pretty bland, so if you eat it at an altitude where your sense of taste gets blunted, it may not taste as well.
360 yen is definitely a bargain!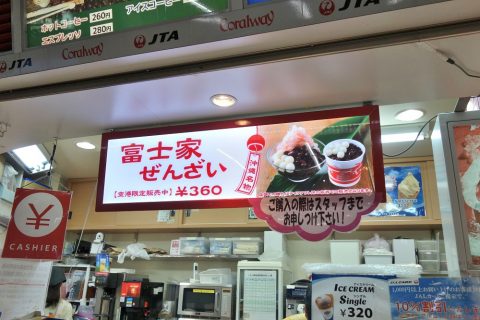 One of the local specialties of Okinawa "Fujiya Zenzai", the voluminous zenzai with large beans is filling! I think 360 yen for the aromatic beans and this volume is quite a bargain, but if you want the so-called "Sweets" that brings out the sweetness, you may be disappointed at the lack of punch.
If you go to Fujiya Zenzai's main store (Tomari Honten) in Naha city, you can eat milk Zenzai and Matcha Zenzai with condensed milk, so it might be good for those people. I would like to visit there next time.
♪Click here for a List of articles on "Okinawa Main Island"