In this issue, I would like to tell you about my concert at Musikverein on the day I arrived in Vienna, Austria. I myself have traveled to Vienna many times, but this is the first time I came in the summer season! Because of that, it was my first concert in summer, and I was surprised that the golden hall was full of plain clothes!
Here's what Musikverein's concert looks like.
※This article was written before the virus scandal. This will be updated.
Easy to buy tickets from HP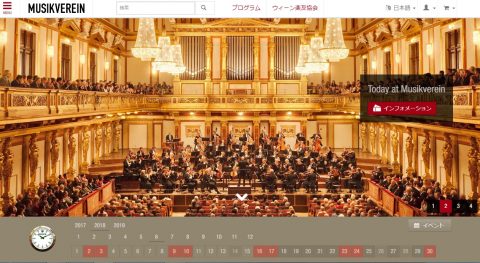 For this concert in Wiener Musikvein, I bought the ticket from the website of the hall. You can choose your seat in detail and you can pay by credit card in Japan.
The only way to get a regular concert of the Vienna Philharmonic Orchestra is to pay 60% or more of the full price of the orchestra, but it's easy to get tickets to the Golden Hall.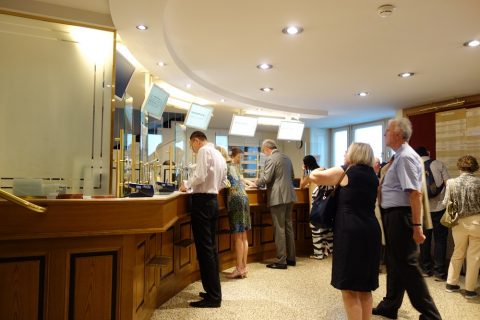 After the payment is made, the order number will be printed on a piece of paper, and on the day of the performance, it will be taken to Musikvein's ticket office and exchanged for a real ticket. The ticket office is located on the left side when you look at the front of Musikverein, but it is connected inside even if you enter from the front.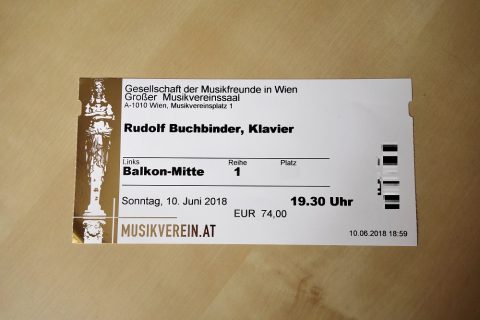 The ticket comes with a gold belt for a high class look! If you order this from another company, it will be a cheaper paper ticket, so this is only for the original company.
Many people wear casual clothes.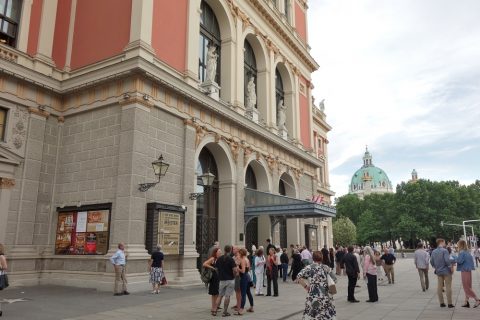 This time in June. Vienna in early summer is surprisingly hot and sweaty except in the mornings and evenings.
In the midst of all this, in order to enter the "social scene" I had to dress neatly, wearing a suit and tie this time as well, but everyone seemed to be cool …。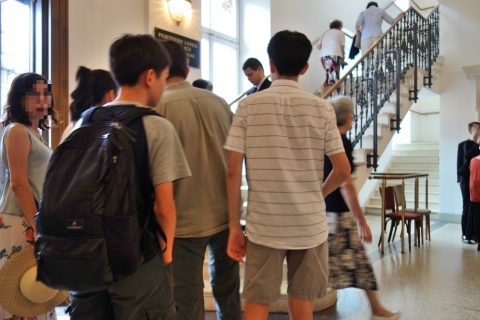 No one wore a tank top, but some of them looked as rough as this, and some of …。 had gentlemen wearing black suits and ties, but they were in the minority. That's why I look more formal than you.
I don't think you should wear a T-shirt, but if you want to be neat, you should have just worn a shirt with a collar.
Great view! first balcony on the second floor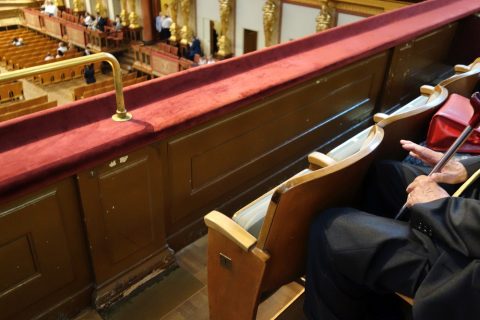 This time, I designated the front row of the balcony on the second floor. This is an excellent seat where you can see the stage and Hiradoma seats from the front even though it is far from the stage, and especially the first row is designated as 1st category.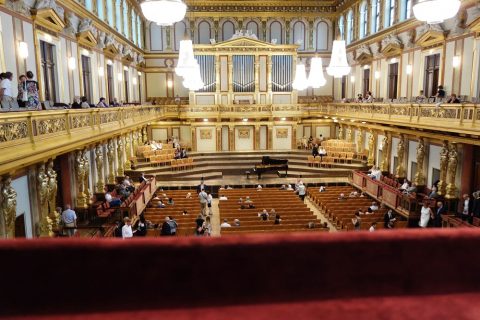 Therefore, the view is great! There is nothing to block up to the stage, but there is a gorgeous chandelier and a pipe organ in the back! Musikvein's big hall doesn't darken the audience at all during the performance, so it's an advantage to be able to enjoy the performance while looking at these beautiful decorations.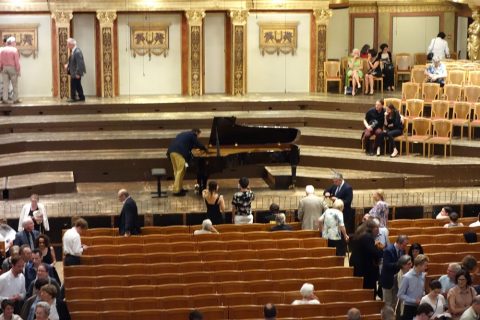 The sound bothers me, but I have an impression that the sound flies so well that I don't feel the distance from the stage. In the worst case, the sound coming into your ears might be louder than in the 1st floor seats (Hiradoma), where the sound goes up.
However, there seems to be a problem with the sound of the bass part, and it is particularly noticeable from the mid to high range. If this were an orchestra it would have been much different, but the piano solo can make you feel a little sleepy …。
How's the great Buff Binder playing?
This time, Rudolf Buchbinder will perform. He is a world-famous master, born in 1946, and a local Austrian pianist.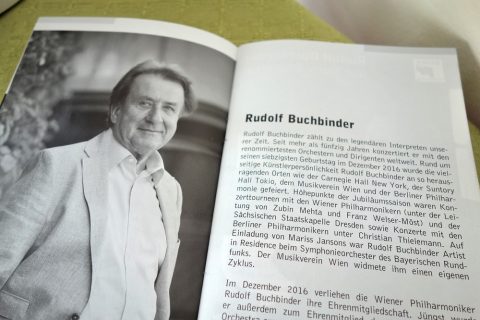 I have heard his performance on CD many times, but this is his first live performance! I was surprised by the mechanic who didn't seem to be a great master, but I might not like the way to play the main melody so that it can stand out partially. …。
As is often the case with a performance by a master, overall, I think it was a fairly easy to listen performance with little quirks.
Two Beethoven sonatas and one Schubert sonata. It is a very strict selection of songs, but they are all famous songs, so they might have been intended for general tourists rather than professionals.
Singular melodies play beautifully and freely, but when it comes to chords, is this master's habit to beat them? Personally, I don't like this performance very much.
Summer Musikverein Concert
That's why I went to a piano concert at Musikverein in Vienna this summer. It was completely different from the "social scene" of ladies and gentlemen I have experienced so far, and it was a concert full of casual mood!
Even so, ladies and gentlemen are not 0, and since it is (- No.) that the staff will treat you better if you are dressed neatly, I recommend you to wear "outing" if you plan to visit in summer. (Especially the regular concert of the Vienna Philharmonic Orchestra!)
♪Click here for a List of articles on "Opera House & Concert Hall around the world"