Beach tour in Miyakojima! First of all, I would like to attack from the popular standard beach. The first place I visited was "Yoshino Coast". Along with Yonaha Maehama Beach and Shinshiro Beach, it is one of the top five beaches in Miyakojima. I tried snorkeling to see how it felt.
Access and parking lot of Yoshino Coast
The Yoshino Coast is located in the eastern part of Miyako Island, Okinawa Prefecture. It takes about 40 minutes by car from Miyako Airport.
At first, I wanted to go for a drive while looking at the sea, so I took Prefectural Road 83 which is the closest to the sea, but unfortunately I couldn't see it at all, …。, but Miyakojima is big and surprisingly small. There are no mountain roads, and traffic jams rarely occur except in some parts of the city, so I think it won't take much time even if you move from the other side of the island.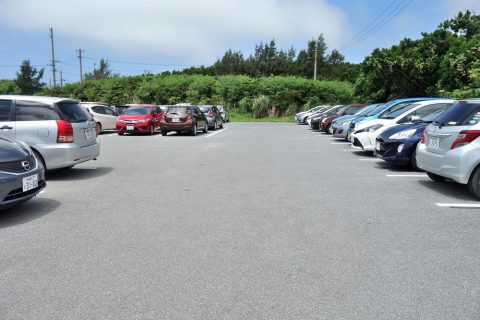 There is a parking lot for about 40 cars. As it is a popular beach, there are many people who use it, and there are well-equipped parking lots with asphalt.
Facility usage fee: 500 yen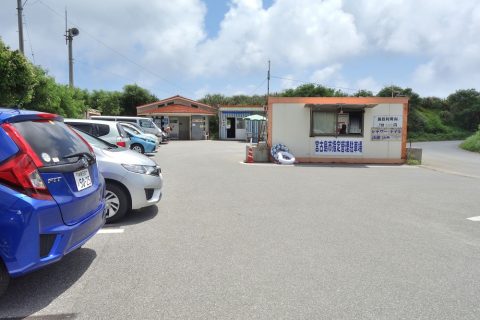 There is a management office in the parking lot. This is a parking lot managed by Miyakojima City, so it costs 500 yen per car to use the facilities.
This price includes the shower and toilet fee, but when I used it, there was only 1 shower room for men and women and only 1 ~ 2 private toilets. It will be very crowded during the busy season. …。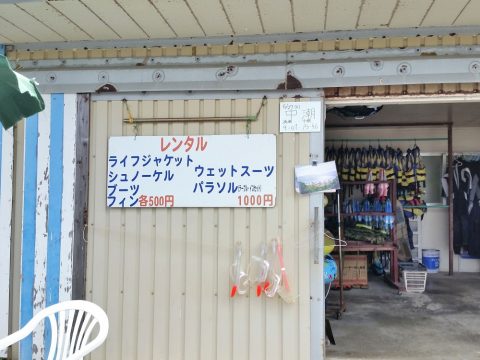 You can also rent snorkeling goods and beach parasols here. In places like this, if you add a wet suit to a snorkel, boots, and fins that usually cost 500 yen, you won't be able to take it to another beach at 2,500 yen …, so it's a good idea to prepare your own.
Shuttle bus to the beach
At first, I was going on foot to see the beach, but it was about 700 meters from the parking lot to the beach and there was a shuttle bus.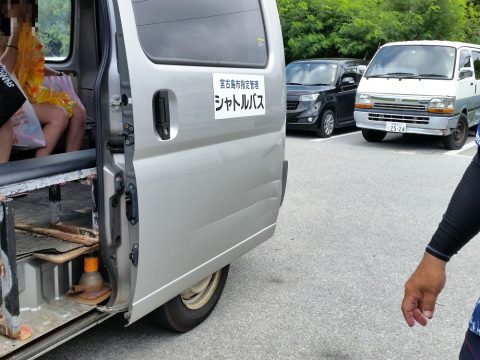 The above facility usage fee includes transportation to and from the beach, so I decided to use it without hesitation. You can drive to the beach, but that's not allowed except for a few divers with special permission.
It's true that the road to the beach was so narrow that cars could barely pass each other, and there wasn't much space on the side of the beach.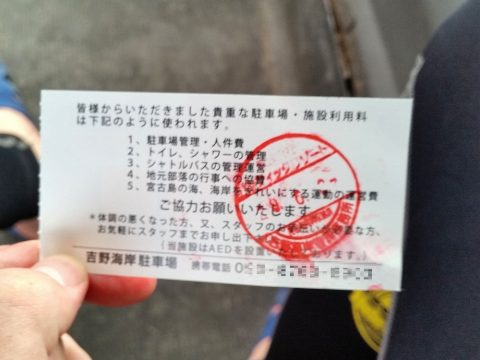 The shuttle bus is not operated on a regular schedule, but according to our needs. When I come back to the parking lot from the beach, I can call the number on the ticket and they will pick me up right away, so I appreciate this point.
There's no toilet on the beach.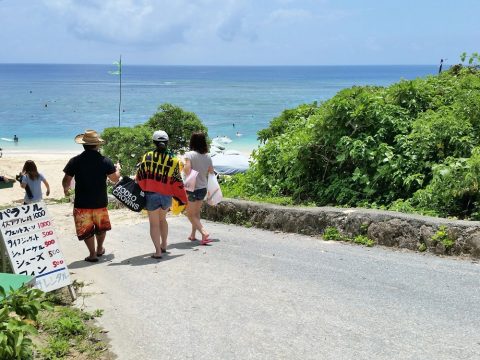 We arrived at the beach 3 minutes after the bus ride! When you get off the car, the beach is a few meters away.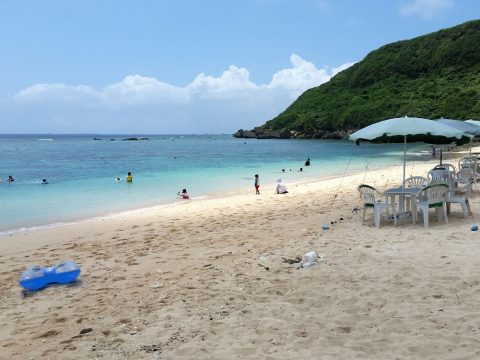 It's about 11:30. I think it is the time when there are most people, but as expected, it is the off-season in June! It's nice and empty.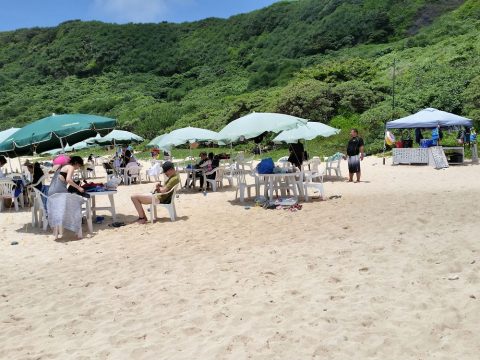 There are no restrooms, showers or lockers on the beach and you have to take a shuttle bus back to the parking lot to use them. It's a little inconvenient, but maybe it's better in terms of environmental conservation?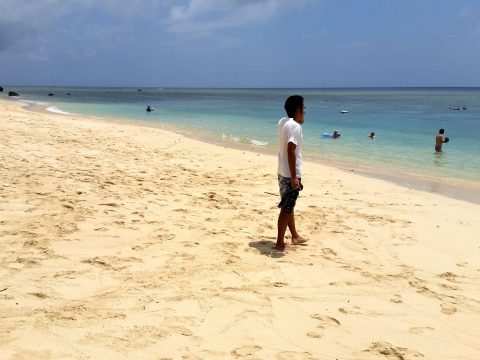 The beach is quite large and stretches for about 500 meters. If you go to a place far from the entrance, there are few people, and it feels quite private and good!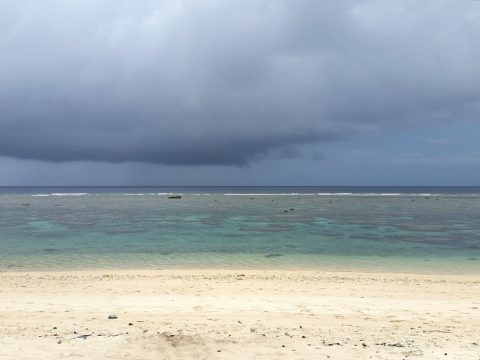 The sky in the distance is somewhat suspicious …。 It was sunny on this day, but I'm a little worried about the clouds in the distance …。 Let's swim while it's sunny!
Camera for underwater photographing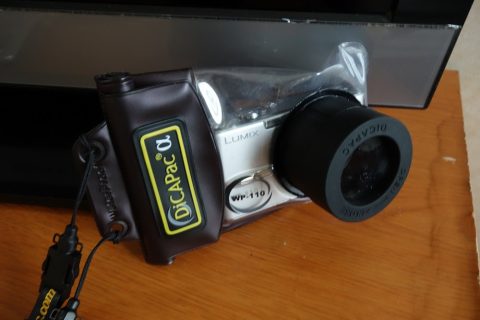 I'd like to say … for underwater photography, but I don't have such a budget this time, so I'm going to use a 10 year-old digital camera in a waterproof case. Actually, I would like to install a better camera, but I had no choice but to use this one because it was the only camera with the right lens position …
This waterproof case is called DicAPac. It's just a hook and loop fastener, but I've never had a water leak after repeated use that made the camera unusable, and it's good for the price. But I don't have the courage to put a Sony RX -100 in it. …
The number of coral and the transparency of the water are outstanding!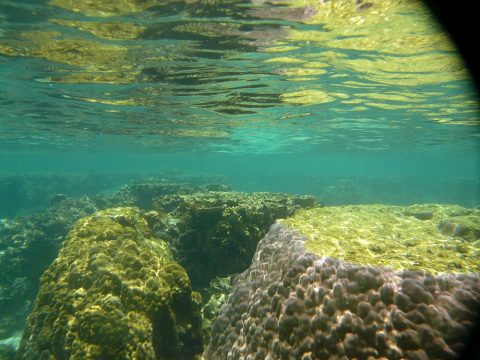 I looked at the sea and started swimming from the left, but there are many corals in the shallow waters near the beach! Maybe that's why the water is very clear. The parking attendant told me that the Yoshino Coast has the most coral in this area, but it's true that this is a nut!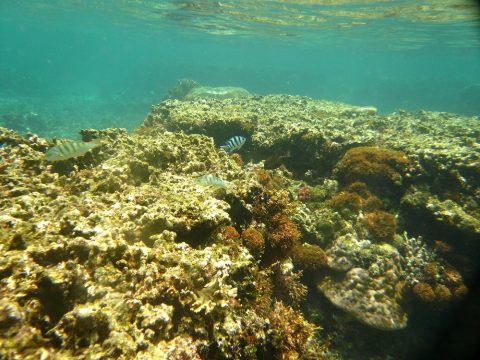 The low tide was around 15 o'clock. At that time, it was already 12 o'clock, so the water level was quite low, but it might be good because you can see fish hidden by coral nearby.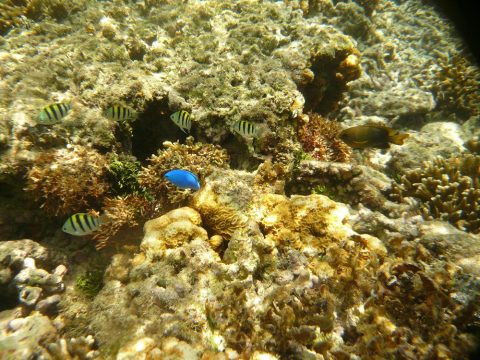 There are a lot of fish, but I don't think there are many. …。 I sometimes see them swimming in a group, but I didn't see them everywhere. Does this depend on the season …?
But you can see coral reefs of various sizes! They range from standard shapes to large spheres.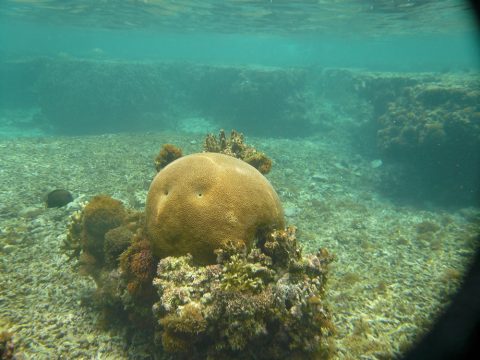 I also found corals with funny faces!
Data on the Yoshino Coast
Parking lot … Charged (¥500) 40 vehicles
Toilet/Shower … 1 room for both men and women
Marine goods rental … available
Number of corals … more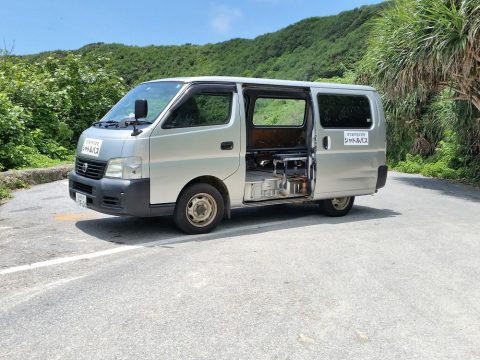 This time, I was the only one that paid for a parking lot in Miyakojima and the surrounding islands, but I think it was worth going. The transparency of the water might have been the best in the swimming this time.
Next time, I will introduce you to a little-known beach on Ikema Island, a remote island in the northern part of Miyakojima. → Go to Ikema Island's little-known beach "Ikema Rope"! Snorkeling in the quiet coral waters
♪Click here for a List of articles on "Miyako Island, yaeyama area"