"Surubari Shokudo" is a cheap restaurant located in the northern part of Miyakojima. We decided to stop here for lunch on our way back from Ikema Island. This restaurant is famous in guidebooks of every magazine, and there is a line in front of the restaurant at the peak. This time I visited outside of the peak time, so I could have a relaxing meal.
I ate "Beef Soba Noodles" at such a convenient restaurant, but it was quite filling and delicious! I would like to make a food report of Okinawa soba which is cheap and delicious and has such a high cost performance.
Location and parking of Sumibari Dining Hall
On the way back from Ikema Island, I dropped in to have lunch "Surubari Shokudo". It is located along the prefectural road 230 that continues from Ikema Ohashi Bridge, so it is easy to access. It might be the northernmost soba restaurant in Miyakojima.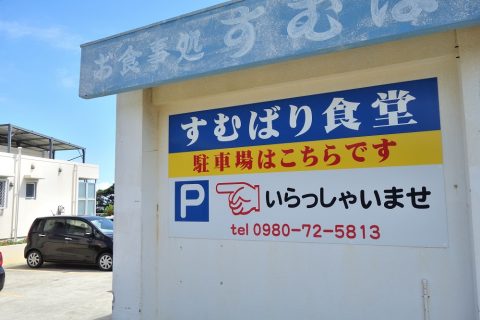 As it is a popular shop, there is a decent parking space next to the shop (back of the entrance).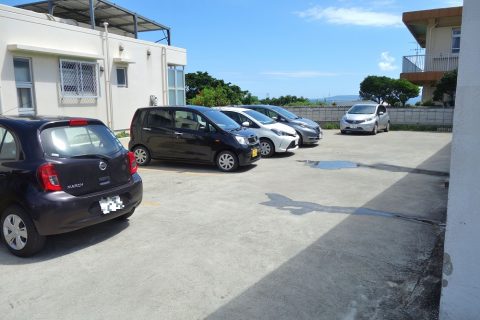 The number of cars is about 10, and the disadvantage is that it's a little narrow and hard to park … In particular, the entrance of the parking lot is narrow and there are steps, so you need to be careful not to hit a parked car.
There is also a celebrity's colored paper in the store.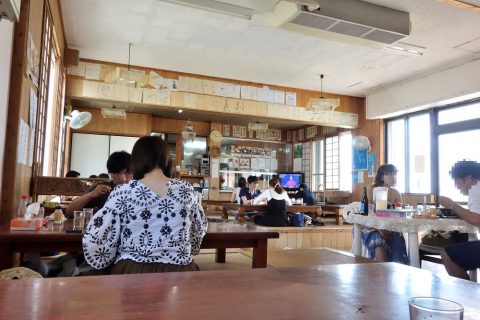 The inside of the store is quite spacious. There are 7 tables for 4 ~ 5 people, all of which are tatami seats, but there are also some chair seats. It was already before 15 o'clock at that time, but there were about 6 groups of customers in the store.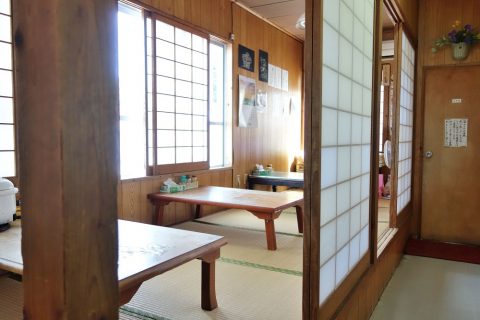 In the back of the restaurant, there are some tables in a tatami room, so it seems that about 40 ~ 50 people can be seated in total. It's amazing that it's full at the peak!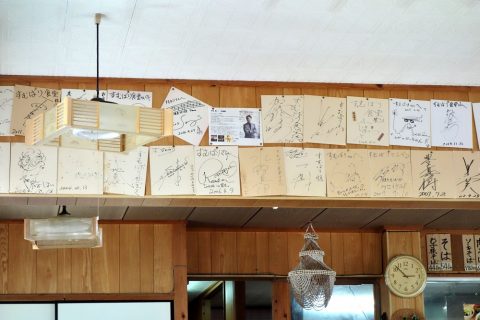 There were various celebrity's colored papers on the wall. It seems that Yabe from Nainai and Miyagawa Daisuke from comedian duo and Senjiro from musician are also here.
Menu of Sumubari Shokudo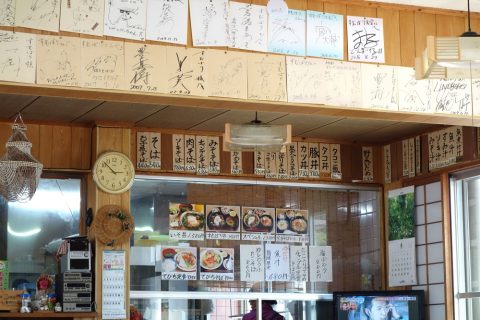 In addition to the standard Miyako soba and Soki soba, there are also slightly different flavors such as "Miso soba noodles" and "Beef Soba Noodles" on the menu. Also, they seem to put a lot of effort into Donburi, and they have set meals such as Katsudon, Butadon, iso-don and taco-don.
At that time, I ordered before receiving the menu, so I couldn't see the menu table properly, but there are details on the homepage of the restaurant (The price is slightly different.).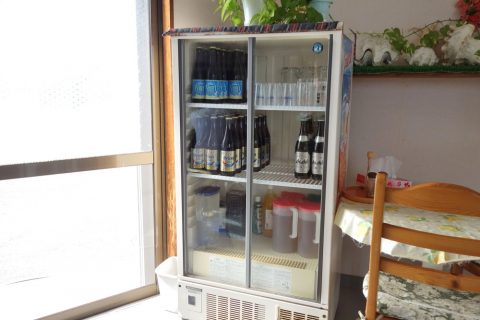 There is no mention of drinks on the website, but if you look at the fridge in the store, you can see beer and soft drinks, the standard Orion beer and its non-alcoholic beer "Orion Clear FREE" as well as Asahi Super Dry, and as for soft drinks, you can see a bottle of juice that is like Sheek Arthur.
The appearance of drinks in the refrigerator in the restaurant is like a local set meal restaurant and has a good atmosphere.
Beef Soba 630 yen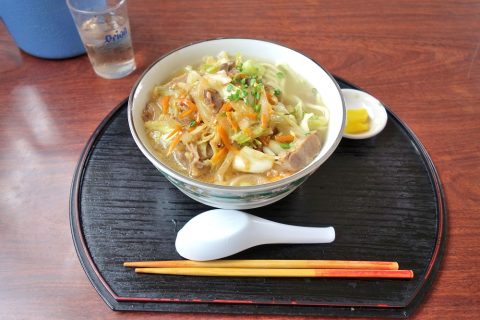 What I ordered this time was "Beef Soba Noodles". About 20 minutes after I ordered it, it was served in a deep bowl.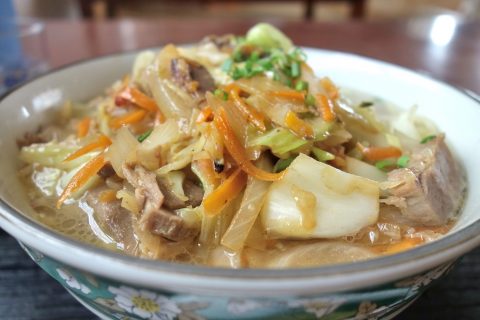 Speaking of Beef soba, the heaping portion of Beef Soba at Habu Shokudo Restaurant on the main island of Okinawa is famous, but this Beef soba also has a sense of volume within common sense. There are so many finely chopped vegetables such as carrots and cabbages that you can't see them because the noodles are hidden.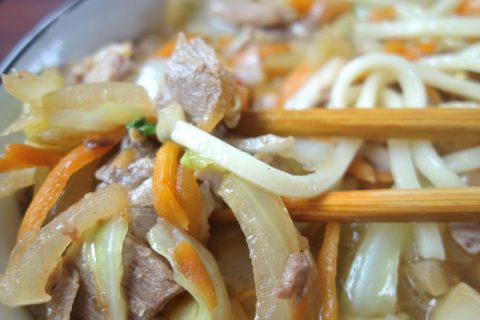 When I tried it, the taste was similar to Nagasaki Champon noodles. It is crispy and brings out the texture of vegetables and the flavor of Beef. Thick noodles are very chewy and elastic compared to other shops' Miyako soba.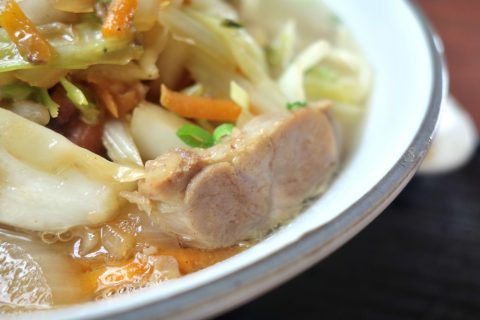 The Beef is tender and the taste is soaked in. It is easy to eat and has a lot in it, so it is filling and good!
Cheap restaurant with good cost performance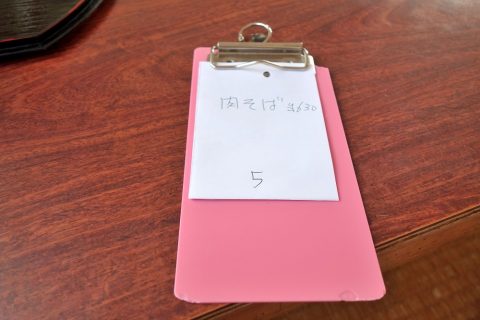 The total is 630 yen! I am very satisfied with this taste and volume for this price! It would be great if there is a place where you can eat lunch in Tokyo at this price.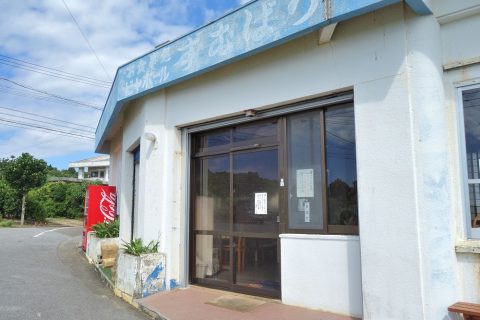 It was a popular restaurant for tourists, but it was a cheap restaurant with no complaints about the taste and quantity. I would like to try other soba some day, but I think it gets very crowded at peak time as there is a sign saying "If it is crowded, please wait outside." in the store.
Business hours are from 10 o'clock to 19 o'clock. When visiting, I recommend visiting outside the peak time as much as possible. For more information about other Okinawan soba restaurants in Miyakojima, see the following article.
♪Click here for a List of articles on "Miyako Island, yaeyama area"