This is the food report of Okinawa soba that I ate in Miyako Island following yesterday. I visited "Nabi Shokudo" this time. I tried the Okinawa soba standard "Soki soba noodles" here. Soki means spareribs on the bone, so I would like to check the taste of the Okinawan standard dish that is simmered until soft.
Maxvalu Miyako-Minami
This time I visited "Nabi Shokudo", it is in SC Max Value in Miyako Island.
When it comes to shopping centers in Okinawa, Maxvalu is the best! There are 2 stores of "Miyako Nishizato" in Miyako Island, and there are 10 stores in Okinawa main island, so many that you would say "Maxvalu" in Okinawa region.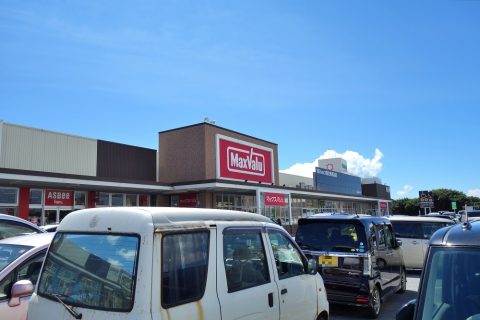 I visited around 3 PM, but the parking lot was almost full! It is a great success probably because there is the biggest supermarket in Miyako Island.
There are four restaurants in the corner of the building, and one of them is a Nabi restaurant. The sign is brown.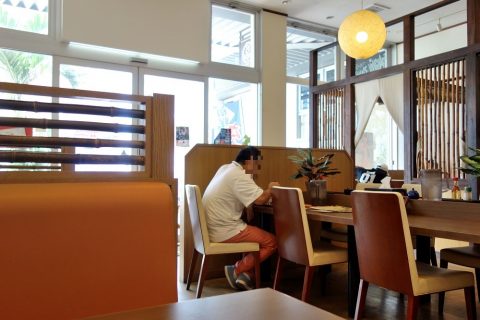 In the restaurant, there were some table seats for 4 people, about 8 counter seats, and other places that looked like a tatami room. Around 3 PM, maybe because of the unfinished time, the store is empty.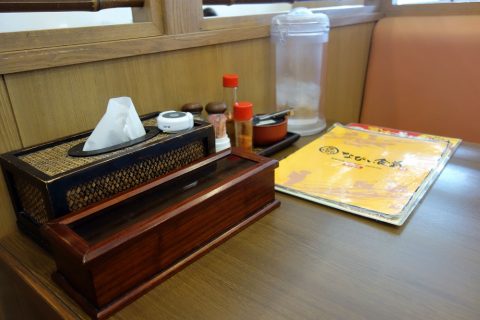 I was told that I could sit anywhere, so I took a table seat. It's simple, but partitioned table seating. The chair cushions and tables are clean, and it feels like they are just finished.
This Nabi Diner used to be called "Miyako Soba Local Cuisine Nabiya" so it might have been renovated and renewed even when this Maxvalu was made. I have an impression of a beautiful family restaurant, but it doesn't feel like a cheap restaurant.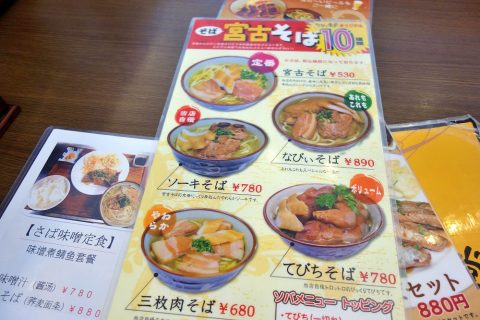 Looking at the menu, the standard Miyako soba is surprisingly 530 yen! This store also shows tax included, so it's cheaper than yesterday's "Kingo". Of course, if there is voluminous meat as in the picture, …。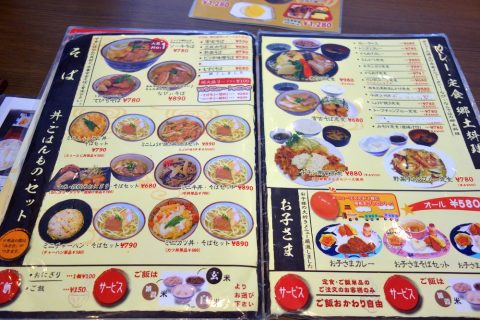 There are also many other grand menus, including various set meals and even curry. Miyako soba with fried chicken and rice "Miyako Soba Set Meal 680 yen" sounds like a great deal.
Soki Soba 780 yen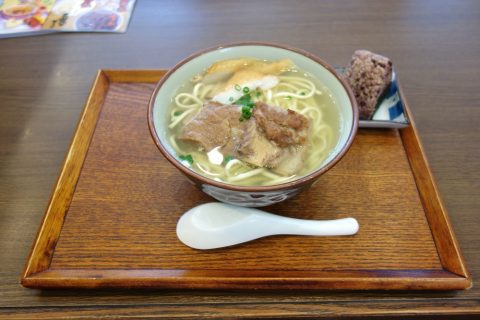 I ordered 780 yen soki soba. It is much more expensive than Miyako soba, but how does it taste …?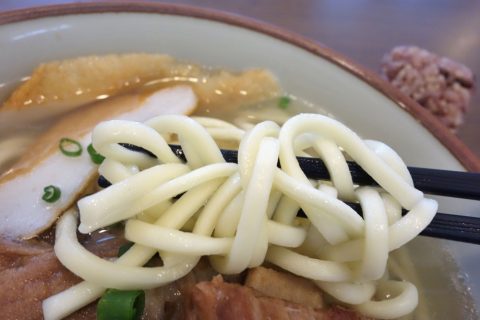 When I tried it, the noodles had a smooth texture. Compared to Kingo yesterday, it is more resilient and resilient. The lightly seasoned soup has almost the same taste as other shops.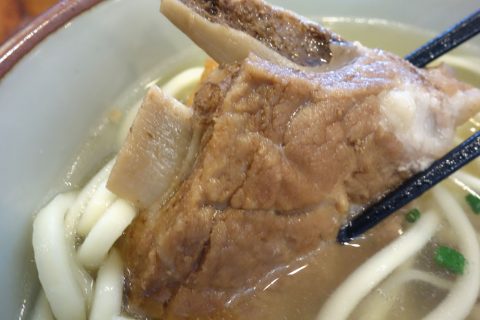 It was soki, but the volume was as good as the picture on the menu (lol)! The meat of soki is limited because it is bone-in, but it is sweet and very tender. It's not particularly delicious, but I like it.
Brown rice rice ball and table salt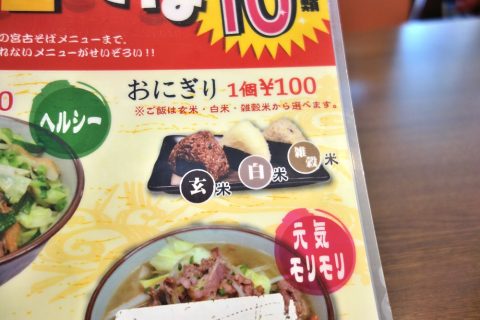 I also ordered onigiri as a side dish. There are brown rice and cereal rice other than white rice, and each is 100 yen.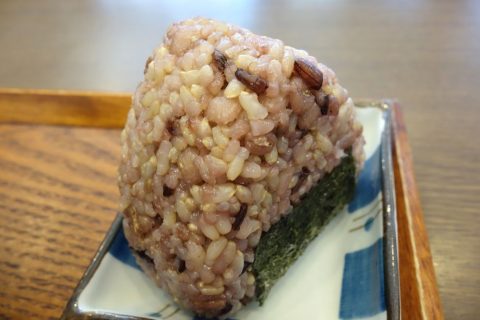 I chose brown rice. The brown rice is a little chewy and voluminous, but it is not salty at all and is just made. I wish they had at least added pickled radish, but they sprinkled salt on the table.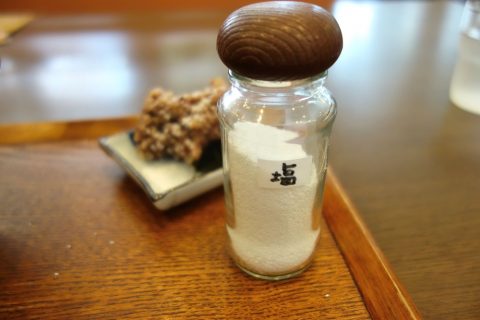 I expected this salt on the table to be "Miyako no Yukishio" which is unique to Miyako Island, but it was coarse-grained salt instead of powdery, so it looks different. It doesn't mix well with the rice even if you sprinkle it on later, so it is a bit salty even if you put it on …
A reasonable set meal restaurant that is open during the night.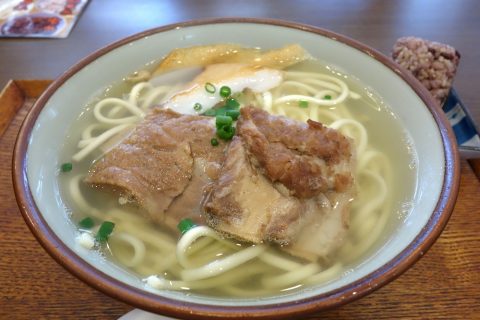 The soki soba I had this time was not bad in taste and volume, but I can't deny that it was a little expensive compared to the exceptional Miyako soba. However, if you look at the whole restaurant, you can enjoy reasonable meals with various set meals from 680 yen to 880 yen other than soba.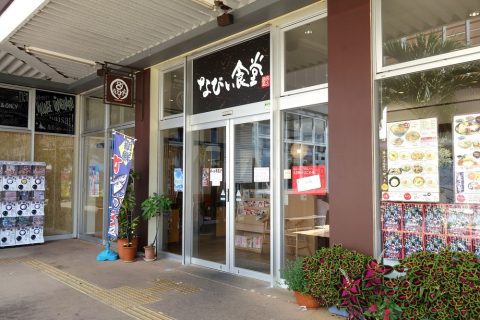 By the way, Maxvalu Miyako-Minami branch is open 24 hours, but this Nabi restaurant is open from 10 o'clock to 22 o'clock. Even so, there are few soba restaurants in Miyako Island where you can eat at night, so it is a precious existence. I think it's good to drop by casually when you go shopping at Maxvalu.
For more information about other Okinawan soba restaurants, see the following article.
♪Click here for a List of articles on "Miyako Island, yaeyama area"