I will make a food report of Okinawan island cuisine I ate at Miyako Island Izakaya "Manushi"! It is hard to find a restaurant where you can easily eat (especially dinner) when traveling alone, but there was a counter seat with a wall at the back on this Manushi so I could eat without hesitation!
Miyako Island Main Street Izakaya
Soon after arriving at the hotel on Miyako Island, I headed for dinner on the main street of downtown Miyako Island "Nishisato Boulevard".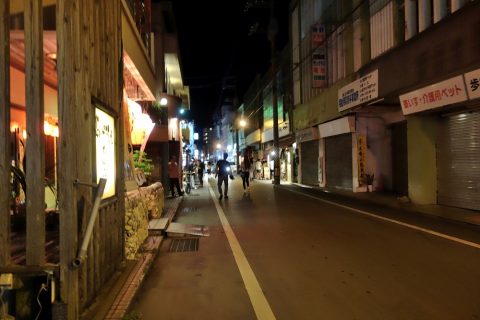 This area is 400 meters long and has many restaurants. It is called "main street" but it is a narrow one-way street from east to west. It was quiet during the day but crowded with tourists (especially young people) at night.
This time I visited an izakaya called "Manushi" which is close to the one-way exit. It is also listed in the Miyako Island Sightseeing Free Paper.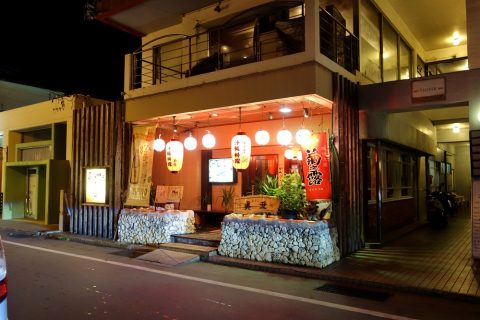 It opened in 2009 and is still relatively new. Maybe that's why the exterior stone walls and decorations look beautiful. At that time, I visited around 21 o'clock, and it was so crowded that I could hear people's voices from inside the shop.
It is open from 17:00 ~ 24:00 and closed on Wednesdays.
There are 10 counter seats.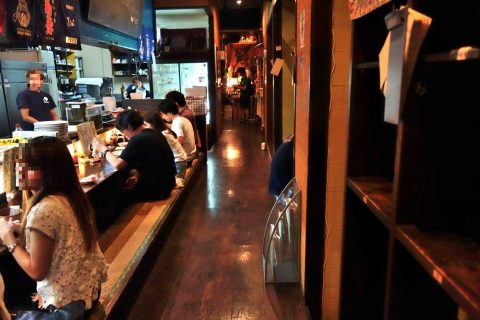 When I entered the store, it looked full. But when I talked to the staff near the entrance, they guided me without waiting.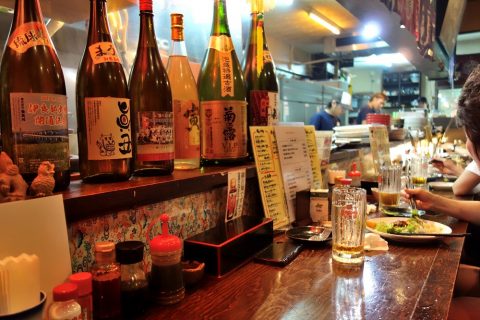 I was seated at the counter. I was a bit worried about what I would do if I was led to the center of a crowded table as I was visiting alone, but I got the end of the counter seat! There were about 10 counter seats in total.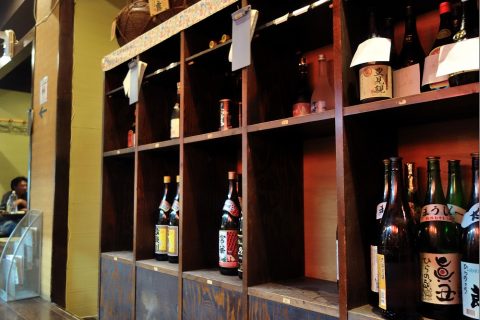 Bottle keeping shelf is behind the seat. It is separated from the area of the table seats by the wall, so I hardly care about my eyes. Great place to drink alone!
Menu & Orion Beer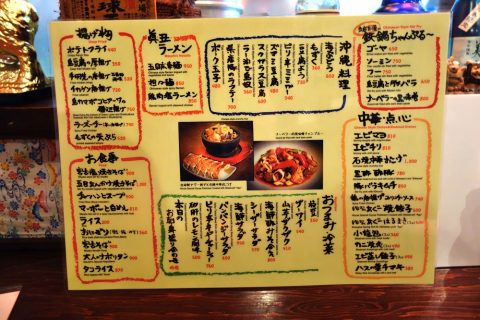 Let's look at the menu first. In addition to the standard fried food of Izakaya, the names of Okinawan island dishes such as Rafuteh, Umibudo, Mimiga and Goya Chanpuru stand out. Also, on the bottom right of the menu, they seem to be focusing on Chinese food.
I wanted to try Aguu pork Harumaki, but they told me that they are already out of stock …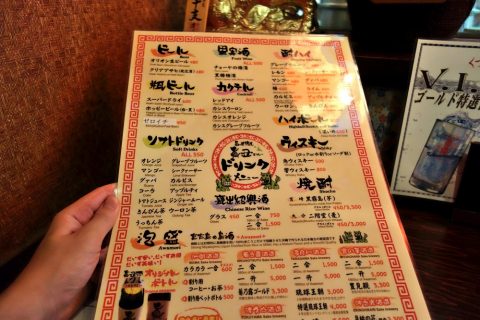 The drink menu doesn't seem to have many kinds. In addition to the Okinawa standard Orion beer, there are fruit wine and hard liquor little by little, but somehow there are 11 kinds of chuhai, and there are also ones that are mixed with Okinawa's guava, shikuasa, or sanpin tea.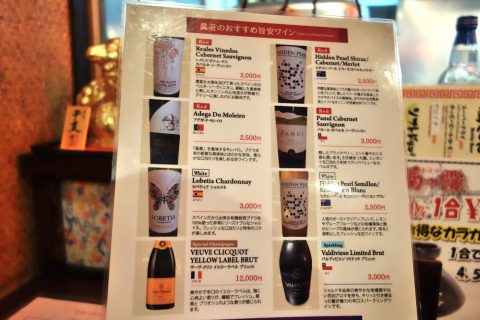 There is also wine, but the pattern is only for bottles.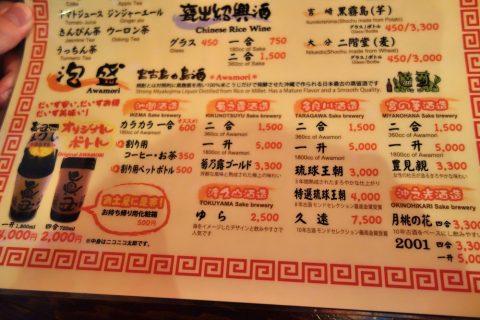 As for Awamori, there are a lot of kinds because it is an izakaya in Okinawa. They do a lot of things depending on what you use them for, but we'll get to that later.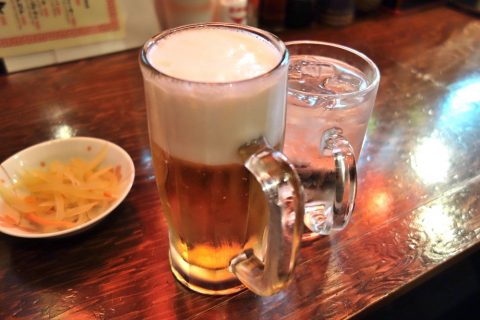 First, drink Orion draft beer to moisten your throat. It was Orion beer that smelled like water as usual, but I could feel the rich sweetness of this fresh beer and enjoyed it until the last bite. Raw beer is 480 yen for 1 cup, which is reasonable for a sightseeing spot.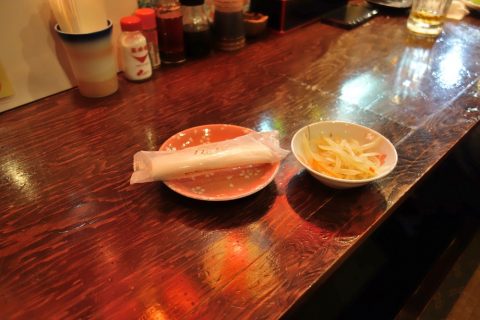 However, the appetizer was a little disappointing! Carrot and radish? It is a vegetable that is not so good. It has a gummy texture like gummi, and it doesn't have a taste, nor does it become a knob. I think they are probably vegetables from Okinawa. What vegetable is it …?
Fried Island Tofu and Miyako Salt-Base Yakisoba Noodles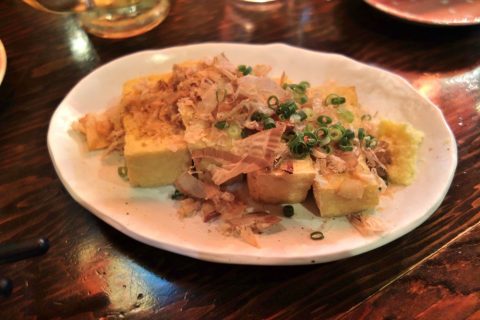 Next came the food. First of all, "Deep-fried island tofu". It is a thick deep fried tofu made by a slightly different process from the one in the mainland. It has a stronger texture than regular firm tofu.
I had it with soy sauce on the table without any sauce, but it had the same taste as my usual super deep fried tofu.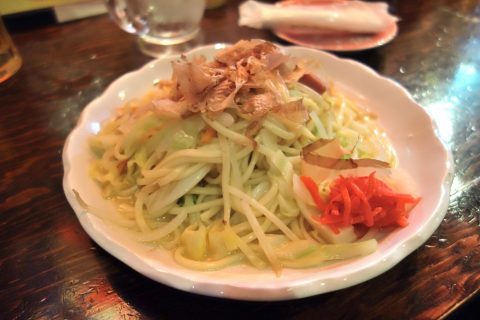 The main dish is "Fried Buckwheat Noodles with Salt". It looks and smells completely different from general sauce yakisoba. The noodles are soft and white thick noodles used in Okinawa soba, and the ingredients are cabbage, carrot, bean sprouts, and a little chopped bacon.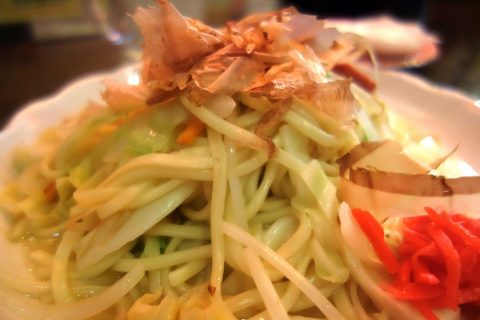 When I tried it, the taste was close to that of Sara-udon. Although it is called "Grill", it doesn't feel like being grilled at all, and it is similar to Champon noodles. The bacon is delicious, so I would like you to put more if possible. As a salted yakisoba, it is at the level of normal and delicious.
Awamori "Manushi"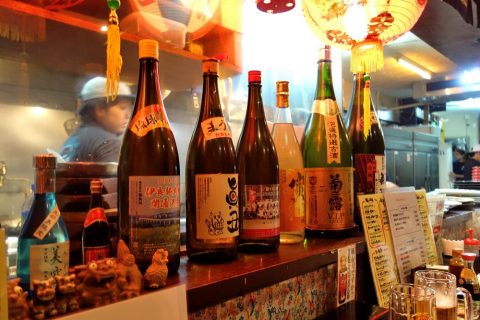 Now, about the standard Awamori of Okinawa, when I looked around the shop, there were many brands of Awamori that were not on the menu. There are even bottle keeping, so there may be sake that regular customers don't know.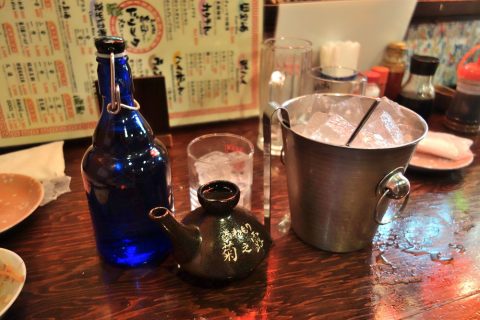 I'd like to try various brands here, but I'm planning to swim from the morning the next day, so I'll limit it to 1 cup today! I ordered the brand name of the restaurant "Manushi".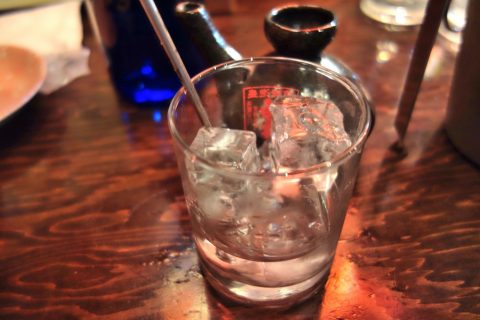 The taste is rather dry. But it is sweet, and the faint stimulation to the tongue is comfortable, and it is quite delicious! The alcohol content of Awamori is generally around 25 ~ 30 degrees, but you don't feel the strength of alcohol when you drink it on the rocks. It was a good choice because it was mild and easy to drink.
Cigarette smoke sticks to my eyes …
By the way, smoking is allowed in this store. It's a matter of course since it's an izakaya, but I think there are more restaurants in Miyako Island where you can smoke compared to other areas in Tokyo or the mainland. It's nice for smokers, but it's a bit tough for non-smokers.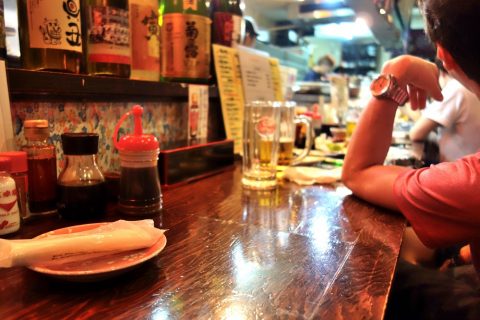 This time again, all the smoke from the person sitting next to me at the counter flowed to me due to the air conditioning, so it was quite annoying. This spoils the flavor and aroma of the dishes. With the global trend toward smoking cessation accelerating, I would like to see an environment in which customers can choose "separation of smoking and smoking" at least.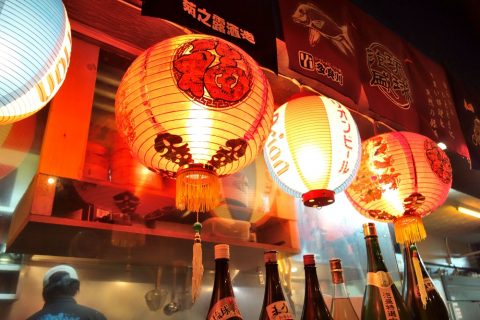 In addition, the bill this time was about 2,500 yen for beer, Awamori and 2 dishes. Credit cards are accepted, and it seems to be 20% cheaper than eating in Tokyo. If you come to Miyako Island and want to eat "island cuisine", you can come to this Maushi without fail.
I think it is quite a common Izakaya in Miyako Island, but I hope you will visit it. Read more about dining restaurants in Miyako Island.
♪Click here for a List of articles on "Miyako Island, yaeyama area"