I enjoyed snorkeling around various beaches in Miyako Island, but I left my goggles with anti-fog gel at home. If you don't put this on, you won't be able to see the coral and fish beautifully with the clouds of goggles when you are swimming, so I decided to buy them locally.
Miyako Island is one of the most famous marine spots in Japan, but surprisingly there are few shops selling marine goods, so this time I found only one private shop called SEA DANCER in the town. I would like to introduce the access to the Sea Dancer and the anti-fog gel I purchased.
It's not sold in San A.
What I want this time is anti-fog cream applied to the snorkel mask. It's not as simple as putting it on glasses, but it needs strong antifogging that won't easily come off even if it gets wet in the sea. It's hard to get such specialized goods unless you go to a marine shop that sells such specialized goods.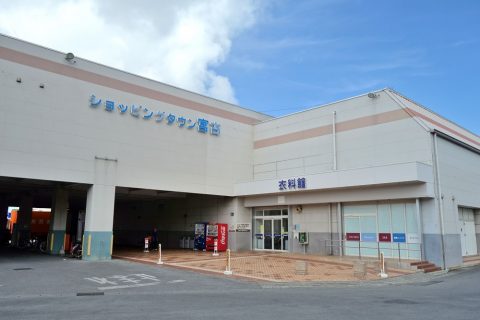 I took a look at SC Sun A in Hirara district, but I couldn't find it. There was a section for swimsuits and underwater goggles, so I asked the staff, but they told me that they don't have anti-fog snorkel masks.
I also tried Maxvalu, which is a little further away, but it seems that this is also mainly food and does not have anti-fog.
Marine Shop SEA DANCER
When I search marine shops in Miyako Island, there are many companies that provide marine sports, but I can hardly find any stores that sell marine goods over the counter.
I finally found a shop called SEA DANCER. It's in the downtown area of Miyako Island, and it's on the street a few blocks away from Nishisato Boulevard where izakaya bars line up.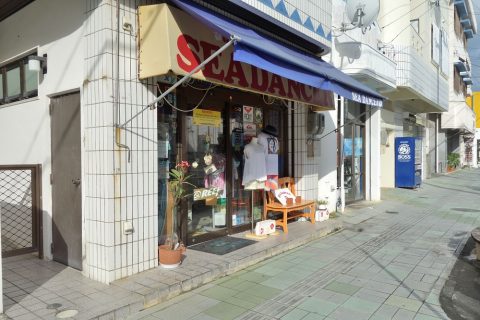 It is a small shop with a frontage of about 3 ~ 4 meters. The business hours are from 10 o'clock to 19 o'clock, so be careful when visiting during the off season. (Shop HP)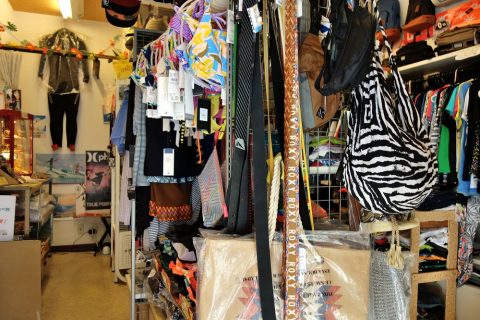 The inside of the store is very small, and there are lots of marine goods in the narrow passage! Swimsuits, wetsuits, beach sandals, and many other small items are also available.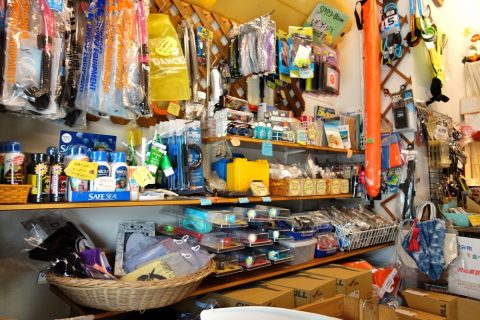 Lots of accessories! From snorkeling goods to swimming goggles, sun oil on the beach, after lotion, etc. I couldn't find it myself because there were so many things, so I asked a woman who I thought was the shop owner if they had any.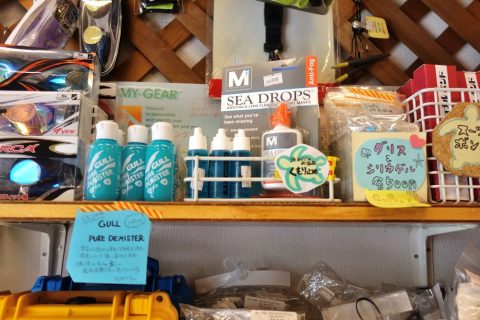 We have three kinds of antifogging agents. When I asked which one was the most powerful, they recommended the small blue bottle in the middle.
Anti-fog gel SAS ANTI-FOG
The SAS AntiFog anti-fog gel is only 14 cc and costs 1,400 yen plus tax! This makes me sick of the specialty goods I buy at specialty stores …
But this gel costs more than 1,000 yen even if you buy it online. Actually, the anti-fog gel I left at home was exactly the same as this, and I remembered that it was expensive when I bought it.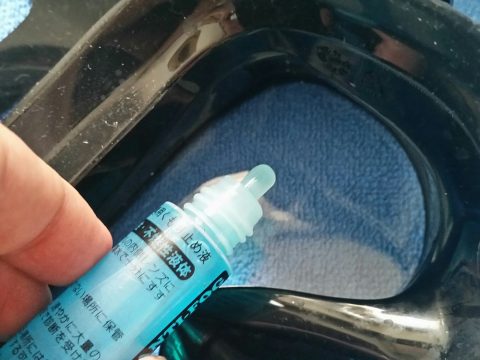 To use this gel, drop a few drops on the inside of the goggles and rub them well with your fingers, then lightly rinse with water. It says "in fresh water" in the usage column, but there is no problem just by rinsing lightly with seawater.
When I tried to swim with this gel, it was true that it hardly fogged up even after more than an hour, but if the gel was applied in an uneven manner, the view would be distorted and difficult to see. I have never compared it with a cheap gel, so I don't know the difference, but it is not so useful despite its high quality …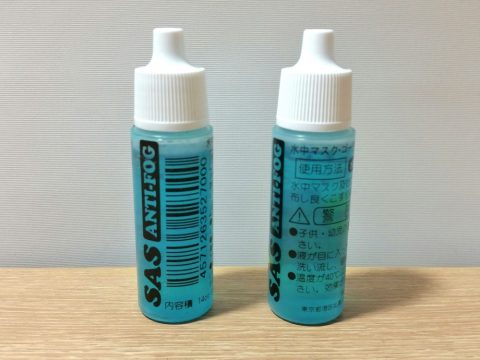 In the end, I ended up having two high-quality antifogging gels of the same brand in vain! Even though the content is 14 cc, it hardly decreases after using it several times, so I think 1 bottle will last for several seasons, so it's a shame …
This time I left it at home so I bought it locally, but it's easy to get it online, so I recommend you to stock one if you plan to do snorkeling.
♪Click here for a List of articles on "Miyako Island, yaeyama area"