Speaking of Okinawa, it's soba! During my stay in Miyako Island, I always went to a soba restaurant for lunch and ate Okinawa soba. There are many cheap and delicious soba restaurants in Okinawa, but this time I went to Miyako Island's "Kingo" and the standard Miyako soba is 550 yen! I would like to taste it together with the fried Gurukun I ordered.
Access to "Kingo" and parking lots
The "Kingo" restaurant where you can eat 550 yen Miyako soba is located in the center of Miyako Island. It is located along Prefectural Road 78, so it is easy to access from any direction, and it takes about 10 minutes by car from the city.
I went there after swimming at Yoshino Beach in the eastern part of Miyako Island, and I arrived there in just over 20 minutes. There aren't many buildings around Kingo, so I don't think you will miss him even if you drive.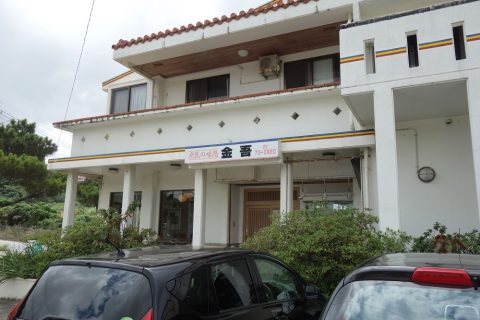 The shop is a detached building with Ryukyu tiles. There is a restaurant on the first floor.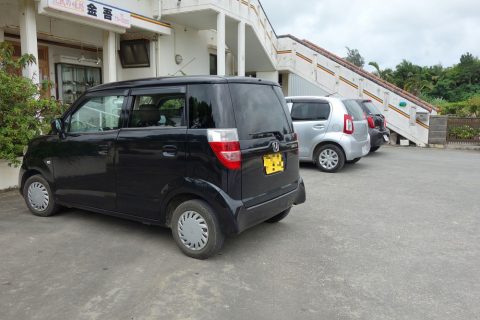 There is a parking lot in front of the store, and the capacity is about 4 cars. There seems to be other gravel space in the back of the building, but whether it can be used as a store parking lot or not is unknown … If the store front is full, you might want to ask the store staff.
The restaurant mainly features tatami rooms.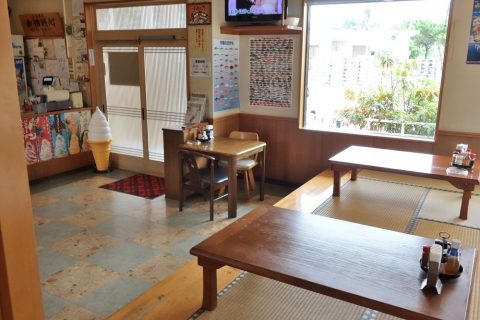 The inside of the restaurant is not so big, there are only a few tatami seats with large tables. There is a small table next to the entrance, which looks sorry. I visited around 14:30, but there was only one customer other than me.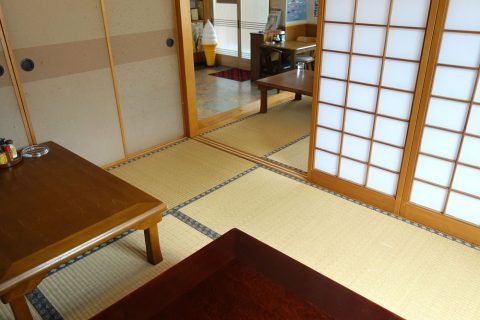 You said you can sit anywhere, so I will secure a seat in the back separated by Shoji. Personally, I don't like sitting cross-legged or sitting in the seiza style because my legs get numb, but I feel relaxed in a Japanese-style room.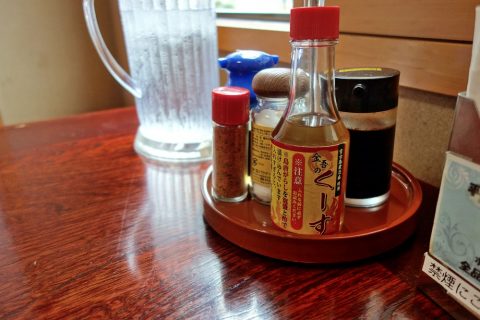 At the table, there was a Koregusu, a traditional Okinawan custom. It says "Kingo!", so is it an original of this shop? Some people like it or dislike it as a seasoning, but personally, it is hard to say what it tastes like. … The combination of vinegar and awamori with a mysterious sour taste is much stronger than the spicy taste of red pepper.
By the way, Koregusu is easily available on Amazon. Basically, my personal impression is that it spoils the taste of delicious soba, but if you don't know the taste yet, it might be a good idea to try it for later.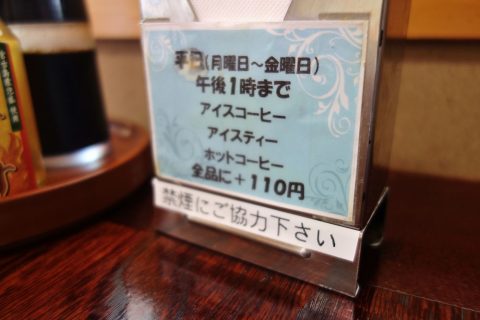 Please note that smoking is prohibited in the store. As far as I can see, is it non-smoking at night? In Okinawa, there are few non-smoking and smoking areas, so if that's the case, it would be nice.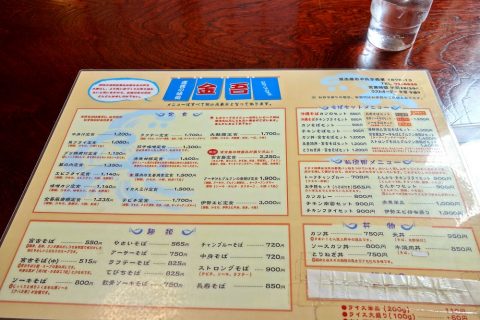 Now, let's take a look at Kingo's menu. There are standard soba, set meal, Chanpuru and Donburi. Miyako soba is a very reasonable 550 yen! But the other menu is a little expensive. All prices including tax are reasonable.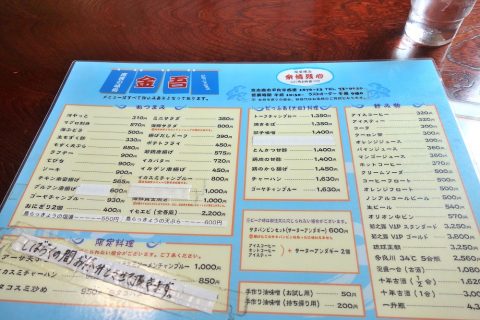 Is the back the special menu for night? I thought so, but I was told that I could order it even for lunch. It has a line-up of a la carte dishes and large plate dishes, which is just like izakaya restaurant, but the drinks are limited.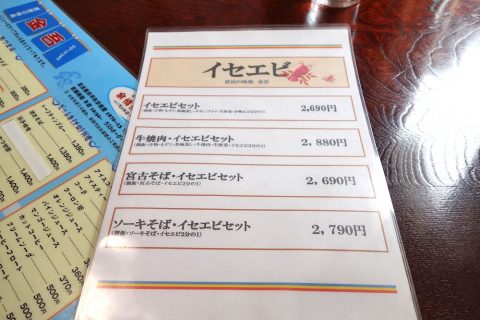 In addition, there seems to be a set using spiny lobster. All are 1/2 Ise lobster at this price! You might hesitate a little.
Miyako Soba 550 yen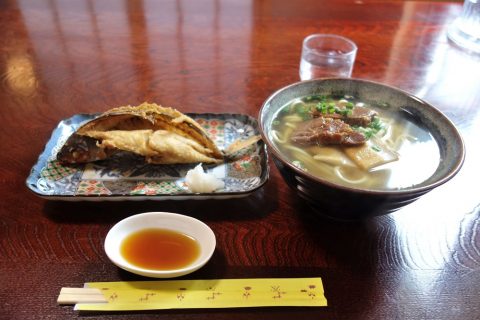 This time, I chose "Miyako soba" which is a good deal for 550 yen, and "Fried Gurukun 600 yen" from a la carte dishes! I had fried Gurukun before in Ishigaki Island, but how does it taste here?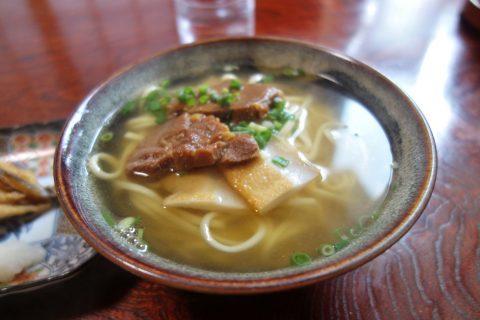 Start with Miyako soba. The soup stock made from pork bones, kelp and bonito flakes has a light taste. It tastes like ginger.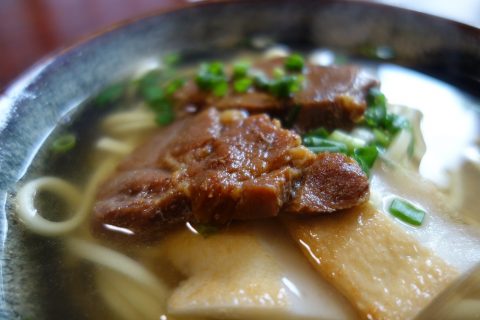 The meat is small but tender! If I were to compare the taste "Corned beef", it is the taste that goes with eating.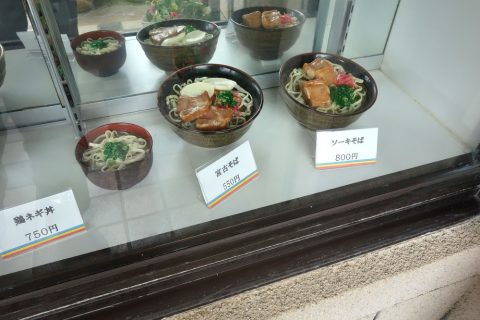 But the volume is different from the display at the store (lol)! With that thickness, it would be nice if they put 3 sheets in it. … Well, it's 550 yen, so I can't complain.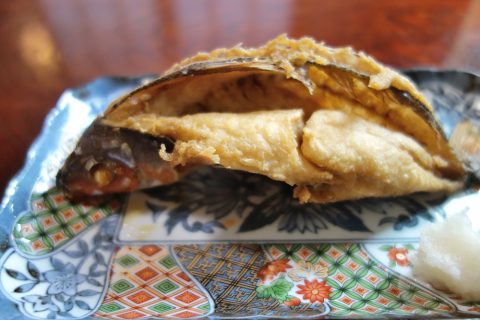 Then, fried Gurukun. It is called "Gurukun" which is a kind of fish caught in the Okinawa region and deep fried in the shape of the back. It has a light taste, but it is quite thick and delicious. Unlike other fish dishes, it is not juicy, so if you eat only this meat, your mouth will get dry, so it will be just right if you eat it with grated daikon radish on the side.
This one is 600 yen! The elaborate Miyako Soba (550 yen) is so reasonable that it still feels quite expensive.
"Kingo" Business Hours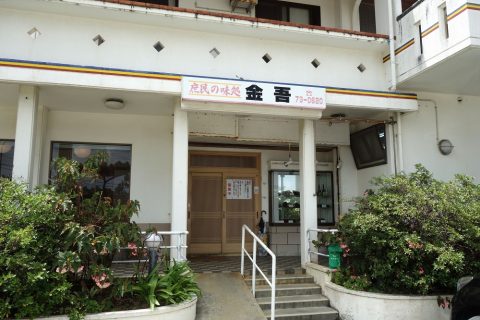 Kingo is open 10:30 ~ 9:00 (LO) and is closed on Mondays. Basically, every place in Okinawa is "Okinawa Time" so I think it's better to have plenty of time when you visit.
The Miyako soba at 550 yen was not just cheap, but it was voluminous and delicious! You can easily add Okinawan dishes such as Gurukun and Umibudo. A la carte dishes are rather expensive, but Miyako Airport is close and easy to access, so I think it's good to visit casually.
For other Okinawan soba restaurants, see the article below.
♪Click here for a List of articles on "Miyako Island, yaeyama area"