I went to Ikema island in the north of Miyako island in Okinawa and swam there because there is another beach near the beach "Ikema Island Funakus" in the north. It is a beach called "Ikema Rope" where you can go down a small cliff with ropes, and it has a more private and quiet sea than Funakus!
5 minute walk from Funakus's parking lot
The beach called "Ikema Rope" is very close to "funax" which we introduced yesterday. On this occasion, I decided to come first in the morning, swim with Funakus and then walk to Ikema Rope nearby.
This is what it looks like on the map! It's just over 300 meters. The sea of coral reefs continues around here.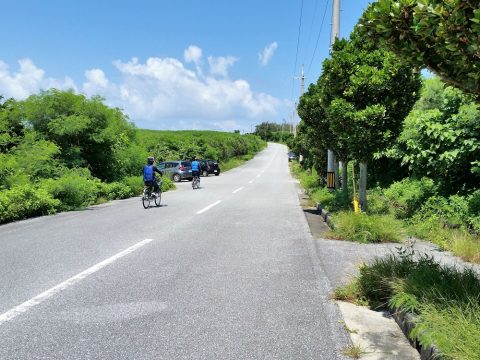 The road from Funakus's parking lot to Ikema Rope is almost flat. There is a sidewalk, so it's safe. But maybe because the plants are not well taken care of, there's a weed bow on the sidewalk and I can't walk barefoot …。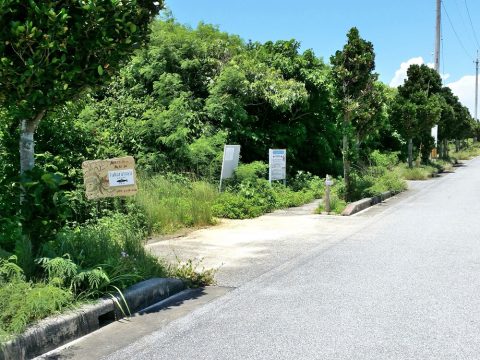 We arrived in less than 5 minutes! I don't think it's hard to find because there are some signboards with directions and instructions for cafes.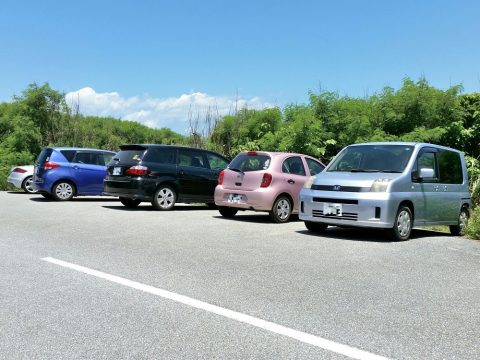 There is a parking space across the beach entrance, but there are about 5 cars. It might be safer to park your car at the Funakus parking lot.
go down with a rope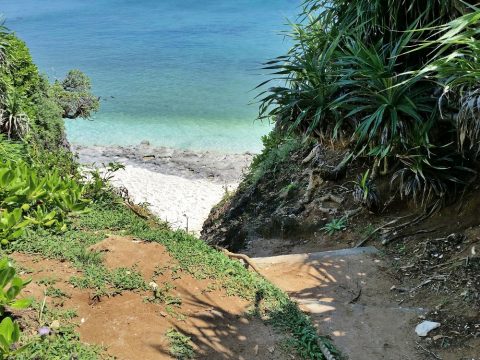 If you go through the bushes at the entrance, you will see the coast in a few meters. But somehow it's a cliff and I'm worried if I can go down …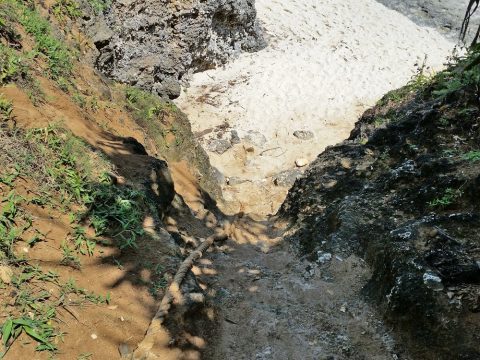 But there is a rope like this, and it seems to be no problem if you go down along this. That's why this beach is called "Ikema Rope".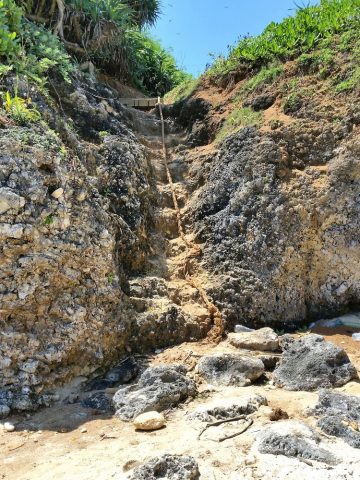 The level difference is not so steep. If you put your hand on the rock, you can go up and down without a rope. But it might be a bit dangerous for small children …。
little-sandy beach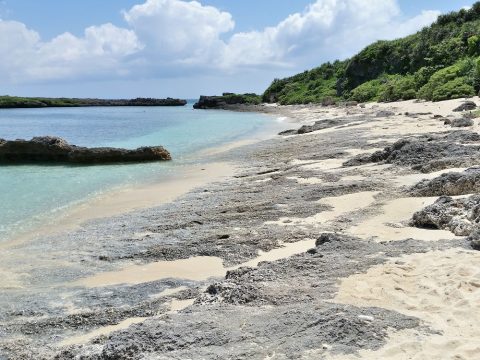 I went down to the beach. According to the satellite picture, the beach continued for about 300 meters, but it is certainly much wider than Funakus.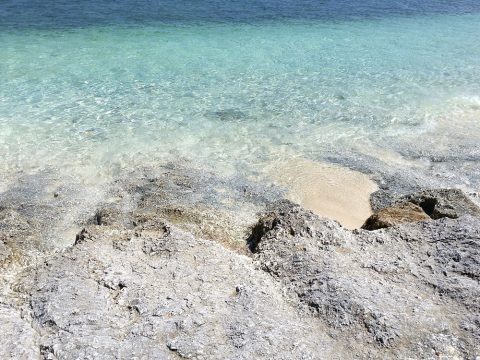 But at that time, it was less than 1 hour from high tide, but the rocks were rough and exposed, and it looked like a low tide. … It may be a beach with few sandy beaches. But the water is clean!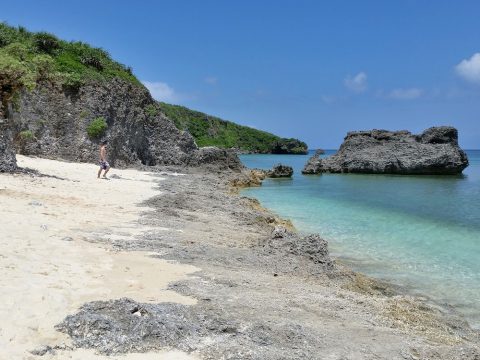 This beach had about half as many people as Funakus, but especially if you go to the beach with less sand towards the left, there is no one! There are a lot of rocky areas around here, so I thought there might be a lot of coral reefs around there, so I decided to swim around here.
coral reef stretching near rocks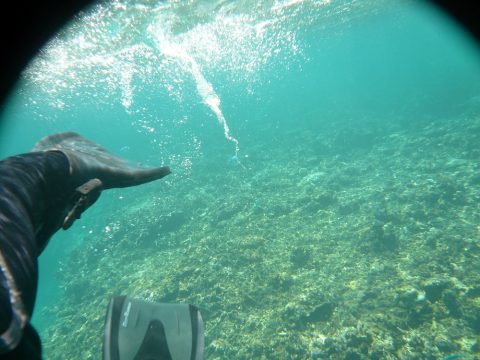 As expected, there are a lot of coral reefs around here! In some places, the bottom of the sea is full.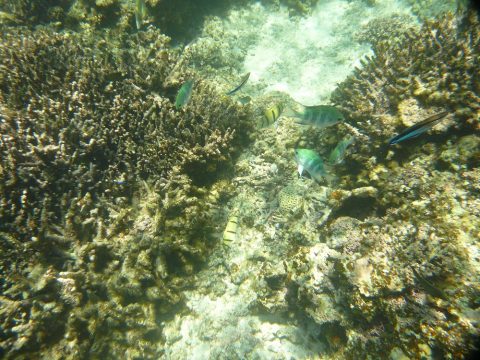 Along with that, there are lots of fish! You can see fish nearby because it's quite shallow, but on the other hand, it might be difficult to swim in some places if the tide goes down further.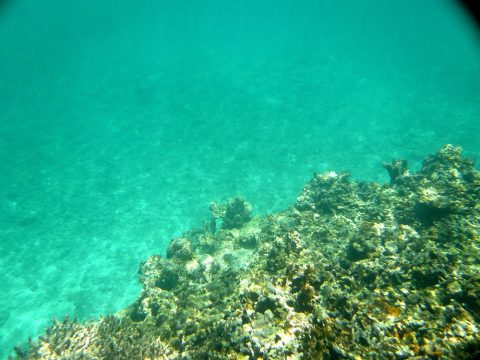 The transparency of the water is also good! When you go a little offshore, the coral reef is cut off and suddenly deepens, and there is a cliff. It feels like the world is suddenly expanding when I pass through here.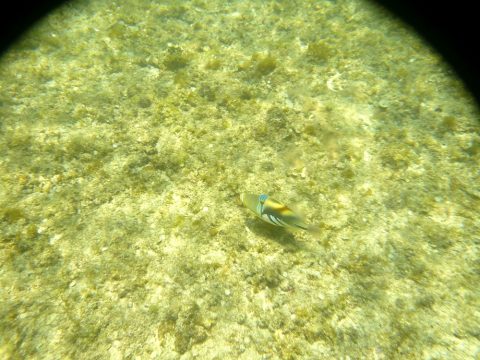 By the way, this is the fish I noticed! It is called Murasamongara and is about 20 centimeters long. They don't seem to have any poison, but they have a strong sense of territoriality. Even if it's very shallow, there are lots of them, so children who often play by the beach should be careful.
Data of the Ikema Rope
Parking space: … About 5 spaces
No toilet or shower …
Approach the beach … Rope down the cliff
Number of coral … more on the left side of the ocean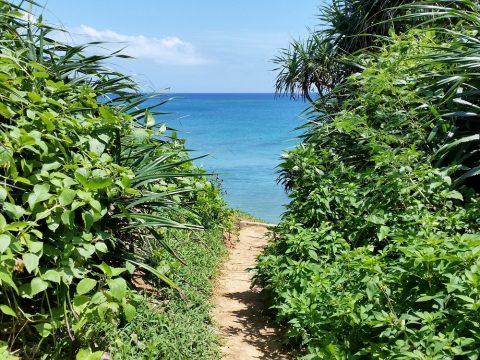 Ikema Island is located to the north of Miyakojima Island, and the beach "Ikema Rope" is located further north of the island. As for the parking lot and restrooms, funax people can also use it (The toilet is messy, …), and I think it's easy to use for a little-known beach.
I hope you will visit this place along with funax → to a remote island north of Miyakojima! Snorkeling by Ikema Island Funax (Ikema block)
♪Click here for a List of articles on "Miyako Island, yaeyama area"