In Istanbul, Turkey, I am going to report the lounge "Miles & Smiles Lounge" of the Turkish Airlines in the new airport which just opened in April, 2019!
Speaking of the Istanbul airport lounge, it was bigger than before and famous as an amazing lounge for ants, but the lounge after the relocation is also a treasure house of gourmet food in the spacious space! It was a very comfortable stay!
※This article was written before the virus scandal. This will be updated.
You can enter with Star Alliance Gold!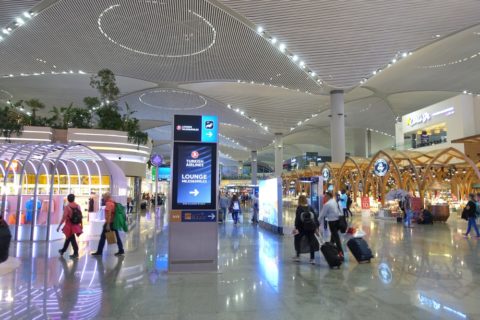 The Miles & Smiles Lounge is located near the C1 gate in the departure area. If you follow the signs on the information board, you will reach the escalator leading to the lounge.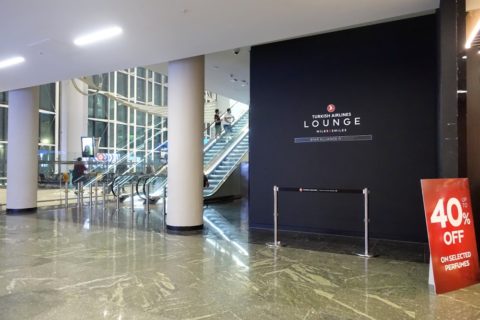 The lounge is upstairs. There is also a small reception at this escalator, but I didn't need to show my ticket here.
The lounge is open to business class passengers of Turkish Airlines, senior members of the mileage club as well as a Star Alliance Gold Holder and a companion.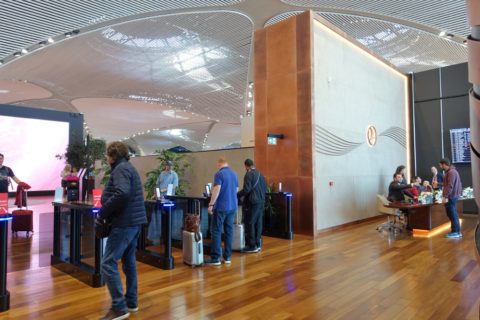 The entrance to the lounge is automatic. If you touch the bar code on the ticket, the gate will open and you can enter, but somehow my ticket does not respond …
I could enter without any problem if I applied for the reception next to it, but I had the same symptom in the Business Lounge which I visited later, so the system might not be working properly yet …
A spacious lounge of 5,600㎡!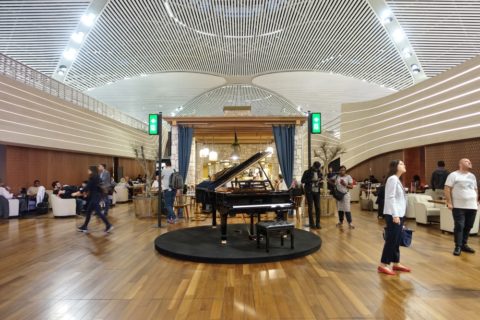 The lounge is a spacious atrium built under the big roof of the departure lobby! It is a large lounge with a capacity of 765 people and 5,600㎡. Even the Sakura Lounge at Narita Airport (main building), which boasts the largest area in Japan, has only 4,000㎡, so you can see how spacious it is.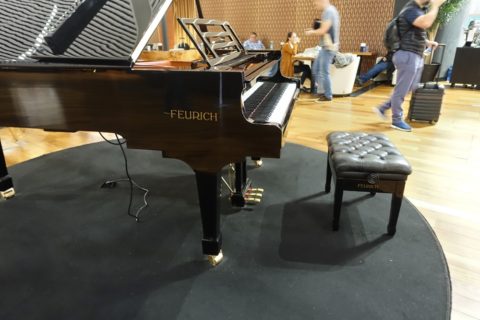 There is a grand piano equipped with automatic performance near the entrance. This is the first time I've seen a piano from a long-established German manufacturer called FEURICH. It has a characteristic shape with three pedals.
It's now being produced in Vienna, Austria, and even in China.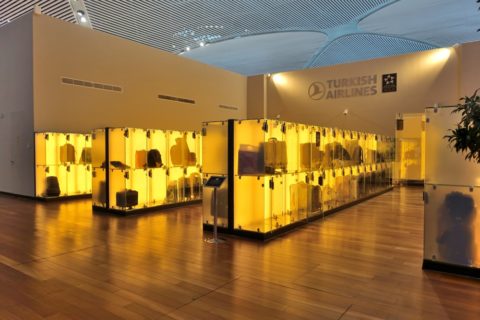 There is a large locker near the entrance and a reception for a shower room (to be described later) at the back. Just looking at this, there is a lot of space.
Three areas full of food!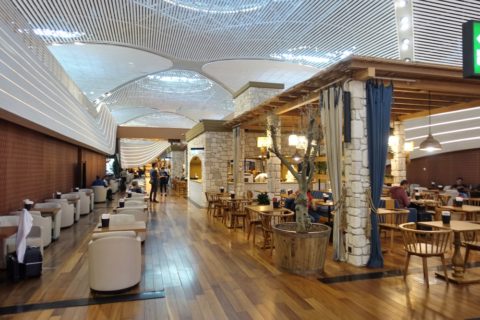 The lounge is roughly divided into three areas and the first area from the entrance is the dining area.
There are dining tables and sofas on both sides, and a stylish brick kitchen in the center, where you can enjoy various custom-made foods.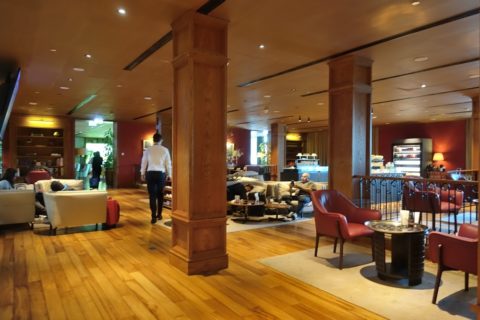 There is a relaxed area with the lights off in parallel with the dining room. It is mainly a large sofa, and there are rooms like an audiovisual room with a library, study and screen.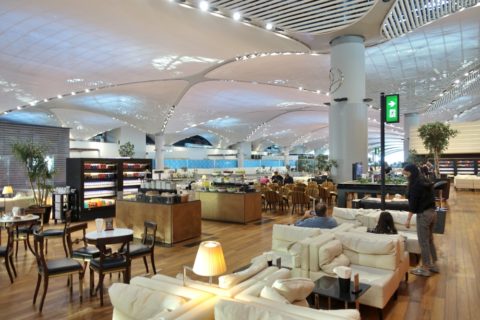 At the very end of the lounge is an open area with high ceilings, where various types of sofas and cafe-style tables are arranged, along with drink and sweets counters.
There are a lot of delicious cakes (to be described later), which is my favorite area!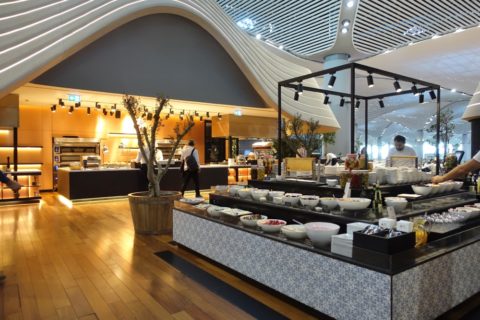 Also, there is a buffet counter near the center of the lounge, but this place has mainly salad and cheese, and hot meals are limited. Even so, the colorful vegetables and variety of beans are completely different from the salad bars in other countries' lounges!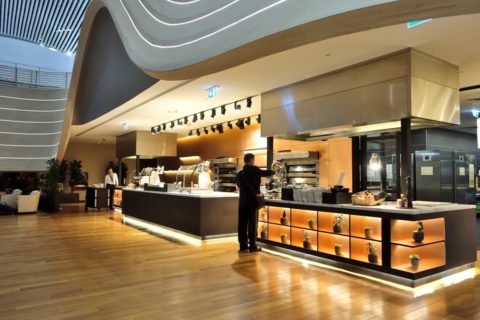 If you want a hot meal, go to the manned counter around the buffet! The cooks in Kappogi make sandwiches, pizzas and omelets and serve them on the spot.
During the peak hours, some of them were already made, but maybe because of the fast rotation, they were hot!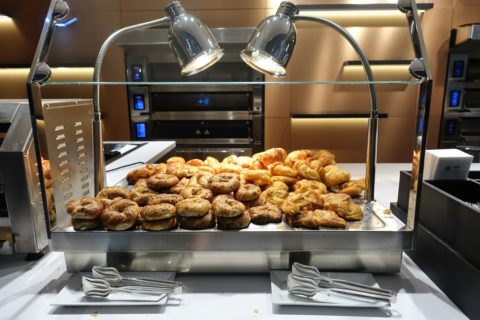 There are also delicious looking croissants! The display is quite elaborate.
Delicious bagels! Butter is also delicious!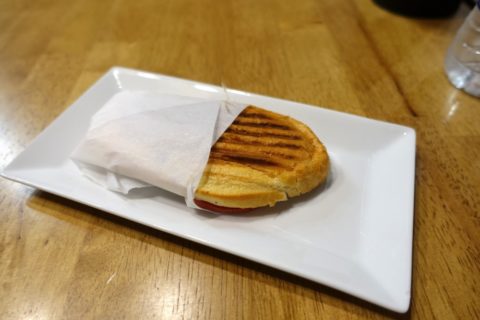 I tried several hot meals at the counter with a cook, and this "Cheese and Tomato Panini" has a good combination of crunchy texture and cheese flavor and is very delicious!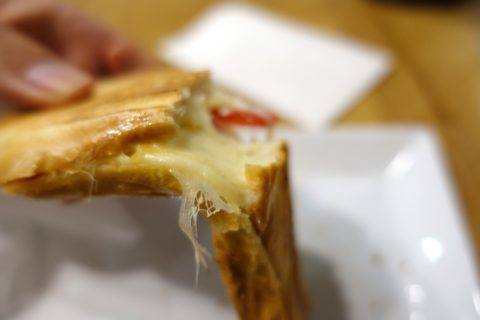 It's a simple menu with just cheese and tomato, but the quality of this bread dough might be good. It's hot, so it's more delicious!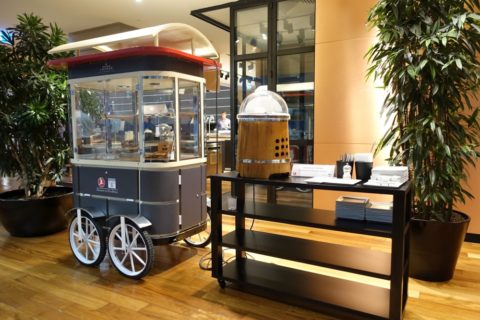 Also, this wagon near the center of the lounge. A bagel named "Turkish bagel" and a butter named "Countryside butter from Trabzon" is placed next to it.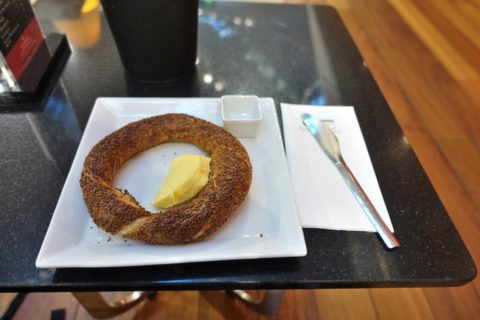 Trabzon is a rural town in northeastern Turkey, but this butter is milky and delicious, and it tastes great when you dip it in a savory bagel!
This is dangerous. I think I will eat too much …!
A variety of delicious cakes in the cafe area!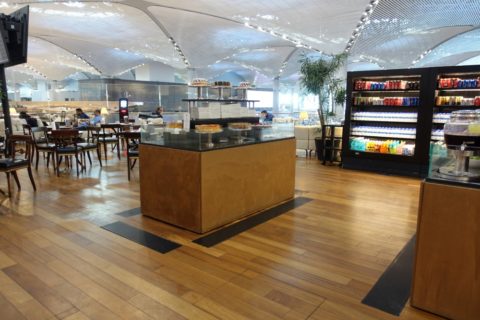 Furthermore, what I got into was the area in the back of the lounge. There is a counter for fruits and sweets here, but the counter for this cake is especially amazing.
From strawberry shorts to chocolate cakes, bananas and coffee-flavored cakes, there are always 6 ~ 7 kinds of cakes and of course, all you can eat! It is not a small cake cut like a lounge, but it is a substantial and authentic cut cake like a cake shop.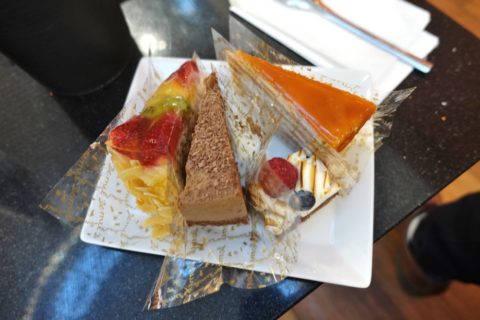 At first I looked down on the cakes we eat in Turkey as …, but when I tried them all I found the cakes had a high level of flavor, with milky strawberry shortcakes and rich and flavorful chocolate cakes!
Wow, this is really heaven! I ate 7 ~ 8 pieces by myself …!
Turkish coffee made by baristas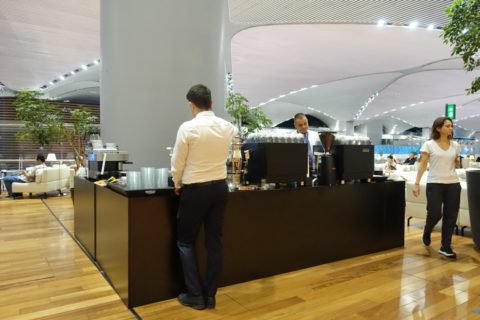 There is a stand called "Coffee Bar" in the cafe area at the back of the lounge where baristas are always present. You can enjoy various types of coffee, including Turkish coffee.
The seat on this side is also stylish and features a unique color on a Turkish silver table. It has a pretty good atmosphere!
I had a cup of Turkish coffee, which has a powdery texture and a savory flavor, and is truly authentic. It has a taste that you can't usually drink, but personally I don't like it very much. …
There is also a section of Turkish style "Chai"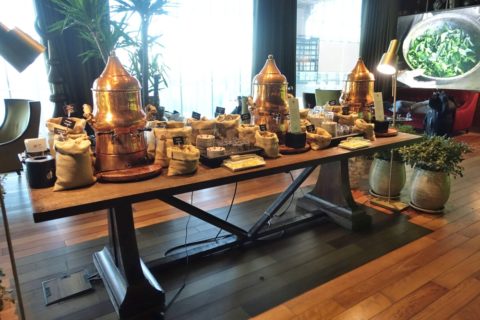 In the dimmed living area is the Turkish tea section "Chai". Various kinds of tea leaves are placed here, and you can make your favorite tea with a teapot.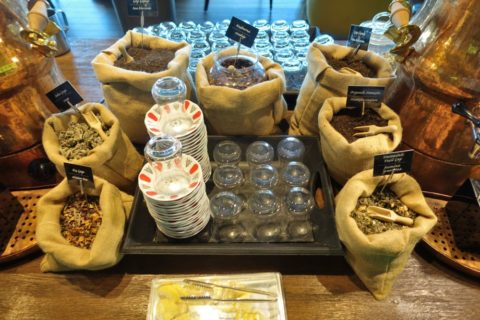 The tea leaves are not instant, but they are all authentic! There are tea like Jasmine green, Blossom, and Winter tea that I have never heard of, and there are many kinds!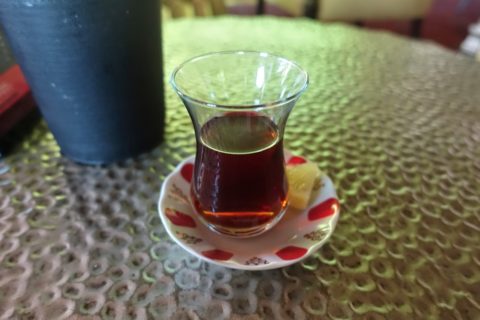 I tried (The brand is unknown …) which is said to be the most popular tea in Turkey, and the taste was Rooibos tea itself. If you add lemon juice, the sourness will be just right and it will be nice.
There are so many authentic tea leaves, so it might be good to look for your favorite brand.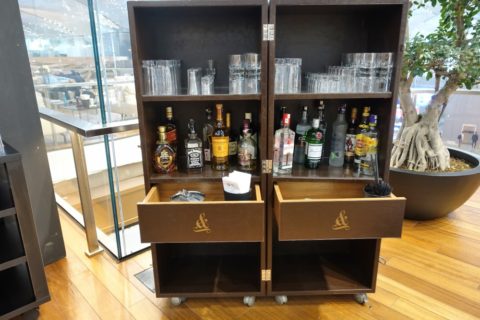 Also, I didn't check this time, but there was a shelf for alcohol in the lounge, so I could drink freely. Even so, hard liquor is only cheap standard goods such as Johnnie Walker and Chivas Regal 12, so you may not get excited too much …
There are 12 shower rooms and a private sealed toilet, so it is comfortable!
Finally, report the shower room! The shower room is located at the back of the locker near the entrance of the lounge, and it is accepted at the reception. There were a lot of users in the early morning, and when I checked in around 6 o'clock, I was told to wait for 1 hour …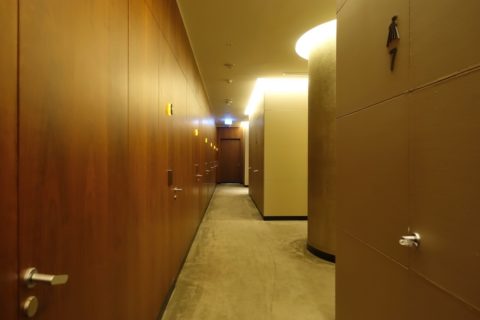 There are 12 shower rooms. The area is isolated from the hustle and bustle of the lounge, so it is quiet. It is a space like a hotel that cannot be thought of as a watershed.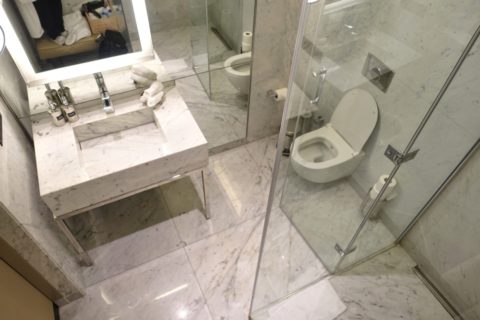 The shower room has a toilet. As it is a new facility, the walls and the floor are shiny and there is no smell of the drain, so it is comfortable, but it is a little small for the size of the lounge. However, the water pressure and temperature of the shower are excellent, and the usability is good!
Shampoo and body soap are provided instead of individual amenities.
The amenities are the minimum necessary, such as shampoo and body soap provided, but there are a lot of goods mainly for women, such as kits with nail files and cotton swabs and shower caps.
Of course, towels and hair dryers are available.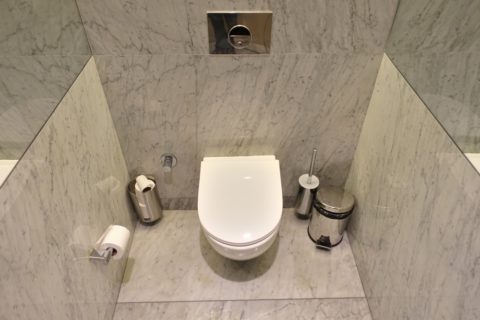 I also used the men's room later, but the private room is completely sealed from the ceiling to the feet in a Middle Eastern style! It would be great if this kind of public toilet is the world standard.
A charming lounge that you can enjoy all day long!
That's why the Turkey Airlines Lounge at Istanbul's new airport "Miles & Smiles" was a lovely lounge full of gastronomy and fascination! As the in-flight meal in business class was not delicious, I was even more impressed!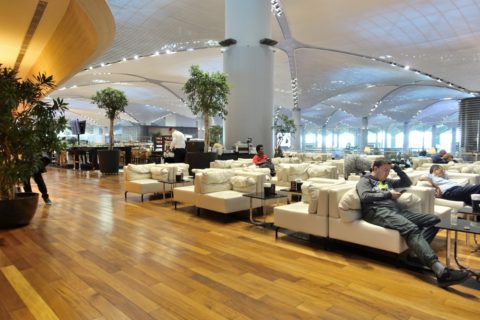 It was very crowded around 7 AM, but after 8 o'clock, it becomes less crowded, so if you want to relax, it's better to choose a late flight! Also, if you are leaving from Istanbul, I recommend you to check in early and enjoy the lounge!
The next report is a business class boarding report for Porto! → Turkish Airlines B 737 -900 Business Class boarding! IST-OPO
♪I also recommend this link→Collection of AIRPORT LOUNGE Reviews Worldwide! Wine, buffet, Shower, etc.