Continuing from yesterday, I will tell you the boarding record of Malaysia Airlines business class! The Sydney to Kuala Lumpur flight is a daytime flight, so after the main meal is served first, you can order from the a la carte menu at any time.
The taste of Malaysian airline's in-flight meal was not easy to choose from because there were some delicious dishes and others were not so good, but I was lucky that the Chef on Call special menu I designated this time was "hit"! Here's an in-flight meal report.
※This article was written before the virus scandal. This will be updated.
The plane gets dark even though it's a daytime flight
By the way, this is a daytime flight MH 122 departing Sydney at 13:05 and arriving in Kuala Lumpur at 19:55.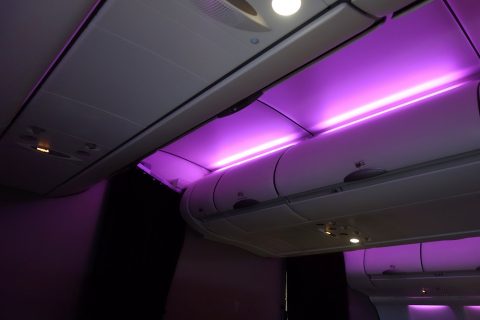 Normally, in the case of a daytime flight, the cabin will stay bright until the first meal service ends, but soon after the belt sign is turned off, the lights will turn on night mode.
I didn't like the dark, so I opened the window blind completely, but CA told me, "I want you to close the door because someone is sleeping.". At first, it was OK to close only one of the two windows, but I was asked to close both of them after all …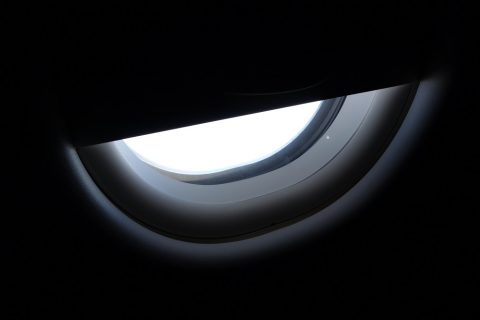 It's not economy class, so I'd like to have it open at least for the first in-flight meal service. In the first place, I am opposed to turning off the lights on the daytime flight itself. If you don't get enough sleep on the plane, you'll get jet lag.
I have never experienced any noticeable jet lag by being active on the plane and sleeping well in the hotel after arriving there. In the end, the company wants to save on electricity bills …
Champagne is really delicious!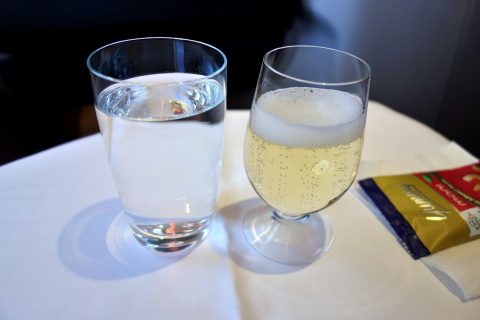 Well, first of all, the in-flight meal service starts with drinks. I think I'll have champagne here. Unlike on the way, I didn't get a glass discount this time (laughs).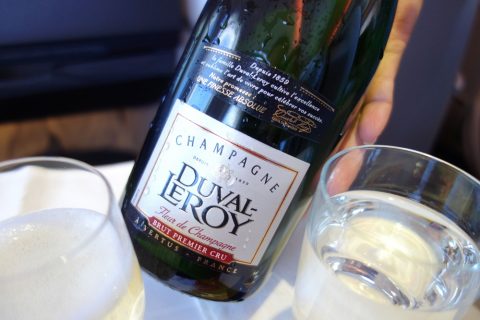 As I told you on the way, the Malaysian airline business class champagne is DUVAL-LEROY BRUT. The champagne is also available in the F class lounge in Haneda, but it was even more delicious because I had sparkling wine which was not so delicious at the airport lounge just before.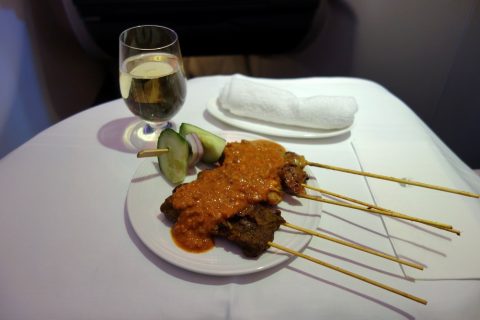 And the familiar Satay. This time I said "Mix" without specifying the number of pieces, and there were 5 pieces of chicken and beef on it. I expected the beef from Sydney to be especially delicious at …, but the taste was not inferior to that from Narita. Chicken is more delicious.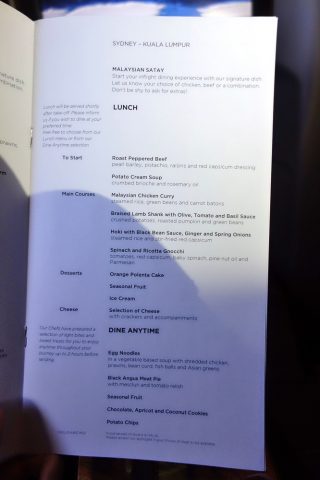 And here is the in-flight meal menu from Sydney to KL. As in Narita, the menu list was not distributed this time, and it was not in the seat pocket, so I asked CA to tell me.
Lunch is a 3 course menu. There are 2 To Start, 4 Main Courses, and 3 Desserts, each of which can be selected.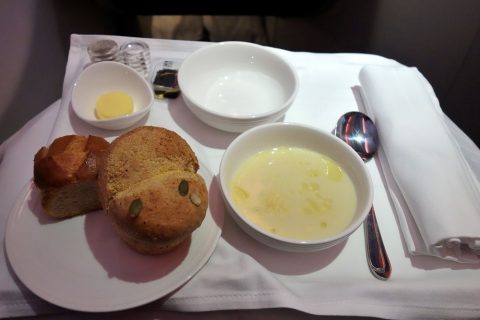 To Start is now "Potato Cream Soup". It's a creamy soup, but it doesn't taste too bad. The bread was served later, but it was dry, not fragrant and not very delicious. One has garlic flavor, but the bread itself is not so good … It was a bit disappointing starter.
The Chef on Call Aussie beef was delicious!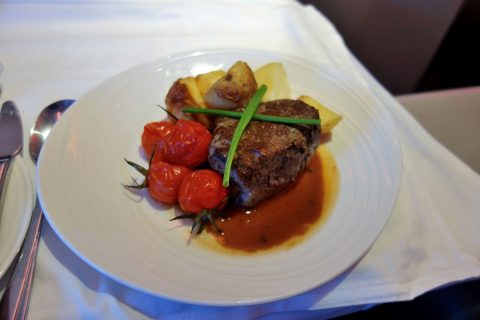 The main menu is not what I chose from the menu list, but this time I will have the Chef on Call special menu which I applied in advance. When it comes to Aussie, beef, I chose the menu "Grilled Filet Mignon".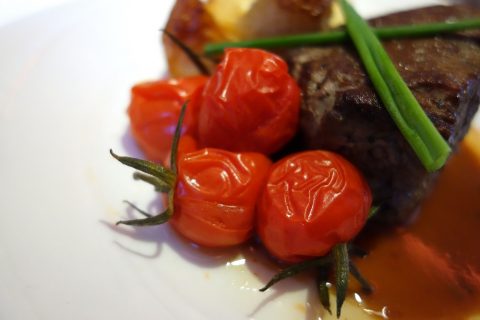 This is tenderloin steak with potatoes and tomatoes. The plate is hot, so the tomato on the side is also hot, but the natural sweetness of the tomato is delicious!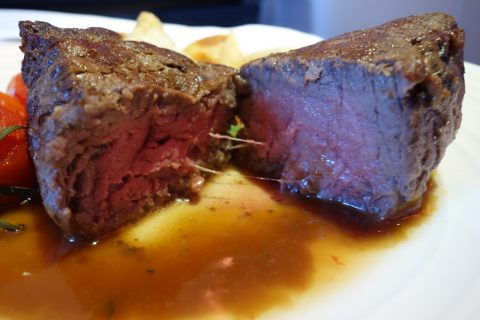 As for the steak, it was a bit hard to cut with a knife for in-flight meals, but the meat was just right soft. I wasn't asked how to cook it (Not possible with in-flight meals?), but it was my favorite well-done style and good! The seasoning was not bad, and I would be very satisfied if there was meat of this level in business class!
Cake, Ice Cream, Fruit Assortment
You can choose from three desserts, but I tried all three, including the in-flight meal. From left to right: "Orange Polenta Cake" "Ice Cream" "Seasonal Fruit". The most delicious among them was orange cake. It has a moist texture and a long-lasting orange flavor! I wish I could have gotten one more.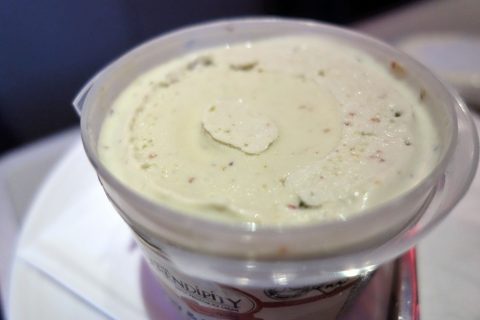 The ice cream is pistachio flavored. It was my first time to eat the taste of pistachio, but it was surprisingly refreshing and delicious. It has melted a little and is ready to eat.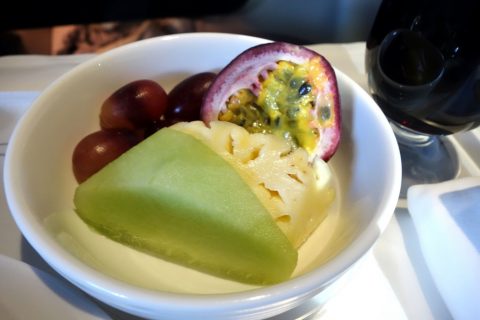 What disappointed me was the fruit. Pineapple and melon are not ripe, sweet or juicy. I don't usually eat passion fruit, so I didn't know whether the taste was good or bad. …。 The sourness is stronger than the sweetness, so I decided not to eat it after taking two bites.
The wine was unexpectedly expensive!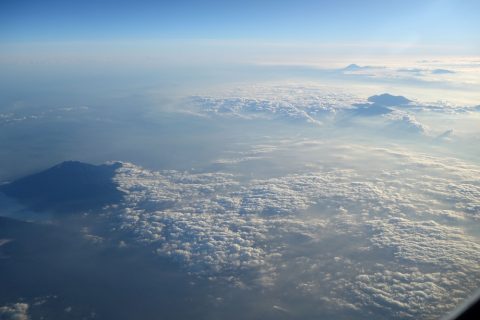 I got quite full at the first meal, but when I was looking at the menu about 3 hours before arrival, CA asked me, so I decided to order it a little early.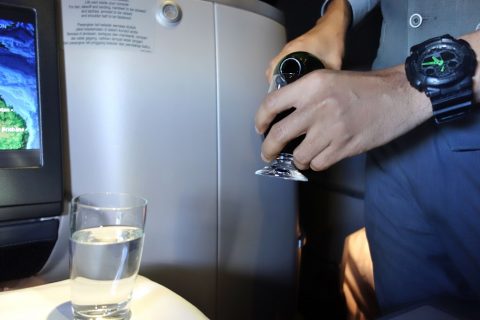 The drink is red wine "Bodega Piedra Negra Malbec Reserve 2014". When I checked, the bottle was about 2,500 yen in Japanese yen.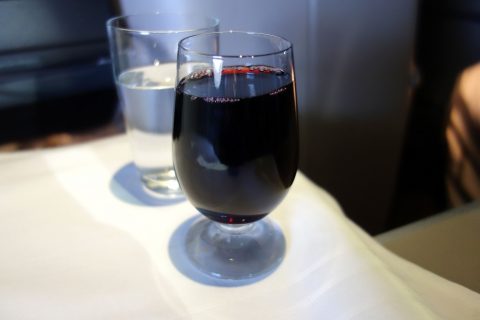 I put quite a lot, but it has just the right fruity taste and I like it. When it comes to business class wine, the average price is around 1,000 yen for a bottle, but I think this is a good stock of wine.
DINE ANYTIME is a menu that you can order anytime after the first meal. There are 5 menus, but the main meals are "Egg Noodles" and "Black Angus Meat Pie".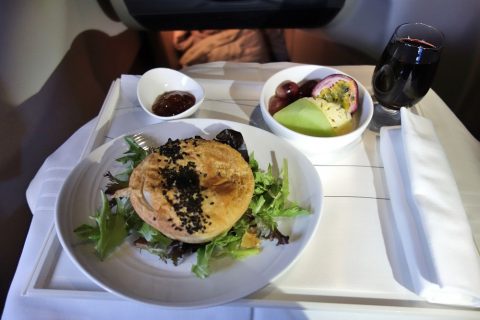 I chose meat pie this time. If you say "Pie", there are so many popular fast food restaurants in Sydney that I expect the taste of this one, too.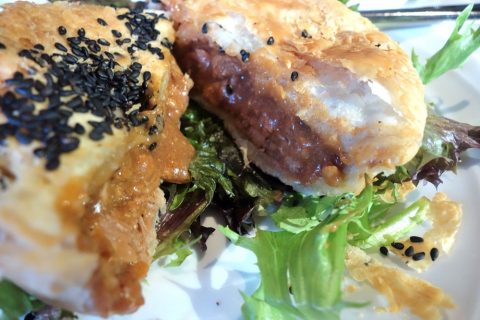 It's hot inside! You will get burned if you are not careful. The paste-like meat is bland and the pie itself is unseasoned, so you have to rely on the ketchup sauce on the side. The pie I ate at Harry's Cafe De Wheels in Sydney was delicious, but this was a bit disappointing.
Delicious Cheese and Potato Chips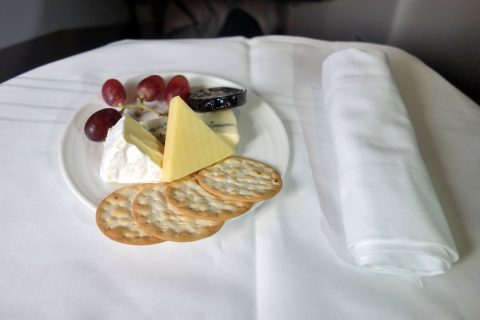 I had an assortment of cheese after the meal. I was going to lay down my seat and eat, but the male handkerchief politely pulled the tablecloth, so I ended up eating in a formal manner (lol)!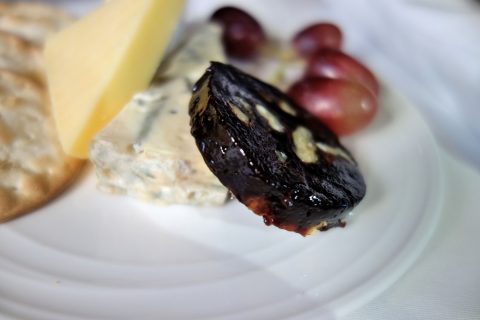 There are 4 kinds of cheese, crackers and 4 grapes. The black one tastes like prunes, but it's hard, not too sweet, and has a moderate flavor. But the cheese with blue okabi is very creamy and good! It is much more delicious than the cheese served in business class of JAL.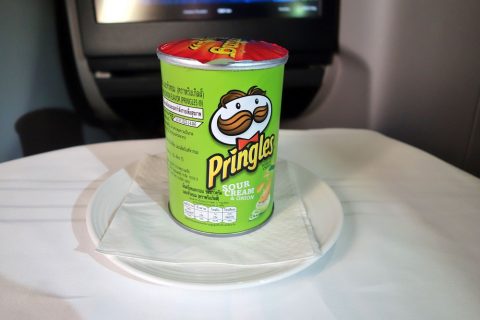 When I finished eating the cheese, the potato chips came to me even though I didn't remember ordering them. I think it corresponds to the "Potato Chips" on the menu, but the Pringles on the unexpected dish! It even had a napkin on it, and it was so funny because it was treated very politely!
The quality of service is …
The in-flight meal was delicious, but the quality of the service this time was not inferior to what I experienced at Narita – KL. As usual, I couldn't get the menu list at the beginning, and there were slippers or not, so I had an impression that I couldn't deny the "out" of the detailed service.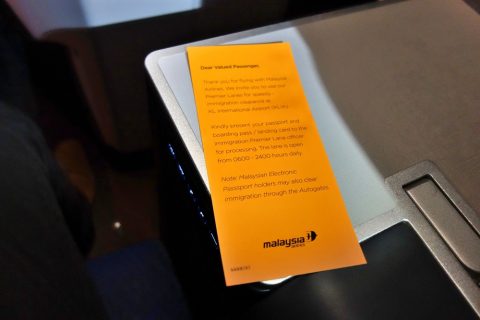 Also, this time I didn't enter KL where I was going to get on the train, but I didn't hesitate to get a ticket for Premier Lane after the first meal. As a result, it was decided that it was just CA's mistake not to get this ticket from Narita to KL on the way. (Reference → Malaysia Airlines A 330 Business Class boarding record! Narita – KL (2) Premier Lane tickets)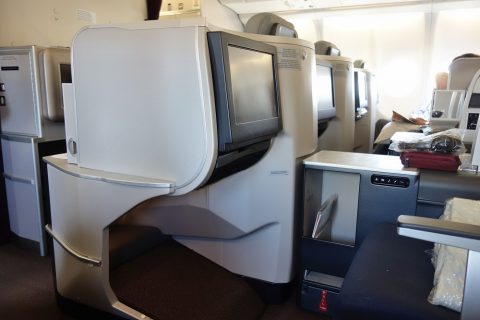 In this way, the quality of service varies depending on the route and CA in charge. Not to mention that it is a comfortable flight with a full flat seat, but this time it was good because the fare was cheap, but I can't afford the regular fare.
When you fly a Malaysia Airline Business Class, you want to research the service you should receive before boarding. The above is the boarding record and in-flight meal report of Sydney – KL! Please refer to the article yesterday regarding this seat → Malaysia Airlines business class A 330 "seat A" is compared with "K seat"
♪Click here for a List of articles on "First Class & Business Class Airlines worldwide (Seat, In-flight Meal, etc.)"