Continuing from yesterday, boarding record for Malaysian Airline Business Class KL-Sydney. This time I will report the in-flight meal (Breakfast)! As in Narita to KL, the main dish is a special menu of Chef on Call that I reserved in advance. Last time I pulled out the delicious coconut curry "hit", this time …?
※This article was written before the virus scandal. This will be updated.
Two hours before arriving in Sydney, breakfast service started as soon as the cabin became brighter! Even though the bed had not been fixed yet, a drink wagon arrived. Somehow I felt a little rushed …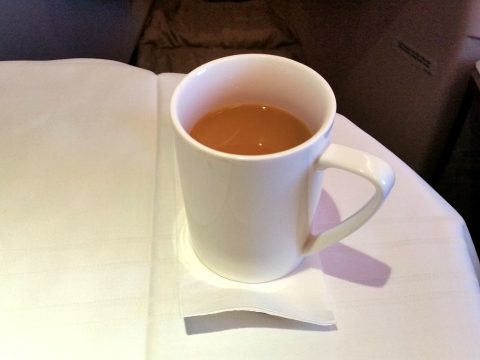 First, I was asked to choose either coffee or tea, so I chose milk tea. It's hot, but the cup is cold, so it will get cold soon. The taste is a little light probably because it contains a lot of milk.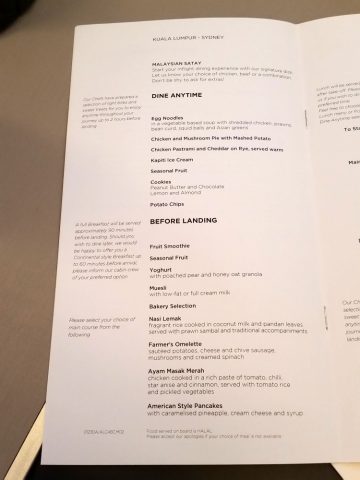 If you take a look at the menu again, you will see that the menu that will be served as breakfast is marked "BEFORE LANDING". Fruit Smoothie and Seasonal Fruit are served first, then you can choose from the following 4 main dishes.
Pan Fruit Granola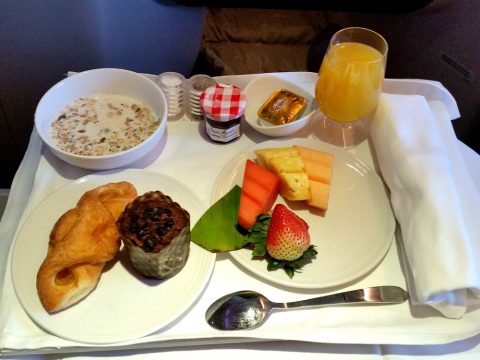 First of all, here is the common menu! Everything from Fruit Smoothie to Muesli came on one plate. Fruit granola milk comes later and bread comes later in a basket.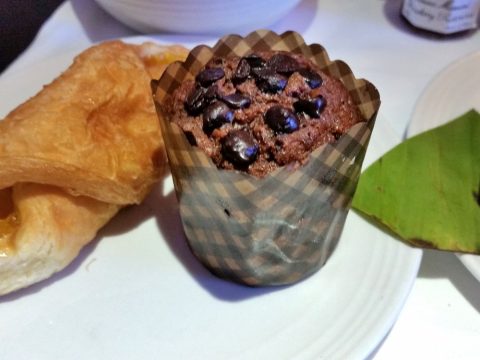 Apple Danish and chocolate muffin. Too bad the Danish pastry has so few ingredients that it has almost no apple flavor …, but the muffins are very sweet but delicious.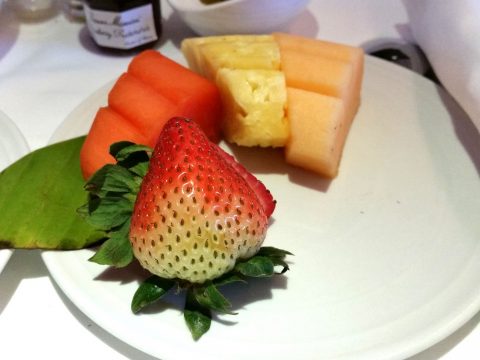 Fruits, strawberries and pineapples are sweet and good, but the other two are not so sweet and not crunchy, what fruit is it …?
The lamb from KL was hard …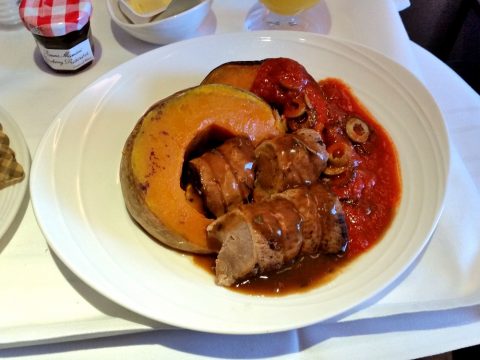 Then the main dish. I will have a special menu reserved in advance from Chef on Call instead of the listed menu this time. The name of the dish is "Oven Baked Lamb Loin with Pumpkin".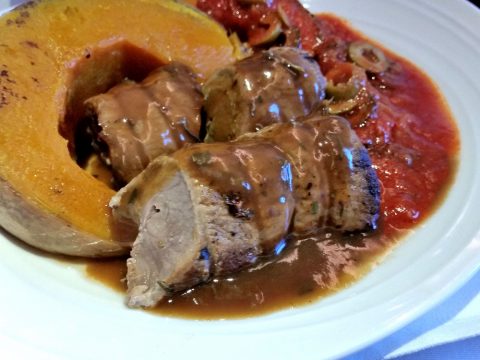 Believing the word of mouth that "The lamb from KL is delicious.", I made this, but it was not juicy and not very delicious. I thought the lamb was so hard …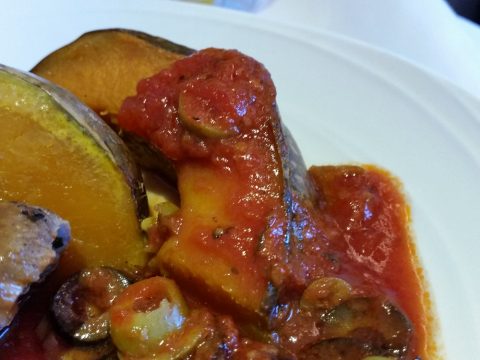 The pumpkin side dish is much better than that! Pumpkins with sweet tomato sauce are very soft and go well with food. The sauce is very sweet, but not sweet.
KL – Sydney late-night flight …
The quality of the in-flight meal and breakfast in Malaysian Airline Business Class KL to Sydney is not bad, but the satisfaction level will vary depending on what you choose as the main dish. I regretted a little that I should have chosen "Nasi Lemak" or "omelet" without lamb. …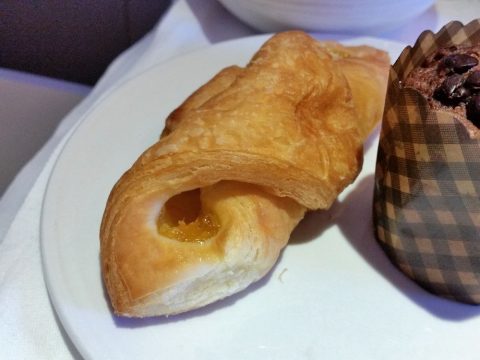 For bread, you can choose from 5 ~ 6 varieties in a basket, or you can choose from fluffy croissants or butter rolls. I can't wait to see how the smell of bread makes my stomach rumble.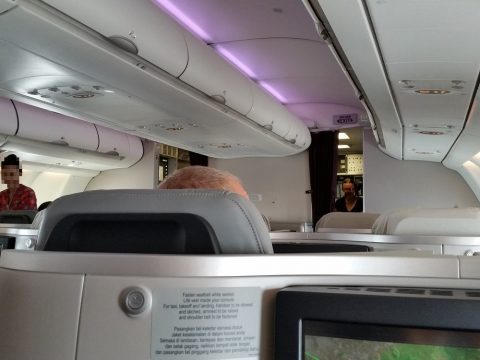 Anyway, the A 330 late night flight was comfortable! As I mentioned in the previous article, was the airplane so quiet? It is good that the distortion of the bass is so small that I think so. JAL is going to introduce A 350 soon, and is out of date with Boeing?
The above is the in-flight meal report of Malaysian airline business class KL ~ Sydney! Please take a look at the previous article about seats, etc. → Check out the comfort of a full flat bed in Malaysian Airline Business Class.
♪Click here for a List of articles on "First Class & Business Class Airlines worldwide (Seat, In-flight Meal, etc.)"