I used Malaysian airline business class this May. All the dishes on the order-made meal menu "Chef on Call" were of high quality!
In this post, we'll take a look at Malaysian airline business class in-flight meal Chef on Call's food report and how to make reservations.
How to reserve a Chef on Call
"Chef on Call" is an in-flight meal reservation service for Malaysian airline business class. You can pre-select and pre-order in-flight meals "Main".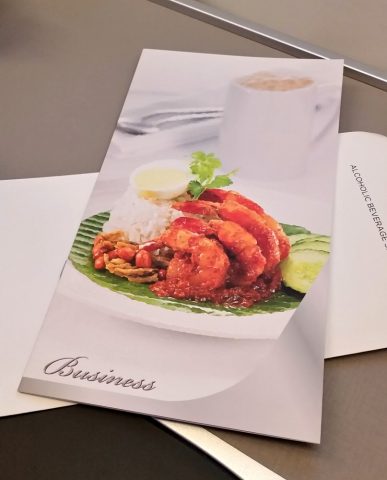 There are usually four main dishes to choose from on the day, but if you use the Chef on Call, you can also choose from other menus. JAL also has an in-flight meal reservation service, but there are some menus that you can't eat without reservation, which is a big difference from JAL.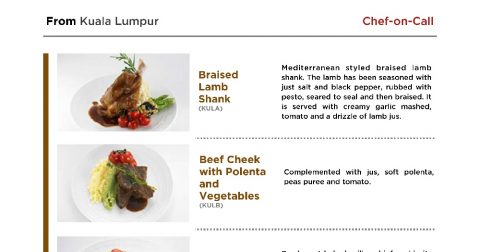 The Chef on Call menu is available on the airline's website. As of May of this year, you could choose from more than 10 types for each line, but now there are only 4 ~ 5 types …, and it seems that it has been considerably improved.
To apply, fill in the required information at the address on the Malaysia Airlines website and send an email. Originally, you can easily select it from HP, but it says that it is temporarily unavailable due to system maintenance at the moment. …
Name
Email address
Contact No. (Your phone number)
Booking Reference number on the e-ticket
I wrote the above item and "in English" that I would like to order the menu of the share-on-call, and sent an email, and 2 days later I received a reply saying "I got it.". There is no template for sending emails, and you can use any format.
You don't have to tell them anything on the day, and they will bring it to you at the time of the main meal of the in-flight meal service, but it doesn't mean that everyone at CA knows, and sometimes you are forced to choose a normal menu by mistake, so in that case, you can just tell them that you ordered "Special menu"!
Then, I would like to list the menu of Chef on Call that I actually ate.
It is generally said that the taste of in-flight meals differs depending on the place of departure of the flight, but as far as I took the Malaysia Airlines flight, I didn't feel that much difference. The seasoning is stable and the level is rather high.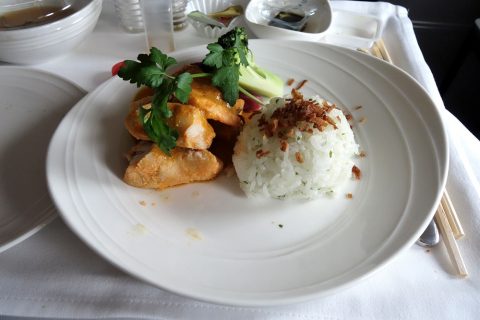 First of all, "Seafood Coconut Curry" (Narita → KL). The ingredients are soft white meat fish and plump shrimp, and although it is spicy, the coconut milk is mild and good! Even if you look at the reviews from various people, there are many reviews that this taste is good, and it is a very popular menu. Details of this food report → Malaysia Airlines A 330 Business Class boarding record! Narita – KL (2) In-flight Food Report
The number of options has changed, but this coconut curry is currently available on flights from Narita (As of October).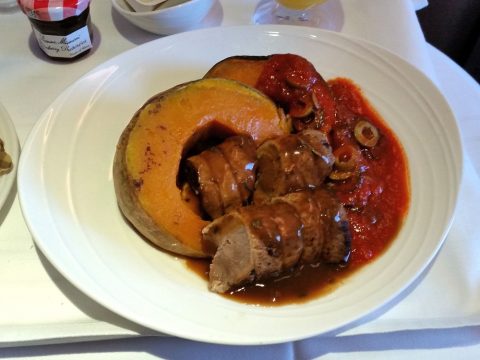 Then two dishes from Kuala Lumpur. The first is "Oven Baked Lamb Loin with Pumpkin" (KL – Sydney). Lamb meat, which is hard like burdock (Too much to say …), is so hard that it is difficult to insert a knife that is hard to cut. However, the soft and sweet pumpkin is superb, and it goes well with tomato sauce! Details of this food report: Malaysian Airline Business Class In-flight Food Report! Breakfast from KL to Sydney
Currently, there is a menu using lamb, but the menu with "Pumpkin" is not available from KL.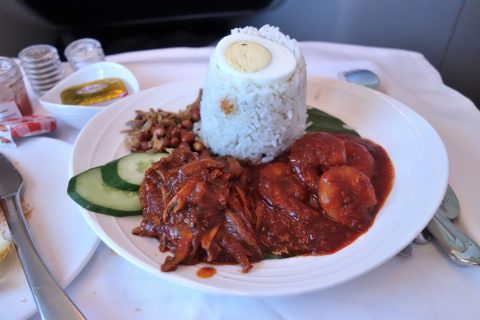 Another one from KL is "Nasi Lemak with Prawn Sambal and Ikan Bilis Sambal" (KL → Narita). As it looks, the spiciness is the best among the in-flight meals I have ever eaten, but the good thing about Malaysian in-flight meals is that you can feel the deep flavor! Thick shrimp and sweet little fish, beans. It was a delicious Nasi Lemak that you can hardly taste even in KL city! Details of this food report → In-flight food report! Malaysia Airlines Business Class KL-Narita
Unfortunately, it's no longer available on the current Chef on Call menu, but when I got on board, it was on the regular, non-Chef on Call menu, so it might still be available.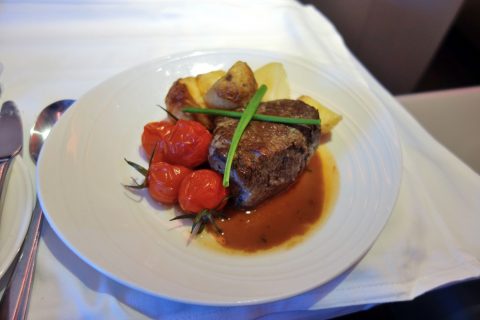 Finally, from Sydney, "Grilled Filet Mignon" (Sydney – KL). Speaking of Australia, it is Aussie beef, so I chose tenderloin steak. This steak is soft and chewy. The soy sauce-based seasoning was also good, and I was very satisfied as a meat dish served on the plane! Details of this food report: Malaysian Airline Business Class In-flight Food Report! Sydney – KL lunch menu
Right now, the tenderloin steak seems to be gone, but there's still a menu for rib steaks, so it's worth a try.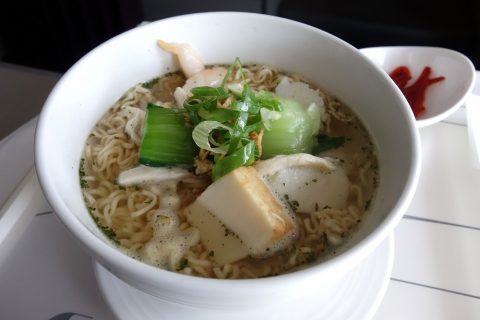 Besides the Chef on Call, you can order a la carte menu whenever you want. Malaysian Airline Business Class has a high level of taste. For example, this "Egg Noodles". The noodles were completely instant and the soup was very light, but it was good with a lot of ingredients such as fish balls, chicken, and shrimp! It is filling and quite delicious.
Other than that, "Chicken Tandoori Baguette" is juicy tandoori chicken and good! Baguettes and vegetables are different depending on the place of departure, so it might be good to try different routes on the same menu.
high-level business class in-flight meal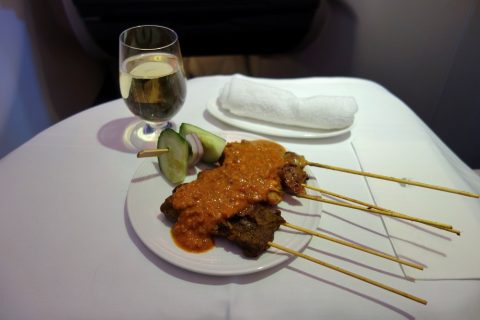 This time, I tried to check the taste of the in-flight meal of Malaysia Airlines business class on several routes, and I was able to come across many menus which I felt "Delicious" despite the taste preference. The "Satay" that comes out at the very beginning of the meal is always stable and delicious, and you can definitely pick Malaysia Airlines for the meal.
Due to a series of incidents and accidents, the number of flights to Malaysia Airlines has decreased dramatically, but there are also 1 ~ 2 super discount business class flights a year, and the satisfaction level is much higher than that of JAL, which you have to pay a lot of money for. Please refer to it.
♪Click here for a List of articles on "First Class & Business Class Airlines worldwide (Seat, In-flight Meal, etc.)"