I boarded Malaysian Airlines A330 Business Class when I went to Sydney this May. The flight from Kuala Lumpur to Sydney is a late night flight, but can an Airbus 330 business class seat put a nervous person like me to sleep? I checked the sleeping comfort.
※This article was written before the virus scandal. This will be updated.
A little problem, priority boarding of ants …
The train from Kuala Lumpur to Sydney leaves at 23:45. However, the ticket shows the gate open at 22:45 which is 1 hour before.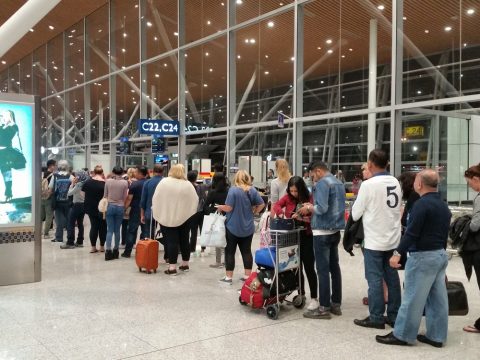 I thought 1 hour ago might be too early, so I headed for the gate about 15 minutes later, and there was already a long line on this street! At Kuala Lumpur International Airport, there is a baggage check just before the boarding gate, so it takes time to pass through the gate.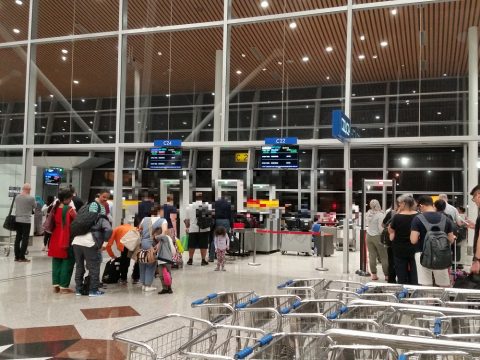 There are three gates here. I thought there was a fast lane for business class or one world advanced members, but there was no sign like that and it was only a general lane. Since there are 3 lanes, I think it would be good to leave at least one for business use …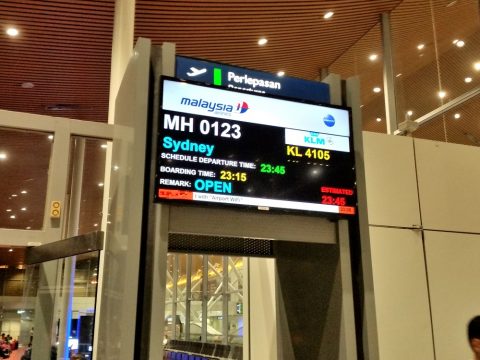 Boarding starts at 23:15. There will be an announcement of priority boarding, but there is no check of the ticket in front of the gate at this time, so anyone can enter even if it is not the subject … I would like you to do a little more neatly around here.
5K freestanding seat, …?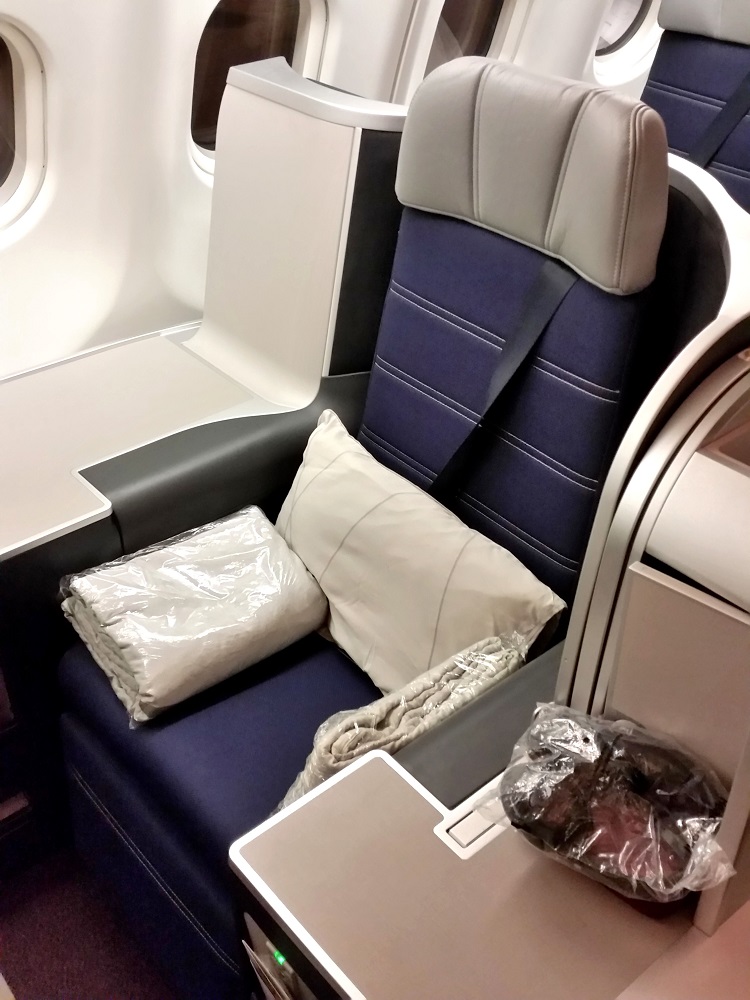 Now, this business class is a 5K window seat. In the previous Narita-KL, I assigned 1K, the first one, but this time it is also an independent seat with a large space!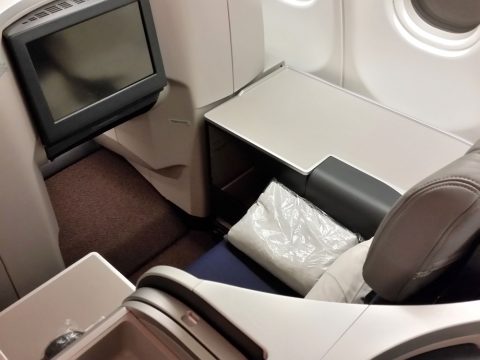 The difference from 1K is the foot space. The front seat had enough space as if it were a first class seat, but it also has a dent because there is a seat in the front. I don't feel any particular tightness, but I feel that the movement is more restricted than 1K which I could move freely.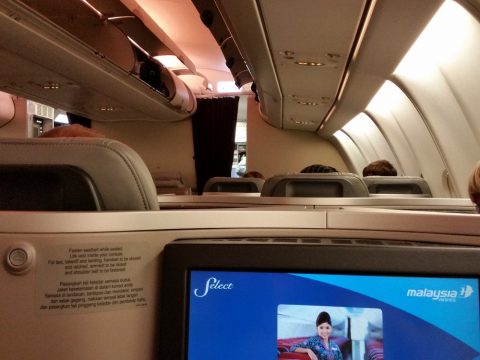 However, I think this 5K seat with a view of the entire business class area is more spacious. Also, this one is easier to match with CA's eyes, so is it easy to order food and drinks? Please refer to the article "Malaysia Airlines Flight 330 in Business Class! Narita – KL (1)" for 1K seats.
"express pass" is distributed.
After the belt sign was turned off after the plane took off, a "express pass" was handed out along with an entry card to Australia.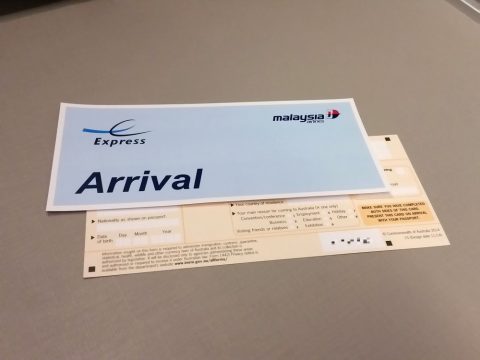 This pass is distributed only to business class passengers and allows them to proceed to a special lane with fewer lines at Sydney's immigration office. At the last Narita-KL, I was not able to get such a pass for the priority lane, which might have been forgotten, and I had a hard time at the immigration check of KL …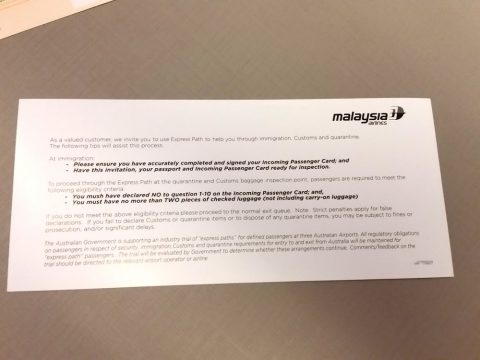 There is a serial number on the back corner. Also, it is printed Malaysia airlines on both sides, so it may not be usable even if you save it for the next time you visit another airline without using it this time. The paper is thin, but it is glossy and high quality paper. But there are wrinkles here and there, and it feels like it has been used for many times.
Is Satay from KL delicious?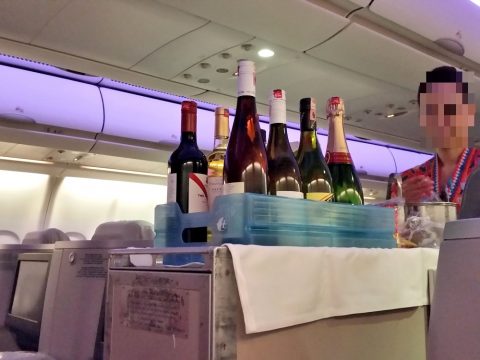 Drink service is available after the disembarkation card and express pass are issued. This flight is a late night flight, so after taking off, you can only have drinks and light meals, and you can only have a real meal 2 hours before arrival.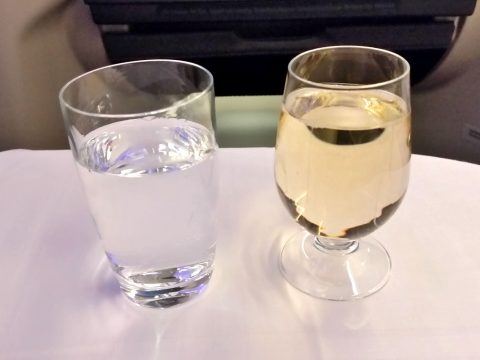 The drink brand is the same as that of the Narita flight. There are about 7 kinds of red and white wine, but champagne selection is the best here! As I told you before, this brand called DUVAL-LEROY is also used in the first class lounge of Haneda Airport, and it is a very delicious champagne which you can feel the boiling energy.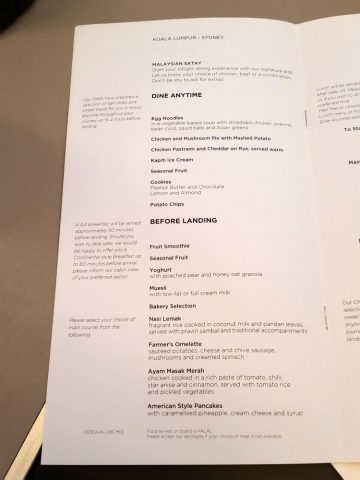 KL-Sydney's in-flight meal menu is here. First, after Satay is served, you choose light meal menu from "DINE ANYTIME". As expected, it was before going to bed and I didn't feel like eating so much, so I decided to just have "Cookies".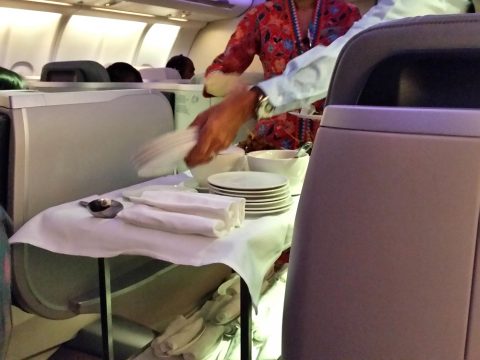 Satay will be there soon. If you put it on a wagon like this and serve it on the spot, it's a little exciting!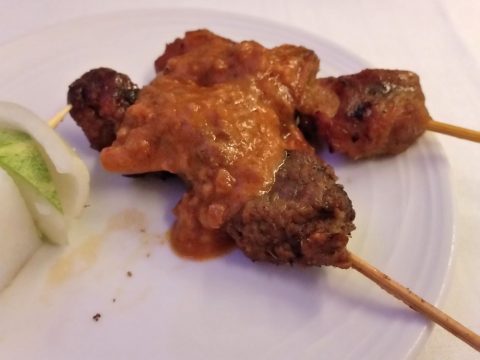 It's before I go to bed, so I'll have one each of beef and chicken. It looks the same as the one I ate on the Narita flight, but it is warmer, the meat is tender and delicious than the one I ate on the Narita flight. The taste of in-flight meals varies depending on the factory from which they depart, but the quality of Malaysian Airline's home base KL might be good.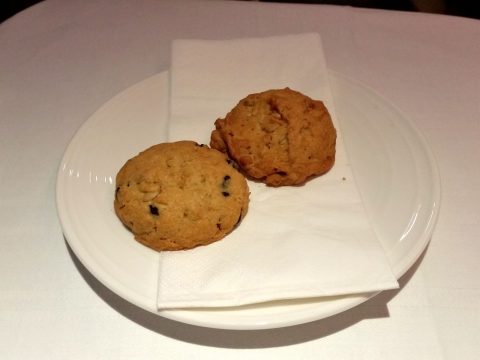 After that, the cookies that were brought here. These chocolate chip cookies look and taste quite ordinary, and are about the size of an old country maam (lol).
How do you like your full-flat seat?
When the light meal is over, it gets dark and lights out. We have about 8 hours to Sydney, but considering the service time, we only have about 3 ~ 4 hours to sleep.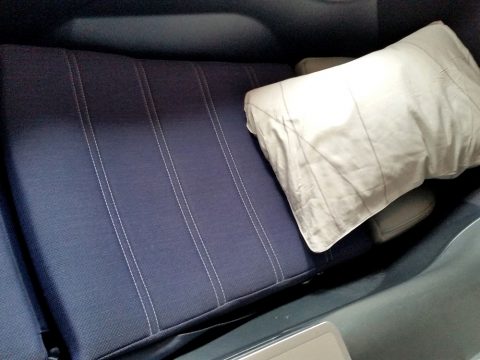 In terms of space, it's about the same as JAL's Sky Suite. It is difficult to turn over, but I don't think it bothers you to sleep on your back unless you are a very big person.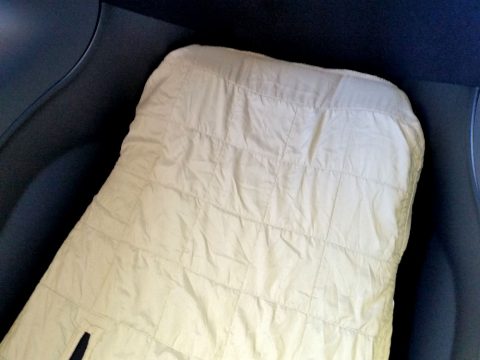 Malaysia Airlines doesn't have a mattress like JAL's Airweave, just a white sheet over the entire seat. In that case, there was no cushion, so I was worried that it might be uncomfortable, but I didn't feel any pain in my back or waist.
When I slept with this, I was able to sleep for 2 ~ 3 hours without being conscious! I usually sleep with noise-canceling earphones on, but unlike Boeing, the A330 has less low-frequency noise, so I was able to sleep without wearing anything.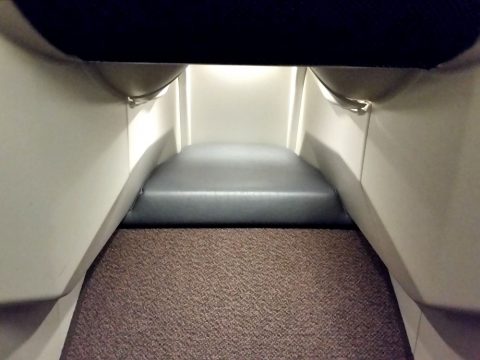 However, I feel my feet are cramped … and my feet are always touching the wall even when I sleep. This goes to Sky Suite of JAL.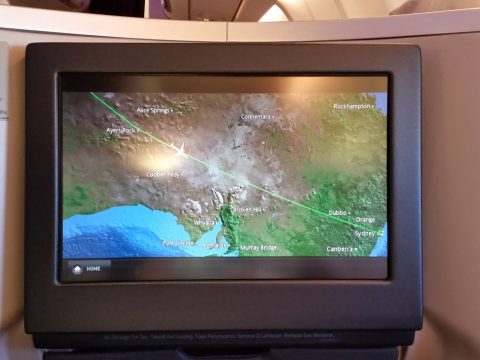 So when I woke up, the plane was already flying over Australia! Next time I will report about the in-flight meal report → Malaysia Airlines business class in-flight meal report! Breakfast from KL to Sydney
♪Click here for a List of articles on "First Class & Business Class Airlines worldwide (Seat, In-flight Meal, etc.)"