Following on from (1) above, we will focus on "Malaysian Airline Business Class Boarding" in this report. The in-flight meal was "Departure from Narita", so you can enjoy the appetizer that imitates Japanese food, and the main dish is the Chef on Call special menu that was reserved in advance! It will be a little longer, but I would appreciate it if you could stay with me until the end.
※This article was written before the virus scandal. This will be updated.
The most enjoyable thing in business class is in-flight meals! First of all, I would like to take the menu list and examine what is on the menu, but even if I wait, CA will not bring the menu list, and I only have to choose appetizers and desserts from the list after being told the name of the dish. In JAL's business class, the menu was distributed first, but is it different in Malaysia Airlines?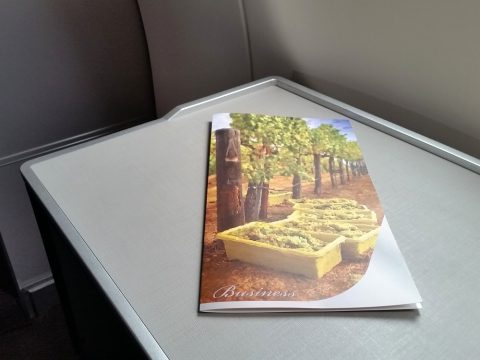 I'm not used to English and I don't know what kind of dish it is in the mixed English of Asian people. … Beginning with that, I was wondering if there is a menu in Malaysian business class, but later I said "Menu Please" and brought it. What? It's there!
On the other flights I will board after this, there are some flights where the menu is distributed properly first, and also some flights where the menu is in the seat pocket even if it is not distributed, … I am a little suspicious that the service is very different depending on the route. …
Champagne is the same brand as Haneda First Lounge.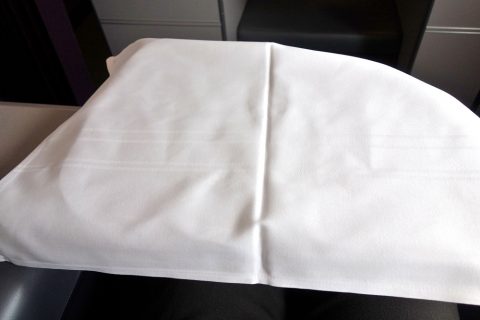 Let's put the menu down and start the meal service! First of all, it is a tablecloth with a straight line on a white cloth, and it is clean without dust.
Unfortunately, there is a piece of trash on the axis of the table which looks like leftover food from the previous person. … It may be difficult to clean such a place.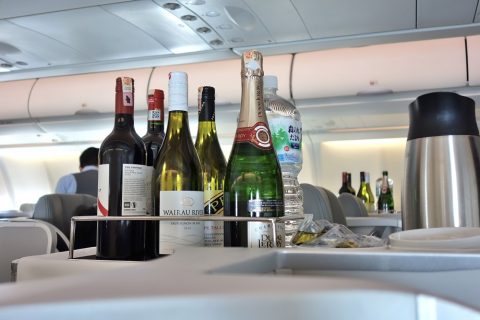 Drinks are offered first. According to the menu I received later, there were quite a lot of kinds of alcohol, 8 kinds of champagne, red and white wine, beer and various liqueurs, and 4 kinds of whisky including my favorite "Glenlivet".
Champagne is "DUVAL-LEROY (Duval Leroy)". This brand is also offered at the JAL First Class Lounge at Haneda Airport and the market price is 6,000 yen. You can feel the energy flowing from the moderate sweetness, it is quite good! It's a good match with JAL's "Delamotte Blanc de Blanc" (Reference → Haneda Airport JAL first class lounge sneak report!)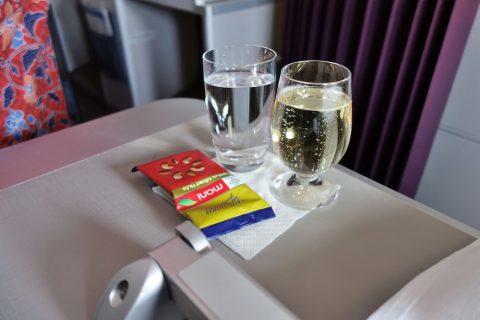 Drinks come with "Nuts". You can't put it on a plate, just give it to me with the bag (laughs). As usual, we shouldn't eat dry food here.
Even so, the flight from Narita to Kuala Lumpur this time often flew in rough air, and the airplane was always shaking during the first meal. However, the drinks are poured until the last drop of the glass every time, so if you don't hold it in your hand, it will spill out! To avoid that, I take a sip or two, but once I drink a little and it drops to about 70%, it gets poured right away, so I can't relax. …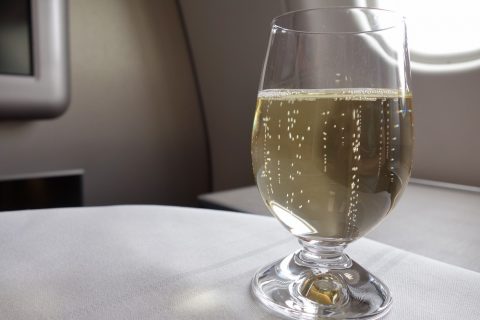 I have experienced it somewhere before, and I have an impression that many Asians are like glass for some reason. I can say that it is nice to be considerate, but is it better to be considerate in anticipation of a quake?
What is the taste of the popular "Satay"?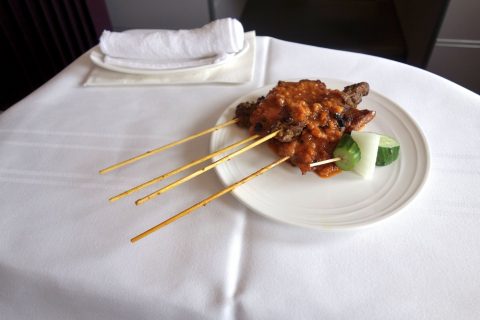 Following the drink, the popular Satay was served! There are 2 kinds of meat and chicken which is one of the main products of Malaysia Airlines. If you say "Mix", you can have 2 kinds.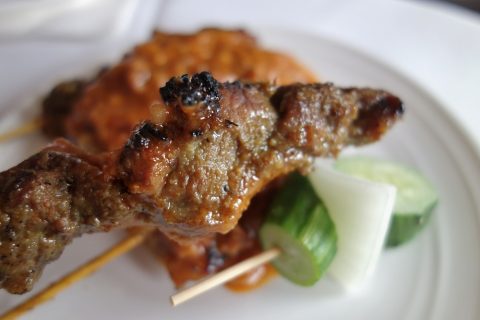 There were 4 in total, and I thought there were a little more, but each one was smaller than I saw in the picture, so I ate them up! I prefer chicken with a sweet sauce with peanuts! Beef is good, but it's a little dry.
"Appetizer" and "Green tea soba noodles"
You can choose from the following 3 appetizers, each with "Green tea soba noodles".
Grilled Chicken Breast
A Selection of Japanese Delights
Cream of Green Pea Soup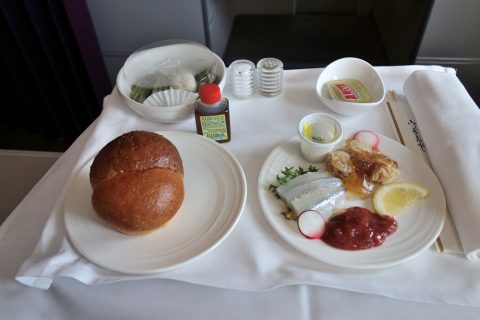 I chose "Japanese something". At this time, bread and cha-soba are also served on a tray, but only the appetizer plate will be replaced for the main dish.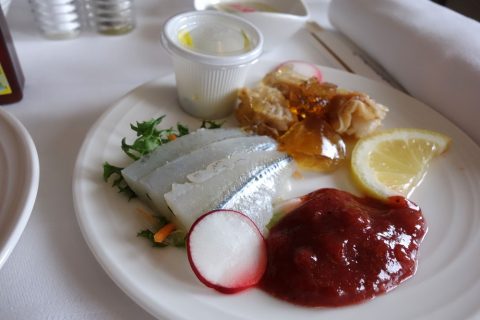 This menu is half-raw (? There are 2 types of seafood. The more you chew the scallop, the more the taste will come out and it is good! The sweet and sour gelee is delicious, and the plum sauce on the side is perfect for refreshing your mouth.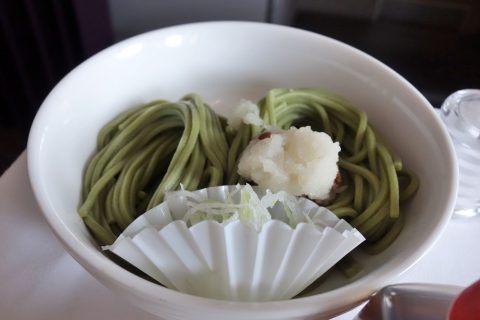 The tea soba has no taste or fragrance of tea. But the attached "Mentsuyu" was quite delicious!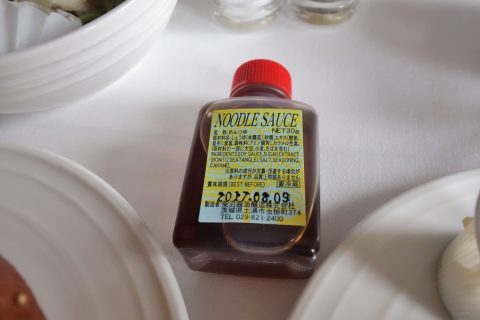 Mentsuyu with only NOODLE SAUCE written on it. It is manufactured in Tsuchiura City, Ibaraki Prefecture.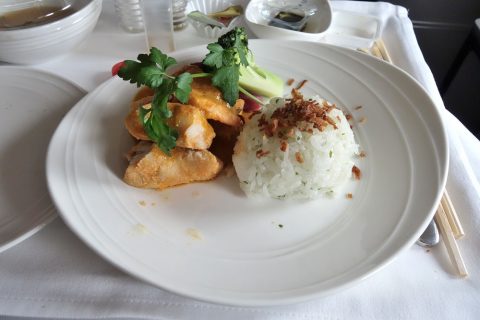 After the appetizer, the main dish is served! On the Narita-Kuala Lumpur line, there are 4 menus to choose from, such as "Oven-baked lamb", but I ordered the Chef on Call special menu in advance.
At first, I might not have been informed by the CA in charge, but I mistakenly came to take an order for the main menu, so I said "Special menu" and the male chief brought it right after that.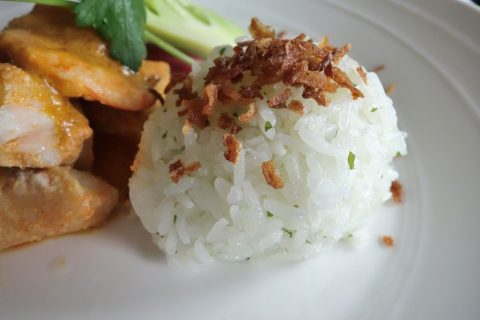 What I ordered was Seafood Coconut Curry. I chose this one from Japan after I got word of mouth information that it was safe, but it was really delicious! The coconut milk flavored rice, the fish filling was very soft, and there was a plump shrimp in it, and the spiciness that comes later was just right, so I chose this!
Dessert and coffee flavor
You can choose from the following 3 desserts.
Green Tea Paris Brest
Haagen-Dazs Ice Cream
Seasonal Fruit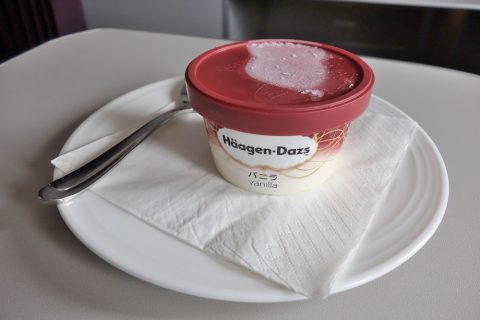 Haagen-Dazs is a small amount type. It's 198 yen at the supermarket. JAL offers twice the capacity of Haagen-Dazs even in economy class, but I feel this is not enough. …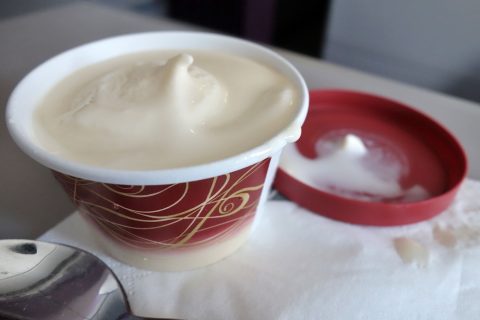 On top of that, I passed "best time to eat" and came out with "about the time of dissolution". It's the opposite of JAL that comes out in a tight condition. As for other fruits, I tried it on a different flight so I will let you know later, but it was a bit disappointing as I was expecting a creative dessert.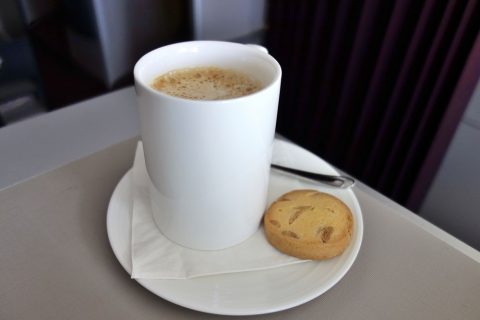 You can choose from about 5 kinds of coffee, but I didn't get a menu yet at this point, so I said "Hot coffee" and they served normal blended coffee. I had it black, but it was not bad as it had a slight bitterness and lingering aftertaste. The side cookies are also good!
By the way, there are 9 kinds of "Tea" from black tea to Japanese tea! I can't believe I'm really prepared (Is a tea pack possible?).
Malaysian Airline's business class offers a la carte menu that can be ordered at any time after the first meal and up to two hours before arrival.
Egg Noodles
Tandoori Chicken Baguette
Seasonal Fruit
White Chocolate Cookies
As mentioned above, I didn't get the menu list, so I didn't know what was on the menu at first, but CA came to pick up my order two and a half hours before it arrived. How about noodles and sandwiches? So I decided to order both.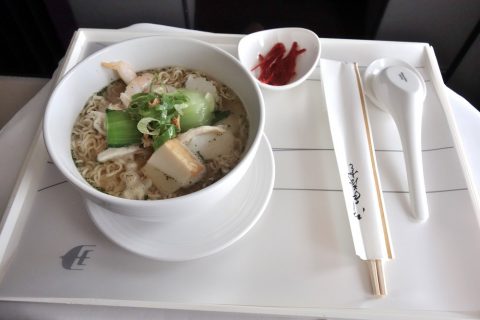 First of all, I received "egg noodle". It was served in less than 2 minutes (lol). The noodles are completely instant with chili and chili, and the soup is peppery but lightly flavored. However, the ingredients were quite delicious, and there were a lot of fish balls, chicken, and shrimp, which was good! The Japanese leek and bok choy are crispy and have no odor.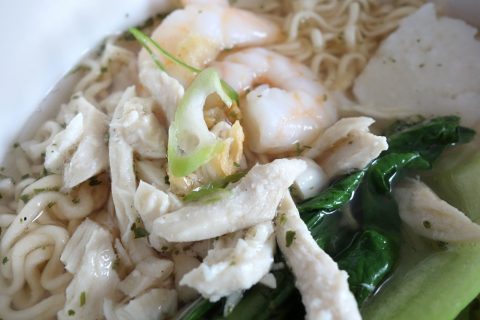 Speaking of Malaysian noodles, sometimes they have a unique Asian flavor, but I think it goes well with Japanese taste.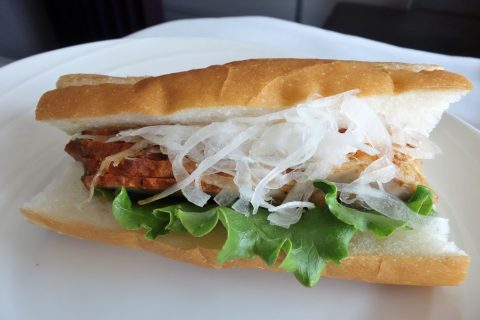 Another sandwich is "Tandoori chicken baguette". It may be refrigerated, but it is very cold including bread. The ingredients are chicken, onion and lettuce. It tastes good with a flavor similar to satay which was served at first, but it tastes very light. I think it tastes pretty good on the ground.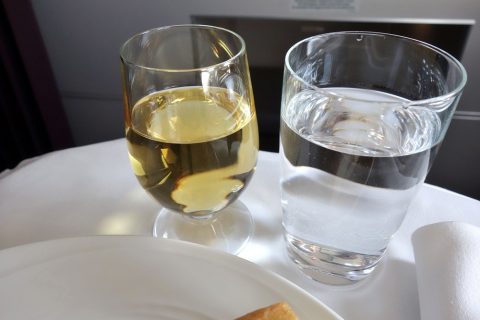 Finally, I had dessert wine "Chateau Lange 2012" and finished! Like the name of dessert, it was a very sweet white wine!
No ticket for Premier Lane …
My flight was in business class of Malaysia Airlines. Needless to say, it was a comfortable flight with a fully flat independent seat, but I had some complaints about the service. Not only was the in-flight meal menu not provided, but what was more problematic was that the "Premium Lane Tickets" required at the immigration check at Kuala Lumpur International Airport was not provided.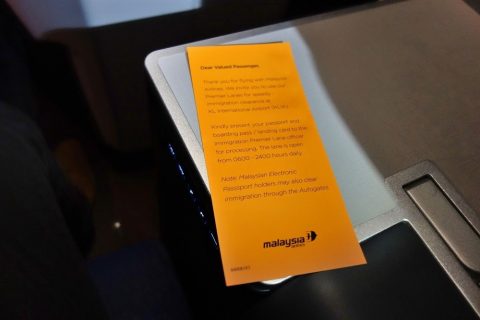 Without it, I had to wait in line with economy class passengers for more than an hour!
I'm going to Sydney this time, but I need this ticket because I'm going to stop over at Kuala Lumpur on the way. I don't know if I knew this or I was mistaken, but thanks to … I had a terrible time … .
The "Sydney – KL" that I boarded later did not convey my intention to enter the country in KL, but it was properly distributed on the plane, so it must be a misunderstanding of CA. Overall, there are 2 male chiefs and their service is excellent, but female CA's service is B-class. This is what I felt on all four flights, so it seems that the trend is certain.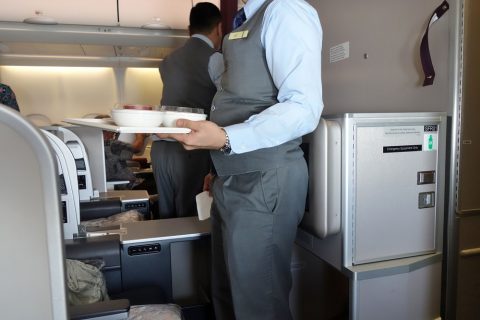 The in-flight meals taste pretty good, and there are many kinds of drinks. There was no bad response that made me feel bad, but I would be more excited if there were some "on stage" but hospitality of upper class people.
I still have a lot to write on the boarding record for Malaysia Airlines Business Class, but for the time being I will finish up here and let you know the details of the seats at another time. Please also see the in-flight meal reports for "Part (1)" and other flights → Malaysian Airlines A 330 Business Class boarding! Narita – KL (1) Spacious seats and CA service
Malaysia In-flight Food Report:
♪Click here for a List of articles on "First Class & Business Class Airlines worldwide (Seat, In-flight Meal, etc.)"