This is my 4th flight, Malaysia Airlines A330 Business Class. As expected, there are no more eye-catching topics, but every time I sat in a different seat, I checked the comfort of sitting and sleeping!
The seat this time was 7A by the window at the very back. It's generally said that planes are quieter and more comfortable in the forward direction, but I'd like to report whether I can sleep properly in this seat.
※This article was written before the virus scandal. This will be updated.
Going to Narita where there are few Japanese
I'm flying to Narita from Kuala Lumpur International Airport on Malaysia Airlines flight 0088. This time, we are flying from Sydney to Narita via KL, but even though it is a business class flight, the flights that exceed 15 hours in 1 day are satisfying …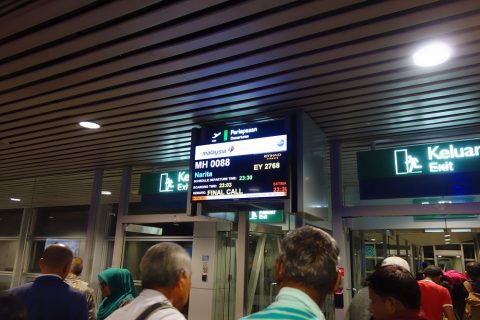 Malaysia Airlines started boarding without any delay, but when I looked at the passengers, I was surprised to find that there were no Japanese! Most of them seem to be Malaysians, and I sometimes see young Japanese students. I really doubt if this plane is going to Narita, Tokyo.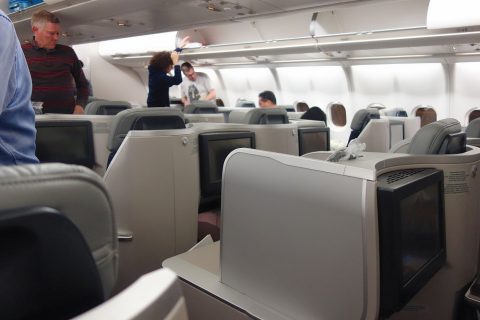 If you look at the whole world, there are a few plane crashes every year, and when it's dangerous, no matter which airline you fly to, I don't think it makes sense to limit your travel to Malaysia or Malaysia.
While the travel industry has been booming to this extent, the neighboring country Singapore, which I visited two months ago, had so many Japanese people everywhere that I couldn't hear Chinese, so I think I shifted quite a bit from Malaysia. I recommend Kuala Lumpur because it is more lively and has more discoveries than Singapore.
seats in the rear row 7A of the staggered seats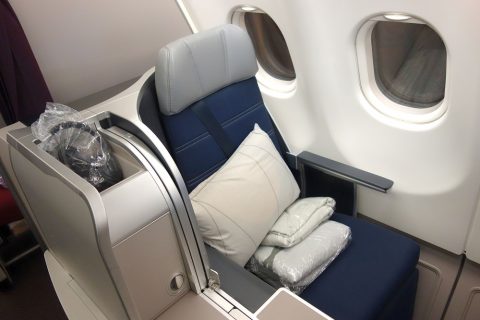 Now, this time's seat is the last row 7A on the left side. We've tried 1K, 6K, and 2A, but this is the first time we've assigned the last row in business class.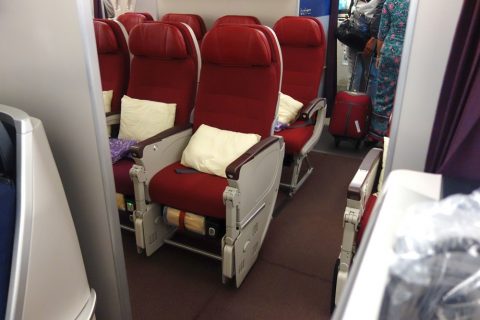 Because it is the last row, the front row of economy class is right behind the seat. There is a high possibility that people with babies sit in the front row, and it may be a risk especially when you take a late-night flight. However, fortunately, there was no one with a baby at that time.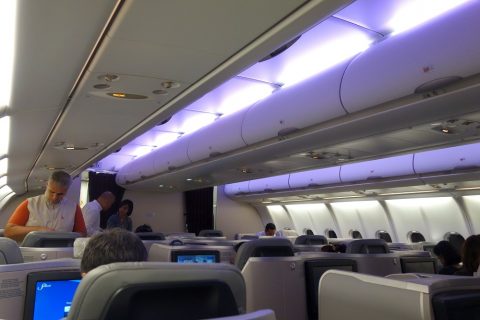 It's the last row, so you can see the whole business class. It seems to be an easy seat to talk to when you have something to do at CA.
Concern about toilet situation due to special seat arrangement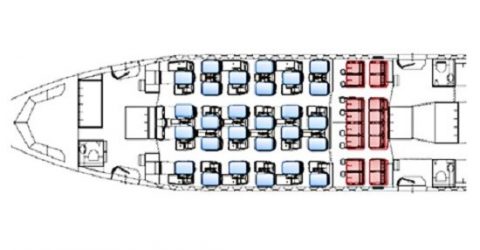 However, the seat arrangement of Malaysia Airlines flight A330 is special, with only 2 rows of coach class behind the first cabin, which usually accommodates only business class passengers. The problem with this is that the two toilets, which should only be used by business class passengers, are now shared with economy class passengers.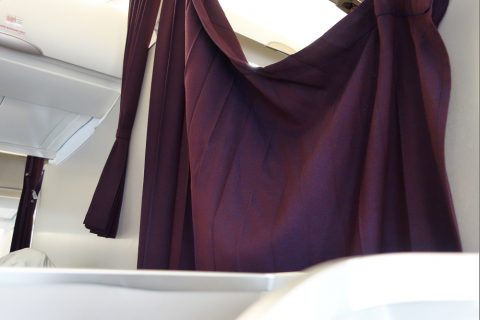 And in the sky, the curtain is closed between economy and business, so business class passengers consciously concentrate on one toilet ahead. The rush of restrooms from 2 hours before the arrival, which is already crowded, has spoiled the business class scene. …
I think it's probably because of the space, but this arrangement is rarely seen in other airlines. This should be improved.
bed position of seat 7A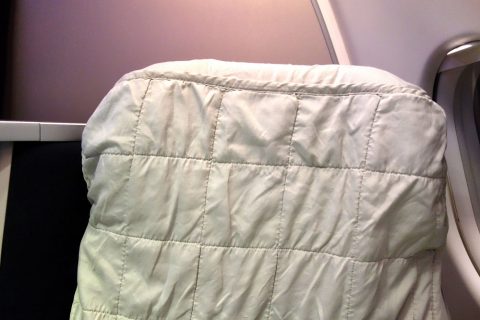 Then, after the first in-flight service after taking off, I will recline the seat to make a bed and check the comfort. As we reported in the article from KL to Sydney, there is no mattress in the business class of Malaysia Airlines, so you just cover the sheet like this.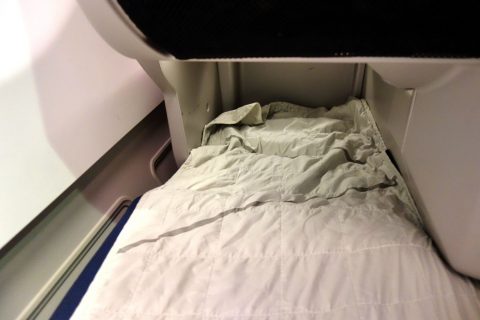 It's big enough to cover your feet completely, but it's hard to lay out so it doesn't wrinkle.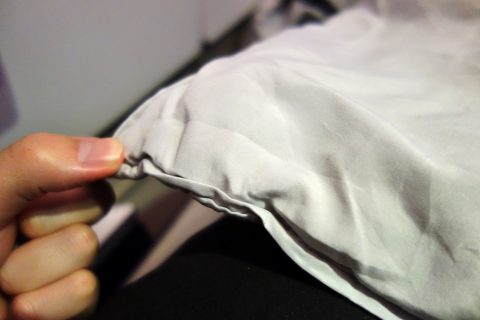 The comforter can be used in all seasons. The texture is not bad.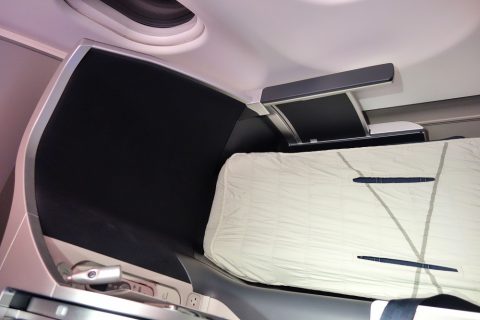 The bed is as wide as JAL's Sky Suite I. If you are big, your elbow may hit the wall when you lie on your back.
How does 7A seat feel in bed …?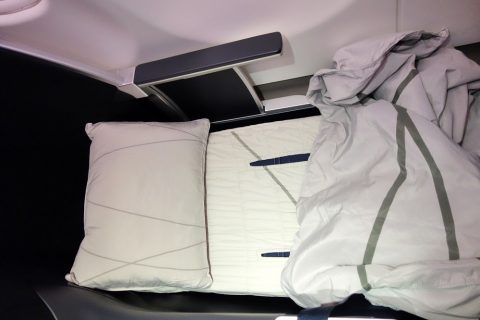 I slept here, but I was able to sleep for about 3 hours. I'm nervous and often can't even dream in economy class, but it seems that I slept without waking up for 3 hours.
However, compared to the 6K seats I sat in from KL to Sydney, I can hear a lot of bass sounds. Probably this is because the back is a wall and the side is also close to the wall, but if you think about it, the front seat 1K, which I sat on the way from Narita to KL, is the quietest and most comfortable.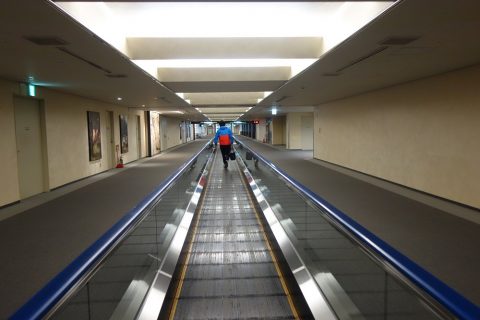 In spite of the fact that I slept the same 3 hours, I felt more tired and tired when I arrived at Narita this time than when I arrived at Sydney sitting in 6K. It is very important to choose a quiet seat where you don't feel noise as much as possible when you sleep on a plane.
I would like to use it as a reference for choosing a seat for a late-night flight. Next time I will report the in-flight meal on this flight → In-flight meal report! Malaysia Airlines Business Class KL-Narita
♪Click here for a List of articles on "First Class & Business Class Airlines worldwide (Seat, In-flight Meal, etc.)"