In Okinawa and Naha, where I am visiting for JAL's training, I have been visiting various Okinawa soba restaurants every day, but this time I was able to eat soki soba for 390 yen "Makishi soba". I was surprised that the meat and soup were delicious despite the extremely cheap price! I was a little impressed that there was still such a conscientious shop in the center of Naha!
Close to Makishi Public Market
The cheap and delicious Okinawa soba restaurant I visited this time "Makishi soba noodles". The place is close to Makishi Public Market. Though it is the center of sightseeing, it is located in a complicated place of narrow alleys, so I might get lost unless I see MAP.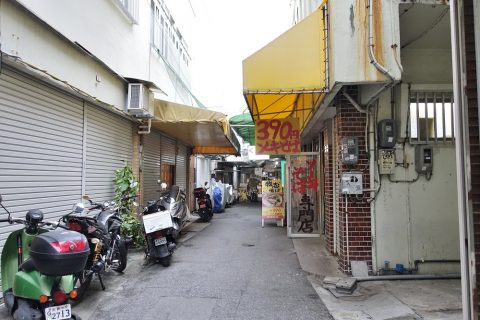 The sign that says "390 yen Soki soba" is the landmark. There was a line of people waiting for the main store of "Onigiri (rice ball)" near here, but the sight of this 390 yen sign was so sad that I couldn't even look at it …。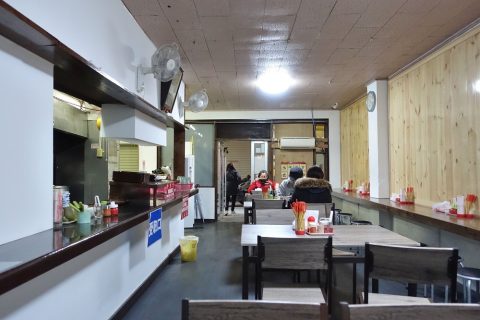 There are 4 tables for 4 people on one floor and a little more than 10 counter seats by the wall. It is a local store, but the floor and the walls are clean and the chairs and tables look fresh.
There are 8 kinds of soba, buy a meal ticket.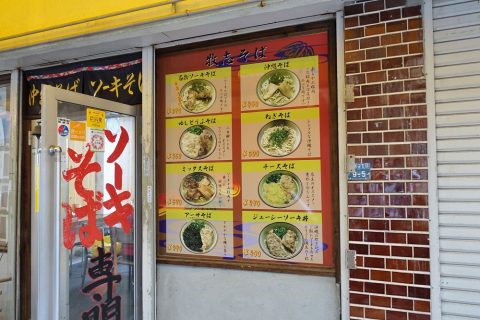 There are eight kinds of dishes on the menu. Aside from the 390 yen soki soba, you can also enjoy ah-sah, cheese, yushi dofu and a bowl of rice topped with soki (400 yen).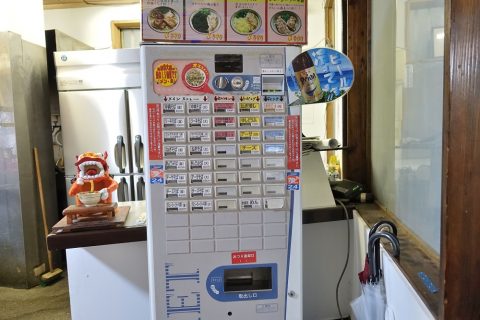 To order, buy a meal ticket and ask the clerk. You can choose a large serving (Increase from 100 yen to 200 yen) for each type of soba, and you can add toppings as an option.
Soba is cheap, but drinks are rather expensive, and a small bottle of Orion Beer is 500 yen! It's wise not to drink in a place like this.
Soki and pork belly is delicious! Mixed Soba 590 yen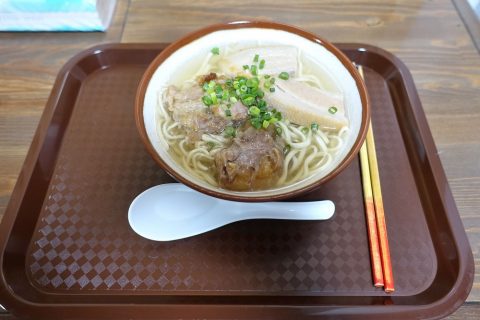 I ordered "Mixed Soba Noodles" for 590 yen. It's 200 yen more expensive than soki soba, but you can enjoy both Okinawa soba and Okinawa soba with 2 "skin-on boneless pork fillet" added.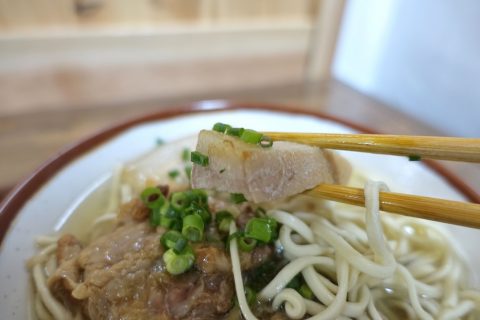 Both the pork spare rib and the pork belly are tender! It was juicy and chewy, and the noodles were chewy and well mixed with the soup. The soup is light but the soup stock is good, and this is very delicious Okinawa soba!
At this time of the year, it's hard to get this taste for 400 yen or so.
It's cheap but delicious! Recommended Okinawan Soba Restaurant
I was a little happy to know that such a shop still remained in this area, which is close to Makishi Public Market and has many tourists! I don't know how long I can keep 390 yen in Okinawa where the price increase is remarkable, but I really want you to keep it!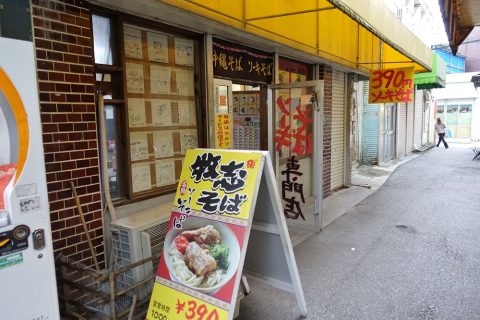 Makishi Soba is open all year round, but it closes at 18 o'clock in the evening, so it is a pity that it is not suitable for dinner or drinking party. It seems to be crowded at lunchtime, so it is better to visit in the afternoon or evening.
Makishi soba
Address: 2-2-9-5 Matsuo, Naha-shi, Okinawa
Opening hours: 10: 00 ~ 18: 00 (Open throughout the year)
♪Click here for a List of articles on "Okinawa Main Island"