This report is from a ballet performance I attended at the opera house "OPERA de LYON" in Lyon, France.
As it is an opera house in France, I imagined a luxurious interior like Garnier in Paris, but when I actually went there, I was surprised by its surprisingly modern construction! The dress of the audience was casual, and it was quite different from the opera theater I have visited before.
※This article was written before the virus scandal. This will be updated.
How to buy tickets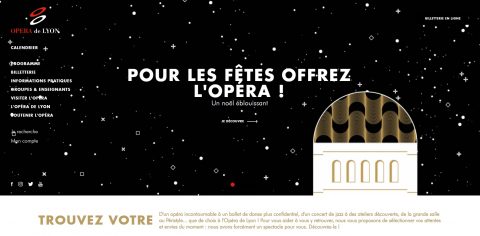 It's an OPERA de LYON ticket, but you can buy it easily from the official website. When you select CALENDRIER from the menu on the left side of the top page, a performance calendar will appear, so you can select any month and performance.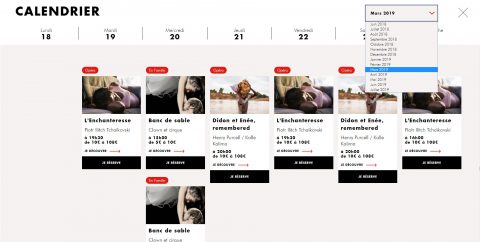 Performances are generally held from September to June of the following year, but not in July or August. Every spring, the schedule for the next season is announced all at once. Tickets were released very quickly, and the ballet performance I saw this time was also released more than half a year ago.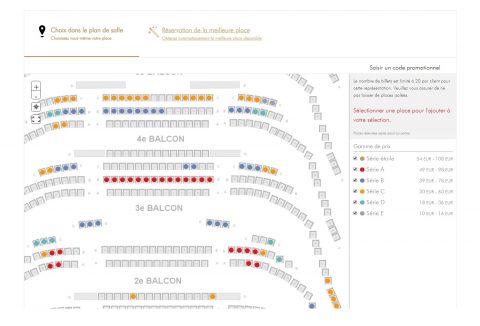 You can also specify your seat! The ticket price depends on the performance, but this ballet "Cinderella" is exceptionally cheap at €52 even in the 1st category! It's a fraction of the garnier in Paris.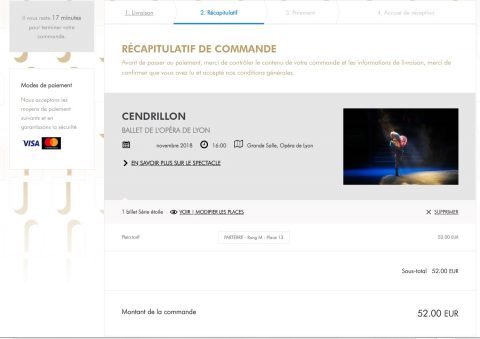 You can pay by VISA or Mastar credit card. You need to register as a member to purchase it, but you don't have to pay any fees.
When the payment is completed, a PDF e-ticket will be issued, so you can bring it on the day! You don't need to exchange it for a real ticket.
Location and Access of OPERA de LYON
The location of OPERA de LYON is here. It is located in the center of the city of Lyon such as the city hall.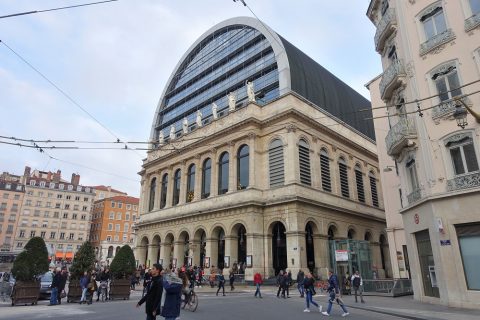 Just outside the exit of Metro A Line Hôtel de Ville – Louis Pradel Station, the opera house has a distinctive cylindrical roof. This area seems to be a place where young people gather, but the city hall is also close, so the police guard is strict, and armies with automatic guns are everywhere.
It might be an area you don't usually want to get close to unless you have something to do. …。
pitch-black interior lobby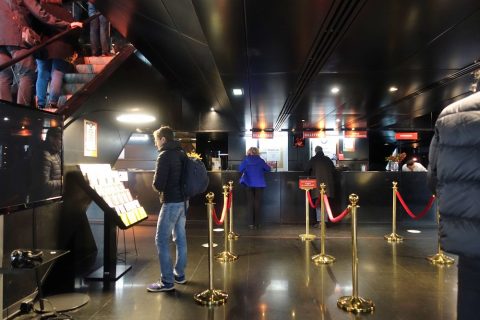 When you enter from the main entrance, there is a ticket office, and the escalator next to it checks your ticket and you go up from there.
The black floors and walls make for a modern design that is hard to imagine from its historic appearance.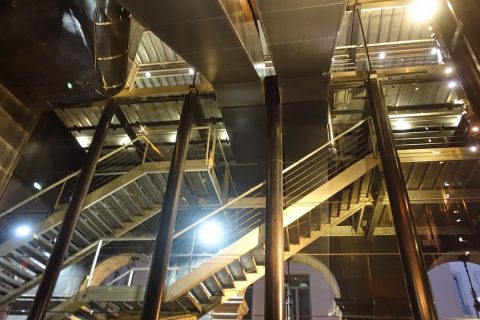 The opera house was originally built in the 19 century and was rebuilt in 1993. The exterior retains its original shape, but the inside is completely the same as the modern hall!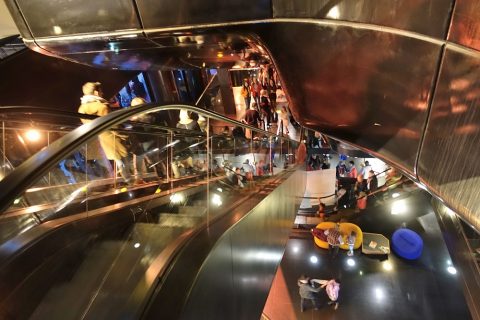 Anyway, I guess I couldn't leave something more historical and emotional …。 It's so black and flickering in my eyes (laughs)!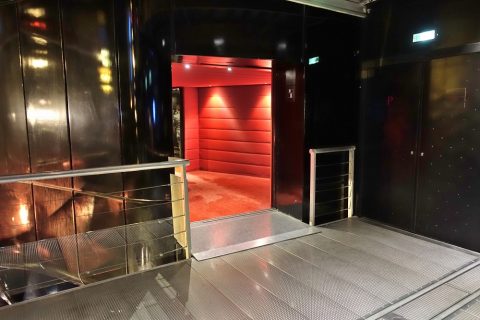 Also, there is no place like a foyer with a bar, and when you go up the escalator, there is only an entrance for the audience at the end of the passage. Of all the opera houses I ' ve been to so many times, this one feels quite unique.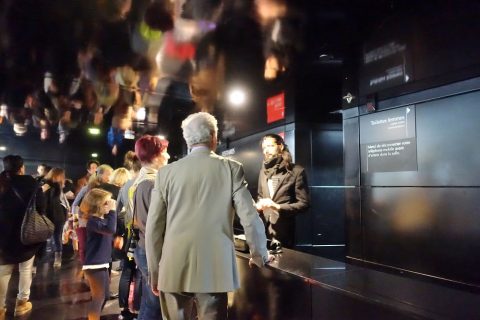 Also, there is a cloakroom on the way to the auditorium, and you can leave your big backpacks and coats here. The fee is free, and the staff was kind and polite, which was good!
modern design seating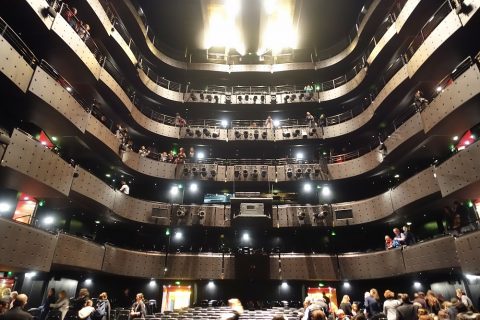 The audience seats are new! It maintains the horseshoe shape of the opera house, but it is super mechanical with only black color. When I stand in front of me and look up, the lighting fixture looks like a machine gun and I'm about to be shot … (laughs)!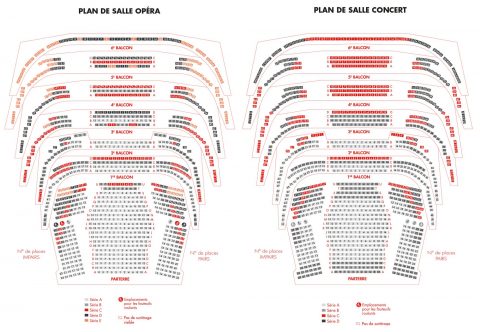 It is not a very large seat, but as you can see from the seat map, there is a balcony up to the sixth floor, so if you include the flat dirt floor, it will be 7 levels high. I've never been to an opera house this high before!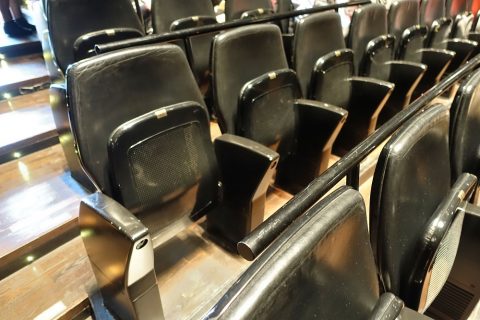 The seats are all black. It is a cheap material with a plastic feel, but there is a cushion on the seat surface. The seat width is more than 50 cm, but I don't have an impression that it is wide including the front and back pitches. But it's comfortable to sit on.
The program is €2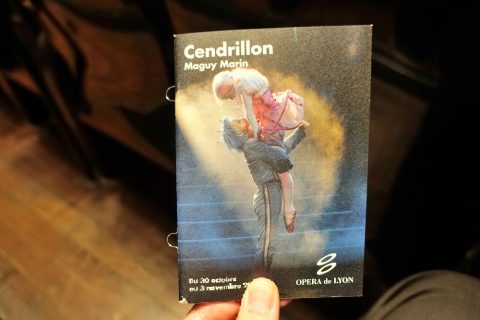 By the way, this program is Prokofiev's ballet "Cinderella". The program is priced at €2 and can be purchased from an event attendant.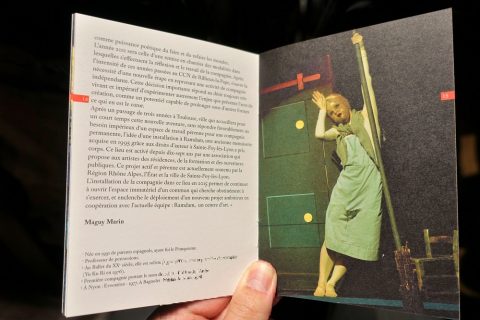 I will omit the outline because it is a famous title, but the character costumes of this Cinderella are very characteristic!
This is by Maguy Marin (Maggie Maran 1951), a choreographer from Toulouse in France, and all the performers wear masks like dolls, creating a unique world.
There was a video on the official Lyon Opera channel, but the characters I loved seemed to be popular with children, and many families with young children came to the venue. I was able to see a unique dance that matched the character, and the content was not bad.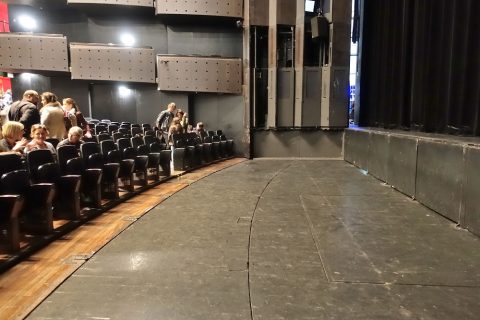 The only thing that disappointed me the most was that the performance was not live but a recording from a speaker. The orchestra pit is blocked like this. The sound from the speakers is a little noisy, and this is not acceptable …。
Is the dress code super casual?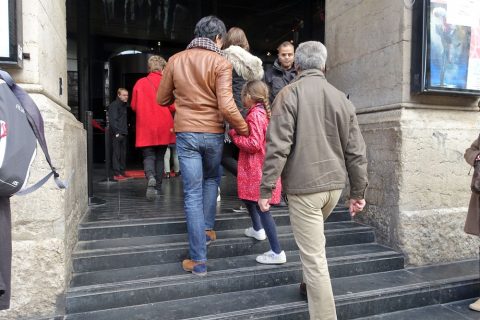 OPERA de LYON is surprisingly casual. There were no people wearing jackets, and I was surprised that everyone was wearing sweatshirts and jeans as usual!
Comment je m'habille ?

S'il n'est pas interdit de venir promener son élégance à l'opéra, l'époque est révolue où la queue de pie ou la robe de cocktails étaient de rigueur. Jeans, tee-shirts et pulls à carreaux y sont les bienvenus. L'important c'est d'être bien dans ses baskets. Ou ses mocassins à glands. Chacun est libre.
If you look at the website of the Opera, it says that you are pretty free about what to wear, so maybe it's not a concept with "social scene" like Garnier in Paris in the first place.
I put on my jacket with a little effort, so I hurriedly took it off and left it in the cloakroom …!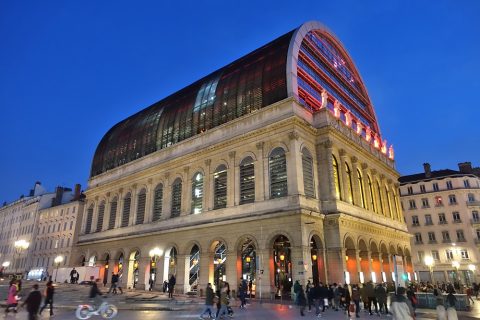 An opera house in Lyon where you can easily enjoy opera and ballet. I don't recommend it to those who want to enjoy the elegant atmosphere, but the ticket price is cheap, so if you have a chance, please feel free to visit.
♪Click here for a List of articles on "Opera House & Concert Hall around the world"