From Munich, Germany, I will fly to Madrid, Spain in business class with Lufthansa Germany Airlines!
Even though it is business class, since it is a European domestic flight, the seat and the in-flight meal are usually simple services, but the in-flight meal this time is very high level! As I didn't expect much, I was even more impressed!
※This article was written before the virus scandal. This will be updated.
have a coffee machine at the gate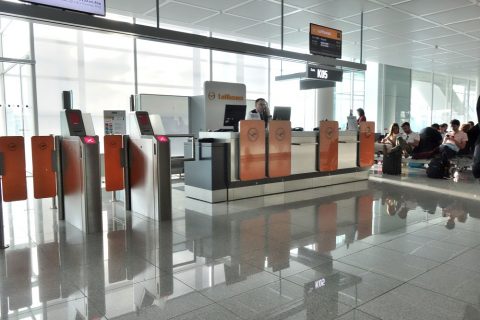 LH Flight 1806 will leave Munich at 19:10 on schedule for Madrid. I expected to leave on time, but as expected I was 30 minutes late …
Also, please see yesterday's report about the lounge we stopped at before coming here → Lufthansa Business Lounge Report! Munich International Airport (Near K 11)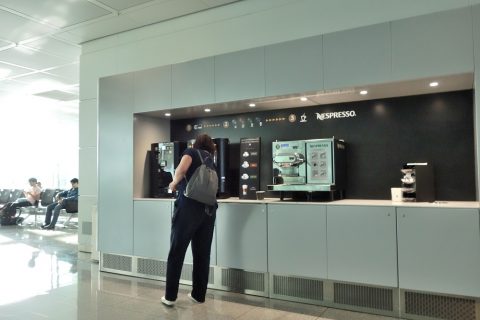 One thing that bothered me was this! Just behind this boarding gate was a coffee machine. You can choose from espresso, cappuccino and latte.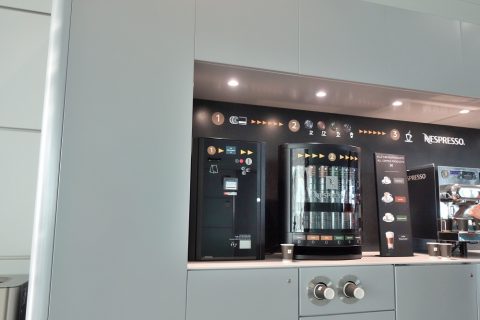 2 euros per cup, this is not a lounge, so if you think you can drink it for free, you're mistaken (lol). It is a facility unique to the European airport which monopolizes the top ranking of the world coffee consumption.
It seems to be selling better than I thought, and 2 ~ 3 people used it during the few minutes I was taking pictures.
A320-200 Short Business Class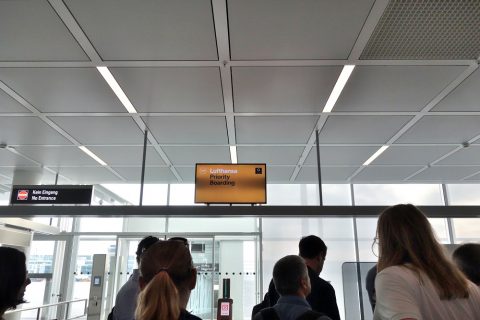 As it is a business class flight this time, there is a priority boarding, but unlike Japanese airports, there are no partitions, and there are many economy class passengers at the same time, so it is kind of ridiculous. …

The plane for Madrid is A320-200. It's a small plane with 168 seats. If you look at the seat map, you can see that the front seven columns are allocated as business class.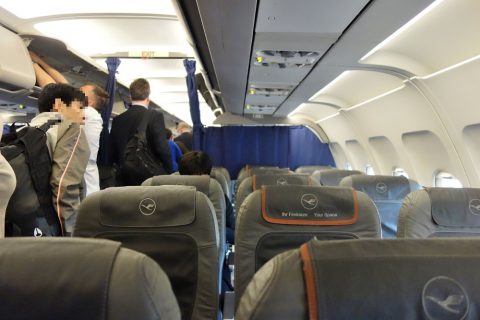 The seating arrangement is the same as that of economy class with 3 -3 seats, but by making a vacant seat in the middle (Columns B and E), you can sit at 2 -2 seats.
This is the standard form of European domestic flight business class, but there are some equipments even business class can be crammed into 2 -2 seats, so please be careful (Reference → Finnair Business Class boarding record (Between Helsinki and Warsaw)).
The seat area is the same as economy class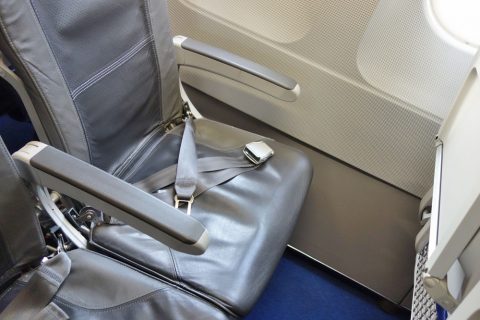 This time is seat 2A. Everything is the same as economy class including seat pitch. Therefore, the foot space is quite small, and it is the same or less than domestic flights of JAL and ANA.
Also, this is the destiny of Airbus, but the side of the wall is diagonally steep, so I feel pressure on the window seat. I don't want to take an economy seat which is full now.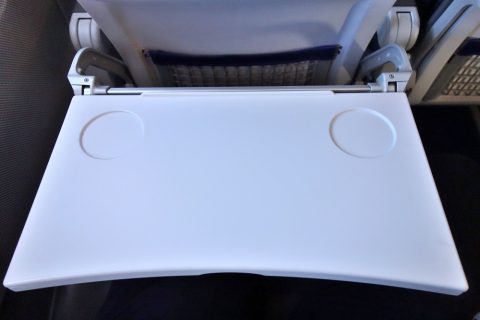 The table has grooves for drinks at both ends. The next table (middle column) also has the same table, so it's handy when sharing a table with an aisle person.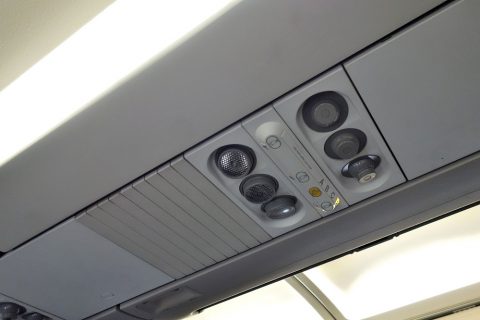 There are also reading lights for 3 seats. This seat may be used as economy class.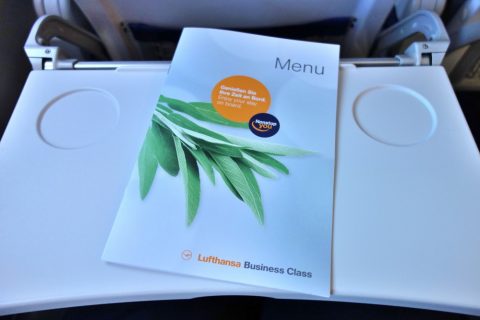 After the belt sign was turned off, the menu was served first! I didn't expect to be served in-flight meals on short distance routes in Europe, so I was surprised!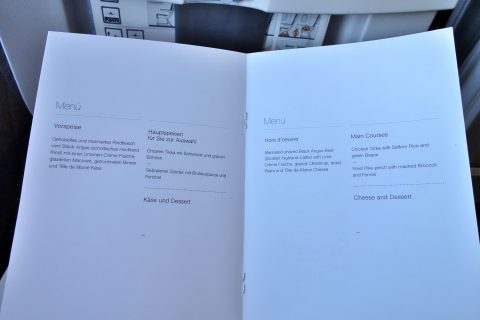 The menu is written in English as well as German. The in-flight meal consists of 3 courses of hors d'oeuvre, main, cheese, and dessert, which is quite substantial!
You can choose chicken or fish for the main course.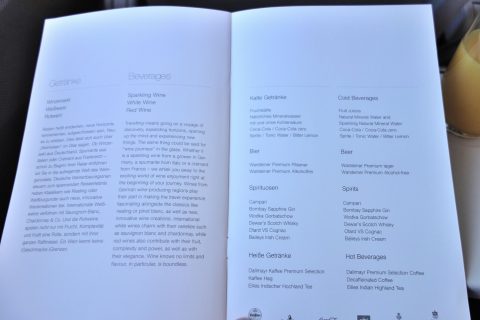 On the other hand, if you look at the drink page, you can find red, white, and sparkling wine, hard liquor such as beer and whisky, and soft drinks such as 2 kinds of coffee, tea, and juices.
I was expecting champagne, but according to the menu the only sparkling wine is German, Italian (Spumante) or French Clement, unfortunately champagne is not included …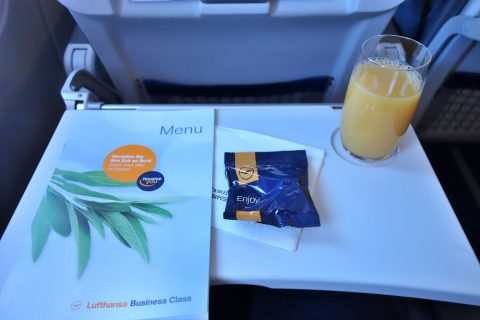 However, since I had drunk a lot on ANA, I can't swallow it any more! I'll have a quiet orange juice here.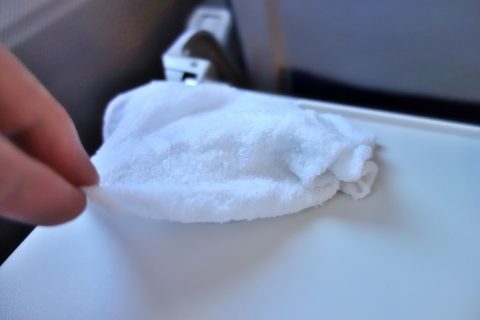 In addition, the towel distributed after the menu was so hot that I almost got burned! You probably won't know because you don't touch it, but this is something I want you to consider.
And in less than 1 minute, the towel was collected …, and the service was very Western!
Everything is delicious! high-level in-flight meal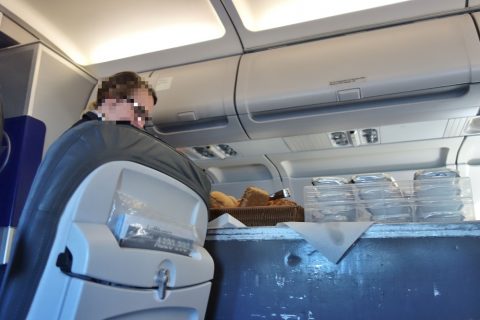 Now, the in-flight meal has arrived! At this time, they will be asked to choose the main dish and let you choose bread from a basket (Maybe two.).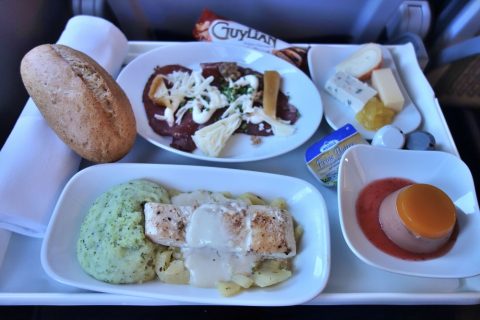 I chose fish for the main dish. I chose the safest bread (laughs). Still, it's pretty gorgeous!
The fish for the main dish is a kind of sea bass called "Pike Perch". The name is often seen in Europe, but when you eat it, the meat is flaky, creamy and delicious! The fennel garnish is also rich in flavor.
The appetizer is a dish of marinated Angus beef from Scotland sprinkled with dried fruits and cheese, and it is also delicious! The flavorful Angus beef is crunchy and melts in your mouth.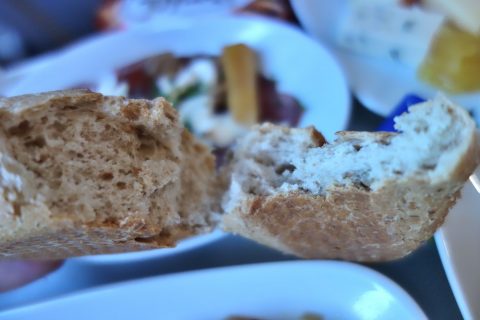 The bread is quite hot! It is crispy and spicy, and there is no strange spices. I was imagining a bread with peculiar German taste, but this is quite easy to eat.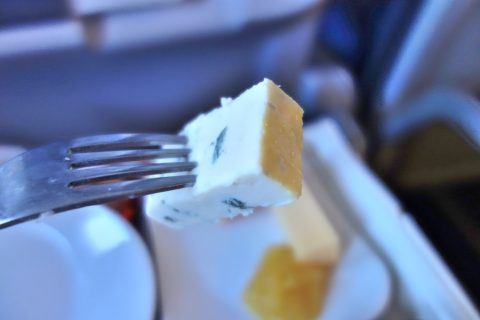 All the cheeses are rich and taste authentic, but there is no bad smell and it is easy to eat. I'd like to try this kind of cheese on a daily basis.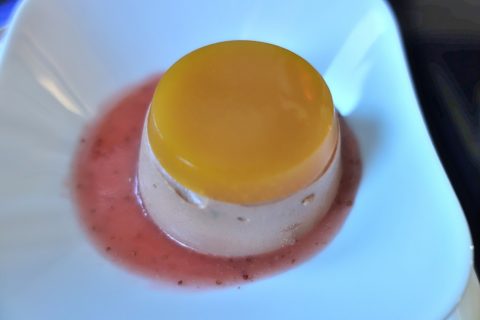 The dessert is a thick chocolate mousse on top of a strawberry flavored sauce and a layer of apricot on top. When I ate it, the mousse had a crispy texture of chocolate chips, and this was delicious too! You can enjoy the taste and texture of this dessert.
This is the quality of 5 stars! But …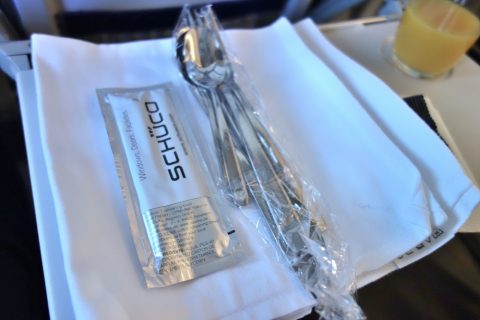 It was delicious! I was surprised by the high level taste of each dish! It's the in-flight meal for domestic flights in Europe for short distances, so it's even more impressive! I'm excited for the first time in a long time.
Lufthansa is rated 5 stars by Skytrax. It is a high quality in-flight meal worthy of its name, and I am satisfied with its reputation!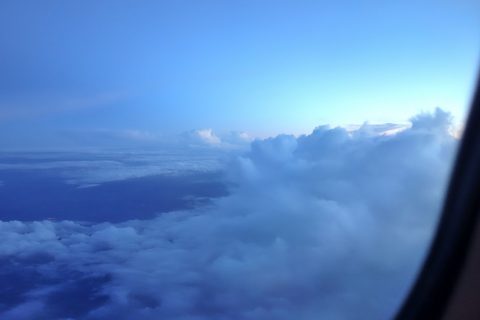 If only there were no delays … Lufthansa has one of the highest punctuality rates of any airline in Europe, but this time the delays, the strikes and the tears of Lufthansa …
You may have good or bad luck, but I want you to do the least.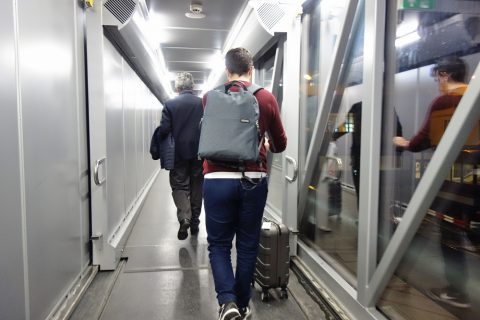 That was the report of Lufthansa Airline Business Class (Munich – Madrid)! About Lufthansa Airline Business Lounge at Munich Airport → Lufthansa Business Lounge! Munich International Airport (Near K 11)
♪Click here for a List of articles on "First Class & Business Class Airlines worldwide (Seat, In-flight Meal, etc.)"