From Frankfurt, I am heading back to Vienna in Lufthansa business class! This section was originally operated by Austrian Airlines, but as I told you, it was transferred due to the strike, and I ended up taking Lufthansa Airlines 3 times in a row …
This is a lunch flight, so the in-flight meal is a lunch menu. It is a short flight, but you will be surprised by the variety of dishes! I was betrayed in a good way!
LH1238 going from Frankfurt to Vienna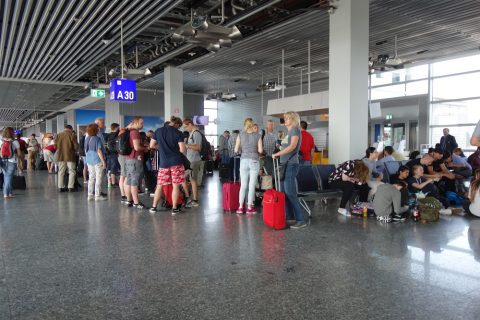 Lufthansa Flight 1238 departing Frankfurt at 11:50 is bound for Vienna. I thought it would take about 1 hour to get there because it is the neighboring country, but it takes 1 hour and 20 minutes unexpectedly.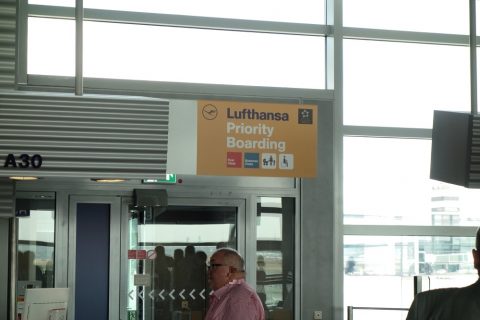 This time I am using business class again, so I will board from the priority lane! As expected, Lufthansa's base is the only place where such an easy-to-understand and splendid plate is displayed.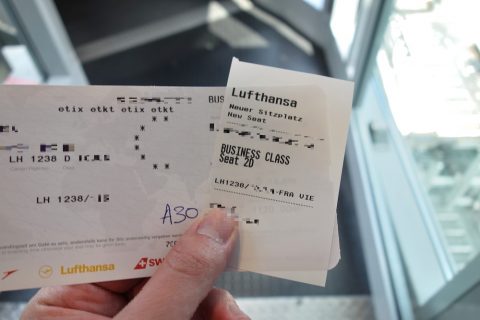 Also, when I held up my ticket at the gate, something like a receipt came out and was handed to me, but unexpectedly I changed my seat! It changed from the window side 4F to the aisle side 2D.
Economy class seats are on the aisle side without hesitation, but this time I wanted a window seat with a view because it was business, but …
Small A 320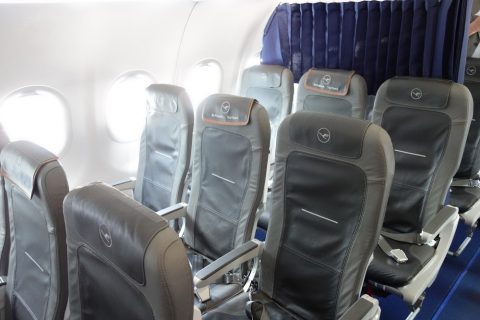 This time the equipment is A320. It is the same type of seat as when I took a train bound for Madrid, and there is no table in the middle seat.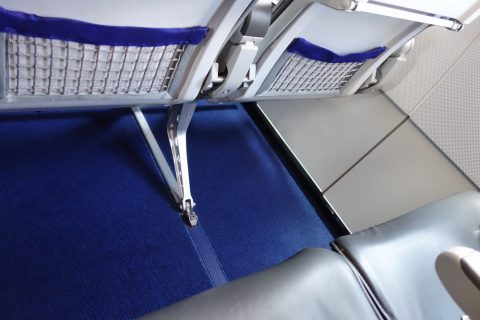 Since it is a 2D seat, it is not the first seat with wide feet, but there is still a lot of legroom. When I got on the train to Madrid, even though they were in the same 2nd row, the feet were quite narrow, but the specifications might be slightly different even though they are in the same A320.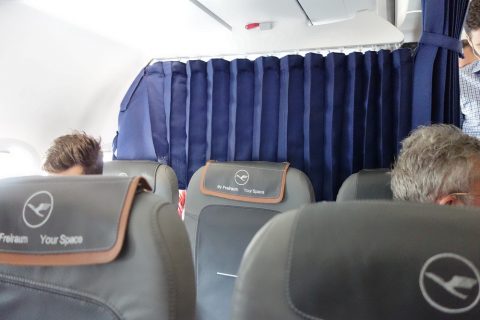 There is a curtain between economy class and the front three rows are business class this time. I understand why my seat was changed from 4F to 2D.
Probably, economy class was full and business class reserved their seats, but with this kind of system, it may never happen on European domestic flights.
in-flight meal served on a wagon
As soon as we start off on time, take off and enter a stable flight, in-flight meal service will start! This time, it was carried in a wagon like economy class.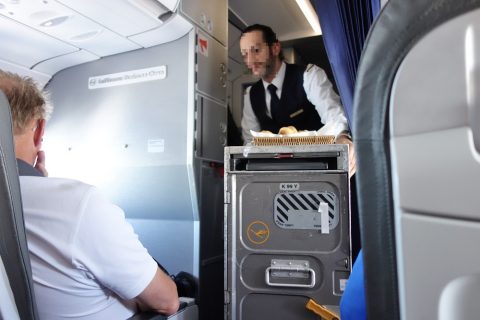 It was served by male CA, and I had a good impression with their very gentlemanly service! This kind of male CA is rarely seen in Japanese airlines. The old idea that "Working for others is a woman" is still deeply ingrained in Japan.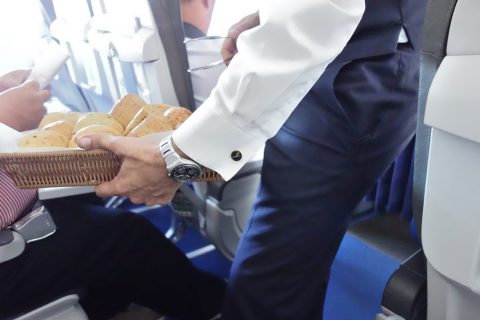 Bread is served with in-flight meal, and this is very hot! It's a big difference from the usual warm JAL bread! I would like JAL to learn from this "Freshly baked" staging.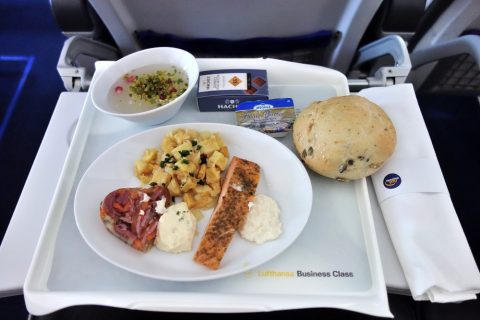 Here's the in-flight meal. As the ferry departs at 11:50, it is a lunch menu, and the lineup includes appetizer and main plate, dessert, and chocolate!
Even though it's a short distance train, there are some pretty good dishes!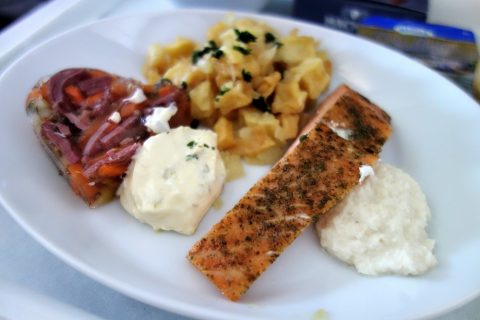 The yellow potato appetizer was sweet but delicious! The main salmon is cold, but the white wasabi cream is spicy and delicious!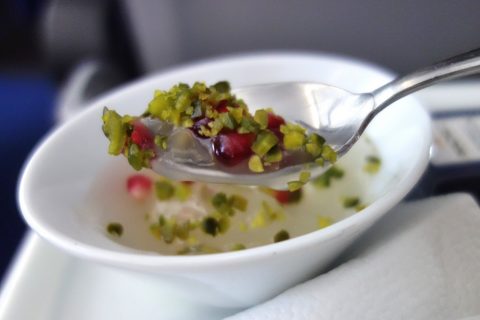 The translucent item on the top left of the plate is a dessert! This is a sweet with a thick paste of lychee and nuts, but it was delicious even for me who doesn't like lychee very much!
To freshen up your mouth, check out the chocolate from Hachez, who is familiar in Bremen, Germany! It's nice to have this kind of casual item.
Even though it's a short distance, it's a fulfilling in-flight meal!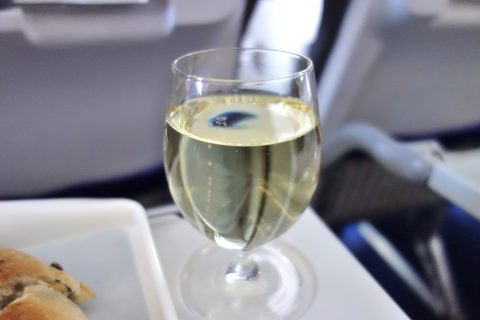 The in-flight meal was quite delicious! I didn't expect it at all because it is a short distance line, but I am very satisfied with the taste and volume! I was a little surprised because the breakfast I took before this flight from Barcelona was so poor!
The last flight I took from Munich was a delicious meal, so I guess Lufthansa's taste depends on whether it's from Germany or not. JAL is the same, but the in-flight meal from the home ground is something to put emphasis on.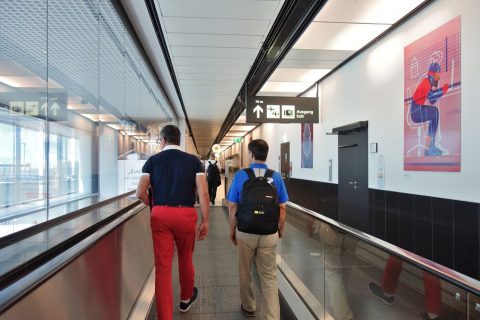 So we arrived in Vienna, Austria! In the next article, we'll cover Austria.
♪Click here for a List of articles on "First Class & Business Class Airlines worldwide (Seat, In-flight Meal, etc.)"