This is Lufthansa business class from Barcelona to Frankfurt. As the flight departs at 8 AM, I would like to report mainly on the breakfast menu!
We had a great meal on a flight from Munich to Madrid, but what about this breakfast? As a 5-star airline, Lufthansa has high expectations, but …
LH1137 departing from Barcelona at 8:00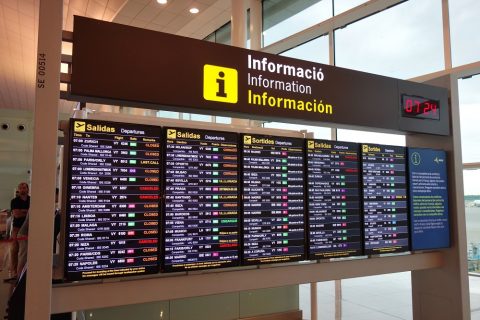 The flight this time is from Barcelona at 8 o'clock to Frankfurt by Lufthansa Airlines. We will change the departure at 16:30 the day before the cancellation due to the strike. I just pray that this time I will fly without any accident …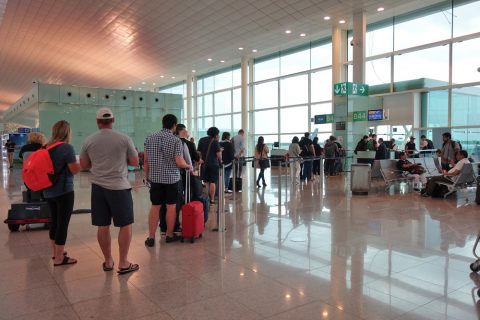 When I arrived at the boarding gate about 20 minutes ago, boarding had already started. Well, at least the flight arrived, so I'm relieved if we can't make it (lol).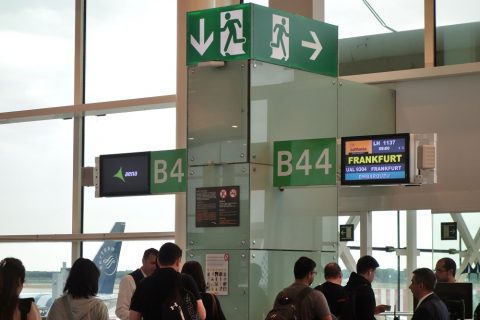 Priority boarding for business class only had already ended, but one of the two gates was open for business use. If it's a domestic flight of JAL, it will be closed soon, so it's a good system to be able to get on the plane preferentially until the end like this.
Front seat of A 321 "2F"

The plane for Frankfurt this time is called A 321. It's a small plane for domestic flights in Europe. Compared to the A 320 I took on the plane to Madrid, it has a longer body and more seats.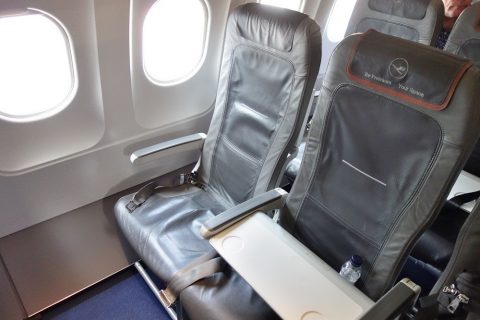 I couldn't reserve a seat this time because of the transfer, but I was assigned a seat on the second floor. It's the window seat at the very front.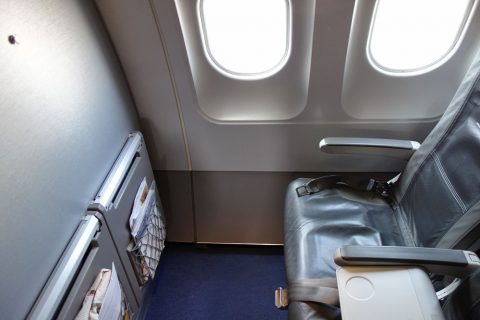 This is a special seat with wide feet! It's hard to get it even if you try. Is this just an apology?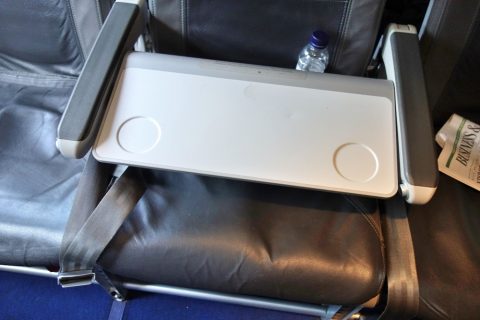 Since it's business class, the seat in the middle automatically becomes a block, but this seat is equipped with a table from the beginning. This is also different from the A320 I took to Madrid.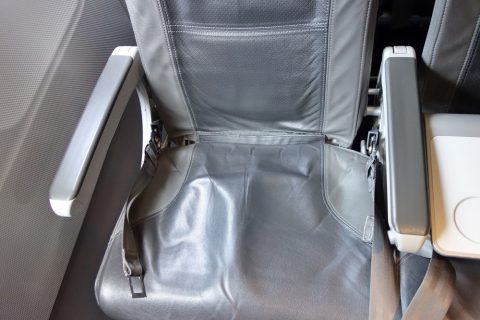 But the seat width is the same as economy class, so it's not big. The seat width is about 47 centimeters by weight, which is enough for economy class.
In-flight meal service immediately after departure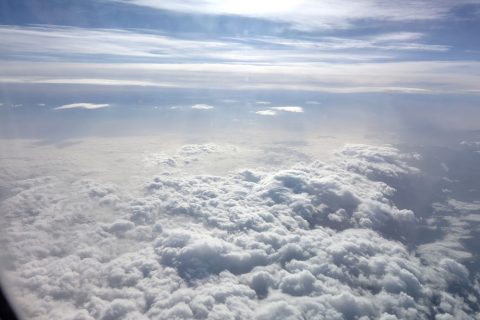 Ironically, we left on time and took off in less than 10 minutes … What was that mess yesterday?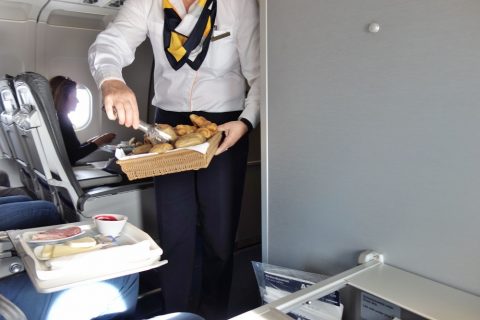 Well, it's a business class, so I'd like to get back on my feet and enjoy it! The in-flight meal service will start as soon as the flight is stabilized! Bread is served from the basket at the same time as the meal is served.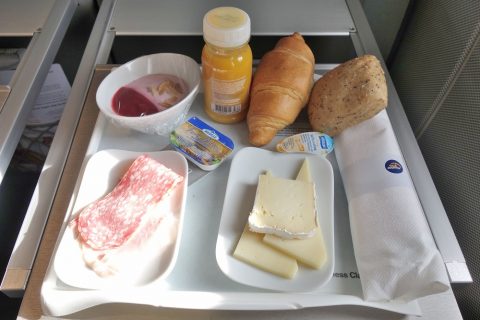 Here is the in-flight meal. Breakfast was served because it was a flight departing at 8 AM, but the lineup of … is really sad, only 2 slices of ham, 3 slices of cheese, 2 kinds of bread, and smoothies for dessert.
As it is from Spain, the taste of the ham is not bad, but the cheese has no flavor and scents. In this case, the lounge might have been better.
The smoothie has a subtle taste, and the bread doesn't have a savory smell or taste. I was looking forward to the delicious dinner in Madrid but it turned out to be quite a betrayal …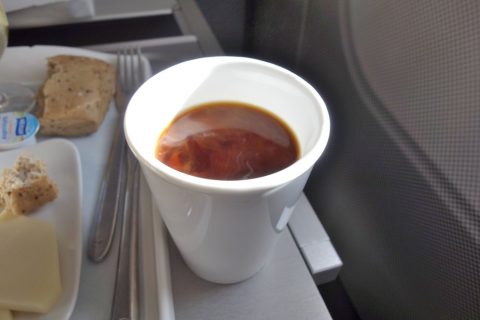 Too bad the coffee after the meal… doesn't have any bitterness that spreads after the meal, and just adding a little milk makes it thin and bland.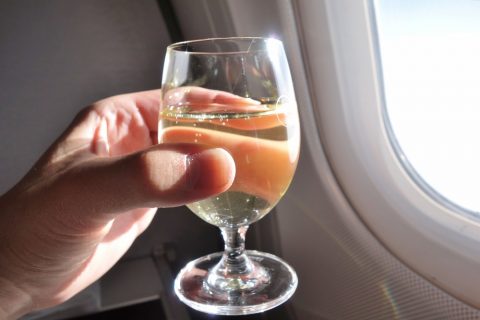 The only sparkling wine I ordered instead of "morning champagne" had a pretty good taste! There is a claim that reminds me of champagne, and it is not the taste of cheap sparkling.
I don't know if it is rare for people to drink alcohol from the morning, but when I ordered, they asked me "Water? Wine?" and the wine was not in the wagon so I brought it from the back later.
Is the morning business class like this?
Well, I was a little dissatisfied with the flight, this time Lufthansa Business Class. As for the in-flight meal, since it is breakfast, there is no problem even if the portion is small, but I would like you to think of a more charming menu, …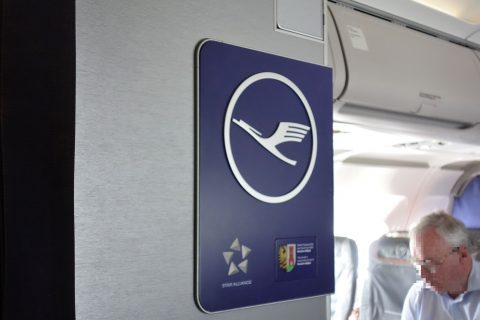 It may be related to the fact that it is not from Germany. Like JAL, there is often a big difference between departing from home and arriving at home, so it might be something like that.
Even though it was a 5 star airline, the in-flight meal was a bit lazy!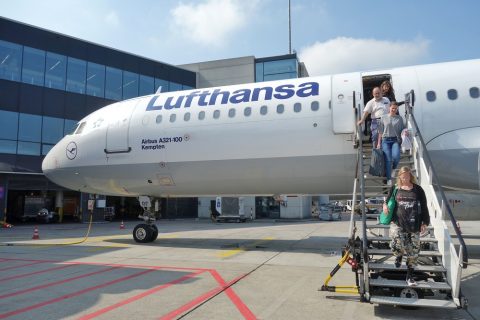 Anyway, I arrived at Frankfurt on time! In fact, I don't know whether it's with or without it …
Next time, I will report the lounge at Frankfurt Airport that I used as a transit passenger! → Lufthansa Business Lounge/Frankfurt International Airport Gate-A 26
Lounge which I used in Barcelona is here → VIP Pau Casals Lounge report! Barcelona Airport in Schengen.
♪Click here for a List of articles on "First Class & Business Class Airlines worldwide (Seat, In-flight Meal, etc.)"