After driving 10 minutes from Miyako Island's Maehama Beach, we arrived at Nagama Beach on the neighboring island of Kuruma Island! Unlike the popular Maehama beach, it was not so popular, and when I was swimming leisurely, I found a sea snake swimming with its body twisting. I found out later that it was a very poisonous sea snake, and it would have been terrible if it had been bitten.
Here's a report on snorkeling at Nagama Beach.
Access to Nagama Beach and Parking
Kuruma Island is one of the islands in the Miyako Islands. Like Irabu Island and Ikema Island, it is connected to Miyako Island by a bridge, so you can easily access it by car.
I went from Maehama Beach which I introduced yesterday, and I arrived there in a little over 10 minutes. The beach is on the other side of the island after crossing the Kuruma Ohashi Bridge, but it is a small island, so it takes only 5 minutes from the bridge.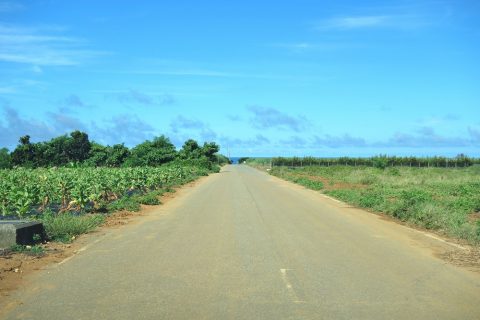 The island has such a calm landscape that it is called "super"! I feel like I'm being sucked into the sea over there.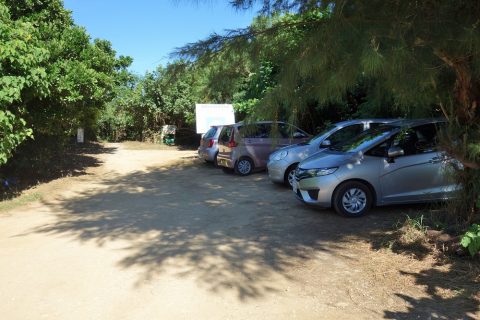 If you go through the narrow road between the bushes, there is a parking lot. The parking lot is not paved but has an open parking space. If you look at it roughly, it will stop at 10 or not (During the busy season, cars are likely to overflow the aisles.).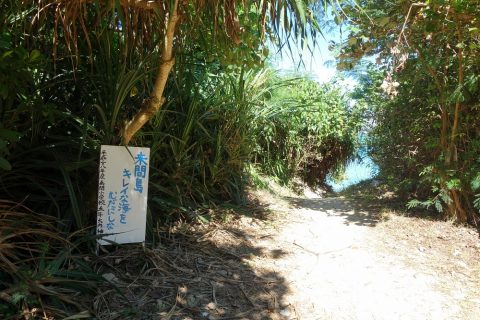 When you get out of the parking lot, the ocean is just ahead. There is no shower or toilet, but it is convenient as it is close from the car to the beach.
long sandy beach several hundred meters long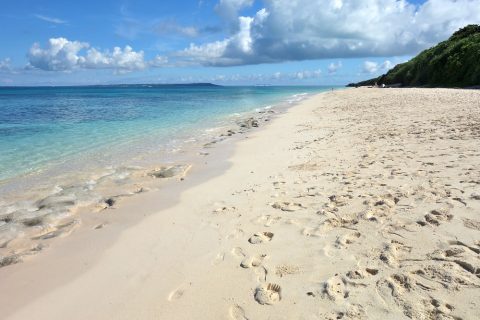 When you go out to the beach, you'll find a white sandy beach and a wide sandy beach! This seemingly endless beach stretches from north to south on Google Maps, and when I measured the distance, it was 800 meters!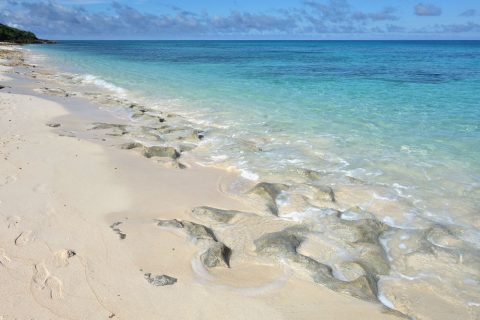 It is a pure white sandy beach with little mixture, but especially on the left side facing the sea, there are rocks like this exposed. It's not a coral rock but a normal stone. It's a rare sight.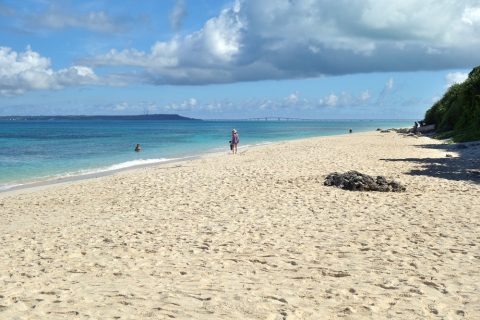 You can see Irabu Island and Irabu Bridge in the distance. At 9:30 in the morning, the people are sparse, but it's too big to feel private.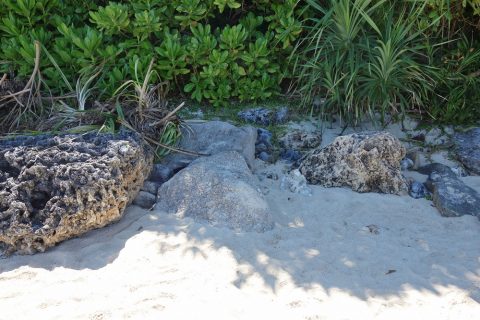 In addition, although there was some shade in the land side bushes, when the sun rose around 11 o'clock, most of the shade disappeared and it became impossible to cool off on the beach. I think a parasol is completely different, so it's better to prepare it if you swim for a long time.
coral reefs are a little off the coast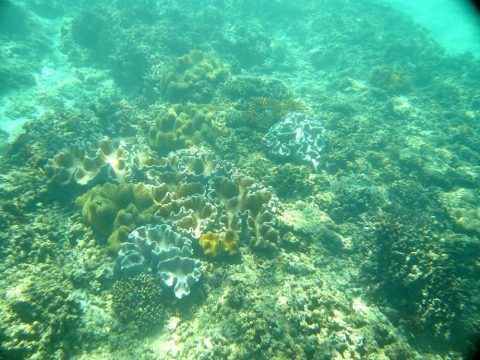 I swam, but overall there are coral reefs but there are few fish. Especially in the area where the rocks on the left side of the sea are exposed, there are very few fish and it is not interesting to snorkel.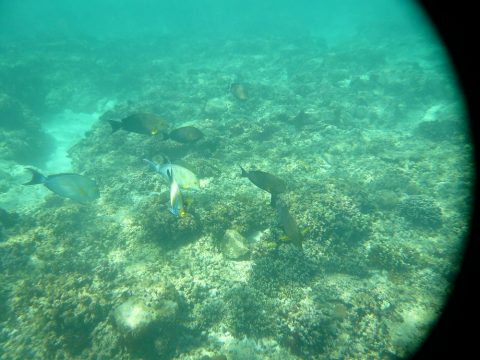 But if you go to the right side toward the sea, you can see more coral reefs and fish schools. I have an impression that there are more coral habitats if you swim towards the sea for several tens of meters rather than near the coast.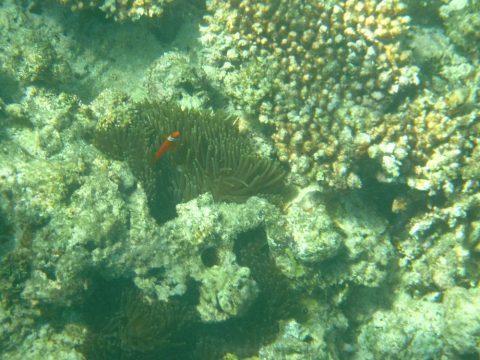 I also found a clownfish! But the transparency of the water is not so good …
We found a highly venomous sea snake!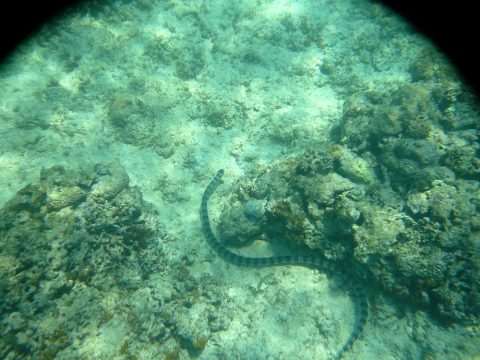 What surprised me the most was the sea snake! The black and white striped one looks like either "sea snake" or "black-backed louse", but it's actually dozens of times more toxic than a hub! Basically, he seems to have a gentle personality, but if he gets bitten, a powerful neurotoxin spreads throughout his body, and he dies …。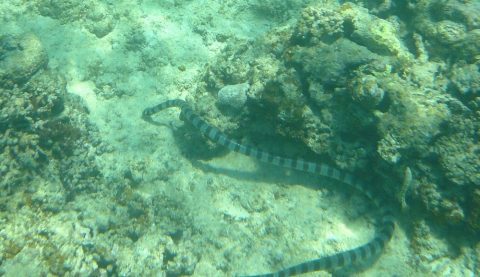 I didn't know that, so I was chasing him around for a while, but sometimes he came up to the surface and came close to my face. I didn't touch it, but I heard that there were victims in the Okinawa region in the past, so …, I think it's better to leave as soon as you find it.
a wide beach "Nagama Beach" that is not popular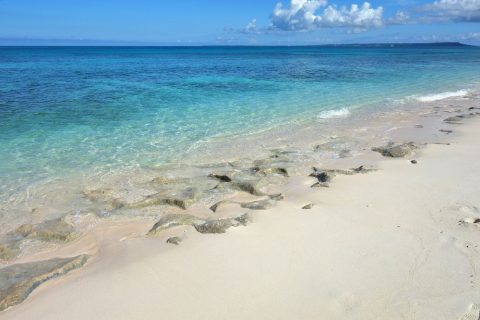 Kurima Island "Nagama Beach" is characterized by its 800 m long sandy beach. The number of fish was a little disappointing, but I think it's a good place to spend a relaxing time on the wide sandy beach while looking at the beautiful sea. I think that beach volleyball which uses wide sandy beach is suitable as well as relaxing on the beach without swimming.
Next time, I will introduce another beautiful beach near Nagama beach. Snorkeling at Musunung Beach
♪Click here for a List of articles on "Miyako Island, yaeyama area"