Continuing from the previous article, we have a picture of a street stall on Arrow Street in Kuala Lumpur, Malaysia. This time, I would like to make a food report at one of the stalls with a plat.
The street stall for tourists is just for enjoying the atmosphere, so I didn't expect the taste at all, but the food I ate there was surprisingly delicious! I was able to enjoy the street stall as well as the bustle of the street stall.
※This article was written before the virus scandal. This will be updated.
"XIN JI" near the entrance
It is said to be the biggest street stall street in Malaysia. Each restaurant was crowded with people who had a lot of food, maybe during the peak dinner time.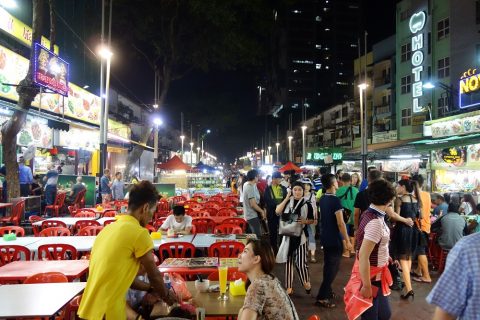 As I mentioned in yesterday's article, the number of customers is less near the entrance of the street stall, and it gets more crowded as you go deeper. In general, the more customers there are, the more likely they are to be judged as "popular store" This is just an indication of the tourists' mentality of having a meal after wandering around a street stall, and I don't think it will affect the taste of the restaurant.
I went there with the intention of having a meal, but it was not that there was a particular restaurant that I was looking for, and after walking around the shopping street, I was defeated by a fervent invitation from an old lady to enter a restaurant called "XIN JI". It is located about 50 m from the entrance of Arrow Street, but it is not as crowded as the one in the middle of the street, so I decided to stay here because I thought I could relax.
XIN JI Menus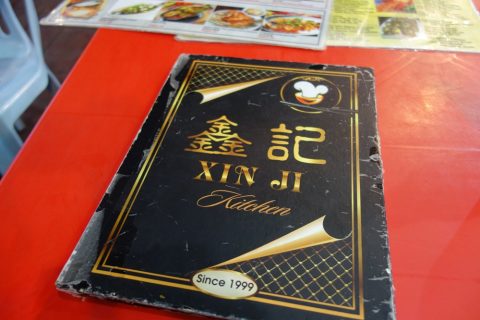 Let's take a look at the XIN JI menu. Most of the food served at the stalls on Arrow Street is the same, and they serve mainly Chinese food or fried food.
Even in XIN JI, there are many menus with the initials "Fried" without exception. I can't find any living things, so I feel more at ease with my stomach …!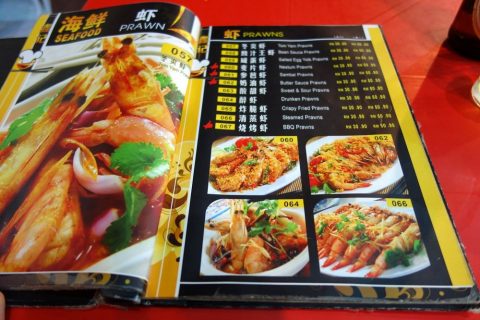 The price of a la carte is from RM 30.9, but this is a large plate for a large group of people.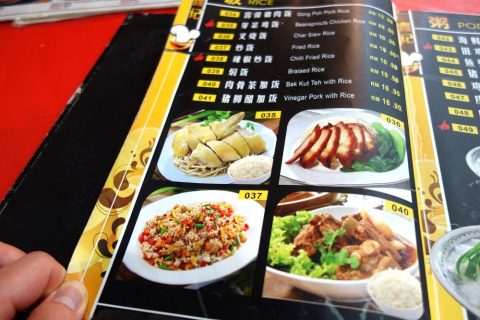 About one dish, RM 10 per person. The variety is not bad, and they seem to have rice noodles and most of them.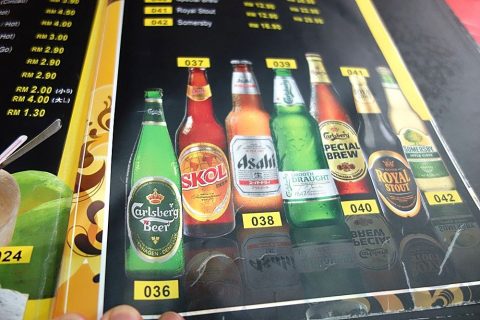 There are 7 kinds of Asian beer! We also have Asahi Super Dry from Japan. I often saw Super Dry in Singapore. Do they put a lot of effort into sales in this area? As for the price, the small bottle is relatively expensive, from RM 10 to RM 16.
How clean are the tableware and tables?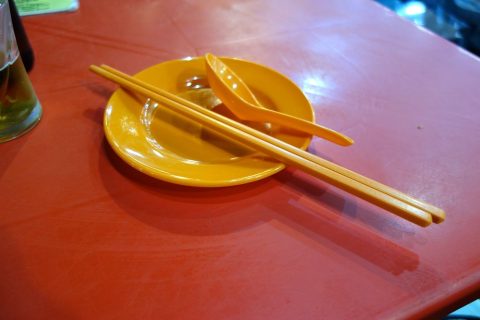 Speaking of stalls in Malaysia, I think there are people who worry about hygiene. I have a weak stomach, so I always prepare sterilizing tissues when I go to Southeast Asia, but I never use them after all. However, I have never had an upset stomach due to unsanitary tableware, so I don't think you need to worry too much.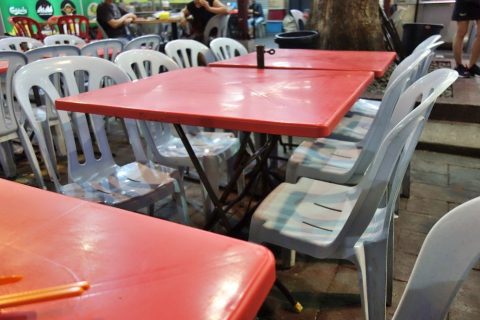 As far as I can see, tables and chairs are wiped clean, so there is no problem with cleanliness. But it's a street where many and unspecified people come and go, so it might be better not to eat food that fell on the table.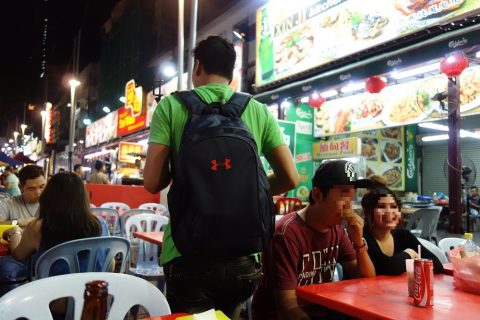 In addition, when I sit down, "peddler" often comes up and talks to me. They will definitely try their best to sell glowing toys with propellers …。 and feel a little pitiful, but they will take advantage of you if you show a little sweet face, so no! That's a good piece of work.
"Fried rice" is surprisingly delicious!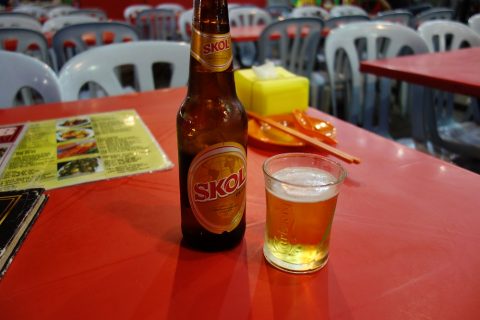 Now, let's drink beer first. The Brazilian squall beer is RM 10.9 in a 330 ml bottle.
I wanted to drink slowly at my own pace, but as soon as I had only 2 to 30% less than my glass, the waitress would come up to me and pour in my discount. As I mentioned in "Malaysian Airline Business Class Boarding" there are many people in Southeast Asia who pour like this. Is it out of hospitality or is it just to make him drink and order more as soon as possible …?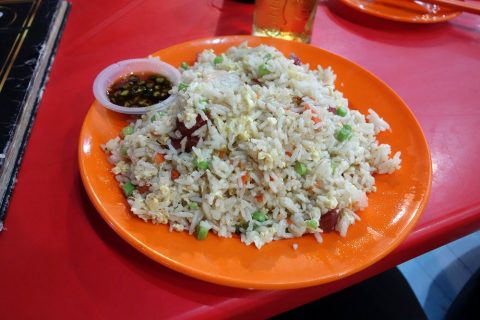 And the main dish that came! I decided to try "Fried Rice (RM 10.9)" this time. I think the universal fly rice is safe because there are few missed hits. …。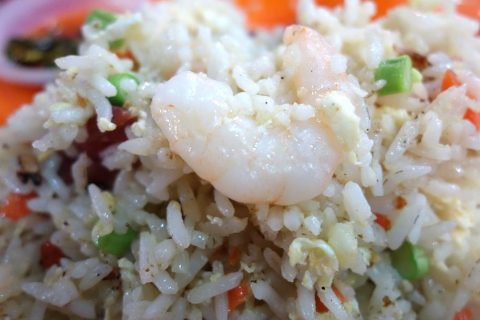 But this is unexpectedly delicious! The garlic is effective and has a good scent, so it has a crunchy texture that is difficult to eat at home. The black sauce on the side is very spicy, but it will accentuate the flavor if you add a small amount of this.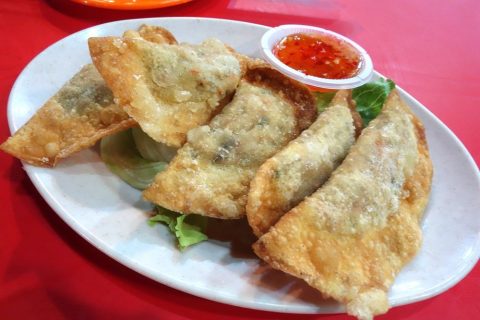 I ordered another dish, "Fried Dumpling (RM 10)". It's nothing special, but this is not bad.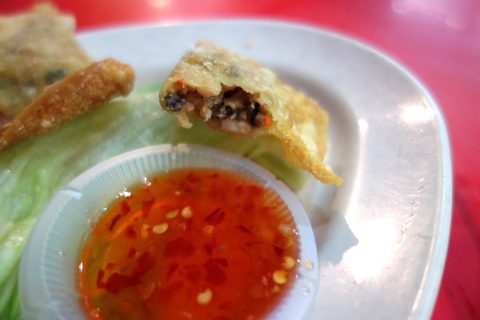 It's delicious as it is, but it's also good to dip it in a little salty-sweet orange sauce! If you want to criticize, the volume of ingredients might be poor …。 gyoza 5 pieces with RM 10 (≠ 260 yen), Utsunomiya gyoza's "Minmin" is as expensive as it is, but I think the taste is comparable.
The tourist price is also very satisfactory.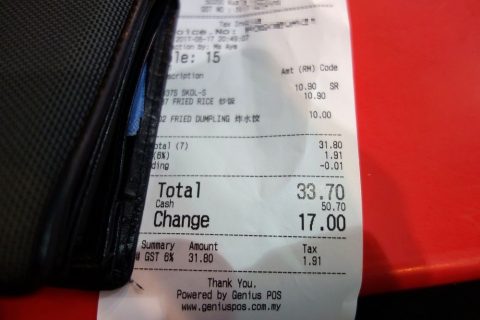 You pay at the table as you do at an ordinary restaurant. This time around 1,000 yen including beer. Considering the prices in Malaysia, it is quite a tourist price, but the satisfaction level is high.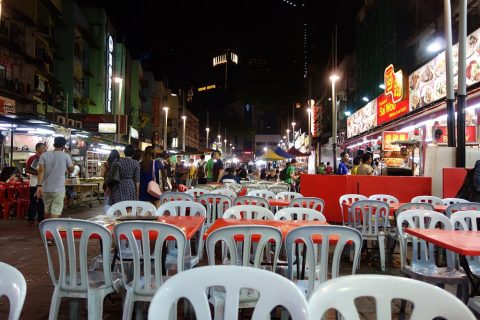 This XIN JI has a good access to people, and it's good that you can relax while feeling the bustle of the street stall. Next time I visit, I will try to develop other shops, but I recommend you to look for a shop near the entrance which is not so crowded.
♪Click here for a List of articles on "Kuala Lumpur"