Today we're going to introduce St. Mary's Church in Kuala Lumpur, Malaysia. I found a slightly mysterious pipe organ that looked like it was floating in the air in a calm church surrounded by greenery, though it is located in the redeveloped city of KL. I would like to see what "Church of the Virgin Mary" is like in Malaysia.
※This article was written before the virus scandal. This will be updated.
Location of St. Mary's Church
St. Mary's Church in Kuala Lumpur is located in the city center. It is an area where big facilities such as city hall, mosque and department store gather.
If you are traveling by rail, the closest stations are Masjid Jamek on the Kranajaya line and both Bank Negara and Bandaraya I used to transfer.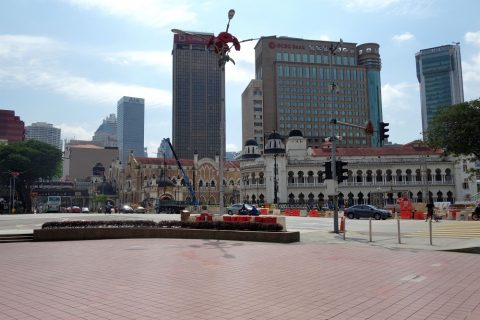 The road around here is wide and comfortable to walk in! Western architecture, Islamic palaces, and skyscrapers at the back give the city a somewhat mysterious atmosphere.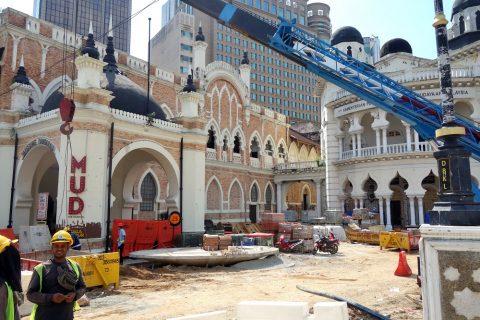 However, there are road constructions everywhere, and there are places where you have to walk on the roadway, so be careful with your car! This remarkable situation of redevelopment can also be said to be characteristic of Malaysia, an emerging country.
Appearance and admission fees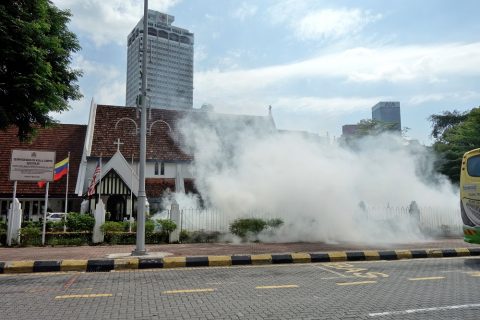 Arriving at St. Mary's Church … is fine, but there is some sort of white smoke rattling …。 and, in addition, a strong oily smell accompanied by a huge engine noise! Unusual white smoke!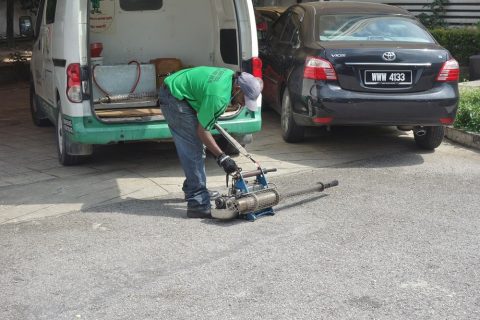 I was a little worried that there was a fire, but this was the cause. The church's courtyard trees may have been sprayed with what appeared to be pesticides, but the smell of brown hawk oil … seems to be bad for the environment and health.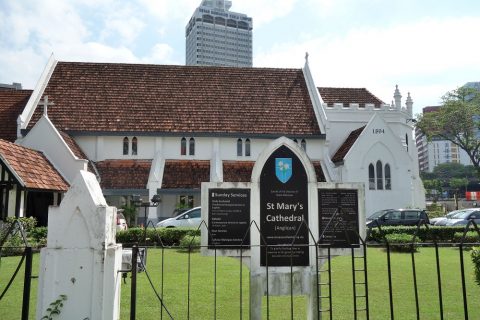 Take it easy and check the exterior of the church! It goes well with a red roof, a white exterior wall, and a green grass carpet. It has a nice atmosphere.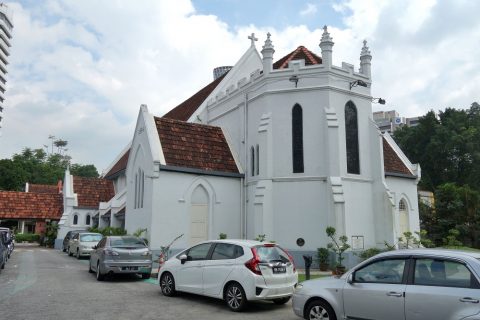 However, the size of the church is small and the length is about 30 meters. It also did not have the two towers common in Western churches.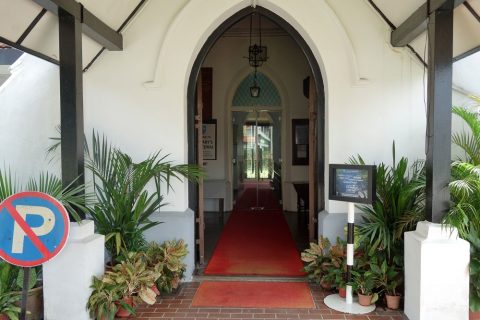 The entrance was free, of course there was no reception, and I was a little worried whether tourists could actually enter, but there was no problem as there were many pamphlets at the entrance. Visit the church's website for more details, including the time of mass.
auditorium with a ceiling fan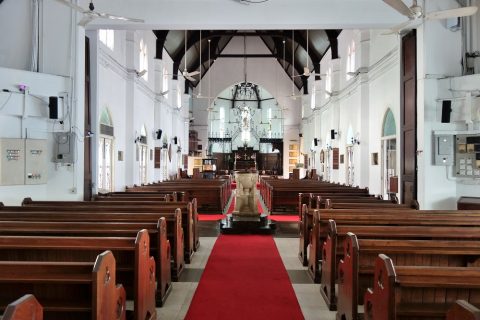 It was noon on a weekday, and the church was empty and quiet. According to the materials, this auditorium can accommodate about 180 people. A quick Google search will bring up a bunch of photos showing more stylish and warm interiors but without these lights it feels kind of lonely …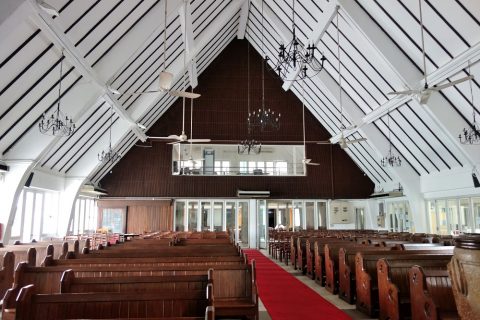 The church, originally built in 1894 by a Singapore clergyman, had been renovated and expanded several times by the mid- 20 century, and now even includes office space and a multi-purpose hall next to the auditorium.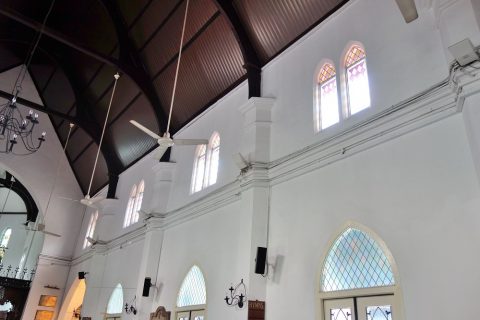 The ceiling is said to be about 28 feet (Approximately 8.5 m), but it felt high for a small church. Like a church in Southeast Asia, there is a ceiling fan, but it is not working, and there were several air conditioners in the building, but it is as hot as the outside shade because it is not attached.
And the pesticide? Perhaps because of the spray, the building was filled with the strong smell of oil, so I was not very comfortable …。
Altar, stained glass, and pipe organ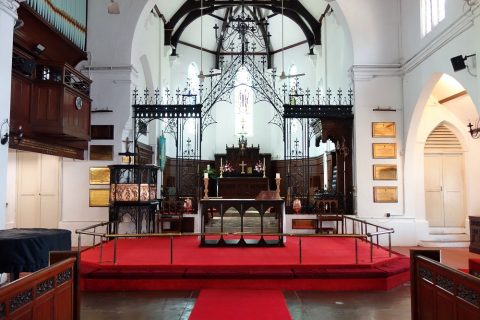 The altar looks like this. Although it is small, it has fine decoration and sophisticated arrangement, and I think it is quite delicate. I was watching a beautiful altar with lighting on it on Google, but this time it was disappointing that the lighting was not on …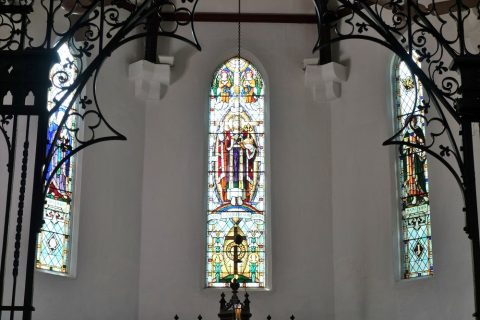 The stained glass depicts three saints, including the Virgin Mary. The photo shows a big image because the camera zoomed in, but in fact, the stained glass itself was small and the altar was too small to approach, so it didn't look very good.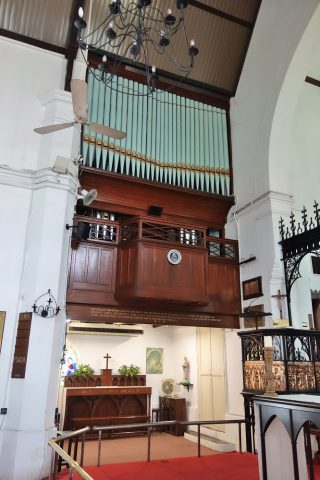 On the left side of the altar is a pipe organ. It looks like it's floating in the air. It's strange.
The organ, which is said to have been installed in the early 20 century, was originally located at a lower level, but was damaged by flooding around 1925, so it was restored and moved to its current higher position. I want to listen to how the sound echoes in such a place.
I would like to visit during the lighting hours.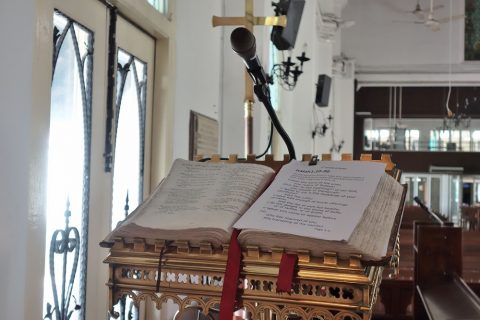 The cathedral names of the same "St. Mary's" pale in comparison to the cathedrals in Sydney we saw afterwards. But the church surrounded by green grass has a nice atmosphere, and I think it's good to visit around the time when the lights are on, such as before and after mass.
♪Click here for a List of articles on "Kuala Lumpur"