Speaking of Malaysia, there are food stalls and Malaysian food such as Nasirema. But this time I changed my mind a little and tried American food, so I want to make a food report!
The venue was a large shopping center pavilion in Bukit Bintan, which was visited by the KL Monorail from KL Central in Kuala Lumpur. There is an area where American restaurants gather, and I went into a Mexican restaurant called LA BOCA LATINO BAR in the corner.
※This article was written before the virus scandal. This will be updated.
Bukit Bintan SC "pavilion"
Bukit Bintang is the busiest shopping district in Kuala Lumpur, Malaysia. As I told you yesterday, with the opening of the MRT, the access from KL Central has become much better.
There is a shopping center called Lot 10 in front of Bukit Bintan Station, but "PAVILION" which is about 200 meters away from there is overwhelmingly bigger and has a better building! I will have lunch at this restaurant this time.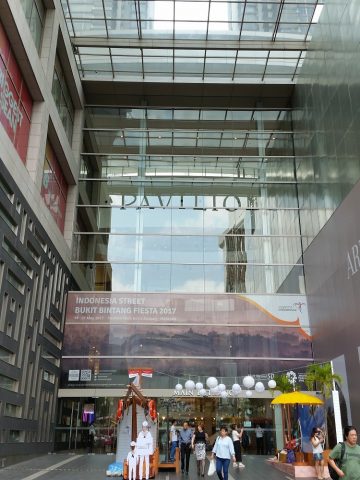 The front entrance of the pavilion is a glass atrium. When I visited there before, it was in the middle of the Spring Festival celebration and it was dyed red all over.
American food gathering area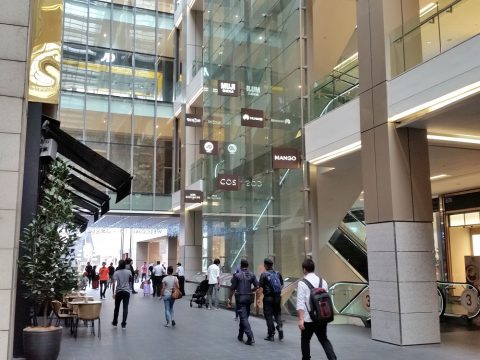 If you head to the front entrance and go to the left of the building, there is a shopping street with a bright atrium with a skylight. This is an area where bars and restaurants gather, but all the stores are American.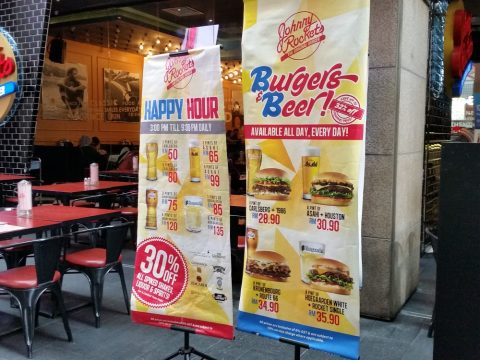 Probably because of that, most of the people who eat and drink in the shops are Westerners. The price is also relatively high compared to Malaysian food, and the hamburgers at most restaurants are around RM 25 ~ 30 (≠ ¥675 ~ ¥800). But it is much cheaper compared to other countries.
I decided to go to this store this time! Mexican "LA BOCA LATINO BAR". The time is past 14 o'clock, probably because the lunch peak has already passed, only 1 group of customers other than me …。 is open from 9: 00 to 1: 00 midnight (Until 3: 00 on weekends), lunch time is 12: 00 ~ 15: 00.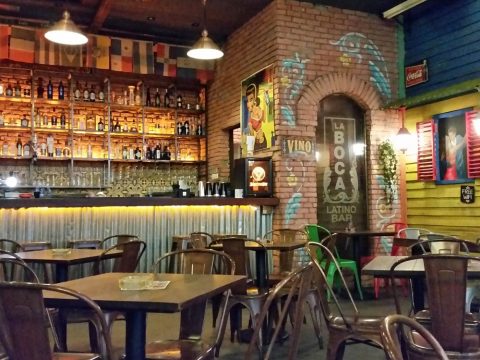 The restaurant with the bar counter is quite large, and there are about 20 table seats for 2 ~ 4 people, and the space can accommodate about 50 people in total.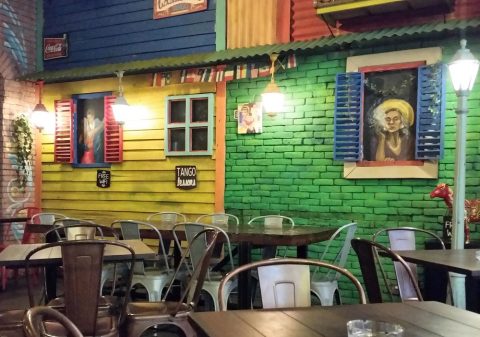 The colorful decorations on the walls are probably inspired by Mexican. Aside from the texture, I can understand the attachment to the interior, but I am the only one who doesn't have a sense of unity?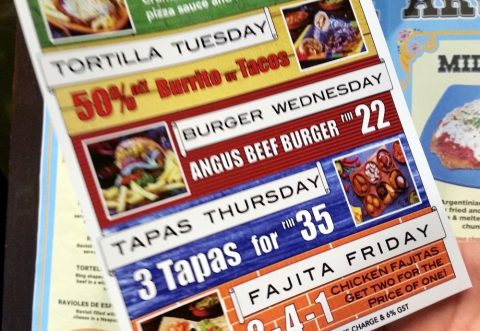 I asked, "Lunch menu?" and they gave me this. I was interested in ANGUS BEEF BURGER which was posted in the store, so I would like to try this one. RM 22 is much cheaper than other stores around here. I was asked how to cook it, so I ordered "well-done".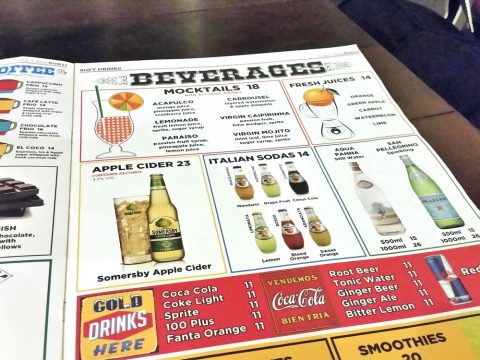 By the way, the drink menu is very satisfying as it is called "Bar". Non-alcoholic cocktail "Mocktail" or fresh squeezed (? ) fresh juice.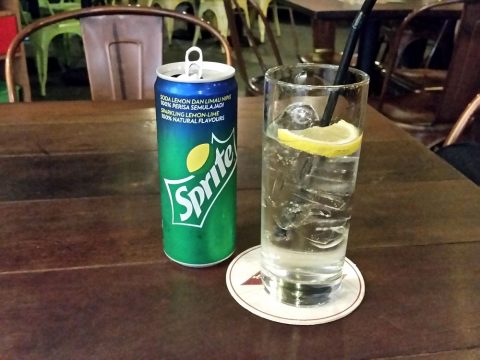 This place is Safely Sprite …。 and I do RM 11 (≠ 300 yen), but if I go to the supermarket, I can get it for a few tens of yen, so I guess I made a mistake …。
The beef burger is worth the price.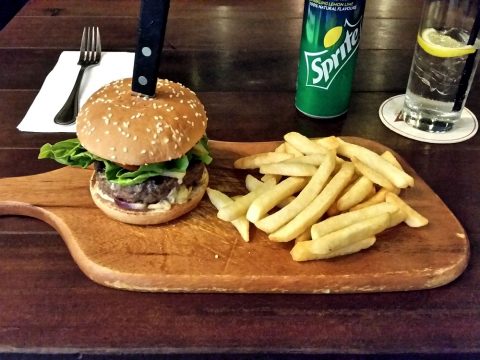 About 15 minutes after the order, ANGUS BEEF BURGER was delivered! Hamburgers served at restaurants overseas are usually large, but they are a little small. Even so, the thick patty contains lettuce, tomato, cheese, pickles and even corn, and it has a sense of volume.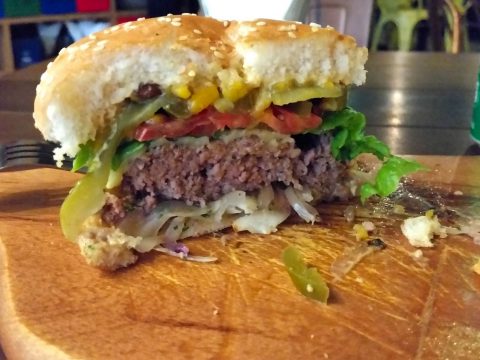 I tried cutting it with a knife to see the cross section, but the knife was so blunt that it came apart. …。 I tried it and it was a normal hamburger. It's a bit spicy, but the pate is a little too hard. It was not juicy and I thought it was worth the price …。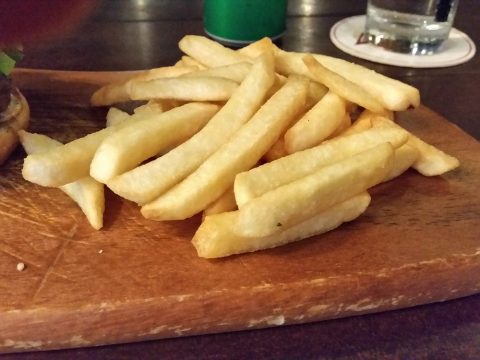 Potatoes are much better than Japanese Mac-nard, but I don't really feel the warm and delicious taste. But this wooden plate is so small that I often spill it on the table …。
The service is not bad, but the price is reasonable.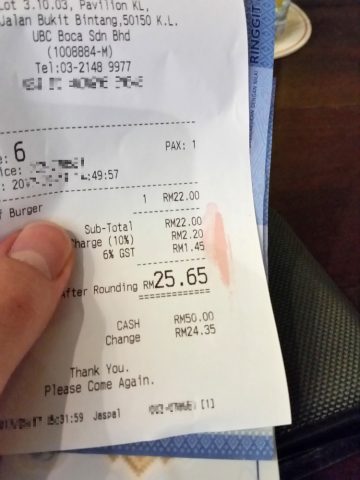 Hamburger and Sprite for a total of RM 25.65 (≠ 700 yen). If you look closely, the drink fee is not added, so maybe the price was with the drink because it was lunch time. I think this price was quite reasonable in an area where many Westerners gather.
The waitress' service was good, and the male waitress who was in charge this time said that she was from Myanmar and gave me lip service such as "Welcome!" when I told her I was Japanese, and she dealt with me very hard.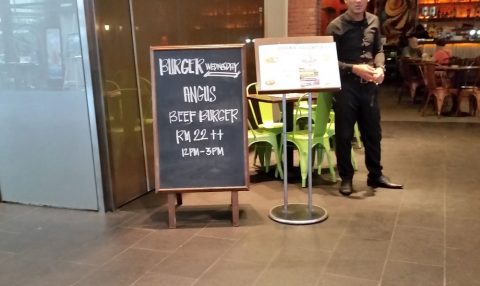 Well, the only thing I'm not satisfied with is the taste …。 Of course it's worth the price, but if there is a charm of + α, it will lead to repeat. I would like to try another American restaurant next time.
La Boca Latino Bar Basics
Hours: 9: 00 am – 1: 00 am (Friday and Saturday until 3: 00)
Address: Pavilion Kuala Lumpur, Lot. C 3. 10.03, Level 3,168, Jalan Bukit Bintang, 55100 Kuala Lumpur.
♪Click here for a List of articles on "Kuala Lumpur"