Continuing with the report on JAL domestic first class, I would like to take a closer look at the drink menu following the in-flight meal.
When it comes to first class on JAL domestic flights, "Mori-Izo" is the standard, but there are also other standard alcohols such as champagne and wine! In-flight meals are not refillable (Of course …), but drinks are basically all-you-can-drink, which makes me happy!
What is the taste of free alcohol on the plane? I would like to report in detail.
※This article was written before the virus scandal. This will be updated.
JAL Domestic First Class Drink Menu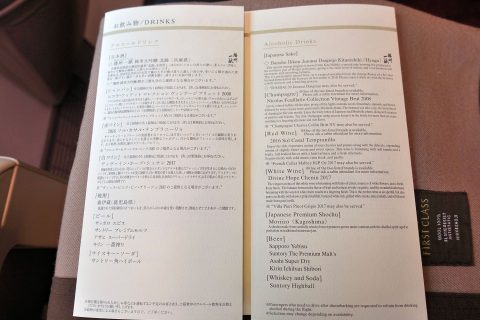 Here is the drink menu of JAL domestic flight first class. Alcohols include standard premium shochu "Mori-Izo", champagne, wine, sake and beer, but you don't have to drink beer here because you can drink as much beer as you want in the lounge!
Unlike international flights, there are no liqueurs such as Umeshu, and there is no real whiskey. It would be great if there was at least "Yamazaki 12 Years Old" …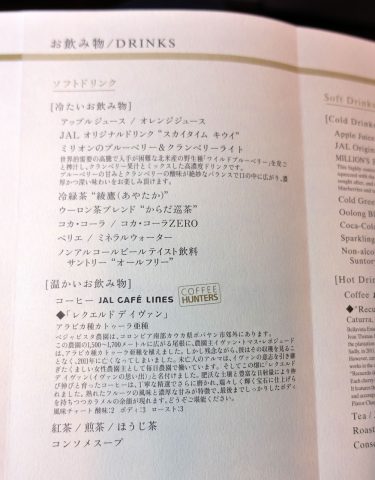 On the other hand, soft drinks range from various juices to tea, coffee and tea, but consomme soup is the same as those served in class J or regular seats.
Champagne with a rich flavor
Let's start with champagne! When it comes to champagne, it is a representative of "Premium Sake" which is familiar in first class and business. Just pouring it into your flute glass will make you feel rich!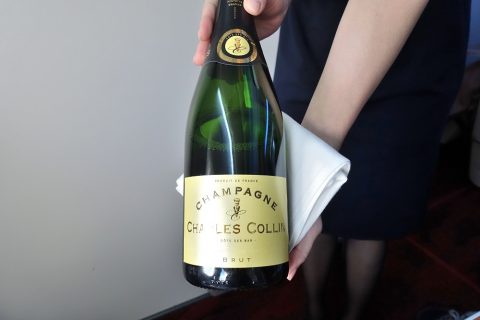 As for champagne, "Nicolas Feuillatte Collection Brut 2008" is listed on the menu as the main dish, but for some reason, on the day I ordered champagne, all the brands were different from the main dish "Charles Collin Brut".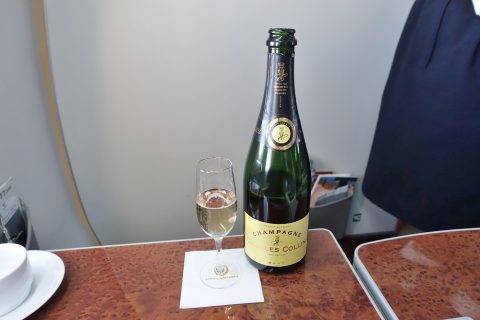 When you drink it, you will find that it has a surprisingly gorgeous taste, although the claim is rather weak. It has a good balance of sweetness and sourness, and it tastes good. It is comparable to Charles Heidsieck on international flights.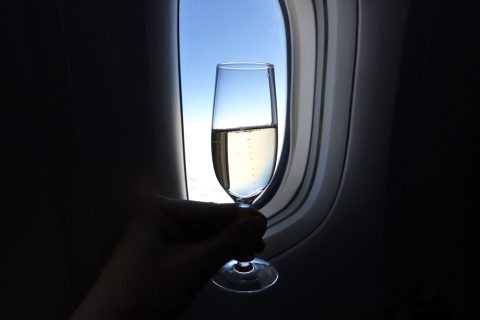 But when I checked the market price of the bottle, it was a very cheap champagne of about 3,000 yen! It is not on the market in Japan including Rakuten, but I think it is a good deal if the taste is 3,000 yen.
a dull red or white wine
Then check out the red and white wine! Unlike champagne, wine is served in baby bottles.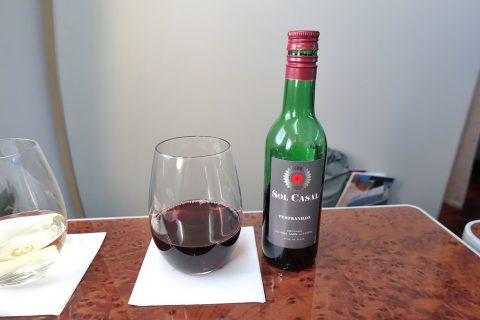 The red wine is "Sol Casal Tempranillo 2016" from Spain. When you drink it, it has a good balance of sweetness and sourness, though it has a taste with no special features.
I checked the market price, but I couldn't find the same stock no matter how much I used Google.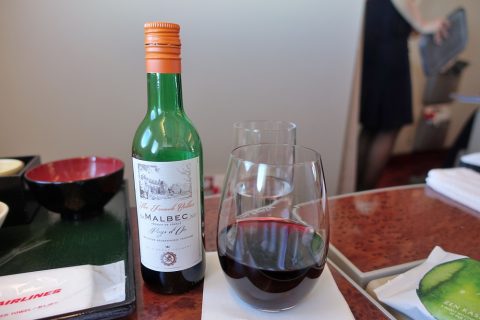 Also, there was a day of French "French Cellar Malbec", but it didn't taste very good, but it was well balanced. In terms of the level, I think it's about the same as the red wine served in economy class on international flights.
I don't know the exact market price, but a similar brand was sold at 1,280 yen per bottle, so I think it's quite a bargain.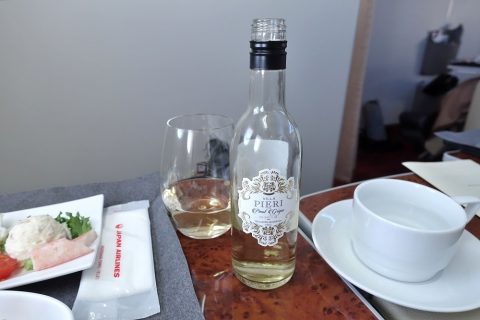 On the other hand, white wine has a rather disappointing taste. This "Villa Pieri Pinot Grigio 2017" has almost no scent and is like drinking water. It is quite difficult to drink a really good wine on a Japanese airline …
Quite delicious Japanese sake
In spite of such a dull wine, Japanese sake was quite delicious!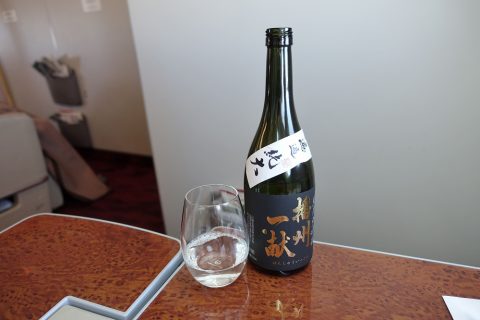 This "Banshu Ikkon Junmai Daiginjo Kitanishiki" is sake from Hyogo prefecture with a little bit high alcohol content of 16%. It was served cold, but it has no peculiarity and a refreshing taste. In addition, although it is fruity, it has a depth to feel the pungency in the back of the throat, which is good!
This sake is delicious, but the market price is very reasonable, and even a 1.8 liter bottle can be bought for about 3,000 yen. This is good for drinking everyday! I want to get it if I find it at a liquor store.
Not sold out! Popular Berry Juice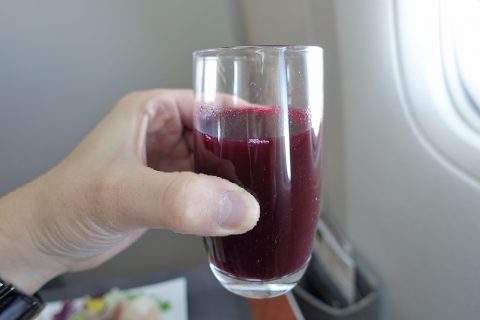 Among soft drinks, you should check out this "Million Blueberry & Cranberry Light". It is a rich drink mixed with 2 kinds of berries and it has a refreshing taste.
Since it is a special menu that cannot be taken at ordinary seats, many people who do not drink alcohol seem to order it, and it is often sold out when they order it after a meal.
Also, even if you can actually drink it, it's so popular that it's limited to "Please forgive up to two cups."! If you want to drink this, I recommend you to order it first.
The coffee at the end of the meal is the same brand as business class.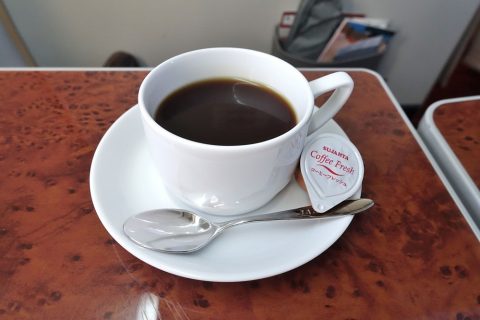 In addition, coffee is a brand called "Récuerdo de Ivan" which is the same as the one served in international business class. When you drink it, it has a mild texture with little bitterness, and you can feel a strong flavor while having a taste that is popular with everyone.
It is inferior to French press coffee you can drink in first class on international flights, but it is still a good coffee. (Reference → JAL first class in-flight meal/Haneda – London boarding record – part 4)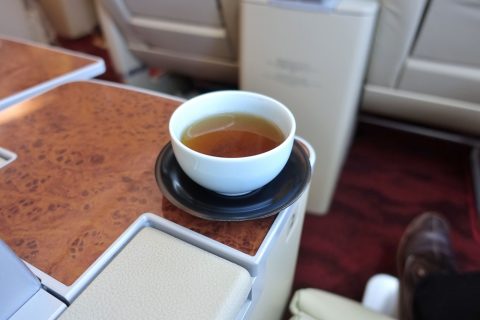 In addition, "roasted green tea" is not available in ordinary seats or class J. provided in a proper "teacup" manner. The taste is standard, but it smells good.
Get some snacks and water.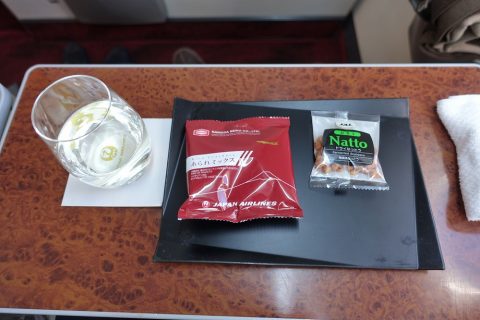 There are 2 kinds of snacks, "Arare Mix" and "dried natto". When I ordered alcohol after a meal, they usually brought it to me, but sometimes I couldn't get it, and sometimes they just gave me a bag without a plate.
I don't get angry like Princess Nuts (lol), but it's convenient to have a plate, so I think it's better to order together.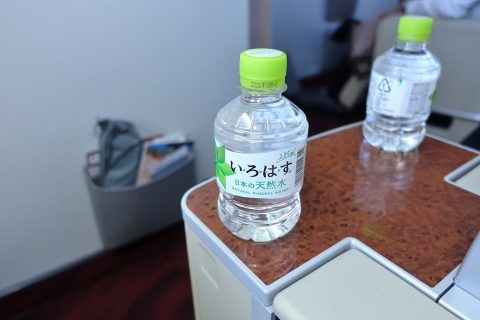 Also, if you drink alcohol, you need a chaser! You can order water and perrier every time, but it's convenient to get bottled water from the beginning. You can receive this even before takeoff, so I think you should tell it to CA when he comes to greet you.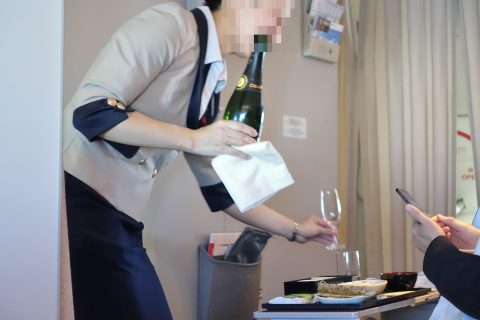 That's why I have been looking at first class drinks on JAL domestic flights with a focus on alcohol, but it is best to drink Japanese sake on Japanese airlines! It is unique to Japanese airlines that you can drink delicious sake such as Mori-Izu.
For first class on JAL domestic flights, please also refer to "boarding report" and "in-flight meal report".
♪Click here for a List of articles on "First Class & Business Class Airlines worldwide (Seat, In-flight Meal, etc.)"