I myself am the first class on a JAL domestic flight for the first time in several years, but the Okinawa Line, which has a long distance, has the best cost performance! I would like to report in detail about changes from before, such as seats, services and in-flight meals.
Updated first class seat on B777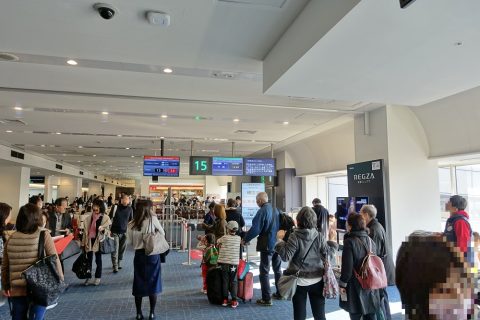 The flight will depart from Haneda Airport at 14:45 bound for Naha, Okinawa Prefecture. Needless to say, it is the longest section among domestic first class routes. It's been a few years since I've taken first class on the Okinawa line, so I'm a little excited!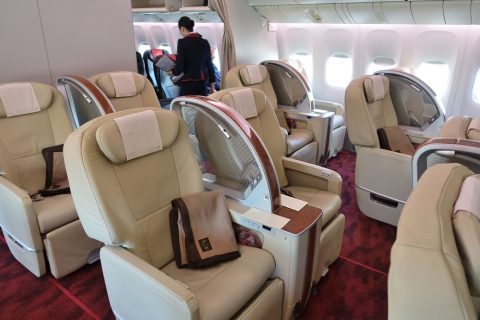 The first class has a total of 14 seats, consisting of 2-2-2 seats. There are 2 types of equipment with this first class (B777-200 and B767), but currently all the Okinawa line is B777-200.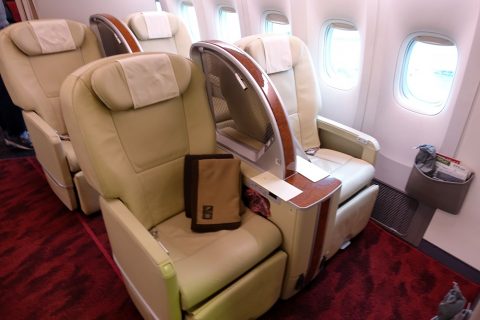 Pure white leather sheet. It's been more than 10 years since it was introduced in 2007, but I can feel the freshness of the renewed seat.
In 2014, a new first-class seat with a larger center partition was introduced to the B767, and this seat of the B777 was replaced with the new specification.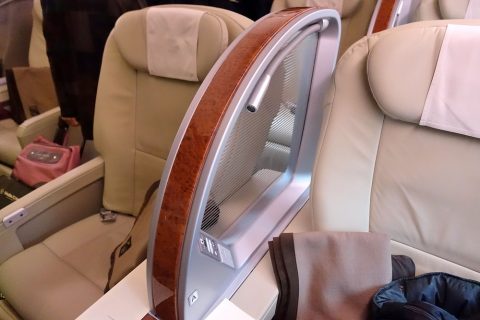 The center partition is getting bigger, but it's still mediocre. It is so low that you can easily see the person sitting next to you when you sit deeply on the chair.
But it's too expensive to sit with friends, and too low for strangers …"The belt is too short".
manual seat controllers and tables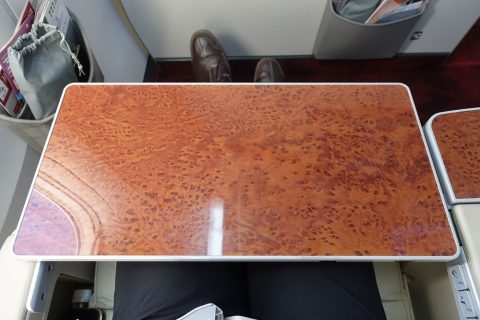 The facilities around the seats are basically the same as before. The table has a glossy wood-grain design and is fairly stable, but the depth is quite narrow, so it's not a very useful size.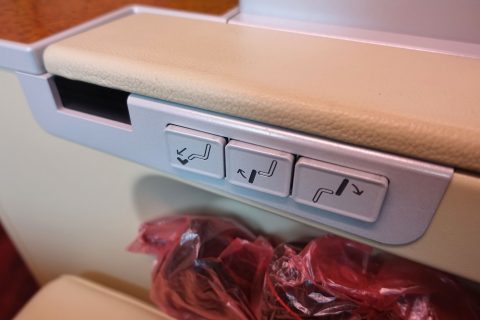 Also, the seat controller is manual. Probably because the spring inside is loose, when I push the leg rest button, it doesn't respond at all, and it is inconvenient that I have to push the button every time with my hand to jump up, so I hope it will be electric soon like … international flights.
Same amenities as business class
As for amenities, the noise-canceling headphones and slippers are exactly the same as those in the international business class. The shoehorn attached to these slippers will come in handy while traveling, so you'll definitely want to get one!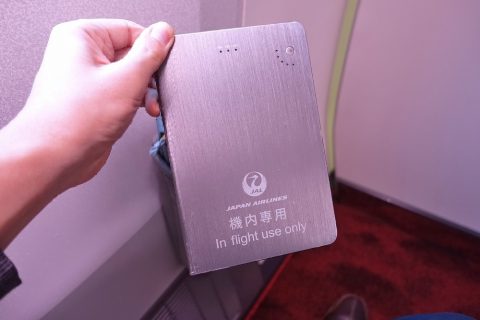 It also has a mobile battery, which is unique to first class. But I think it will replace the outlet of the seat when the seat is renewed next time.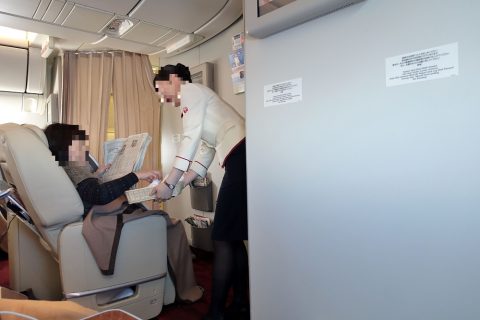 I received a wet towel with the same smell as the lounge and started the service! At this time, CA members will show their name plate and greet politely. Greetings are more polite than international business class. As expected, it is first class!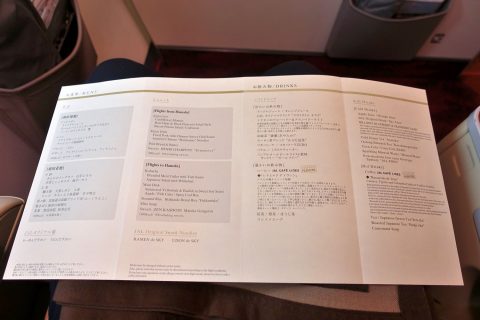 Here's the list of in-flight meals:. JAL Domestic First offers a monthly menu of local dishes from all over Japan as well as a collaborative menu with famous restaurants. The menu varies from Haneda departure to arrival and morning, noon and evening.
[Appetizer]

Cauliflower mousse

Prosciutto & pastrami duck salad

Bacon Potato Salad with Crab

[Main]

Fried Pork with Sweet Chili Sauce

Stir-fried Chinese vermicelli

Petit Pan Dessert
The in-flight meal menu is detailed on JAL's website, so you can prepare in advance. Relatively luxurious meals are served for lunch and dinner, but it is also possible to have a very poor light meal (Breakfast is especially heavy.) at a western menu …。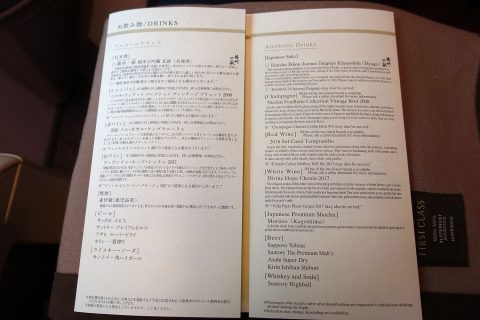 Champagne, red and white wine, sake and shochu are added to each, and 4 kinds of beer and Kaku highball are added.
Needless to say, shochu is the ever-popular sake " Mori-Izo ". Since it is a premium sake that is sold for several times the regular price, many people seem to take it for this purpose, and I can hear the order of Mori-Izo from various seats every time!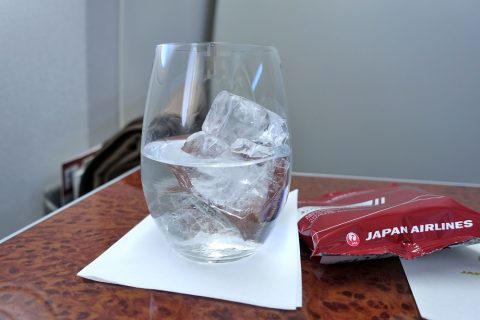 Really, Mori-Izo is delicious whenever you drink! In JAL, you can sometimes buy it at the fixed price in the in-flight sales of international flights.
Other than that, I would like to introduce each taste of champagne and wine in another article.
The in-flight meal is Western food and bread is delicious!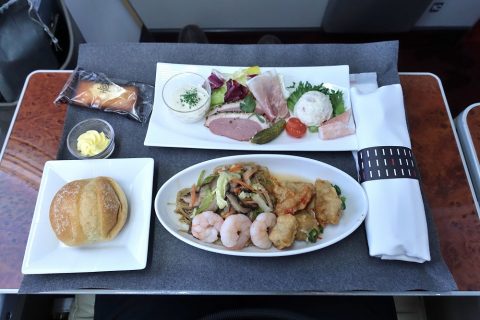 And this is the in-flight meal! It is not served on a course like international flights, but all the dishes are served on a tray. This time, they have a lineup of appetizers, main dishes, bread and western sweets.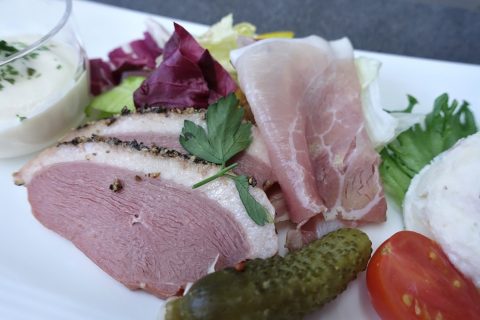 It doesn't look gorgeous, but the taste is pretty good! Especially, this appetizer's raw ham and pastrami duck was rich in flavor and delicious, and the potato served with it was also delicious!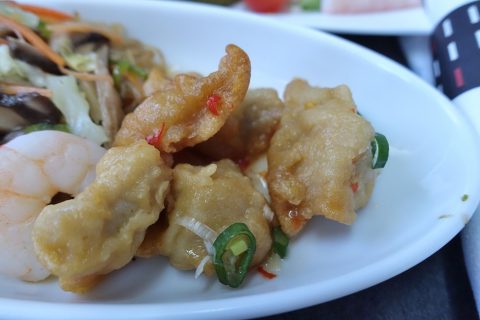 The main dish "Fried Pork with Sweet Chili Sauce" didn't taste bad, but the garlic was a bit too strong and the hardness of the …pork was a problem.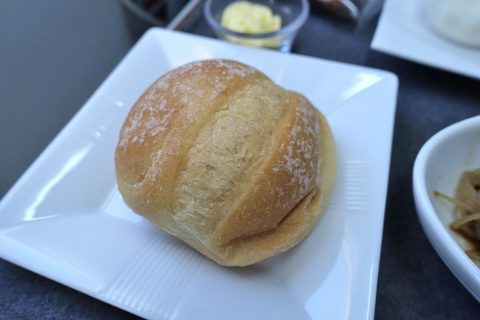 In such a situation, this "Petit Bread" is very delicious! The outside is crispy and the inside is elastic, with just the right amount of sweetness and salt.
It's hard to find such delicious bread even in international business class! I wouldn't have any complaints if they always serve such delicious bread at the airport lounge.
The cost performance is great! First class on the Okinawa line
That's why I took first class of JAL domestic flight for the first time in a while, but usually the long 3 hour flight is in a flash! Compared to the international business class, which costs from several tens of thousands of yen to several 100,000 yen, it is very valuable to be able to receive this kind of service for an additional 8000 yen!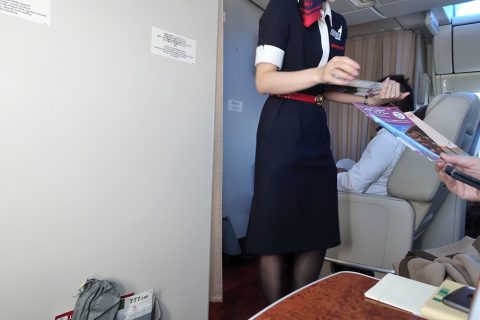 Especially on the Okinawa Line, where the travel time is long like this time, I feel that the service provided by CA has plenty of time. On the Osaka/Itami line, where there is only 10 minutes to eat, first class on the Okinawa line is the best value for the money, even if it's like a battlefield …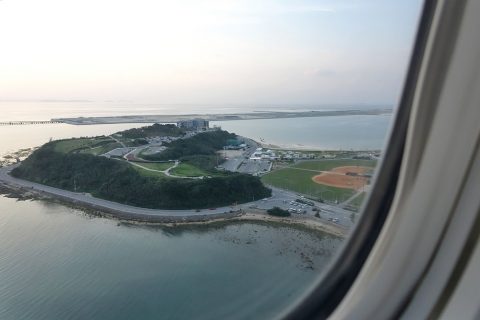 I will be boarding this first class a few more times during this training, so I would like to report various things!
♪Click here for a List of articles on "First Class & Business Class Airlines worldwide (Seat, In-flight Meal, etc.)"