This time, I will tell you the boarding report of JAL business class which I used for Bangkok. The seats on the Narita-Bangkok line this time are the old Shell Flat Neo. It was the first business class flight of JAL since last year's Paris line, but it was different from the long distance flight in various aspects besides the seat.
※This article was written before the virus scandal. This will be updated.
The priority boarding method has changed.
The flight departing from Narita at 18:20 is bound for Bangkok. Most of the passengers were Japanese, but there were also many Westerners who seemed to have transferred from North America.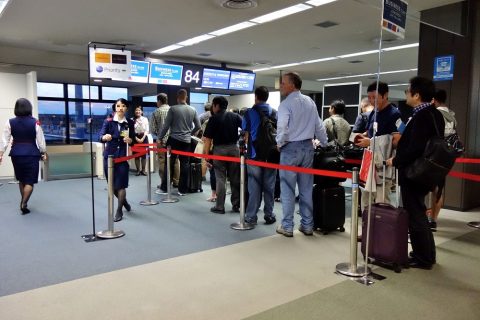 Come to think of it, the way of priority boarding is changing recently in JAL. In the past, first class (emerald status) and business class (sapphire status) used to be grouped together for boarding at once, but now they are divided into groups and the top class passengers ride first.
Certainly, there are more than 100 priority passengers depending on the route, so I think this is a natural measure in a sense. However, following that, the partitions for alignment became impossibly complex …
Shell Flat Neo for B787-8
The flight from Narita to Bangkok was B 787 -8. An old-fashioned shell flat neo that is not Sky-Suite. The seats are arranged in 7 rows of 2-2-2 seats, and there are a total of 42 business class seats.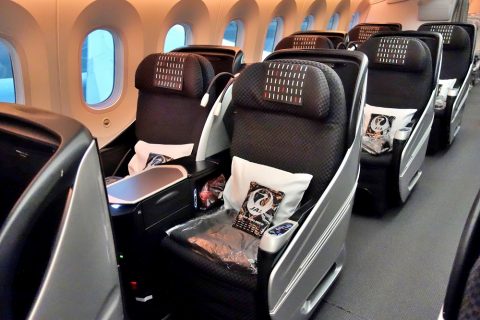 It is a shell flat neo with an antique tone which has been heightened completely probably because Sky-Suite was released with I II III one after another in JAL in recent years, but it was still being manufactured when 2013 B787-8 was introduced to JAL, so in that sense, it can be said that it is still a fresh and lively seat.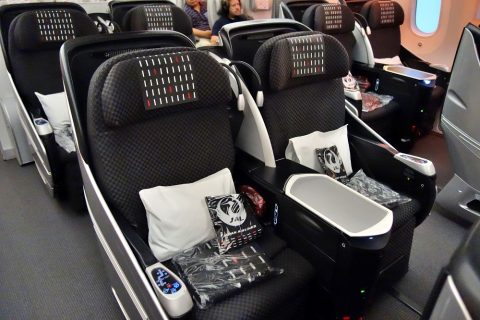 My seat is 9G. I really wanted a window seat, but unlike the Sky-Suite, not all seats have aisle access, so I chose an aisle seat. However, the boarding rate on that day was about 60%, so the 2 window seats next to it were all empty.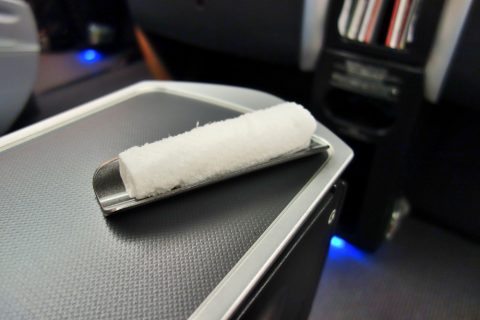 Of course, there is a vacant seat next to me! This shell flat neo has a cocktail table which is shared with the next seat, so if someone else sits next to it, it will be very stressful …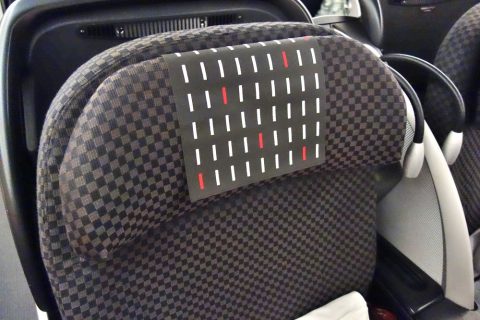 The seat has a thick headrest. The Sky-Suite, which specializes in "private room feeling" no longer has this headrest, so in that sense, the rugged Shell Flat Neo is a seat that specializes in "sit".
You can also adjust the depth of the seat so you can find the best seat comfort according to your body size. It also has a footrest, so it might be more comfortable than the Sky-Suite I if you just sit.
Amenity goods are poor …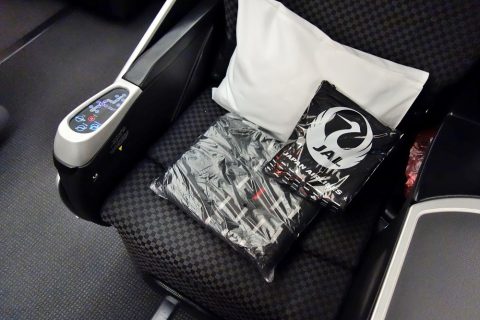 Seats include cushions, other business-class blankets, and a small bag marked with a Tsurumaru …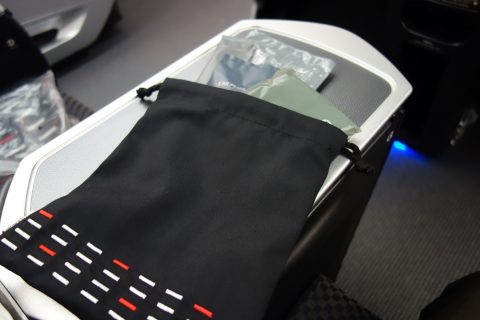 I was wondering what it was and opened it, and it turned out to be amenity goods! There are only 4 kinds of contents: toothpaste set, eye mask, moisture mask and earplug.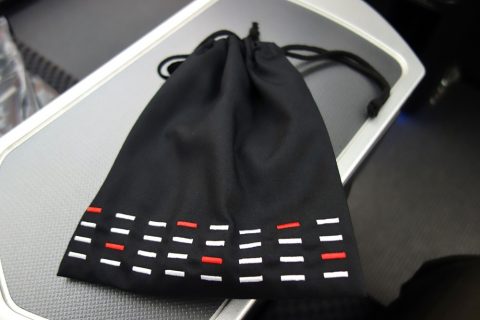 What's more, I was a little disappointed that it was served in such a drawstring bag as I was expecting goods collaborated with a famous brand such as … "Zero Halliburton". After all, it is different from long-distance lines such as Paris and Helsinki.
However, with this level of amenity goods, some foreign airlines offer them even in economy class, so you can't get this …
How does a 170 degree sleep …?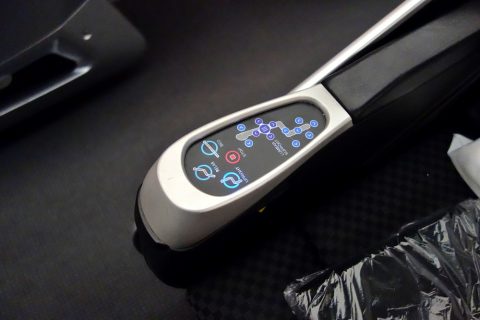 Well, this flight arrives in Bangkok at 22:50, so I don't need to sleep, but I'll try to put it in a bed position. Unlike Sky-Suite, this is controlled by an armrest controller, but when the BED button is pressed, the movement does not stop until the Stop button is pressed.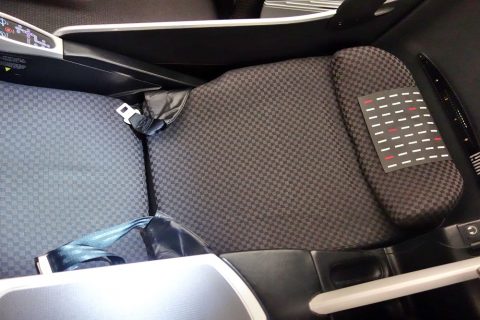 The angle of the bed position is about 170 degrees. When I lie down, my body shifts downward as rumored. Therefore, I raise the foot rest to support it, but it puts a burden on my legs and back, and I can't roll over.
The difference from the full flat is only 10 degrees, but I wonder if this is the difference. … If this is the case, it may be easier for you to lie down in a relaxed position rather than in a bed as your hip parts sink in and your body becomes stable. I don't feel that the seat is narrow enough, but I can say this seat is for short distance.
Surprisingly I fell in love with "Street Fighter II"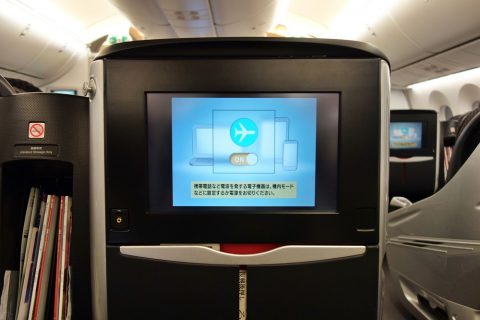 The seat has a 15.4 inch monitor. It's much smaller than the Sky-Suite I 23, but the visibility is fine.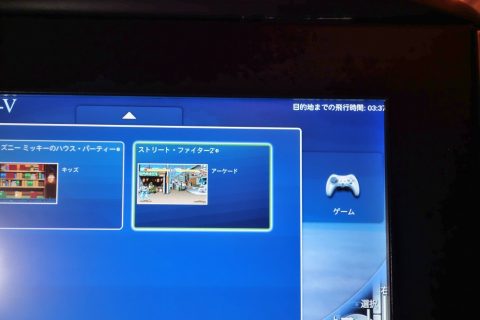 After watching the movie, I was wondering if it was an interesting game and found a nostalgic arcade game! Street Fighter II might be the first game I played since I was in elementary school.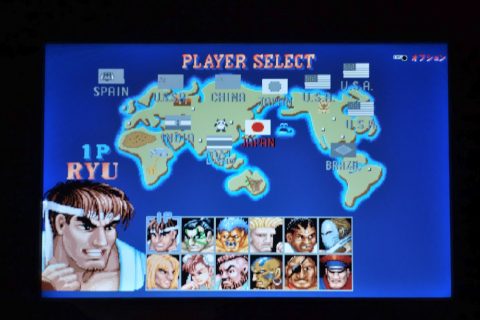 Plus, it's a "dash" that lets you select even the boss character. There are a lot of versions of Street Fighter II, like "Street Fighter II Turbo" and Super Street Fighter II X.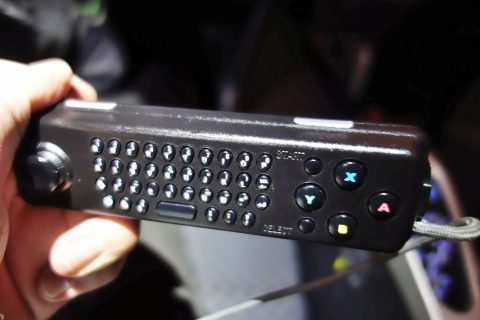 Like the PSU, the controller has X, Y, and even L and R buttons. The four-way controller is a little hard to use, but with this, I'm immersed in Street Fighter II for about an hour!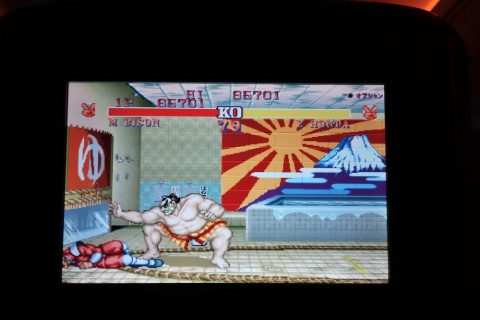 But the computer was so powerful that I couldn't win. The sound is worse than it was in the days of the Super Famicom, and the phone's ringtone level is worse. But I hope this series introduces more games.
Next time I will tell you about the in-flight meal report → Chef Kuroki's Japanese food is delicious! JAL Business Class In-flight Meals 2017 Autumn Menu
♪Click here for a List of articles on "First Class & Business Class Airlines worldwide (Seat, In-flight Meal, etc.)"