Continuing from yesterday, this is the boarding record of JAL business class (Narita – Bangkok) and this is the in-flight meal report. In the business class, I always chose "Western Cuisine" because I wanted to have elegant meals using a knife and fork, but this time I tried "Japanese cuisine" supervised by a chef "Jun Kuroki" for the first time, and I was impressed by its high quality!
I would like to report on the taste of the JAL business class in-flight meal "Japanese cuisine" to be eaten at "From Japan".
※This article was written before the virus scandal. This will be updated.
How's the JAL champagne?
When it comes to business class, champagne! Each airline company prepares selected brands and puts effort.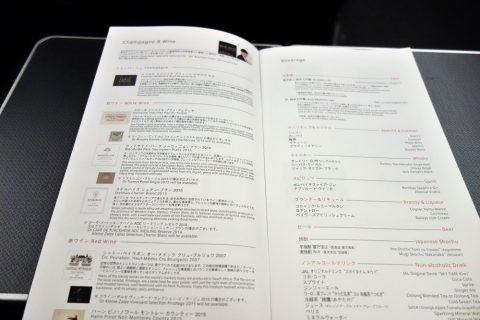 The JAL website advertises "DELAMOTTE BLANC DE BLANC (Delamotte Blanc de Blanc)", a sister brand of "Salon", but you can only drink it on long-distance routes in Europe, the U.S., and Australia (except in part). On short and medium distance routes, a lower grade "CHARLES HEIDSIECK BRUT (Charles E. Brut)" is provided.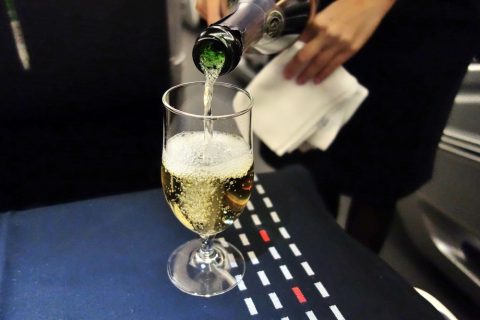 This champagne tastes a little sticky and smells good, but it doesn't have much bubbling energy or glamour. When I drank it for the first time, I thought it was not so bad, but after all, once I know the taste of the high-ranked sake, I always want to tilt my head to one side. …
The "DUVAL-LEROY (Duval Leroy)" I had in the business class of Malaysia Airlines was far better. For details, please check the boarding record of Malaysia Airlines A 330 business class! Narita-KL (2) Inflight meals report.
Japanese cuisine supervised by Chef Kuroki Jun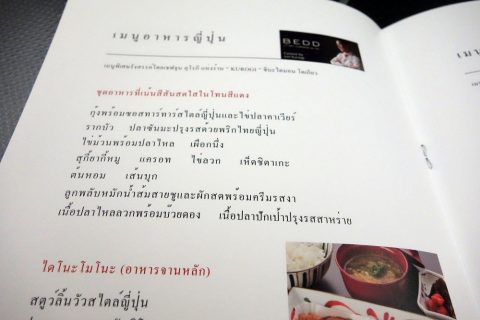 In JAL's first class and business class, special chef-supervised menus are offered only on routes departing from Japan, but Jun Kuroki is in charge of Japanese cuisine in the autumn 2017 menu. He runs a high-class Japanese restaurant called "Kurogo" in Shibadaimon, Tokyo, and it is sometimes hard to make a reservation (Shop HP is here.).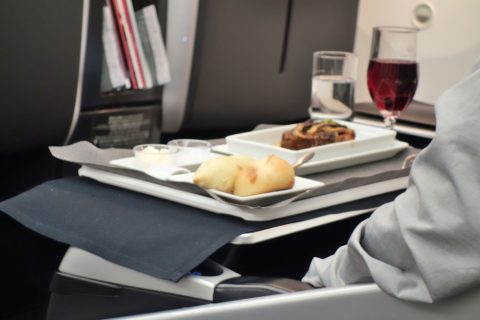 By the way, Western food in this season is under the supervision of the chef "Chikara Yamada". This person is also a chef who runs a high-class restaurant of the same name in Azabu, Tokyo, but I didn't like the taste when I had a Western-style meal to Helsinki before, so I passed (The detailed food report is the JAL business class in-flight meal [Western Cuisine] autumn menu! See) this time.
"Chikara Yamada" in Azabu is a creative Japanese restaurant , so I think it would be better to have this person in charge of Japanese cuisine , too …
6 small bowls that are all delicious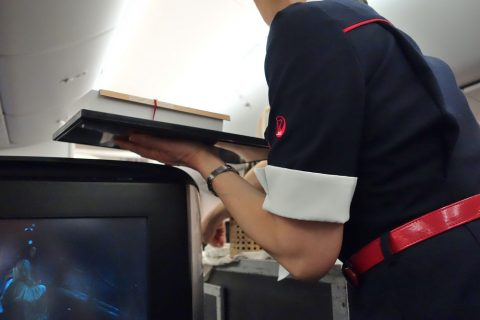 Let's start with "Appetizer". On long distance flights, they were brought individually by hand, but this time they were brought in wagons just like economy class.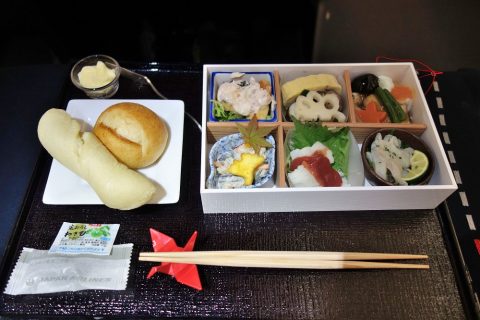 6 small bowls named "Akane Sora". From Top Left
Japanese style prawn with tartar sauce, caviar
Hanarenkon (lotus root), saury, sansho (Japanese pepper), unagi maki (eel roll), kinukatsugi (fish cake)
Pork Sukiyaki/Carrot, Poached Egg, Shiitake Mushroom/Japanese Leek, Shirataki
Persimmon namasu・sesame cream
Marbled Pike Conger, Pickled Plum Meat, Puffer Fish with Kelp
It originally came with rice, but this time I had it changed to bread.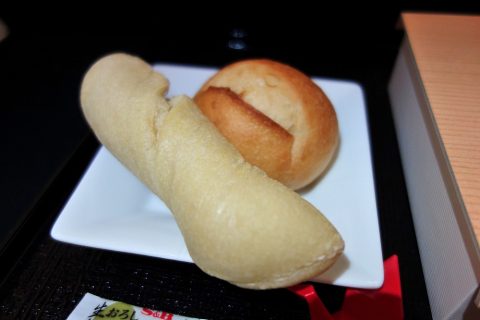 Maison Kaiser's "Petite Ciabatta" and "Petit sweet potato" both had a very slightly salty taste and were slightly warmed up, but they were hard and not very tasty.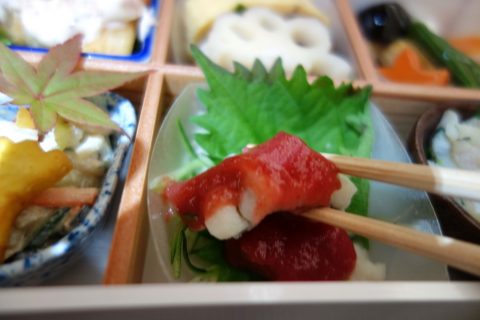 On the other hand, there are 6 small bowls where you can enjoy various fish such as saury, eel, pike conger and puffer fish. The acidity of the plum pulp attached to the conger pike and the vinegar of the lotus root are exquisite, and the vegetables for boiled dishes are well seasoned and delicious, and all of them are high in level! It is colorful and I think there are 20 items.
However, the conger pike is a little hard, and the saury tastes like canned food, but I don't think it's the same as an in-flight meal. Each one tastes good.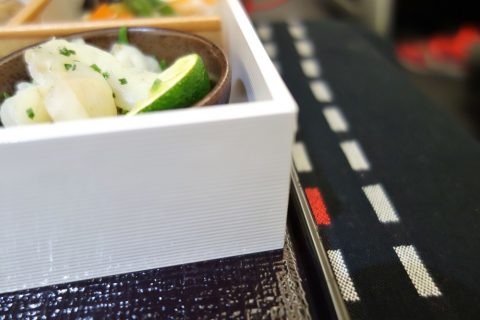 The white container is plastic. The lid looks like wood, but it's a light material used in Ekiben.
Premium Beef Tongue Stew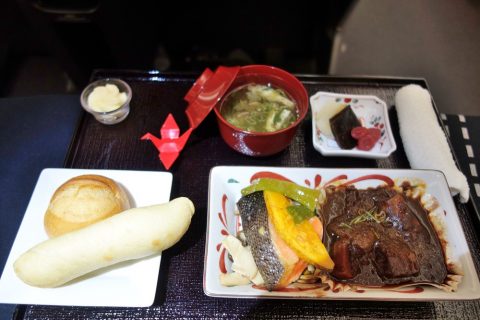 "stand" is "Japanese-style Beef Tongue Stew" and "Salmon marinated in miso". This is followed by "Miso soup" and "Pickles".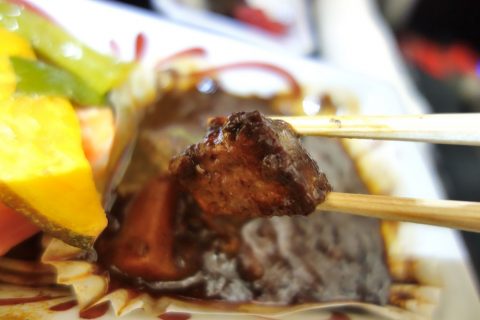 The beef is so tender and delicious! However, it is very disappointing that there are only 2 pieces of diced steak. This sweet sauce was delicious, and I was right to choose bread because I could dip the leftover sauce into bread.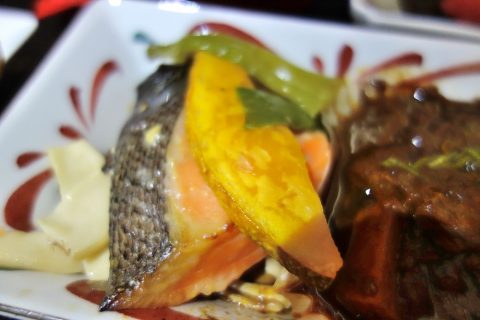 The salmon is thick and juicy! It also contains fragrant maitake mushrooms, and this is a really delicious menu! The rumor that "Japanese food is delicious in Japan." is true.
Eat and compare Japanese and Western desserts!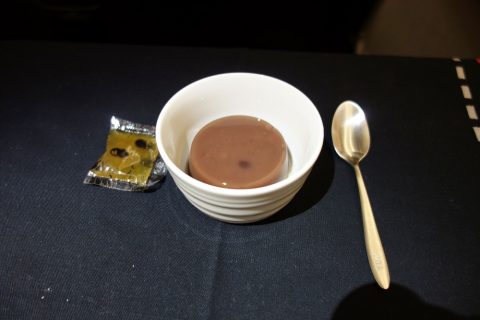 Japanese desserts are marked "sweet". I think this is probably "Mizu-yokan". A good scent of Ogura drifts in the air, but the taste is not so different. … There is a slightly sour sauce of orange flavor, but it didn't make much difference when I put it on. I love anko, but this is a little disappointing dessert.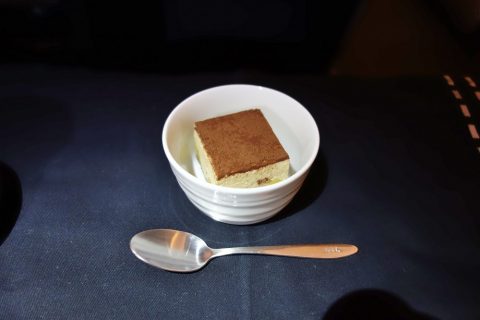 The Japanese dessert was not served properly, so I asked Mr. CA for a Western dessert, and he brought it right away! This one "Chestnut Tiramisu" looked like a big tiramisu when I saw the person sitting next to me across the aisle eating, but when I came to my place, it was surprisingly small …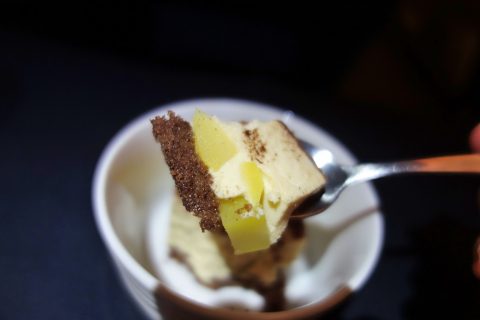 The creamy taste of milk flavor comes first, but I don't really feel the taste of this. Personally, I would like to have a bit more bitter accents. I would love to taste this on the ground.
a slightly unsatisfactory cheese selection
Unlike long-distance flights, the in-flight meal menu on the Bangkok Line does not have a la carte menu that you can order whenever you like after the first meal. The only thing noticeable is this "Cheese Selection".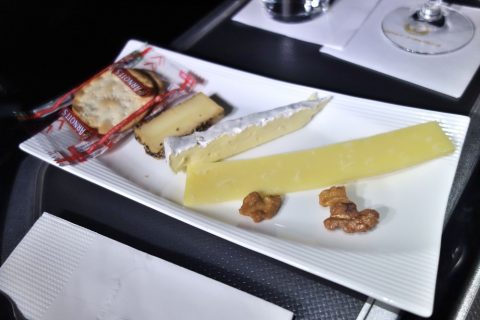 Assorted 3 kinds of cheese, walnuts (2 pieces …) and crackers. All the cheese tastes normal. Malaysia Airlines was more delicious … The only walnut was delicious, but it is sad that there are only 2 walnuts.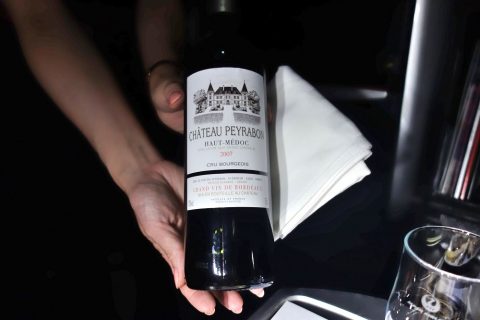 I had it with red wine as the menu says. This "Ch. Peyrabon" is a medium bodied Bordeaux wine. It's the brand listed at the top of the menu, but it's a little heavy on the nose and a tingling sensation similar to chili pepper spreads in your mouth. It has a bit of a peculiar taste, so I think it's a taste that can be divided by taste.
Chef Kuroki's Delicious Japanese Food
The Japanese food that I had this time under the supervision of Chef Kuroki Jun, was so delicious that it was competing for the first and second place among the JAL business class in-flight meals I had so far! This is surprising because JAL's in-flight meals have not been served for a while.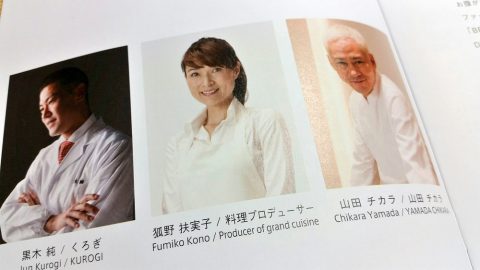 What disappointed me was that I could not eat the "Fumiko Western and Japanese Cuisine" supervised by Chef Kono Fumiko. The cuisine supervised by Ms. Kono, who is the only woman among the brands of "BEDD", is perfect no matter when you eat it, and it is a highly recommended menu for JAL, but you can only choose a la carte menu for long-distance flights.
If you are going to London or New York by JAL business class, please check out the best combination of Chef Kuroki and Chef Kono. That was the JAL business class in-flight meal report! Please also take a look at yesterday's article → JAL Business Class NRT ~ BKK Shell Flat Neo Boarding Record!
♪Click here for a List of articles on "First Class & Business Class Airlines worldwide (Seat, In-flight Meal, etc.)"