This time, I will go snorkeling at the beach of the remote island "Ikema Island" of Miyakojima. Although it is called an isolated island, it is not too much to say that it is actually a part of Miyako Island because the 3 main islands floating around Miyako Island are connected by a bridge.
In the northern part of Ikema Island, there is a beach called Ikema Island Funakusu (Ikema block), which is known as the best beach for snorkeling. I went and swam to see what kind of beach it is.
Ikema Island Funakusu site
Ikema Island is a remote island located in the northern part of Miyako Island. Miyakojima is connected by 2 bridges (Seito-bashi Bridge and Ikema Ohashi Bridge).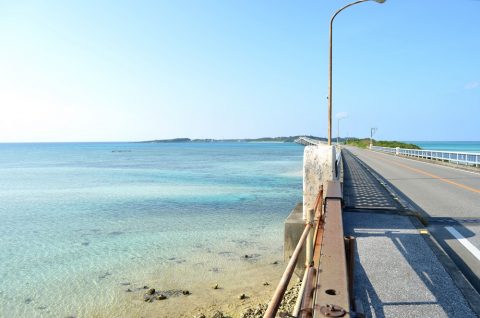 The sea spreading below the bridge is beautiful! Other than that, I ran the Kuruma Ohashi which connects remote islands and the Irabu Ohashi which was recently built, but I think the view from Ikema Ohashi is the most beautiful among them.
The beach "Ikema Island Funakus" we are aiming for this time is in the north of Ikema Island. However, it is a small island of about 3 square kilometers, so we arrived 4 to 5 minutes after passing Ikema bridge.
The restroom in the parking lot is dangerous …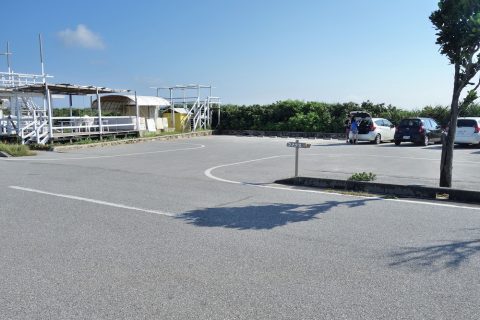 When you arrive, you will see a concrete parking lot. It can accommodate about 14 cars. It wasn't there before, but it was repaired in 2013.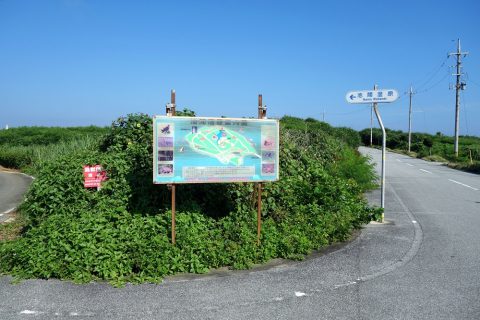 This is also the junction to the road to Ikema wetland. I didn't visit this time, but it is the largest wetland in Okinawa Prefecture and a place where you can enjoy bird watching.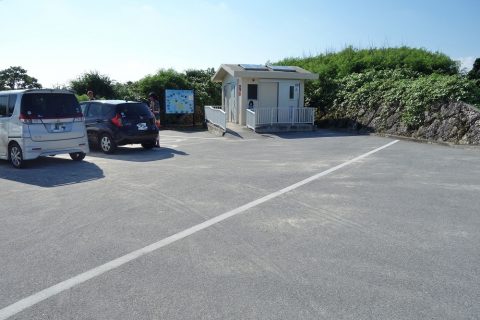 There is a toilet in the parking lot which was also built in 2013. There is one private room with urinals for men and one unisex private room. It's a large toilet for wheelchairs, but maybe because it hasn't been cleaned for a long time, especially unisex toilets have become dangerous!
The moment I opened the door, it smelled so terrible that I hesitated to go in. …。 The private room for men only was fine, but women might be a little tired. It might be better to think that there is no toilet.
The beach is just behind the parking lot.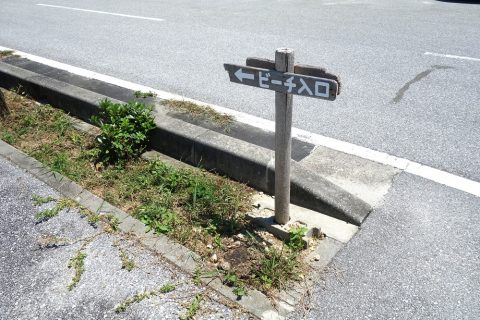 The approach to the beach from this parking lot was a bit confusing at first …。 Follow the directions on the "beach entrance" in the corner of the parking lot and it will take you to …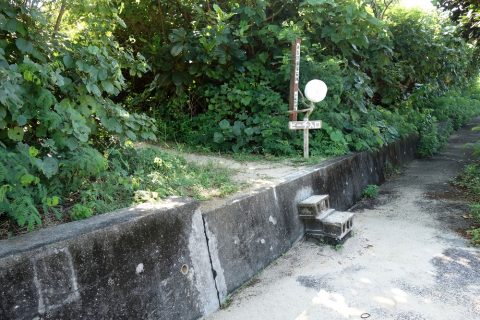 After a while, the entrance to the beach will appear on the sidewalk.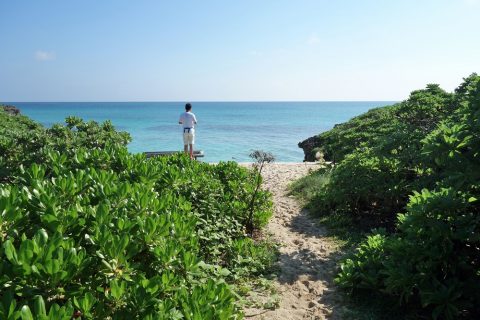 If you go through here, it is surely connected to the beach, but there is a big step between the beach and it is difficult especially for small children.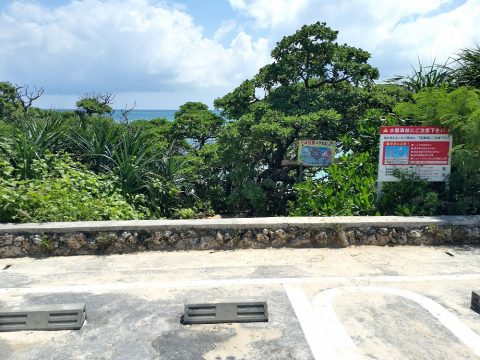 Instead, there's a way out just behind the parking lot near the toilets, and it's a much shorter way to get there!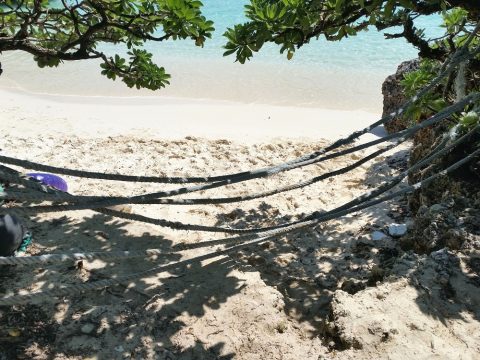 Once you get out of the bushes, you'll soon be at the beach. There is a level difference to some extent here, but there is a robe like this, so it is not dangerous to get off as a handrail.
beach surrounded by an inlet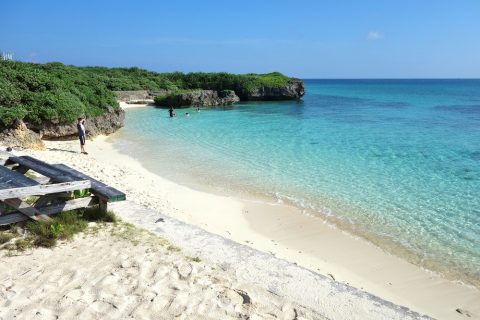 Arrived at Ikema Island Funakus! As you can see on the map, this place is like an inlet.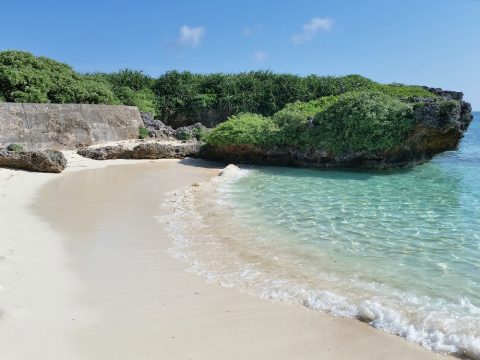 The size of the cove is about 60 meters, but the area of the beach is small and there may not be many places to spread parasols. The beach itself is smaller than I thought.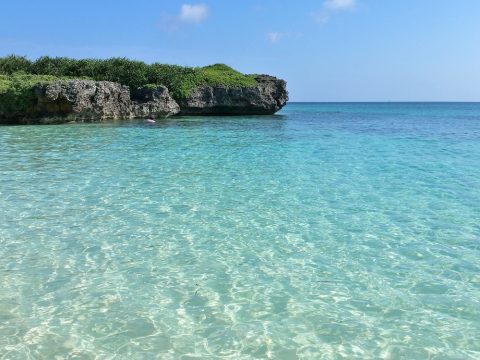 But the beach surrounded by the cove is relaxing and has a good atmosphere! I think it's a good idea to relax here without swimming while listening to the sound of the waves.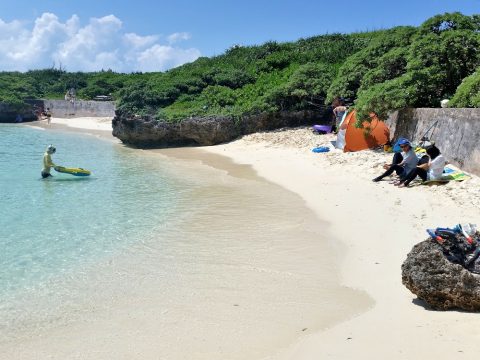 When I visited around 9 o'clock in the morning, it was hardly popular, but after 10 o'clock, it was crowded with about 10 groups. A little kid playing in the shallow water was shouting "Fish is delicious!" so this one looks promising.
Is the transparency of water not good? …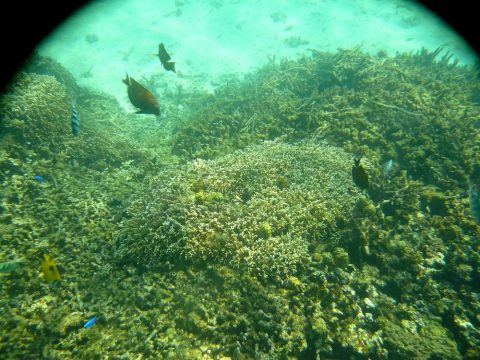 Let's swim now! It was almost high tide time at that time, but it is close to the coral reef. In other words, if the tide goes down even a little, we can't swim on this beach.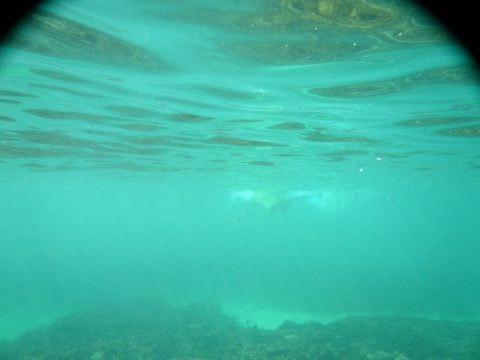 However, the visibility is not so good compared to the Yoshino Coast of Miyakojima, whose water transparency is not so good …。. In this way, people who swim a few meters ahead become hazy. It was sunny that day, so the sun should come in.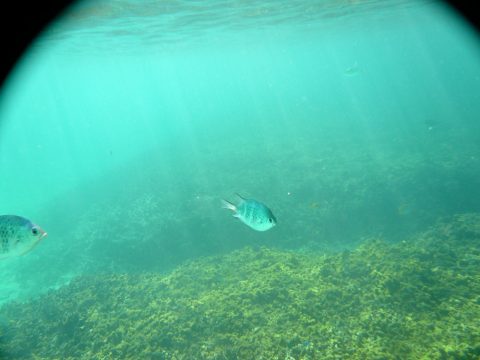 But there are a lot of fish and kinds! There are coral reefs all over the shoals, so it may be related. Sometimes there are fish that sparkle in the sun.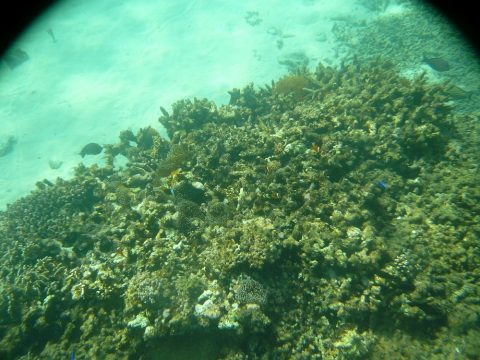 It's a little hard to see, but I also found clownfish!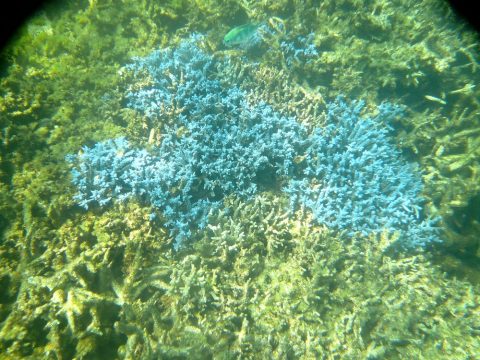 There was also a coral reef as beautiful as a jewel!
Data from Ikema Island Funakusu (Ikema block)
Free parking at … (14 s)
Toilet … 1 room each for men and women (It's so dirty.)
No shower …
Coral reefs … more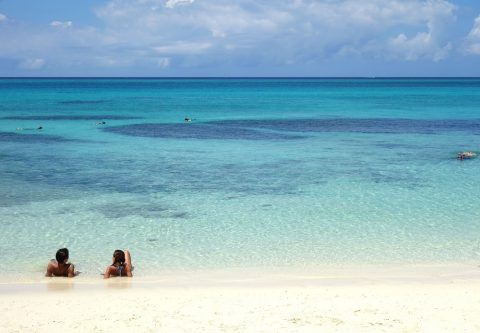 There was a toilet just in case, and I could go to the beach from the parking lot, so I had no complaints about the convenience. I thought it was a nice beach surrounded by an inlet. The coral reef spreads in the shallow water, so I think you won't be able to swim at low tide, but it's a fun beach with a lot of fish.
Also, if the transparency of the water is high, it will be …, which depends on the climate. Next time, I will swim at the beach which is close to this Funakusu and more private. → Go to Ikema Island's Anaba Beach "Ikema Rope"! Snorkeling in the quiet coral waters
♪Click here for a List of articles on "Miyako Island, yaeyama area"