On our way back from Naha, Okinawa, we visited the "highway restaurant" restaurant in Naha city before boarding the last flight to JAL Haneda!
The wide menu, spacious interior, and unadorned atmosphere make it perfect for eating alone, but the price is a little high for that? I will report the taste of "Yuzu dofu Soba Noodles" that I ate at the highway cafeteria!
a 24 hour shop along the "58"
The highway restaurant I visited this time is located along Route 58 in Naha City. It is also close to Miebashi Station on the monorail (Yui rail), and it takes about 5 minutes to get there after getting off the train.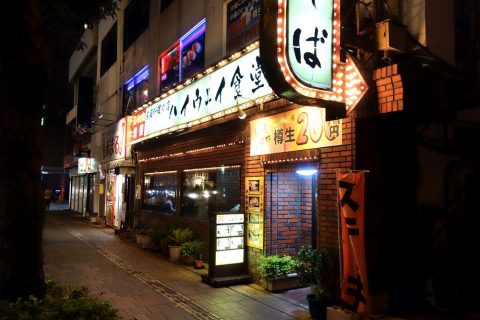 About 19:30, this highway cafeteria is open for 24 hours! It's not so rare to find a shop open 24 hours a day in Okinawa, but it's convenient to be open all the time!
Also, this shop is located along the national road, but there is no parking lot for the shop around, so you should be careful when you go by car.
You can smoke in the store. …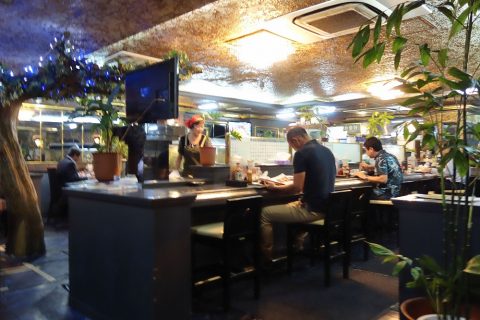 When you enter the restaurant, there is a counter seat in the center and a table seat by the wall. The inside of the restaurant seemed to be able to seat about 40 people, and it was quite spacious. There are so many men who eat soba by themselves in the customer base, so it may be that the restaurant is so easy to enter.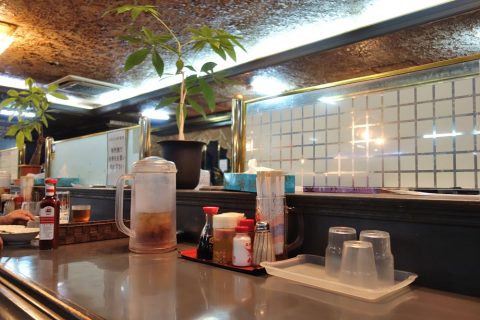 The interior of the store is old-fashioned, but the tables and other things are thoroughly cleaned. The place to store seasonings is clean, and as expected, this is a different place from cheap restaurants in Japan and Southeast Asia!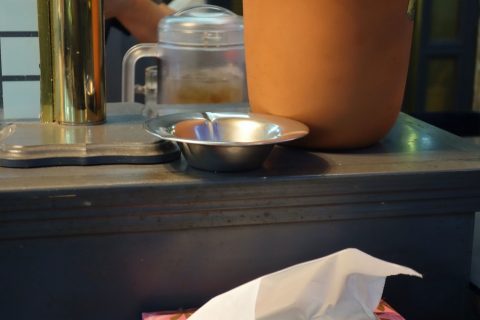 You can smoke in this shop. There are still many restaurants in Okinawa where you can smoke normally.
This should be considered as a culture, but the smell and taste of the meals are often spoiled by smoke, so I would like people to at least think about separating smoking areas.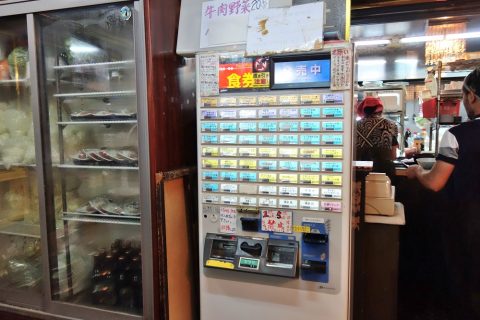 Orders are made with meal tickets. If you look at the menu, you can find almost all of the standard items such as various Okinawan soba, goya chanpuru, set meals such as hamburger steak, mackerel, fried food, curry and katsudon.
They also have a variety of menu such as sirloin and rib roast steak which you can choose from 200 g and lobster.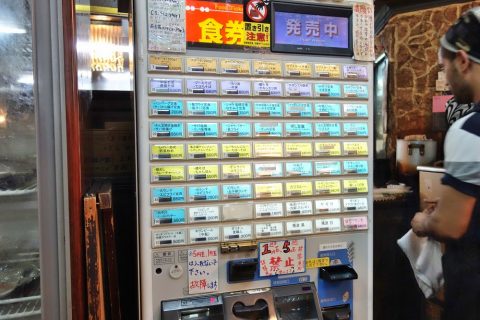 For this reason, it might be because the menu cannot fit in one ticket vending machine, but there are two menus written on one button, so when you give the ticket to the staff, you have to tell them which menu to order.
I would like to increase the number of ticket vending machines, but is this also Okinawa style? It's hard to find the menu you want.
Yuzu dofu Soba 550 yen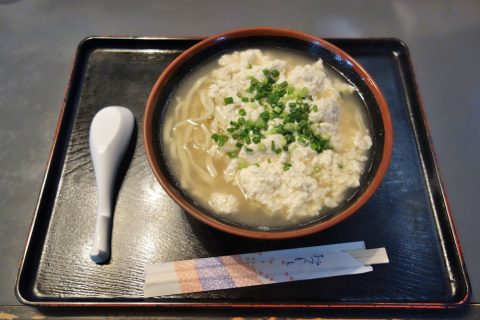 I ordered "Yuzu dofu Soba Noodles" this time. The price is 550 yen, and it came out in 3 minutes from the order!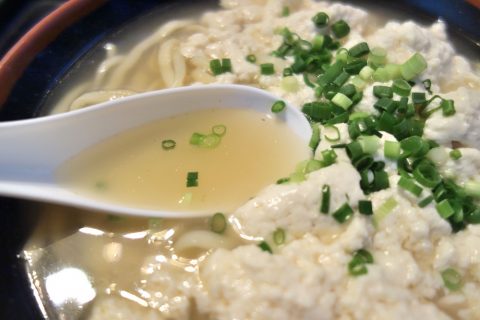 Let's start with soup. It has a mild flavor of bonito broth, but it has a very light taste. The taste will be almost gone from the third bite.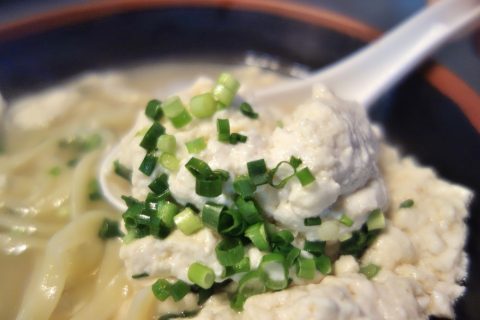 The reason why the taste is weak is probably because this Yushi dofu is in it. Yushi-dofu is tofu before it is hardened in a mold. It has a nice texture and is chewy, but I have an impression that the soup doesn't taste much because I put tofu with a lot of moisture in it.
Tofu doesn't have any flavor either, so it feels like I have a lump of water in my mouth. …。 In this case, it might be better to eat soba and tofu separately.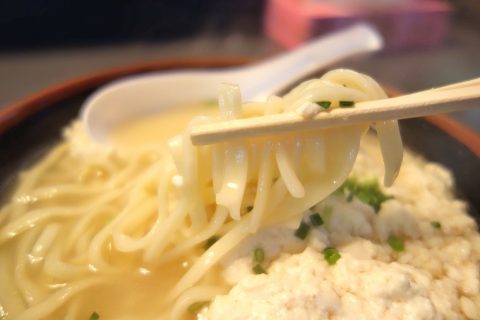 The noodles are of average thickness, but a bit soft. For those who are looking for strong elasticity and resilience, they may feel that it is not enough.
The taste of soba with a thin impression …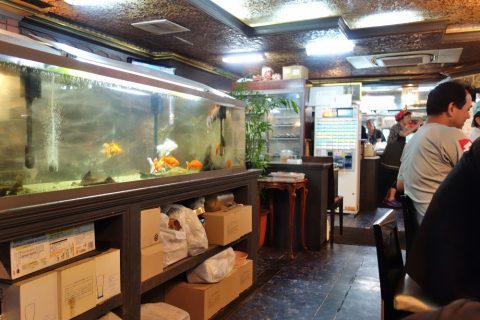 Hmmm, a little disappointing …。 I think the taste of soba is not bad, but the single item menu is around 550 yen to 600 yen, and the set meal is 650 yen to 750 yen, so I don't feel any special attractiveness even though the price is not so low, and honestly speaking, the restaurant doesn't leave a strong impression.
Judging from the number of menu items, it doesn't seem like a restaurant that pursues the taste of Okinawa soba in particular. I recommend this place for those who are looking for a place to eat with less than 1,000 yen while smoking after work.
highway cafeteria store information
Address: 2-3 -6 Maejima, Naha-shi, Okinawa
Opening hours: 24 hours
♪Click here for a List of articles on "Okinawa Main Island"