Ho Chi Minh City, Vietnam, which has no railway. When it comes to transportation in the city, people tend to rely on taxis, but the bus that can be used unexpectedly is a fixed route bus. Ho Chi Minh has more than 100 bus routes, and it covers a wide range from the airport to the city center and the suburbs, so if you can master it, you'll be comfortable!
One of the attractive points is that you can use it for only 30 yen for 1 time! I would like to see the route map and how to get on the bus in Ho Chi Minh City in detail.
Bus route map and convenient site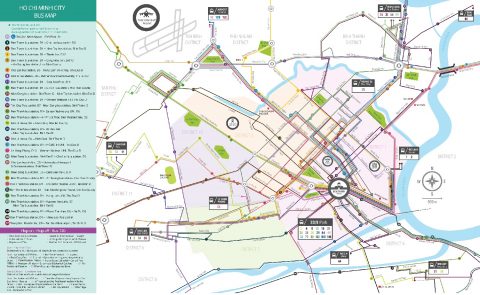 I looked for a bus route map of Ho Chi Minh City, and found this map. You can download PDF from the site called "Vibrant". It covers from the airport to the center of the city and the suburbs such as Cholon, so it was basically enough for me during my stay in Ho Chi Minh City.
*This PDF file is nearly 30 MB, so be careful when downloading it.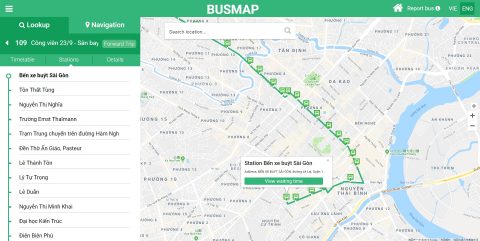 If you want to know the details of bus stops and routes, the "BUSMAP" site is convenient! When you choose a bus route number, the route is displayed on the map, and when you choose a bus stop, the time until the next bus arrives is displayed in real time.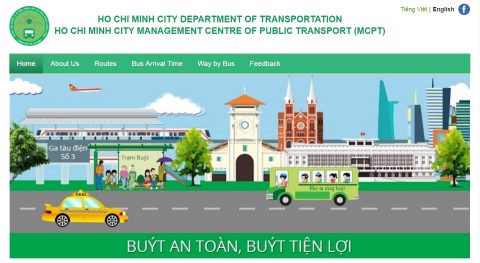 There's also a similar feature on the "Ho Chi Minh City Transit Authority" homepage, where you can search for routes and see timetables. Both require an internet environment, but if you can use it well, I think it will be very convenient.
I was surprised to see such a high-tech feature on a local bus in Ho Chi Minh City.
Ho Chi Minh bus stop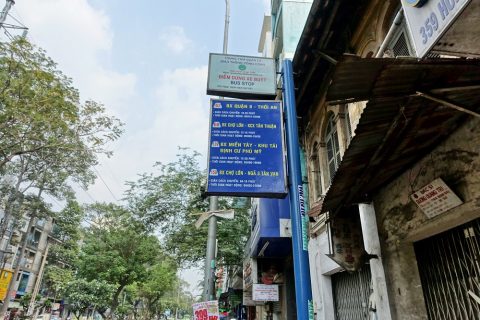 Next, I'd like to see how to get on a bus in detail. The bus stop in Ho Chi Minh City is marked by a blue signboard on which the line number is written.
It is mainly standing on the sidewalk of a highway, but sometimes it is hidden by trees and hard to see, so it is often overlooked if you don't look carefully.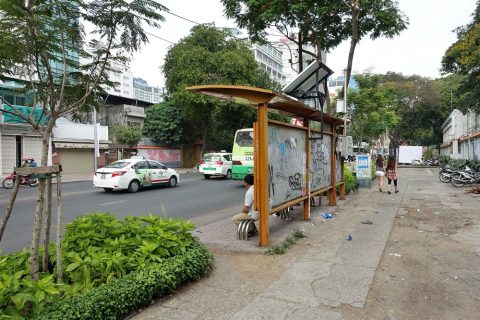 Even if you can't see the signboard, you can see the bus stop with a roof at a glance. The timetable is also posted, so you should check the route.
Be careful when getting on and off!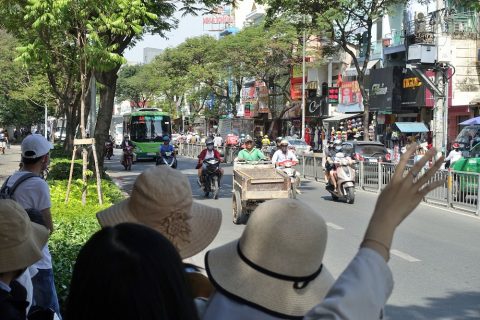 When the bus arrives, raise your hand and give a signal. Many bus stops have more than one line, so if you don't show your will to get on, you'll pass by.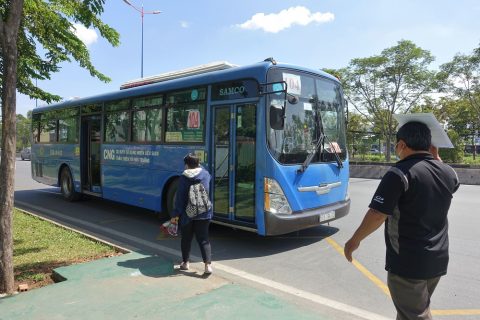 Get on "quickly" when the bus arrives. Like the buses in Hanoi, the buses do not stop completely unless many people get on and off, so it is very dangerous if you do not get on and off carefully.
While holding the handrail, watch your step and get on quickly.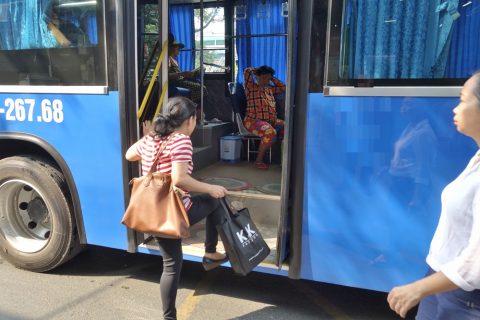 Buses in Ho Chi Minh City basically use the "Getting on in the front and getting off in the back" but depending on the driver, the front door may not open and the rear door may open, so you can just get on from the open door.
pay the conductor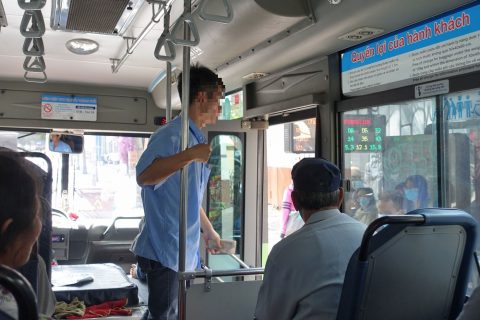 There is always a conductor in blue uniform on the train, so you pay the fare to the conductor. You can find the conductor here and go to pay, but you don't have to worry because he will come to collect the money just by getting on the bus and sitting on the seat.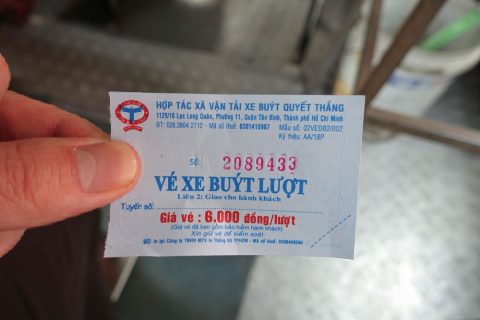 The fare is 6,000 VND regardless of the section. However, another route has 5,000 VND. You can get a receipt when you pay, so I will keep it until you get off.
The car is air-conditioned! Some buses are shabby, …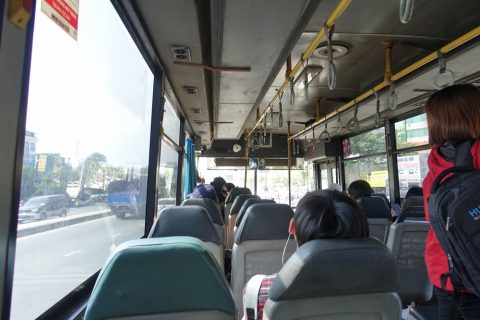 The inside of the bus is a 2 + 2 sightseeing bus. It depends on the type of car, but in Ho Chi Minh City, it is usually arranged like this. There is no announcement in the train or electronic bulletin board, so you should check it using GPS on your smartphone.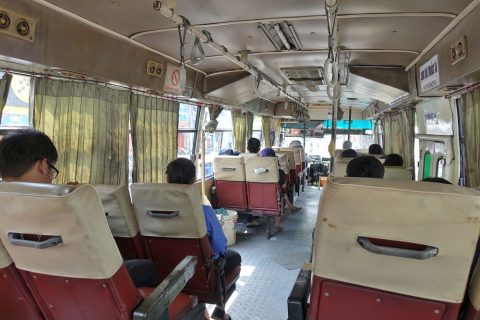 The types of cars vary depending on the line. Some cars are relatively new, and some are worn out even now that they are old. But no matter how old the car is, it is cool because the air conditioner is firmly installed.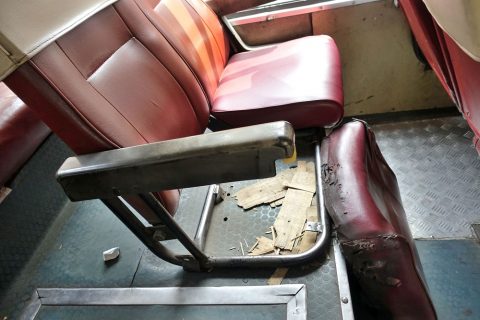 However, the age of the old car is really good! There are many scenes that are unimaginable in a Japanese route bus, such as a seat that has been removed from the seat and armrests that are fixed in a circular motion with plastic wrap.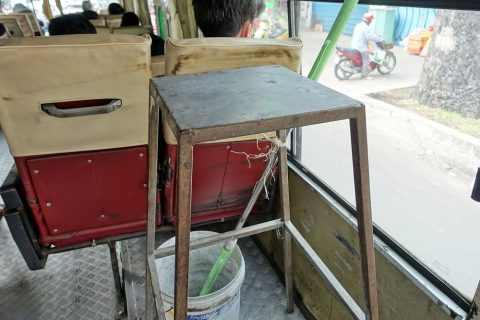 Cleaning tools are also left. It is strange that such a slovenly scene is more conspicuous in old cars, and on the contrary, it is rarely seen in new cars.
Does the buzzer sound? Why don't you sing?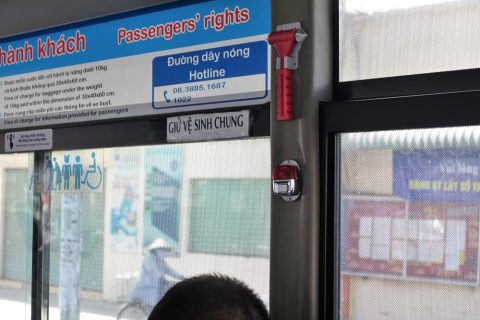 It is the same as in Japan that you press the buzzer when the station you are getting off is close. However, if you look at other passengers without pressing the buzzer, if you move near the exit (In most cases, the back door), the driver will judge that you are getting off and will stop at the next stop.
I got off in the same way, but it might be better to ring it just in case. Sometimes I would make eye contact with the conductor and use gestures to communicate, but the rules are quite vague.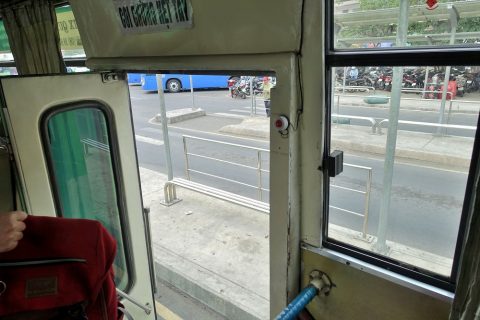 Also, when getting off the bus, it doesn't stop completely, so be careful! As a tip, I recommend going down diagonally to the right to make it easier to balance.
Great value for use! But for people with strong legs?
You can use the Ho Chi Minh route bus for an exceptionally cheap price of only 25 yen to 30 yen. It is cool with air conditioning, and the number of trains is relatively stable, so it is comfortable if you can use it well. There is also a route number 109 which is convenient for access to the airport, so it must be very useful.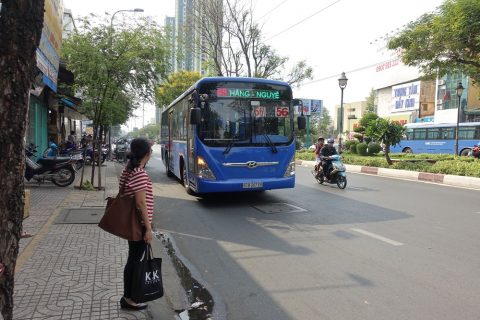 However, if you don't have any self on your legs, you may feel safe to take a taxi. Since Vietnam is a young country with an average age of 28, Ho Chi Minh city buses are accepted even if they don't stop completely. If you are confident in your legs, please try it.
♪Click here for a List of articles on "Ho Chi Minh City"