In Hanoi, the capital of Vietnam, there are many western buildings built during the French rule. Among them, the Civic Theatre NHÀ Hê (Opera House), which is said to have been modeled after the Paris Opera House "Garnier", is an authentic opera theater with horseshoe style seats.
This time, I will tell you how to buy the ticket for the opera house performance that I arranged in advance and what to be careful when you buy it.
site of the Hanoi Opera House
Vietnam was a French colony from the end of the 19 century to World War II in the mid 20 century. Walking through the streets of the capital Hanoi, I saw many western-style buildings that retain the atmosphere of those days, but the most impressive building among them was this Opera House!
It is located about 1 km south of Hanoi's old town area. It's located in the southeast part of Lake Juan Kiem. As you can see on the map, there is a rotary and radial road in front of the Opera House, including the Trang Tien Street, which runs straight from the Opera House.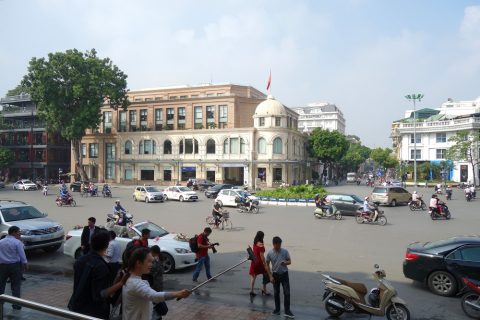 In addition to the Opera House, there are many Western buildings around the rotary! If I cut this part off, it would make me feel like I'm in a European country, but only the noise of motorcycles and exhaust gas is Vietnam itself …。
There's no traffic light at this rotary, so it's a bit of a hassle just to cross to the opposite shore!
Opera house modeled after Garnier in Paris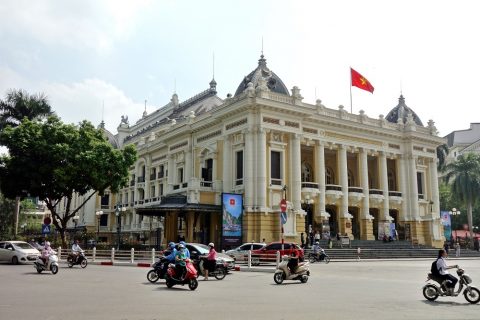 The Hanoi Opera House was built in 1911 by 2 French architects (Broyer and V. Harley) and is modeled after the Paris Opera House "Garnier".
I compared it with a photo of Paris Garnier I took last year, and it's true that it looks somewhat similar from the front. As might be expected, the scale is not as large as the original, but the location of the theater name "Nhà hát Lón Häni" is the same.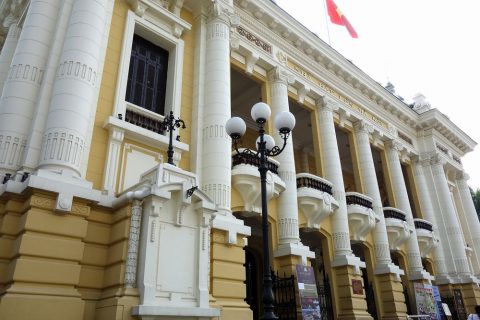 Since it was built in 1911, more than 100 years have passed since it was completed, but I wonder if the exterior walls are properly maintained, and the exterior walls are very clean. If it is so beautiful, I can't feel the historical style. …。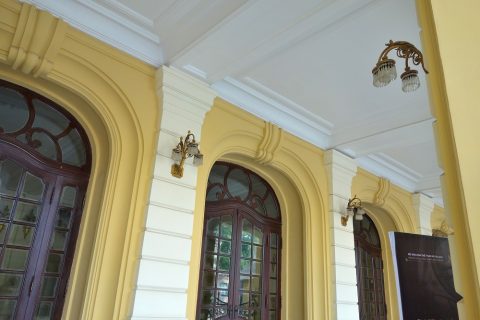 Today, the Opera House is a place where artistic events are held every day, but it also became a place for political gatherings just before Vietnam's independence. I can't imagine what a political meeting at a beautiful opera house would look like.
Tickets are available at Lune Production
Well, I bought tickets to the Hanoi Opera House from the Lune Produciton site.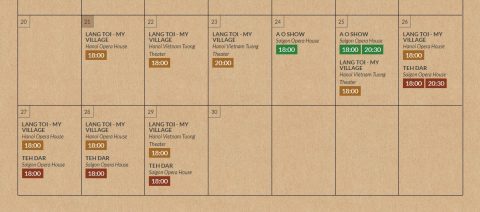 If you scroll down from the top page, the performance calendar will appear, so click the time of the performance on the day you want. In addition to the Hanoi Opera House, this site seems to handle performances at another theater "Vietnam Tuong Theater" in Hanoi City, and Saigon Opera House in Ho Chi Minh City.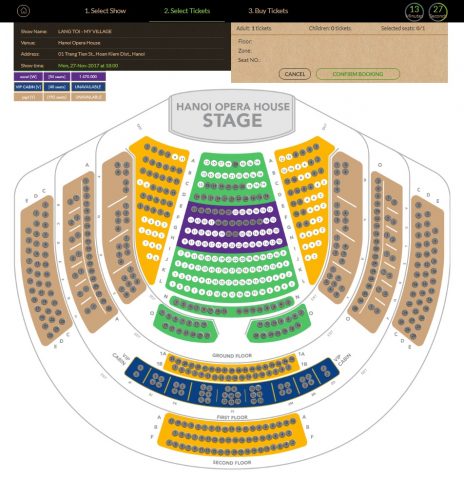 You can choose your seat in detail. But when I saw it, only the flat floor seats were open, so I couldn't specify the balcony above the second floor.
Ticket prices range from 630,000 VND (≠ 3,150 yen) to 1.43 million VND (≠ 7,150 yen), which is relatively high (Price fluctuates depending on the performance.) considering prices in Vietnam, but it is much cheaper compared to the 1st category of Garnier, which is more than 20,000 yen.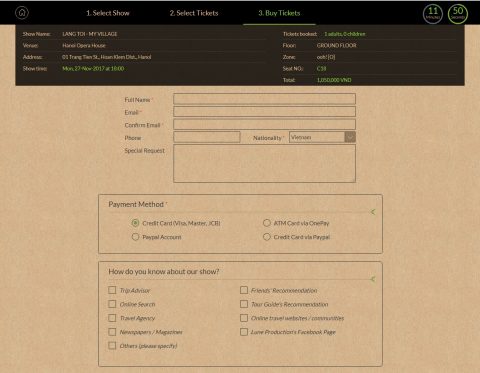 If you choose a seat, you will go to the screen for entering personal information. Enter your name and email address, select your country, choose your credit card payment method, and go ahead.

Once you've made your payment, you'll be sent an email to your registered email address, which you can print out and take with you on the day. There was no need to register as a member, the system was stable and I was able to buy it smoothly, but if you enter the wrong email address by any chance, it might be irreparable, so you should be careful.
Unexpected venue change …
Just as I was getting a ticket for the opera house and getting ready to travel to Vietnam, a week before the concert, I received a devilish email from the ticket office …
Dear Sir/Madame,

Thank you very much much for choosing Lang Toi – My Village.

We have just been announced that the performance venue now has changed to Vietnam Tuong Theater with new show time 20: 00 due to important government event that night taken place at Hanoi Opera House.

Address: # 51 A Duong thanh, Hanoi

Regaining to your booking, could you please consider the new venue and new show time? We will send you the revised E-ticket agreed if you accept.

If not, please kindly check our updated show schedule on website and advise any date you'd like to change.

We are sorry if this change causes any involvement for you. We look forward to hearing from you sonest.

Sincerely,

Lune Production Team
What a sudden change of venue! As mentioned above, there is a theater called Vietnam Tuong Theater in Hanoi other than the Opera House, but the Opera House cannot be used on that day and the same performance will be held there.
If you don't like it, you can change it to another day at the Opera House, but unfortunately there was no such day during my stay in Hanoi and I had to give up. Watching a performance at this opera house was the main purpose of this trip …, but now I feel like I've lost half the fun of this trip …。
Tour inside the opera house
Until now, the Hanoi Opera House has only been open to the public for performances. From around that time, a tour of the inside has started. The tour was 400,000 dong (≠ 2,000 yen) per person, which was very expensive, but I thought it was worth it since I couldn't see the performance any more.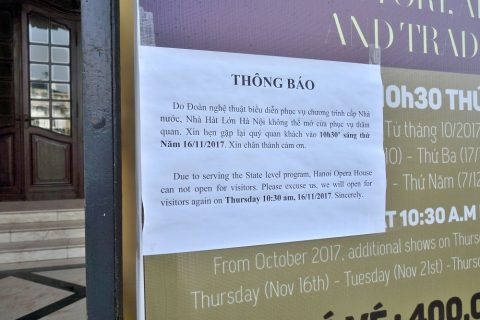 However, a notice posted at the entrance of the opera house indicates that the exhibition has been completely suspended for a while. This is a post from last week, so I think it has already been reopened, but it's too bad!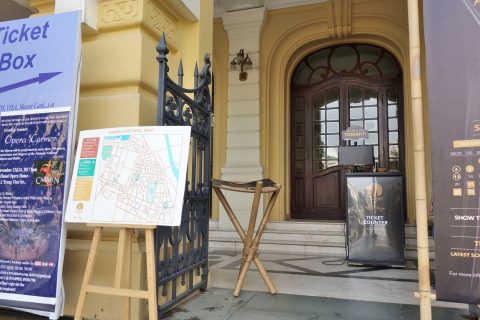 So I didn't see it at the Opera House, but instead I saw it at Vietnam Tuong Theater! I'll tell you about that next time.
♪Click here for a List of articles on "Opera House & Concert Hall around the world"