This time, we will investigate the taste of Banh Mi, which is eaten at chain stores in Ho Chi Minh, Vietnam! I went to "Great Banh mi & cafe" which has chain stores in Vietnam, and it was super cheap with less than $1 for Bine Mi!
It's a super cheap place where you can drink a cup of coffee from about 0.5 dollars, but how does it taste? I'd like to report.
chain restaurant in Vietnam
This is "Great Banh mi & cafe", a chain store of Banh Mi, but there are currently 7 stores in Ho Chi Minh City. In addition, there are shops in Hanoi and Hai-Phong.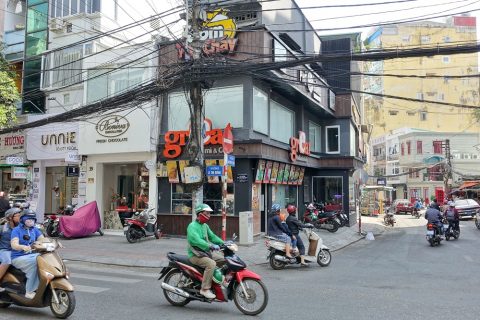 This time I visited this store which is close to Truong Dinh Park. It is very close to the very popular Banh Mi shop "Huynh Hoa" I told you about before.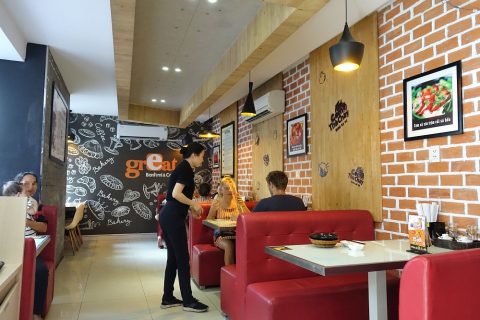 The restaurant has around 30 tables for 4 people. I feel it is wider than it looks from outside. The service of the staff was not bad, but the air conditioner was not working well and it was a little hot …。
Menu : Banh Mi starts from $0.7 !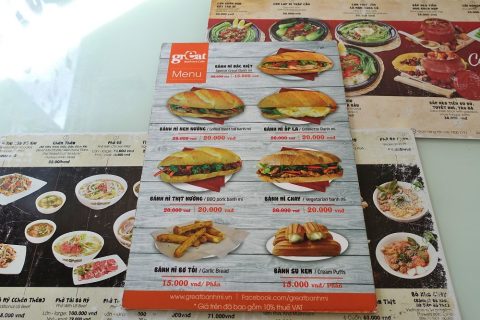 If you look at the menu, you'll notice that there are 5 types of Banh Mi on the signature menu, but what's surprising is the price. The Special Great Banh Mi on the top is surprisingly cheap at 15,000 VND!
The price of the other Banh Mi is 20,000 VND flat, which is the same as the price of local shops sold on the street.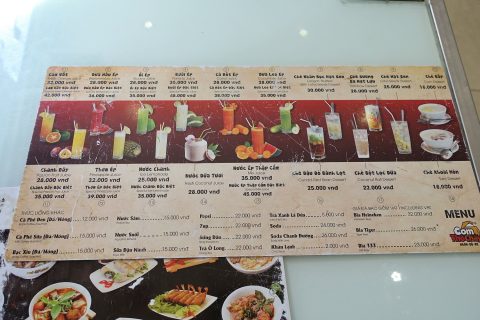 On the other hand, there are plenty of fresh fruit juices! But there were a lot of out of stock, and I was told about 3 kinds of Sold Out, such as orange juice and passion fruit juice …。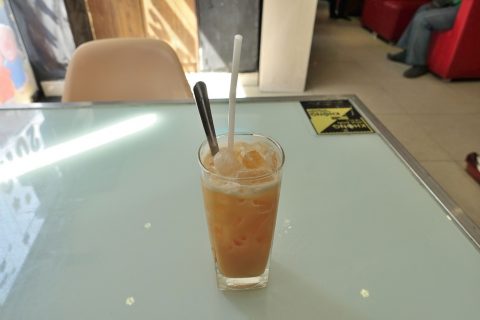 I had no choice but to use the elimination method to decide the pineapple juice, but when I drank it, the fishy smell came first. The rest is the taste of ordinary pineapple juice. It's a little bit …。 for 32,000 VND, which is much more expensive than Banh Mi.
It tastes surprisingly good? a dollar of Banh Mi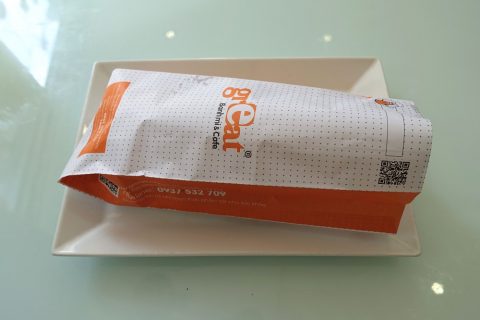 About 8 minutes after the order, a Banh Mi was brought, and a paper bag … was put on a ceramic plate. It is not clear whether it is served in a restaurant or fast food. …。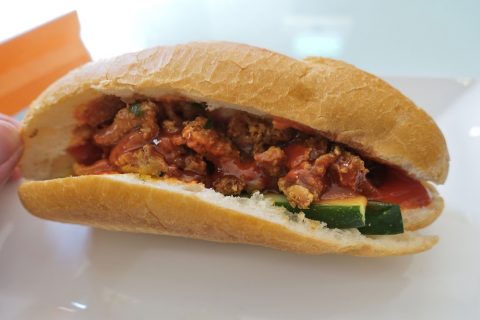 I ordered "BBQ Pork Banh Mi " 20,000 VND. To be honest, I wanted to have a beef-binder course, but it was also out of stock, which was a terrible story. On top of that, it is not so warm, and I can't deny that I made it in advance. …。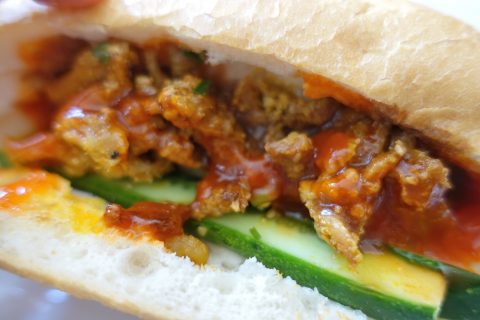 But when I tried it, the taste was surprisingly decent. The bread is crispy, and the spicy BBQ sauce is a little unique Southeast Asian taste, but it doesn't taste bad. Ingredients are pork, cucumber, carrot, radish, etc.
The meat is plentiful, the quality of the vegetables is not bad, and it's good for a dollar.
It may be good when you want to make it cheaper.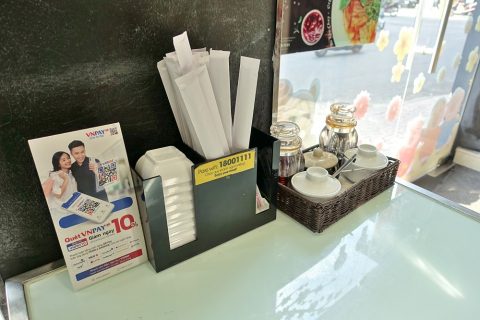 Even in Ho Chi Minh City, where prices are higher than in Hanoi, I was surprised to find a place where I could eat such a cheap Banh Mi! Coffee starts at 12,000 VND, so I can make it at 27,000 VND with 15,000 VND of Banh Mi.
It bothers me a little that there are a lot of out of stock, but I recommend it when you really want to eat cheaply!
Great Banh Mi & Cafe(41 Le Thi Rieng)
Address: 41 Le Thi Rieng Street, Ben Thanh Ward, District 1, Ho Chi Minh
Opening House:6:00~22:00
Website
♪Click here for a List of articles on "Ho Chi Minh City"