I visited several cafes in Ho Chi Minh where you can drink egg coffee, but the one that was by far the most delicious was Góc Ha Noi – Little HaNoEgg Coffee.
The entrance is very difficult to find and it is a very small cafe that is filled with only a few groups, but the friendly staff and the elaborately decorated interior are very comfortable, and I tried pho which is a light meal, and it was very delicious! Highly recommended cafe in Ho Chi Minh!
through a narrow alley to the cafe entrance
It is located in Ho Chi Minh's Café Góc Hà Noi, along Bui Vien Road, a famous backpacker street. But this entrance is rather confusing …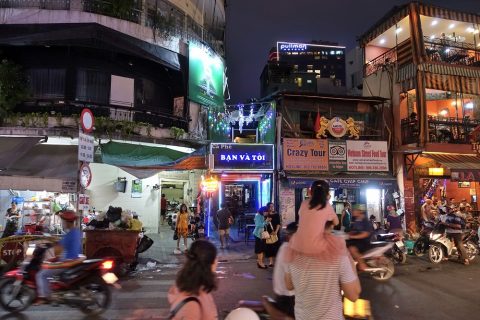 You can't find what appears to be a cafe anywhere on Google Maps. According to word of mouth, the shop is located in the back of a narrow alley.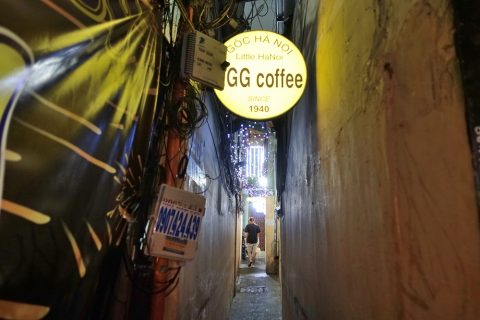 Upon careful inspection, there is a very narrow alley to the left of the entrance of the bar labelled Bạn và Tôi, with a sign saying "EGG coffee". At the end of the narrow passage, which is probably less than 1 meter wide, there seems to be the cafe that I wanted.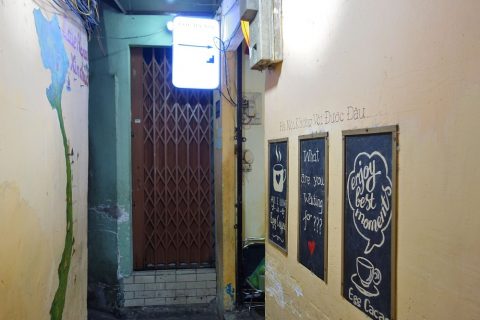 I found it when I went there! The entrance doesn't look like a cafe, but it feels like a cafe in Vietnam.
Small cafe with only 5 groups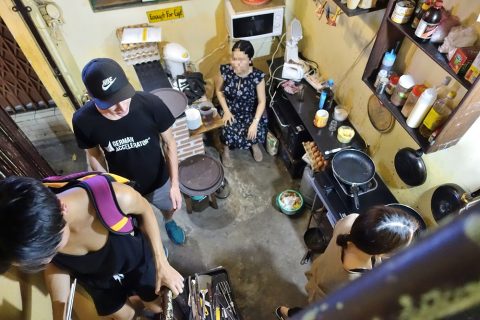 When I went inside, I was surprised again! There is only a small counter and kitchen in a small space of about 6㎡. The waiter told me that the seats are on the 2nd and 3rd floor, and they will take orders and bring them to the seats later.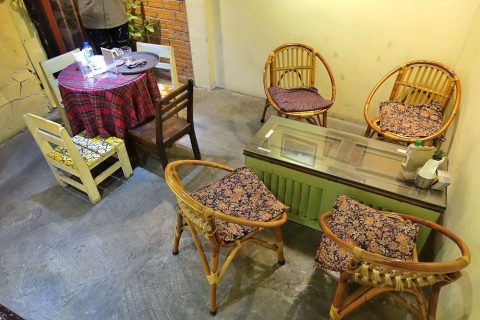 If you go up the stairs, there are two tables for four on the second floor. It is a low chair and table with hairs growing on the table.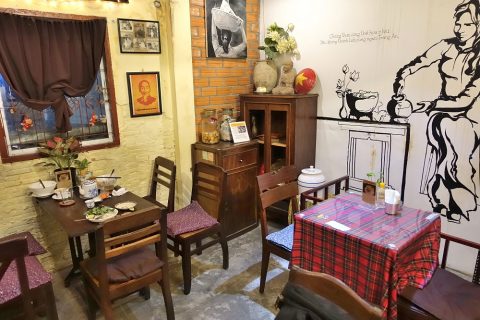 If you go up from there, you will get a seat on the third floor. This is a very small cafe with only 5 groups including 3 tables for 2 to 4 people and the floor below, although it has a little western and stylish interior.
Even so, the air conditioner is working, and with the elaborately designed decoration, the cafe's atmosphere is great! The service of the staff is good, and the uncomfortable feeling is not bad.
Even more interesting is the table I was shown to. This is an old treadmill. The treadmill that used to be in my grandmother's home, I miss it ~!
Menu/snacks, also available in pho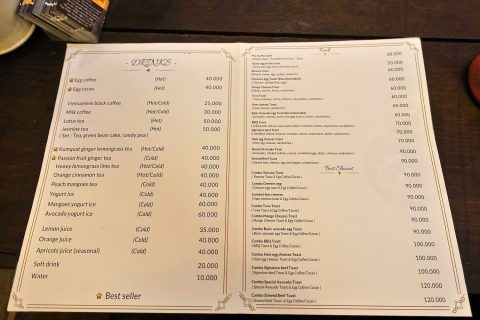 If you take a look at the menu, you will find a variety of original teas, such as passion fruit and ginger tea, in addition to the famous egg coffee! The price is around 40,000 VND each, which is reasonable for a relatively expensive Ho Chi Minh City.
There are light meals, but almost all of them are ○○toast except for one pho.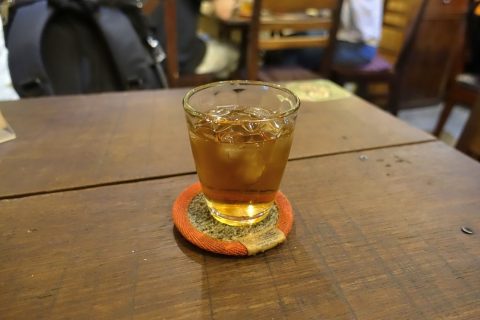 I had a welcome drink at first, and it was tea with a hint of lemon flavor that I thought it was water! It is refreshing and delicious!
Thick egg coffee!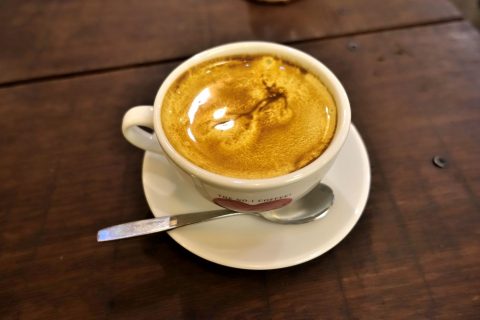 A little over 10 minutes after ordering, the famous egg coffee arrived! There are some restaurants that serve hot water, but they only serve cups, but they are lukewarm because they are quite cold.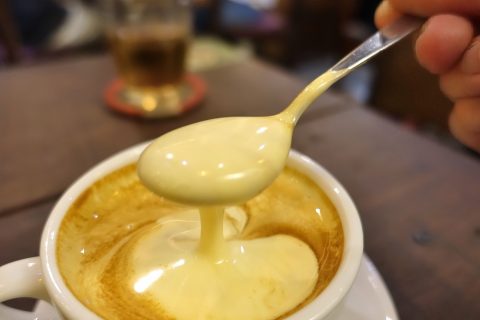 But the taste is perfect! When I put in a spoon, it was super thick! It is no longer a liquid coffee, but when you drink it, you can feel the strong bitterness of coffee in the very mild taste.
I have tried it in Hanoi and it is a really good drink!
Pho with beef is delicious!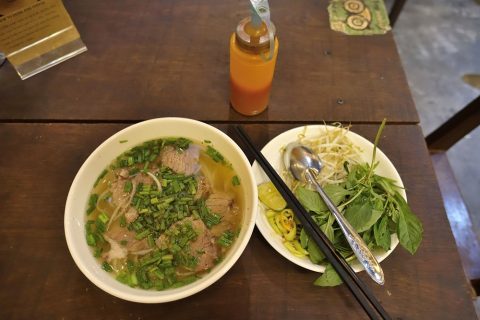 I wanted to go home with just egg coffee, but the couple on the opposite table was ordering pho, so I jumped in and ordered! It took about 5 minutes.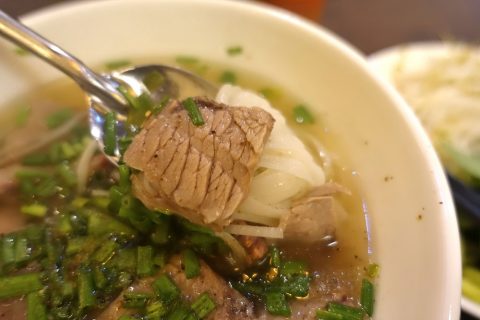 This Pho has a deep flavor in the light broth and is very delicious! Especially, there is a lot of soft beef in it, and the taste is rich!
Speaking of Ho Chi Minh Pho, I had a memory of the bland beef Pho of "Pho 24" so I wasn't expecting that, but in a good way I was betrayed!
Target before closing time?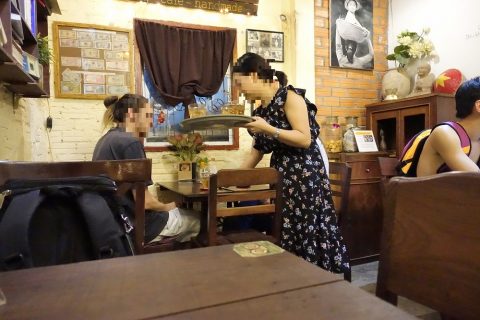 The total is 100,000 VND just. I was very satisfied because I could enjoy delicious pho and egg coffee for only 500 yen! The staff was friendly and they were very polite with lip service.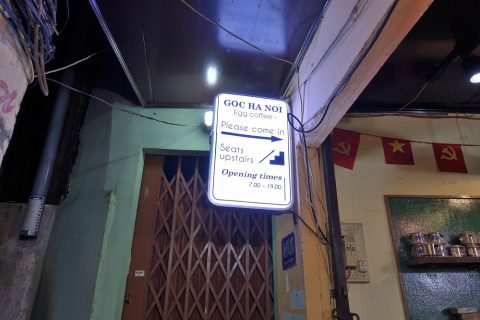 Open 7:00 ~ 19:00. Since it is a very small cafe, there may be a line at lunch or afternoon teatime, but I could easily enter the place I visited after 18 o'clock this time, so maybe the aim is before closing time.
Café Góc Hà Noi,, delicious pho and egg coffee, which is worth lining up, is recommended!
Góc Hà Nội – Little HaNoi Egg Coffee
Address:165 Bùi Viện, Phường Phạm Ngũ Lão, Quận 1, Hồ Chí Minh
Opening House:7:00~19:00
♪Click here for a List of articles on "Ho Chi Minh City"