After eating on the Malaysian Food Street in Sentosa Island, Singapore, they go to a shop on the same Food Street "鳳凰餅家" to get egg tart for dessert.
In addition to Kuala Lumpur, Malaysia, the Houou family also has stores in Macau, and has a history of over 100 years. I would like to report on the taste of egg tart served at such a long-established Chinese confectionery.
※This article was written before the virus scandal. This will be updated.
In Malaysian Food Street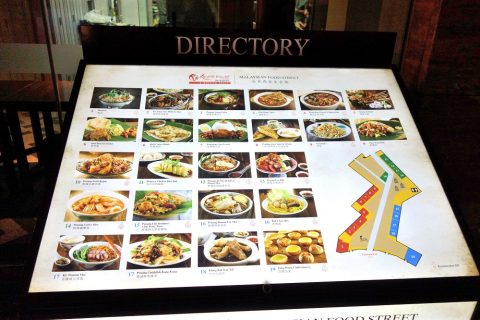 On Sentosa Island's Malaysian Food Street there are 19 shops, most of which are food stalls selling chicken rice and noodles. The only place where you can eat sweets is "鳳凰餅家". The store is located at the back of the right hand side, just after entering the main entrance.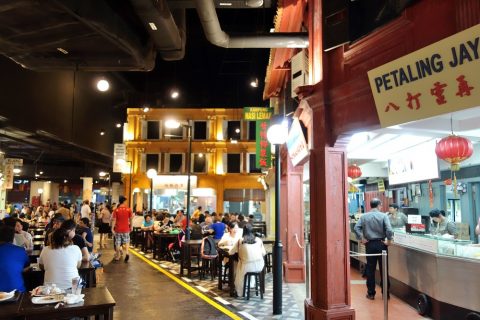 Malaysian Food Street is a food court that recreates Malaysia's food street. There are quite elaborate performances such as street lights, road lines, buildings and standing signboards. It's good that you don't have to worry about getting wet in the rain unlike usual stalls.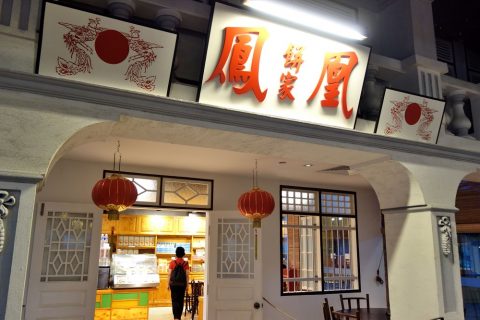 In such a situation, "鳳凰餅家" had a shop in the back next to the entrance. The exterior is full of a Chinese feel, and this is the only store that has an eat-in space in the store without a table.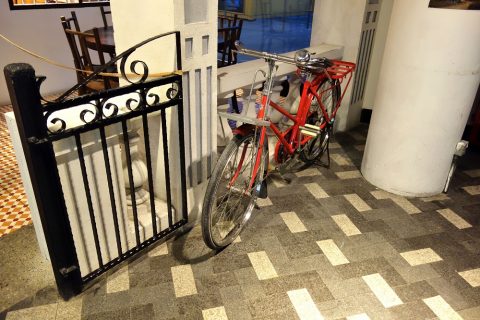 The bicycles placed in the store also have an atmosphere. This is not a decoration, but it seems to be used as a present.
a bit of a unique interior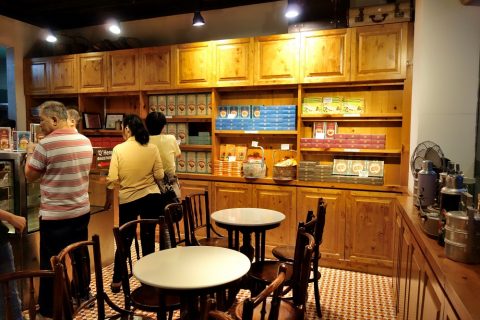 The store is a small space with only a cashier counter and eat-in space. As it is a confectionary shop, they have dried foods such as cookies, but they have a selection of a little "souvenir shop" level.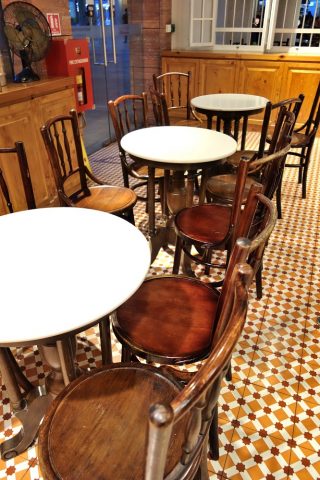 The eat-in space has 3 tables for 4 people. At first I was thinking of eating here, but there was no one else, so it was a little awkward, so I decided to take it out.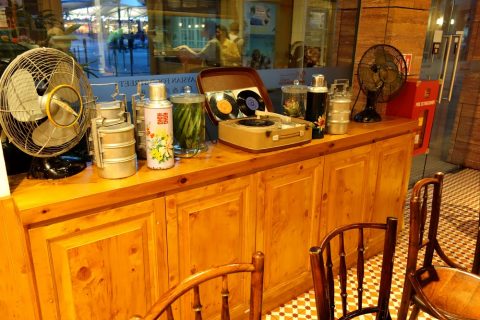 Other than that, the interior was elaborate (?) And figurines. I understand analog records, but there are things like electric fans and spray cans, so it's a little bit too much for an interior.
Egg tart: $1.8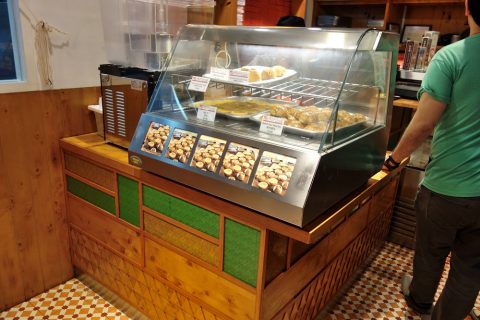 Egg tart was displayed in the showcase on the counter. There were some others wrapped in pie crust, but I'm not sure what's inside. It's better not to mess with Chinese sweets, so I'll just use egg tart here.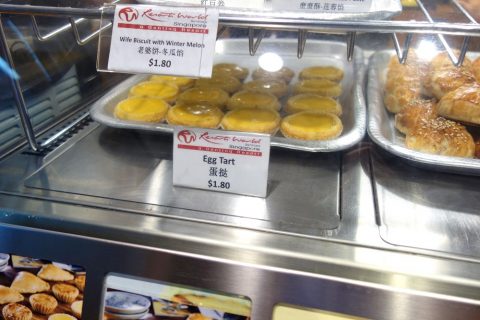 It costs $1.8 (≠ 144 yen). In Kuala Lumpur, they sell for 2.1 RM (≠ 52 yen). It depends on the price level, but it must be a tourist spot price because it is Sentosa Island.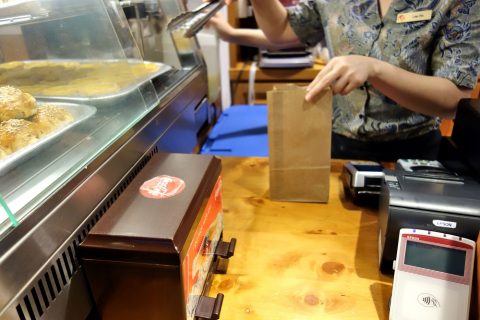 I paid in cash at that time, but I might be able to use a credit card as I have a card reader. The egg tart I ordered was delivered in a paper bag.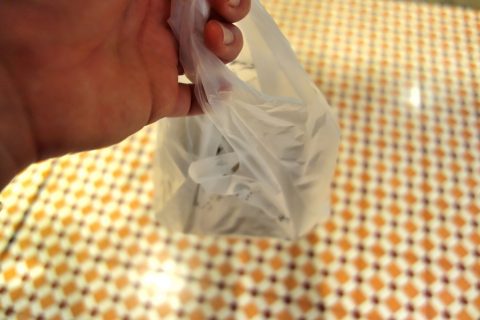 You can put it in a shopping bag. Until recently, I thought the culture of plastic shopping bags was only in Japan, but in many Asian countries, it has spread to all countries. It is useful because it can be used to dispose garbage after eating.
How does the egg tart taste?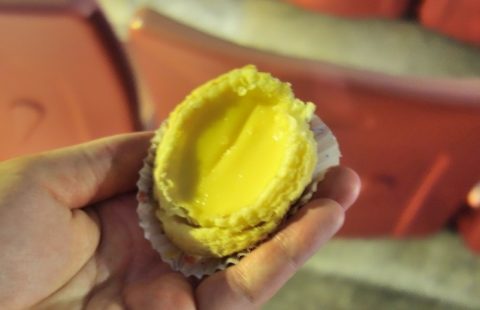 I got the egg tart I bought at the venue of Wings Of Time I told you the other day. The pie crust is so soft that it crumbles just by holding it in your hand. There are many Asian sweets like this.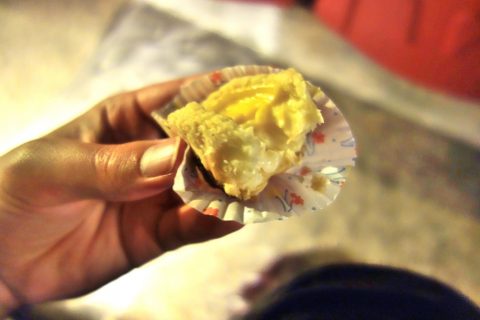 I managed to do a good job. Put it on your palm gently and bring it to your mouth. When I ate it, it was not as sweet as I thought, and the taste was not bad. It would be nice if I could feel the flavor of the egg a little more, but this is good enough.
However, it is disappointing that the pie dough is too thick and doesn't have a crispy texture. It doesn't have a savory flavor, and it's a reason to lower the overall rating. Even so, it may be the top level of deliciousness among Asian sweets.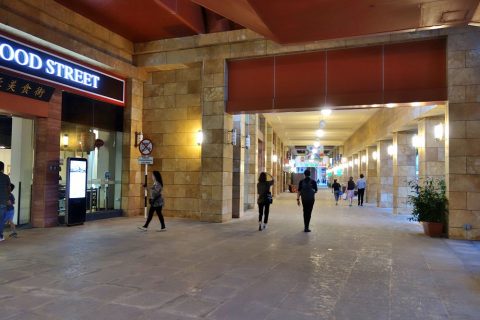 The egg tart at "鳳凰餅家" on Malaysian Food Street, while not particularly tasty, is a great way to freshen your mouth after eating Asian food. 150 yen for 1 is a little expensive, but I think it's worth trying.
♪Click here for a List of articles on "Singapore"