Emirates Airline A 380 first class, which we've been reporting every day, this report focuses on a full flat bed!
A 380 first class seat is famous as "Private room seat", but when I actually closed the door, it didn't feel like a private room, which was a little different from what I expected. What is the comfort of a full flat bed sleeping on such a seat? I would like to report in detail including breakfast afterwards.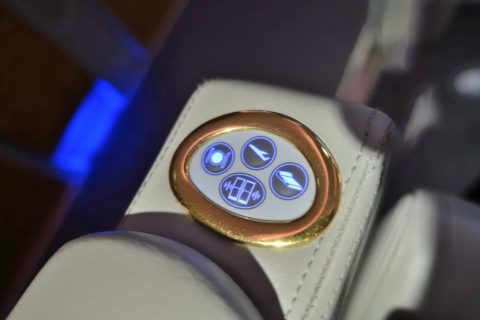 Before making a full flat bed, let's close the seat door and make it a private room first!
The seat is controlled by the armrest control. There are four buttons, and when you push the button on the bed, the seat will fall down and return to its original position with the button on the airplane. The meal mark is used to move the seat forward.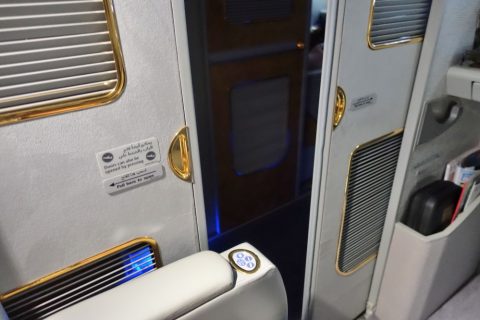 You use the door buttons to open and close the door, and you have to keep pushing them to close the door.
First of all, the movement is very slow and it takes a long time to open and close. Also, there is only one door button and once you close it, you cannot open it again until it is completely closed.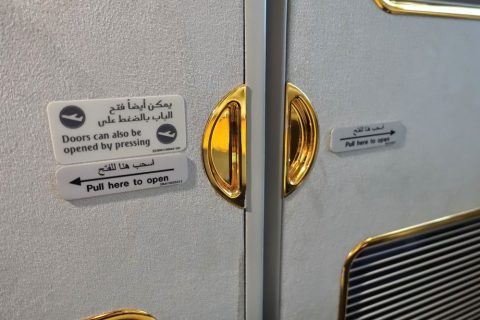 It says on the door that you can open it by hand, but even if you try it, it's too stiff to move. … You can open the door by pressing the button on the plane, but if you do that, the seat will return to the chair, so you can't use it when you are in bed.
It would be convenient if it were separated by "open" and "close", but this button is really hard to use. …
The feeling of a private room is limited.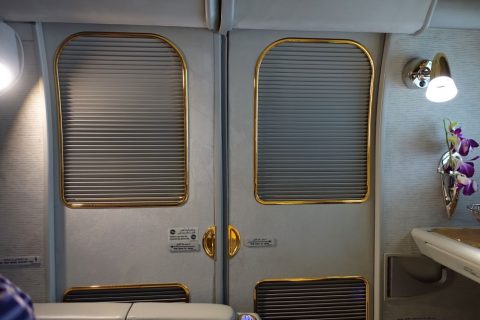 Close the door and it looks like this. The inside of the gold-rimmed lattice is blind, so the light inside leaks a little to the outside, but the inside is not visible from the outside because it faces downward.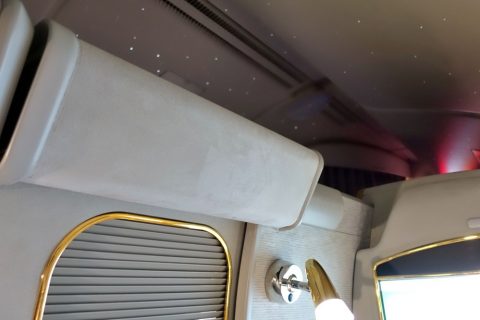 However, there is nothing to block over the door, so the feeling of a private room is very limited. A height of 10 cm would be more calming, but … a CA for a woman would be fine, but when a tall man walks down a aisle, his eyes meet.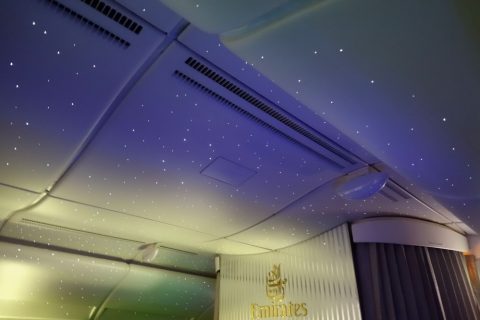 Instead, the fact that the ceiling is not covered makes it convenient to look at the starry sky on the plane. If you use the seat as a bed, you can sleep while looking at the starry sky!
This starry sky is an original direction of Emirates Airlines, but it is a very realistic starry sky and it is wonderful! Especially in the first class cabin, there is no luggage rack, so you can see a starry sky in a sense "vastness".
Bed position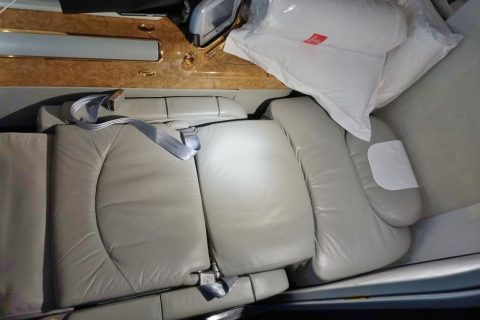 Next, I reclined the seat to the bed position! The bed width is about 60 cm, so compared to business class, it has a lot of room.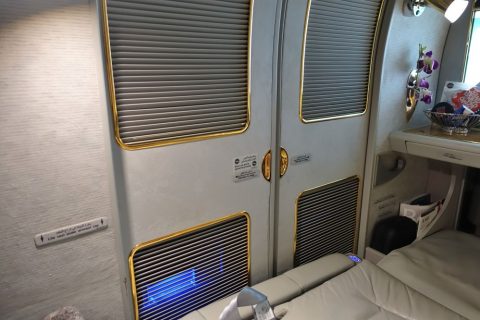 But there is no space between the bed and the door, so when you get up from the bed, you have to open the door and get out. This is a big difference from the new B 777 seats. (See: Emirates First Class new seat full flat bed is comfortable! Dubai – Haneda Flight Register)
The mattress is too soft! be uncomfortable in bed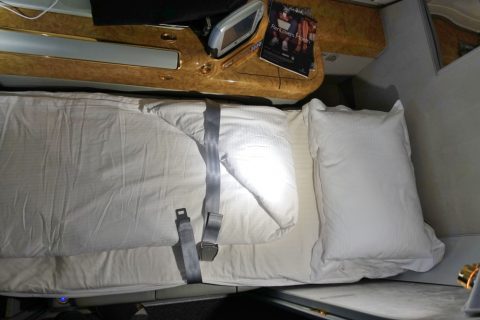 It looks like this when I spread the bedding. If you tell CA, they will make it beautifully. Set of 3 items, mattress, comforter and pillow.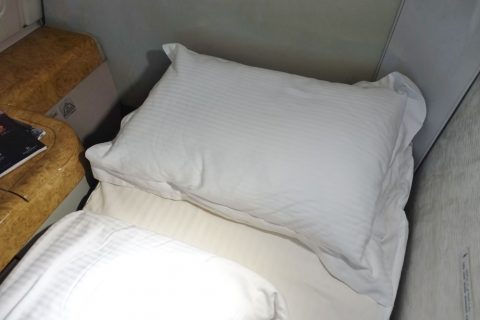 I slept in this bed for about 4 hours, and the mattress was so soft that I sank every time I turned over. Also, the back became unusually hot, so I felt comfortable sleeping. I unintentionally took off the mattress in the middle.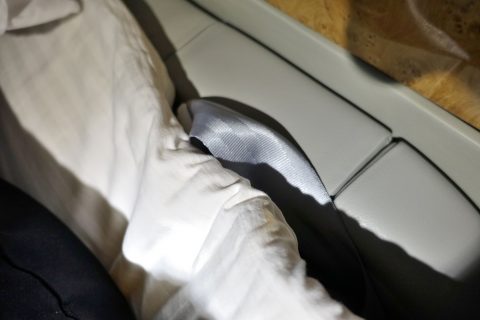 Westerners tend to prefer soft beds, but Japanese people who like hard don't. I was hoping to sleep soundly with the quiet A 380, but it ended up just being drowsy …
You can choose from 4 Western-style breakfasts, and Japanese breakfasts are Kaiseki meals.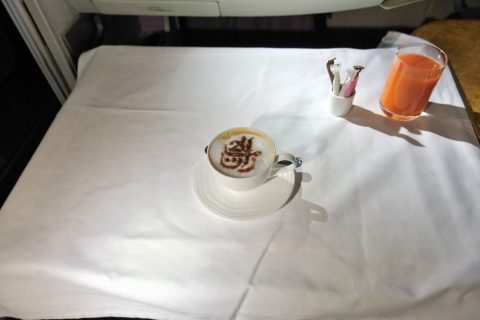 I couldn't sleep well, but I had a good breakfast! Let's start with a cup of coffee.
I had "Cappuccino" but it tasted great! The bitterness of the coffee is just right with the milk. The pattern on the top is chocolate flavored.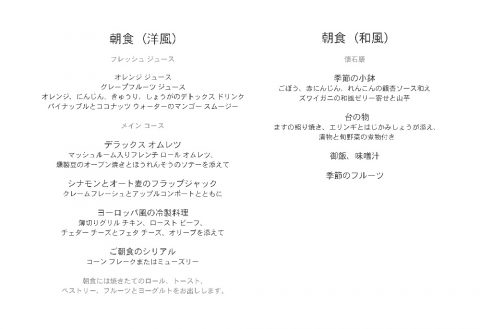 As for the breakfast menu, you can choose from 4 drinks and the main menu for Western food. This comes with bread and fruit. There is only one kind of Japanese food, and the course meal consists of small appetizer and main dish, rice and miso soup, and fruits.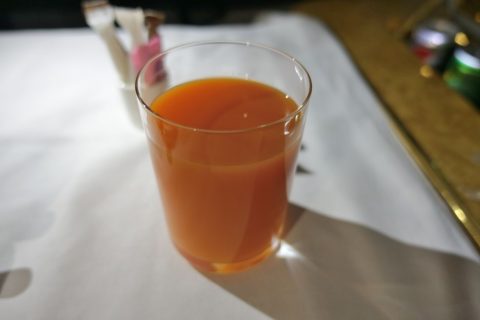 I chose Western food this time, but the first fresh juice "A detox drink with oranges, carrots, cucumbers and ginger." had a very fruity taste like carrot juice. It's pretty good!
Fruit is a pity, bread is not bad.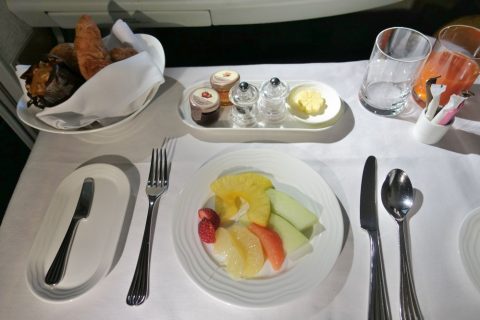 Next, a bread and fruit set. Pineapple and grapefruit are somewhat juicy, but melons are still crispy … Even in Dubai → Haneda airplane meal on the return flight, only fruits were disappointing, so I might not be able to expect fresh fruits from Emirates Airlines …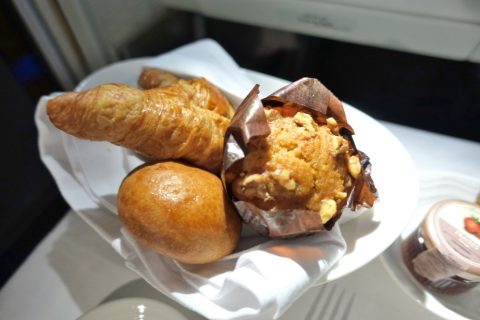 There are four kinds of bread, such as croissant and muffin, which are different from those served at dinner. All of them are dry and not bad, but croissants should have a little more aroma.
The main dish is oat pancakes.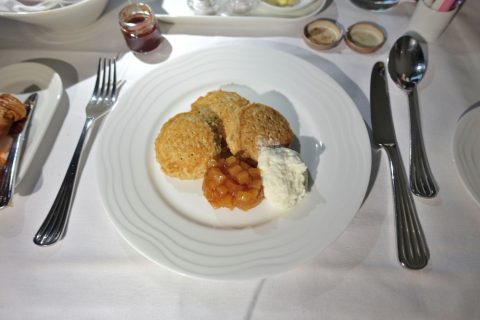 The main dish is "Cinnamon and oat flap jacks". They said it would take a little time to serve, but it actually took more than 30 minutes from the order …
Flapjack is a sweet made by baking oats with sugar (flap jack). It seems that a certain body is different in each country, but this kind of pancake-like thing is Yang which is mainly eaten in America.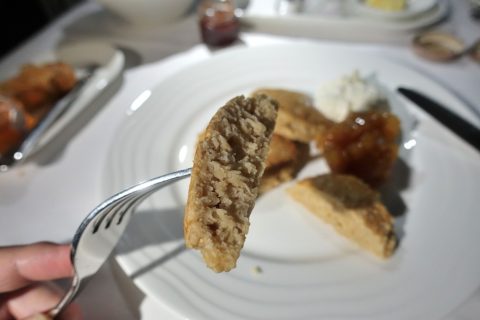 When I ate it, I felt the firm elasticity, cinnamon flavor, and the sweetness of the ingredients, which was good! The apple on the side was just right sweet, and it was perfect for breakfast.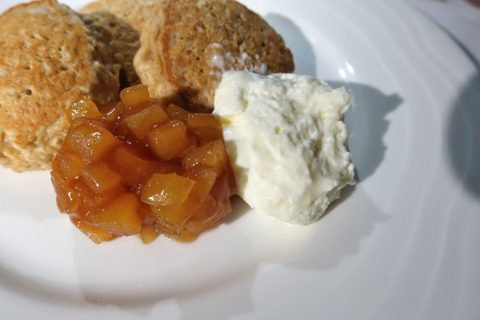 It is not a busy dish, but the quality is first class! Actually, I wanted to try several menus, but as expected, I couldn't go any further in the morning …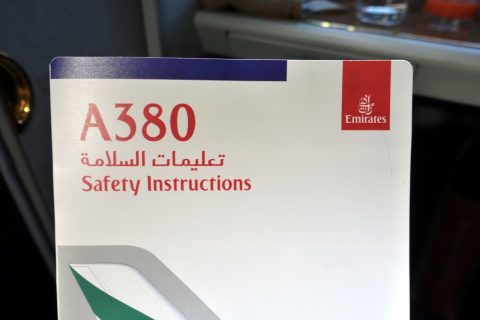 Next time, I would like to report "shower room" at the end.→ Experience the shower room on board with Emirates Airlines A 380! First class boarding NRT – DXB
♪Click here for a List of articles on "First Class & Business Class Airlines worldwide (Seat, In-flight Meal, etc.)"