I will report mainly on the 1st meal of Emirates Airline A380 first class boarding which I told you before!
It is a first-class flight of Emirates Airlines which has a strong image of luxury, but the in-flight meal was unexpectedly simple looking and a little different from what I expected.
Amenity goods that can be put in a bag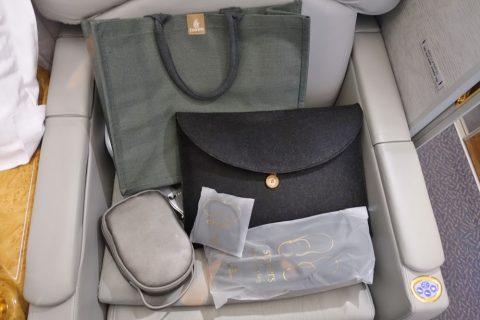 By the way, regarding the amenity goods you can get on the plane this time, the contents are the same as the one I used on my return trip from Dubai to Haneda. Set of BVLGARI pouch, slippers and pajamas.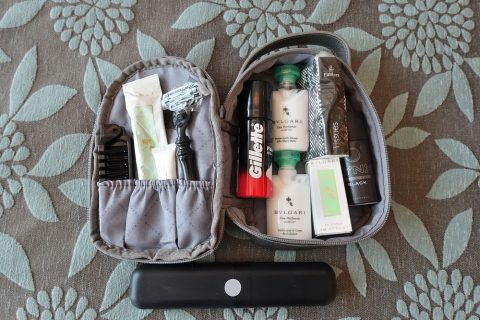 The design of the BVLGARI pouch is different from that of the return trip, but the contents are the same. The easy to use soft case is packed with the perfume of BVLGARI.
The pajama carrying case is made of a high class material, and the slippers are made of a high class material with a fluffy sole and sturdy material, unlike the disposable ones that are around. Well, first class!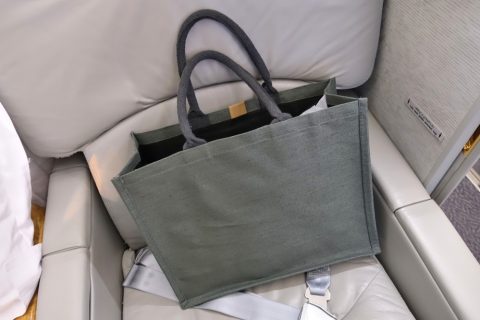 Also, CA put these goods together in an eco-bag and gave them to us. I couldn't get this from Dubai on my way back, so it might be limited to A380?
It's a solid material and holds a lot, so it'll come in handy when you go shopping at a European supermarket.
Arabic Coffee & Dates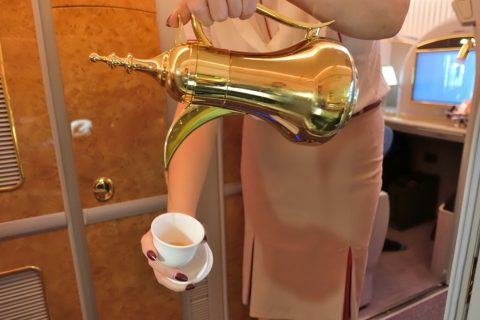 In addition, in the welcome service, you can have Arabic coffee that I told you about on your way back. It is served in a golden pot, and is a standard hospitality in Arabian countries.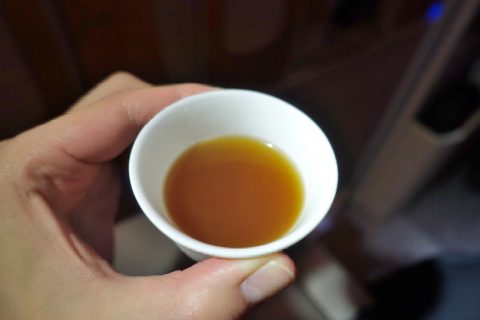 Flavor comes first and tastes like something between tea and coffee. Roasted tea? Chinese tea? It is lightly flavored, but I feel a strong flavor. You can drink it at a cafe in the city of Dubai at around 5dh (150 yen), but it's nice to be able to experience the authentic taste from Narita!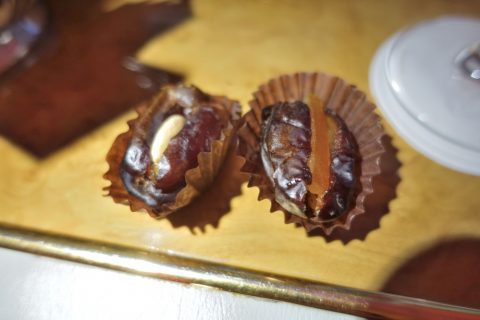 Bateel dates for Arabic coffee. Unlike the one in the lounge, it is a version with nuts, oranges and other ingredients. There seems to be various kinds of dates, but I personally think the date of Bateel is the easiest to eat.
This is a kind of dried fruit using date palm, and it is sweet and delicious like chocolate! It is not like that, so personally I may not like it very much …
Well, soon after we took off, the in-flight meal menu was distributed. There are two brochures, one is a meal menu and the other is a wine list.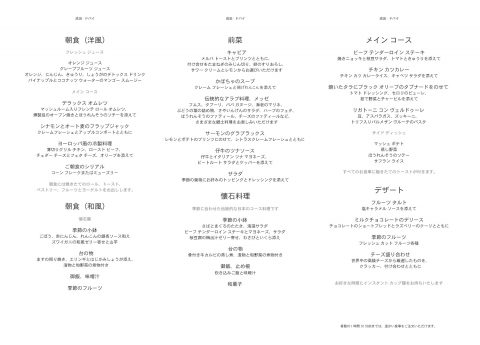 Here is the in-flight meal menu from Narita to Dubai this time! It is a long distance route that takes about 12 hours, so the menu consists of 2 meals, dinner and breakfast. You can choose between Japanese and Western dishes, and you can order whatever you like at any time.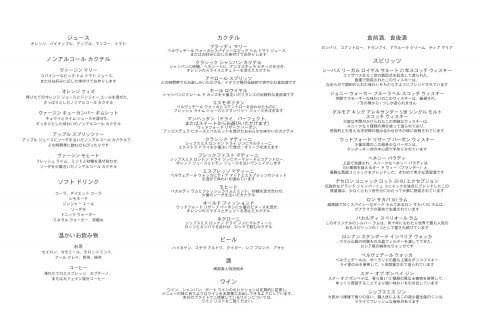 We also have a variety of drinks! There are more types of hard liquor and liqueurs than Dubai to Haneda where I took a return flight.
The wine list is exactly the same as the return trip, so I won't go there. Please see here for details → Emirates Air's "Japanese cuisine" is delicious! First Class In-flight Food Report DXB-HND
Fine wine and brandy, what does it taste like?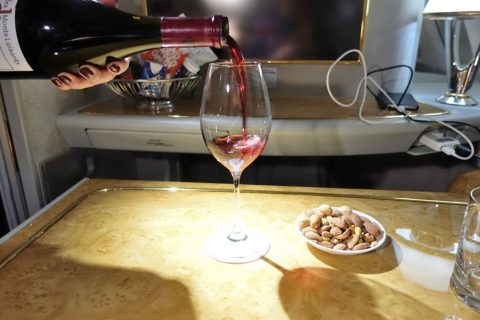 First class is a luxury wine! They have a variety of high-class bottles that you can never find in business class, and according to the lineup this time, it seems that they have wine that is around 7,000 yen to 13,000 yen.
However, there were only 2 kinds of red wine that cost more than 10,000 yen per bottle, and the "Domaine des Monts Luisants Morey-Saint-Denis 1 er Cru 2011" that I ordered at that time was exactly the same brand as the one I mentioned in the article about going back to Haneda.
The mistake of forgetting to drink here and drinking the same wine on the return flight …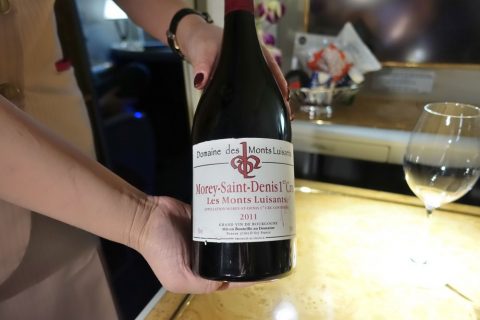 But this wine has the best balance of sweetness and sourness, and it's easy to drink! Very delicious wine! The market price of the bottle is over 10,000 yen, so you should drink it at this time.
Also, there are some rare sake among hard liquor, so I chose "Hennessy Pallady" this time. This is a blend of hors d'oeuvre and cognac, but it is a high-class sake which is traded at a ridiculous price in the market probably because it is hard to get.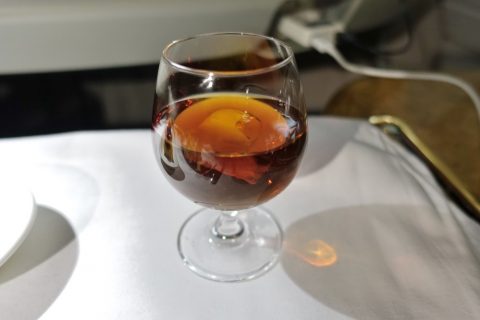 But when I drank it, it was really a normal brandy. My honest impression is that there is no special deliciousness.
There are some other rare sake, but the most delicious was "Tesseron Cognac Lot 29 Exception". I tried this on my way back, so please see here for more details → Emirates Air's "Japanese cuisine" is delicious! First Class In-flight Food Report DXB-HND
A pretty delicious bread selection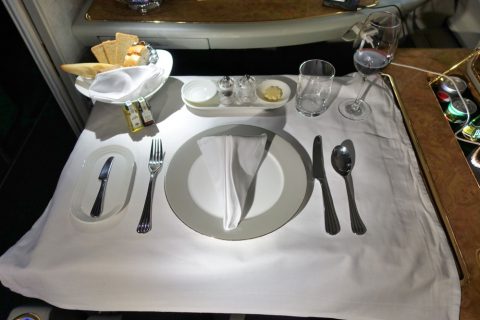 Let's start the in-flight meal service! This time, I chose a Western style dinner menu and had a full course meal from appetizer to dessert.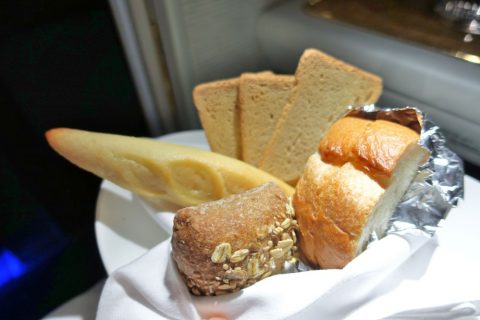 There are 4 kinds of bread that comes with Western food. There is a wide variety of colors and shapes. All of them are not plain bread, but all of them are seasoned bread, but the thin bread in this one has curry flavor and is quite delicious!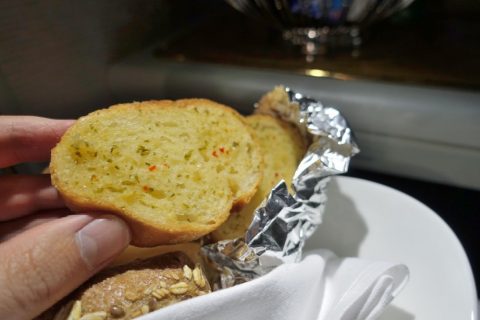 I thought this was plain French bread, but it was fluffy garlic toast. It is a little greasy, but the taste is good! It may be the first time for me to get such a good score except for a flight from France.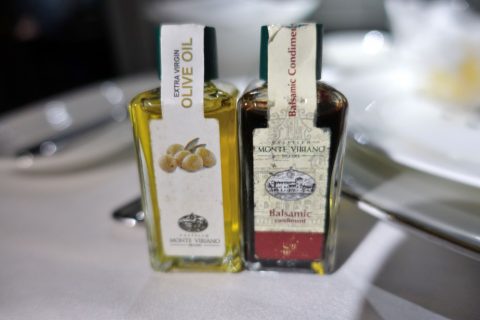 You can also add olive oil and balsamic vinegar to the bread. Personally, I don't like balsamic vinegar because it has a strange sweetness, but I like olive oil by sprinkling salt on bread!
The standard caviar, salmon, is not good?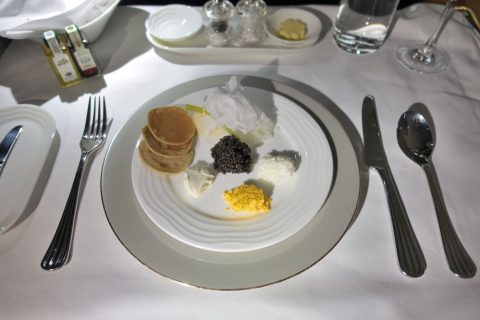 As for hors d'oeuvres, I ordered 2 hors d'oeuvres as there was no amuse bouche like "Canape" on the return trip (Dubai to Haneda).
First of all, "caviar". I don't know if there are many people who order this, but I was recommended to "Would you like caviar?" by CA before ordering!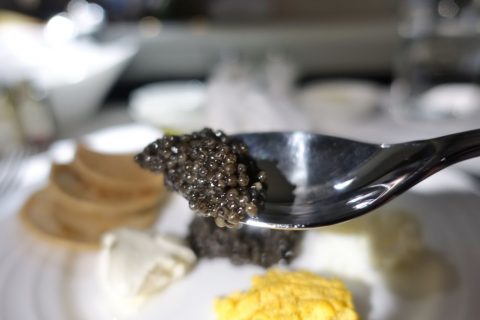 I'm familiar with caviar in first class, but it still smells fishy this time, so it's hard to eat it as it is. I had it with the attached melba toast, but I thought it was very delicious.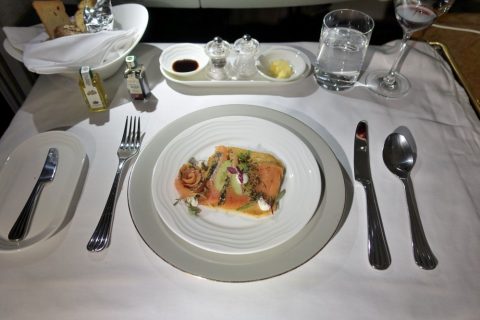 Another appetizer is "Salmon Grab Lax". This is a dish with salmon and citrus cream on top of a pancake made of buckwheat flour called "Brini".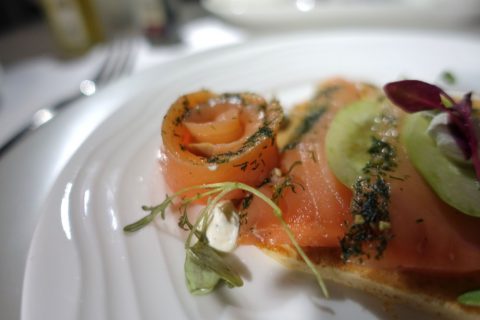 The seasoning is not bad, but the quality of the salmon is not so good. The flavor does not spread and the texture is not so fresh. I expected a little more because it was first class, but it might be like this if it was from Japan …?
No loss after all! Tenderloin steak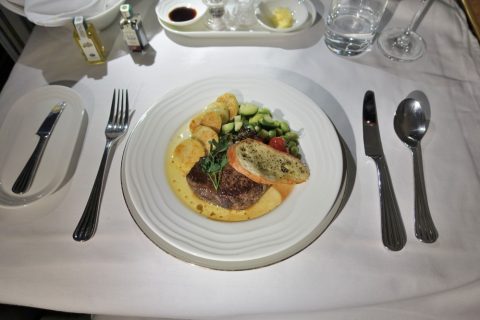 And the main one is "Beef – Tenderloin Steak". Meat again! You might think so, but since there is hardly any tender meat in business class, I have made up my mind that I should order steaks first class.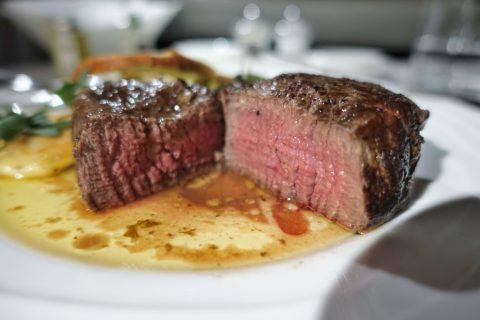 As expected, it's so soft that a knife can go through! It is cooked just right and has a firm texture, but the melting in the mouth is different from the business class meat.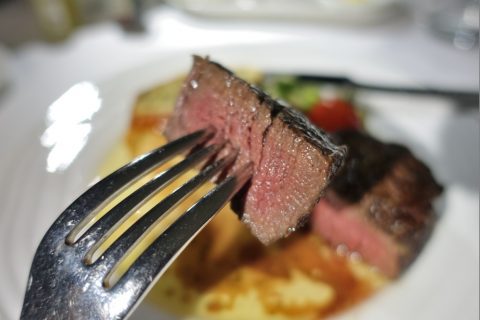 After that, the meat I ate at the lounge in Dubai and the steak I ate on the flight home were delicious, and I was convinced that Emirates Airlines would provide stable meat quality!
Cheese and dessert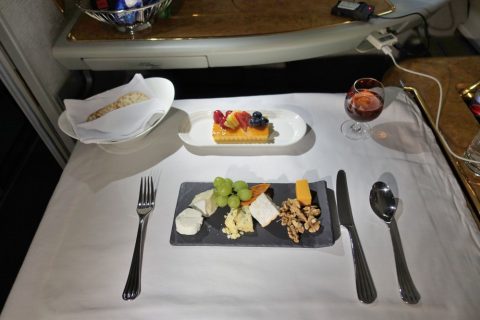 The dessert is "Fruit Tart". With assorted cheese, please. I really wanted to eat "milk chocolate dereese", but when I said I wanted both, I couldn't because there were many other customers today. …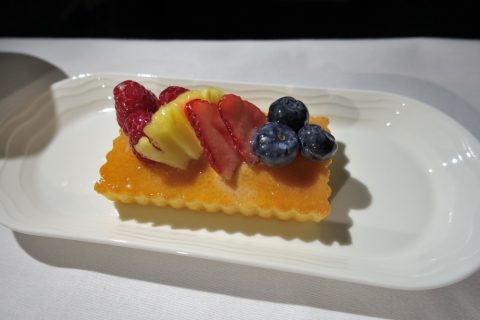 The fruit tart I chose as one of the 2 choices, but it didn't taste particularly good. The dough is moist, but the fruit and the taste are separated, so it tastes strange.
This is a little wrong choice ~ …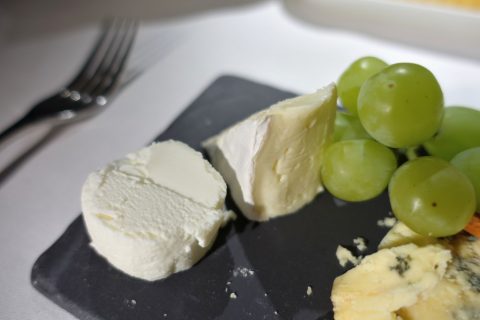 On the other hand, regarding the cheese platter, it is good that you can eat 5 kinds of cheese, although it is not a super deluxe cut like the one from Dubai. Camembert has authentic flavor, but it has less smell and is easy to eat.
in-flight meal that wasn't as fancy as one might think
So, this was my first time eating Emirates first class in-flight meal, and although the quality was not bad, I was not impressed. The meat quality of the steak is good, but judging from the caviar arrangement and the dessert tart, I don't think they put much emphasis on in-flight meals. …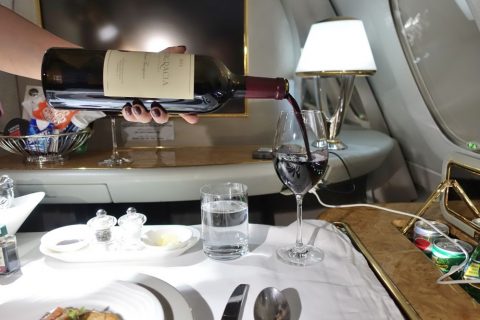 Well, it's a relief that I can drink high-class alcohol. On my way back (Dubai to Haneda), there were a lot of delicious dishes, so I don't think Emirates is the same as the whole, but since I am a first-class flight attendant, I felt that I wanted a little more charm.
Next time, I will report the bar lounge on the plane.→ Emirates Airlines A380 "Bar Lounge" is wonderful! Narita – Dubai First Class boarding record
♪Click here for a List of articles on "First Class & Business Class Airlines worldwide (Seat, In-flight Meal, etc.)"