First class boarding record with Emirates Airline B777 new aircraft, followed by a report focusing on welcome drinks to the 1st meal (Breakfast)!
Since this is a flight from Dubai (Overseas), people tend to choose Western food in general, but this time I dared to choose Japanese food and it was the right choice! I was able to enjoy the high quality Japanese cuisine which is worthy of the name of first class!
※This article was written before the virus scandal. This will be updated.
"Dom Perignon 2009" The taste is …?
After boarding the first class plane, when my shooting competition was over, CA appeared on the plane. First, welcome drink is served!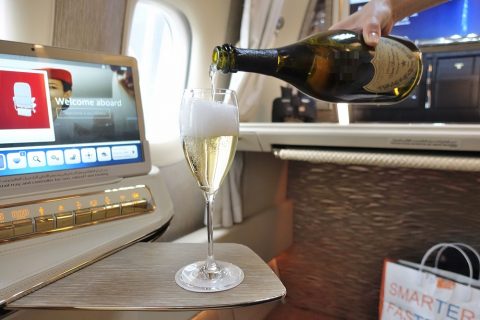 At JAL, you can choose from simple glasses on a tray, but Emirates says you can order anything from the beginning. In that case, I decided to have Dom Perignon from the beginning!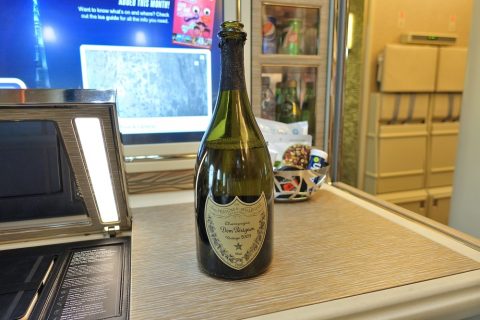 Champagne "Dom Perignon 2009". When I hear "Dom Perignon", it feels heavy, but when I drink it, the champagne has a gentle taste. Balanced taste. On the other hand, it is lacking in characteristics, and I cannot deny that it is lacking something.
The market price of the bottle is about 16,000 yen. I have seen parallel imports sold at liquor stores in town for about 12,800 yen. It's a little bit lacking in impact for the first class signboard menu …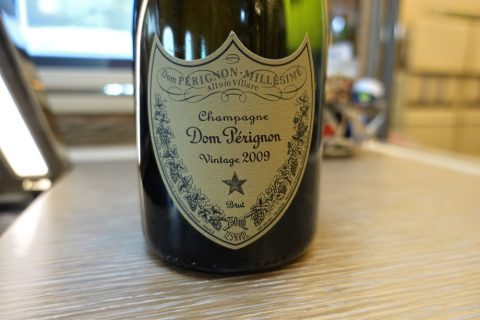 Surprisingly, this Dom Perignon is the only champagne you can drink in Emirates first class. In that sense, JAL, which recently announced the resumption of its "SALON" will win.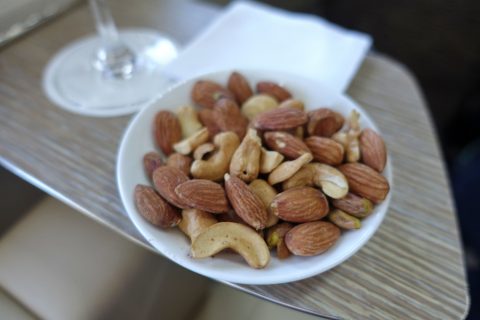 And for champagne, it is a snack with nuts. It was nicely heated and the cashew nuts were especially delicious! Like Qatar Airways, you can eat nuts from foreign airlines anytime and anywhere.
Arabic Coffee and Bateel Dates
Next, another CA came and greeted us at Arabic Coffee service!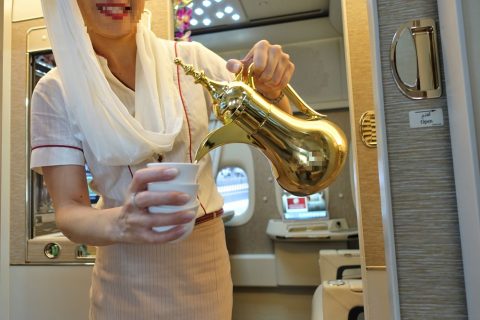 According to our sources, five Japanese CAs will be managing directors on this flight, two of them will be first, and three of them, including the chief, will be first. There were only two first class passengers on that day, including me, so it was really hard on me!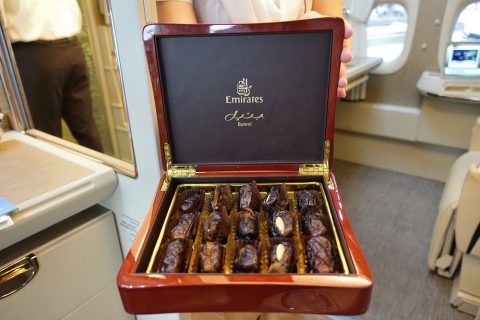 The date of Bateel is the same! On this trip, I ate only this date from the lounge in Narita where I used on my way. "dates" is a dried fruit of date palm, and it seems to be a standard sweet in the Middle East region, but please try this taste again.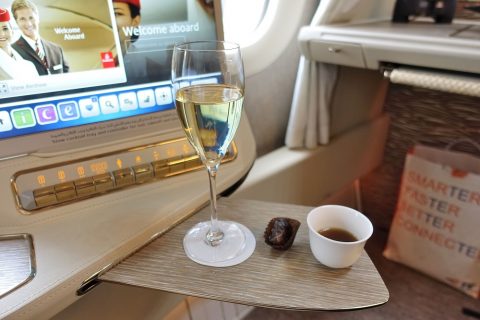 This is how the blissful time passes before we leave! This is the best part of first class.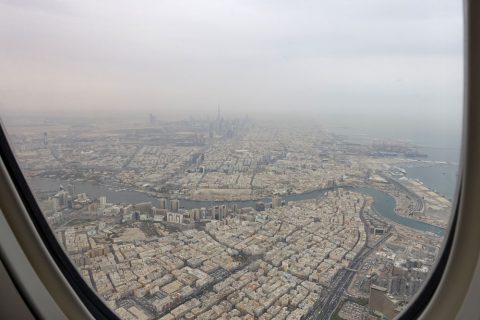 Soon after takeoff, the belt sign went off and the in-flight service started! Just after takeoff, I could see Burj Khalifa clearly in the cloudy sky.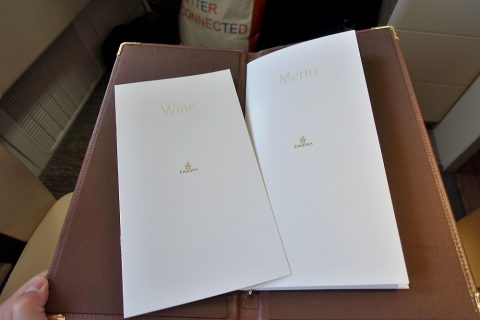 The in-flight meal menu will be distributed soon. There are two kinds of menu, food menu and wine list. The fact that it is sandwiched between the fine covers and made of solid cardboard is what I call first.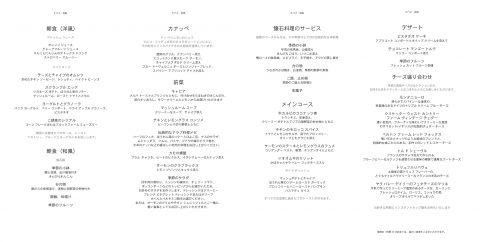 Here is the menu for Dubai → Haneda. Probably because it is a long distance route, two meals are expected, and there are four kinds of course meals, two each for Western and Japanese cuisine.
There is no a la carte menu like JAL, but if there is something you want to eat, you can bring only one dish from another course menu.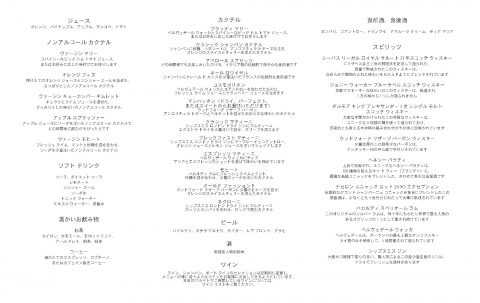 Regarding the drink menu, everything except wine is listed in the main menu. As for alcohol, there are especially a variety of liqueurs, and there are also various cocktails and aperitif!
However, there is almost no sake in Japan, only one kind of sake "Nanbu-Bijin Special Junmai" and no Shochu.
Market price of wine …?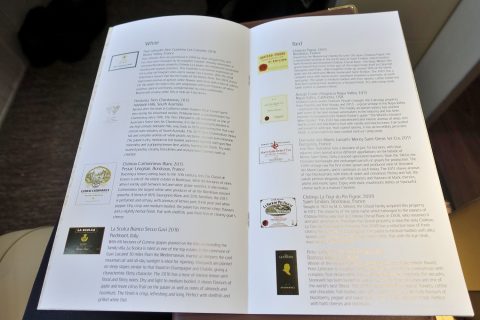 The wine list includes champagne "Dom Perignon", 9 types of red and white wine, dessert wine and port wine! It's hard to see this lineup with Japanese airlines.
Foam: Dom Pérignon 2009/16000 yen
White: Château Carbonnieux blanc 2015/5,000 yen

*Business class

White: Paul Jaboulet Aîné Condrieu Les Cassines 2016/5,000 yen
White: La Scolca Bianco Secco Gavi 2016/5,500 yen

*Business class

White: Petaluma Tiers Chardonnay 2015/5,000 yen
Red: Château Figeac 2005/3,600 yen
Red: Château La Tour du Pin Figeac 2009/7, 000 yen

*Business class

Red: Domaine des Monts Luisants Morey-Saint-Denis 1 er Cru 2011/11,000 yen
Red: Araujo Estate Altagracia 2013/12,500 yen
Red: Peter Lehmann Stonewell Shiraz 2011/7,000 yen

*Business class

Dessert: Château Guiraud 2005/8,900 yen
Porto: Graham's Single Harvest Tawny Port/from 1000 yen to tens of thousands of yen
As I went through the process, I looked up the market prices of the various wines that can be drunk on a first-class flight, and when I looked at it this way, there were only 2 kinds of luxury wines that were over 10,000 yen per bottle. Some brands are also available in business class, so I don't want to choose them in first class (laughs).
The in-flight meal menu and wine list can be viewed in advance on this page on Emirates Airlines' website.
"Japanese" breakfast consists of fluffy fish and delicious rice!
I decided to have breakfast for the first time since it was a flight departing at 8:30 AM this time!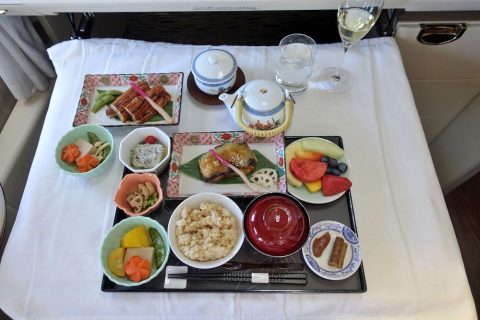 I chose "Japanese cuisine". There are 3 small bowls, a table, rice and miso soup, pickles and assorted fruits. All the dishes were delivered at once, so it looked gorgeous! The color is very beautiful!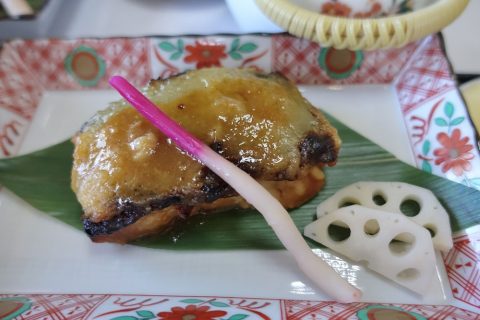 This main dish "Sablefish Marinated in Miso" is very delicious! The fluffy and plump meat is very soft and the rich miso flavor is firm.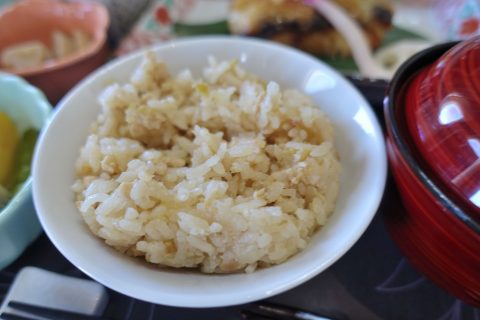 The rice is not white rice but "Takikomi" rice. Although it has a simple taste, it has sweet ginger in it and it is delicious too!
On the other hand, simmered dishes in small bowls all have their own taste. I wanted the freeze-dried tofu to be a little sweeter, and the other vegetables were hard and the taste was not absorbed.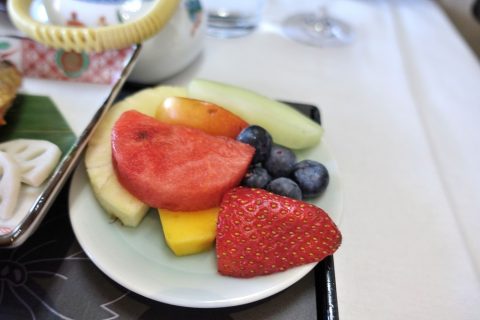 Fruits were also a nuisance, melons were crispy, pineapples were crunchy …, and the fruits were so dry that no drop of juice came out. Well, I think this is due to the circumstances of the country of departure, but this is completely a decoration.
The thickness "Broiled Eel" is delicious!
In addition, I ordered "Broiled Eel" together. This is not a breakfast menu, but a menu that was picked up from the table in the "Kaiseki" dinner, and they brought it together this time!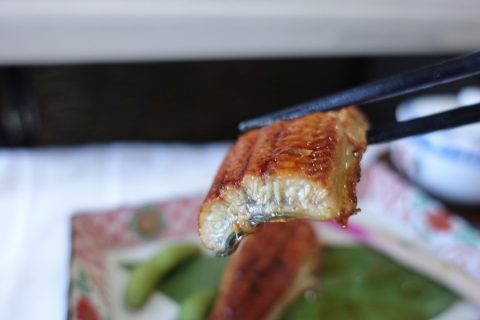 This eel is surprisingly thick! The meat is fluffy and super soft, and the aroma of the charred color is limited, but the sweetness of the ingredients stands out and is delicious! It's amazing that you can eat such a thick eel as an in-flight meal!
What does the fancy whiskey taste like?
Scotch whisky "Dalmore King Alexander III" was chosen to accompany such a Japanese breakfast.
This is a single malt whisky that uses malt which is matured in 6 kinds of barrels such as bourbon, sherry, port wine, etc., and it is one of the rare sake which is hardly sold in the market now. I heard that you could get a bottle for about 15,000 yen before, but now the market price is around 20,000 yen.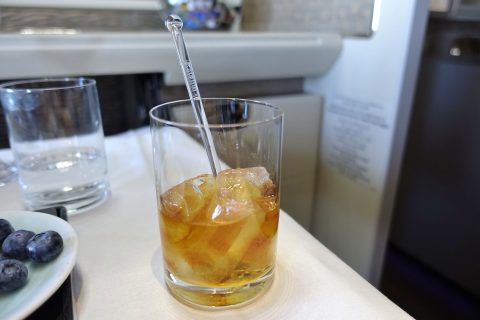 I tried drinking it on the rocks, and it was so mild that I could hardly feel alcohol stimulation, and the sweetness gradually spread! It tastes like a high-class sake, but as the ice melts, it gradually starts to smell like cheap whisky, so it's better to drink it without adding water!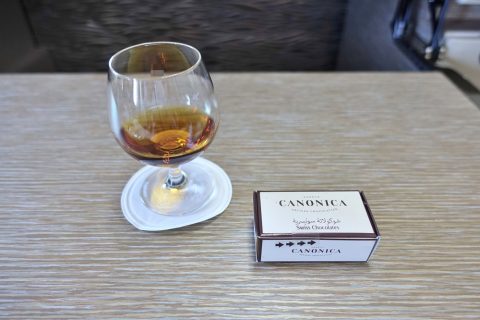 Also, I had "Tesselon Cognac Lot 29 Exception" after meal. This is a kind of brandy made using only sake matured for a long time before 1929, and it is one of the very rare brands.
When I checked the market price, it was traded at a ridiculous price on Rakuten! It is natural that the price of a 90 year distilled liquor should rise considerably.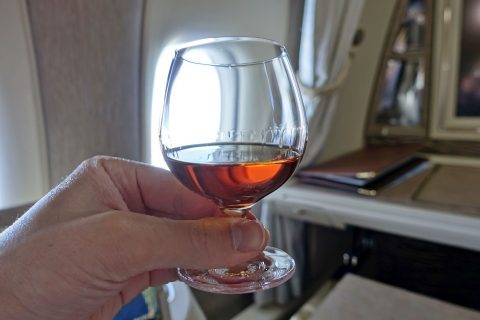 I tried to drink with gratitude, but the rich grape flavor that spreads in my mouth was mild and comfortable, and there was no unpleasant taste or bad smell at all! No ~ this is really delicious ~!
I can't drink a lot because the alcohol content is high, but I got hooked on 3 glasses of straight. The taste of 90,000 yen is real!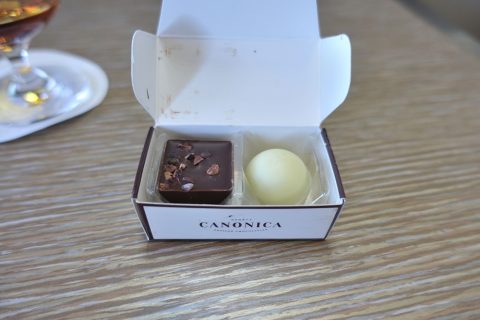 Complimentary chocolate with cognac! It was delicious with milk chocolate for brown and almond cream for white chocolate!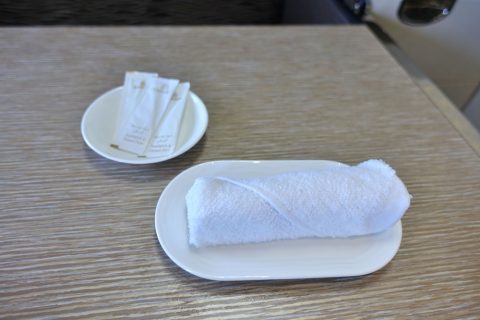 Emirates Air First Class is still a long story. Next time, I will report mainly on the seat of the bed position! → The full flat bed of the new Emirates First Class seat is comfortable! Dubai – Haneda Flight Register
Please see the previous article about this new B777 seat → Emirates Air First Class boarding record! The new seat of B777 is completely private and amazing!
♪Click here for a List of articles on "First Class & Business Class Airlines worldwide (Seat, In-flight Meal, etc.)"