Emirates Airline A 380 First Class, the last article is a thorough report on "shower room" on the plane!
The A 380, also known as the "Flying Hotel" has more than just a hotel room for first-class passengers! I would like to report on the facilities in detail.
two shower rooms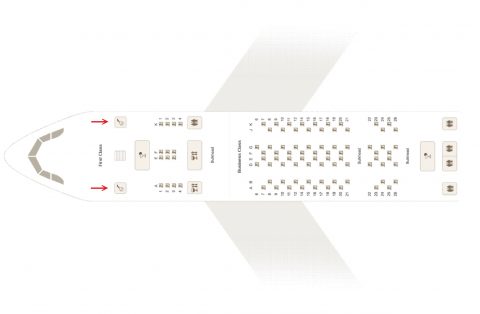 The shower room of Emirates Airlines A380 is located in front of the first class cabin. There is a shower room in the toilet facility. There are 2 places, and if there is no shower user, you can use it as a toilet normally.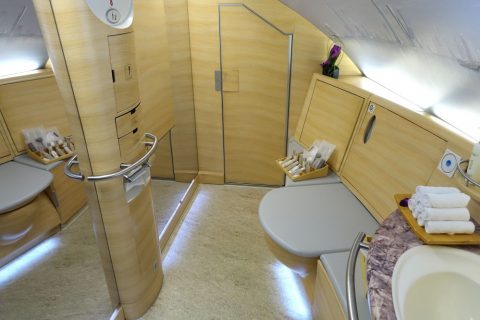 Here's the inside! This time, the shower room on the left side was assigned. Before takeoff, we looked around the shower room on the right, and you can see that it is symmetrical (Reference → Emirates Airlines A 380 first class boarding report! Is the seat unexpectedly narrow? NRT – DXB).
It doesn't have much space, but it looks very spacious as one side of the wall is a mirror! Is the back door a storeroom? So passengers can't use it.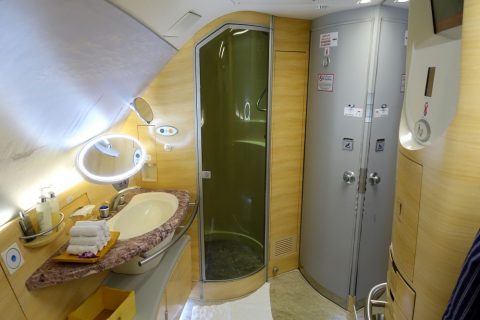 There is a shower booth right next to the entrance and a washstand next to it. The wood-grain walls make you feel warm. I don't think it's in an inorganic plane.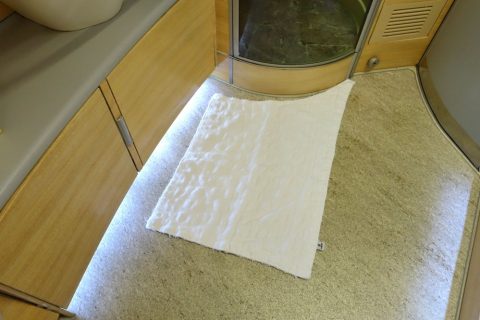 There is a bath mat in front of the shower booth. The floor has been wiped clean and completely changed to a shower room unlike when I used it as a toilet.
They also have a luxurious washstand and hair dryer.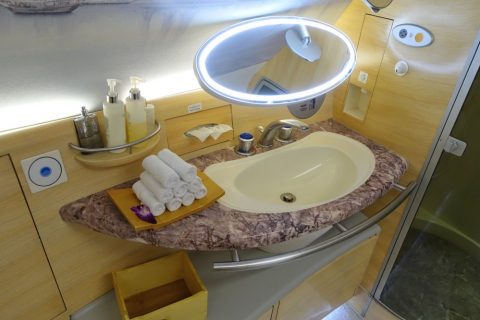 In this shower room, the facilities are also authentic! The washstand is equipped with a bright light mirror and a magnifying glass, an electrical outlet and tissues.
There are hand towels, hand soap, hand cream, and fragrance of BVLGARI next to the sink. In a way, I was surprised by the equipment more than a hotel!
Dryers for hangers. Use the dryer after pressing the main power supply in the case.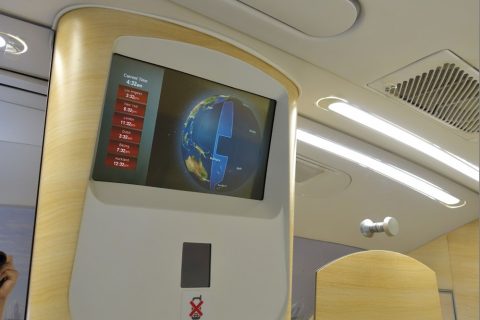 Also, there is a monitor in the room, and you can check the operation status. It's no longer a "Like a hotel." but a futuristic "More than hotel" shower room.
There are plenty of amenities!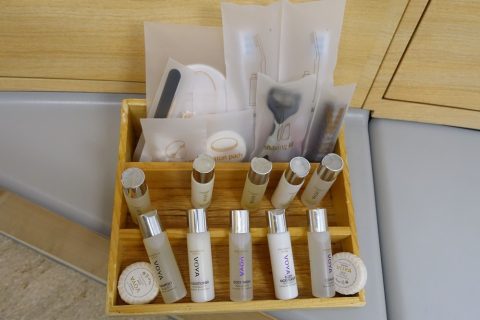 There are plenty of amenities, including shampoo, conditioner, body wash, body moisturizer, face cleanser, hand soap, combs and cotton swabs.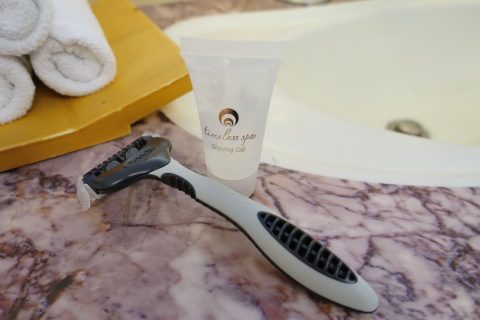 As a man, I'm happy to have a safe razor and shaving gel! There is no ordinary 4 star hotel that has this set.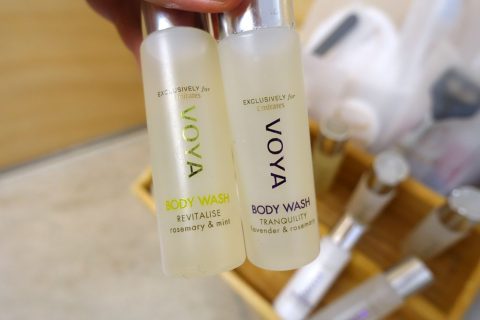 The amenities such as shampoo are all VOYA brand. This is a spa equipment manufacturer in Ireland, but Emirates Airlines has standardized its products from the lounge to the cabin.
I tried using it this time, but it smells a little bit special and I can't get used to it. …It's totally different from "Dove" in Japan.
Is the water pressure in the shower weak?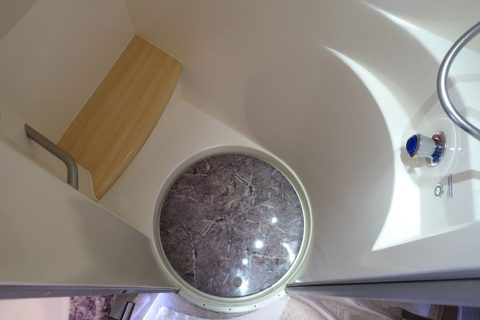 Then, I would like to take a shower right away! The shower booth is about half a tatami mat wide, but it is large enough to wash your body. It has a convenient seat and no unpleasant odor from the drain.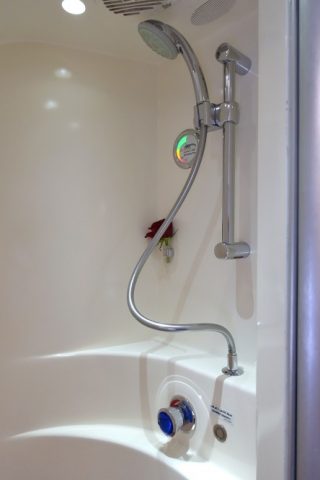 The water comes out with the button under the shower head and you can adjust the temperature with the knob. The temperature changes quickly and it doesn't take long to get hot water, so you don't have to worry about it for a short time!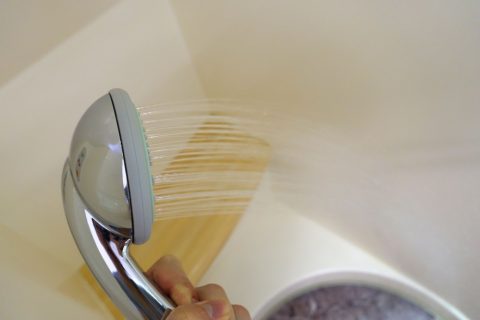 However, the water pressure is very weak, and if you turn the shower head straight up, there is only a few centimeters of water column. Well, on a plane with limited water, this can't be helped.
Also, the use of the shower is limited to 5 minutes per person, and when you use it, the meter decreases in no time.
When it reaches 1/4, it stops automatically and tells you that the remaining amount is low, but even I, a man, can barely wash off my whole body in 5 minutes. If possible, I would like 7 to 8 minutes.
Reservation is required, and you will be kicked out after 30 minutes …
To use this shower room, you need to make a reservation, and if you tell the time you want to use to CA in advance, they will come to your seat when the time comes.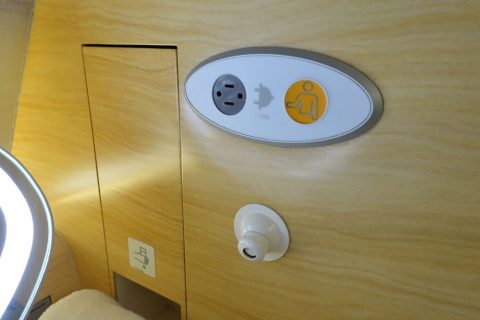 They didn't say anything about the time limit for using the shower room, but 30 minutes after I entered, they knocked at my door saying "Dong Dong", so I guess I can only use the shower for 30 minutes.
I didn't intend to stay for a long time, but if I wash the front body, wipe it, dry it and trim my hair, even a man like me can barely make it for 30 minutes.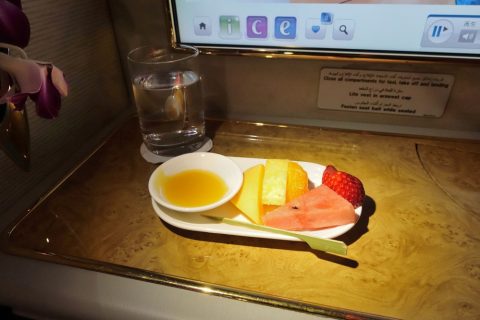 Well, even though it's first class, it can't be helped because it's a public facility. Fruit served free after taking a bath, with passion fruit sauce for 5 fruits.
Emirates Airlines First Class Summary
So for the 5 long Emirates A 380 first class flights I've been talking about, let me summarize my honest impressions.
Overall airplane facilities …☆☆☆☆☆ (5/5)
Seat comfort …☆☆☆☆★ (4/5)
CA Quality of Service …☆☆☆★★ (3/5)
The taste of in-flight meals …☆☆☆★★ (3/5)
Not to mention the comfort of the A-380 superjumbo plane, you'd really forget you're on a ride if there were no turbulence! There is almost no vibration during takeoff and landing, and there is little change in air pressure, so I didn't have to pull out my ears often.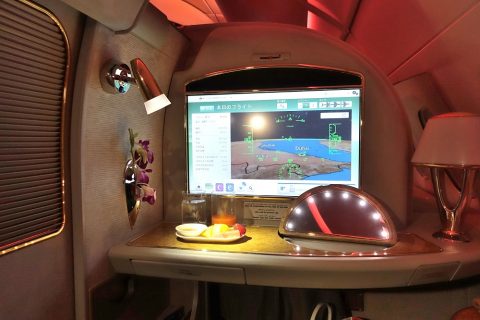 However, I have a lot of complaints about the seat, and once I experience the new B777 seat, I can't go back (For the new seat, please see here → Emirates Air First Class boarding record! The new seat of B777 is completely private and amazing!).
Regarding CA's service quality, I felt that it was not luxurious like Qatar Airways, and that it was not refreshing at best, or fine grain at worst.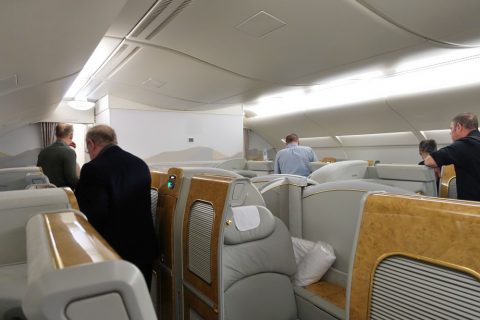 Well, one of the reasons is that there are 14 first-class passengers at most. If the number of people is small, it is natural that we can receive better service, and in that sense, the overall satisfaction level of B777 of Haneda flight is overwhelmingly higher.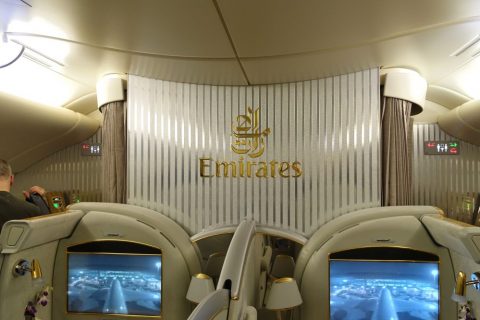 This time, I chose Narita flight for the purpose of lounge at Narita Airport and shower of A 380, but if you don't mind it, I would definitely recommend B777 of Haneda flight! I hope this A 380 will switch to a new seat soon.
A 380 First Class seats, in-flight meals, and more. → Seat edition/In-flight meal (Dinner) edition/Bar lounge edition/Bed edition/Shower room edition
♪Click here for a List of articles on "First Class & Business Class Airlines worldwide (Seat, In-flight Meal, etc.)"