On board Emirates Airlines A380, the Bar Lounge is available only to first and business class passengers. When I went there, there was a nice illuminated bar counter with champagne, wine and a variety of light meals, which was good!
This time, I will leave my first class seat and report mainly on this bar lounge.
Bar lounge in the aircraft A380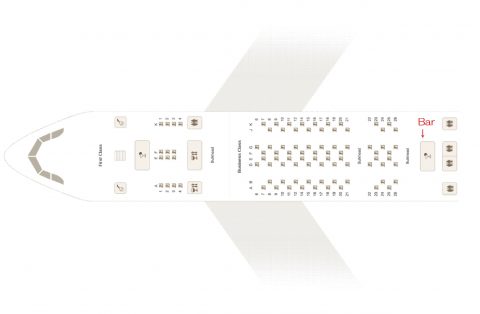 It's Emirates Airbus 380, and what's in the news is the bar lounge on the plane. There is a bar at the back of the upper deck of 2 stories, and only first class and business class passengers can use it.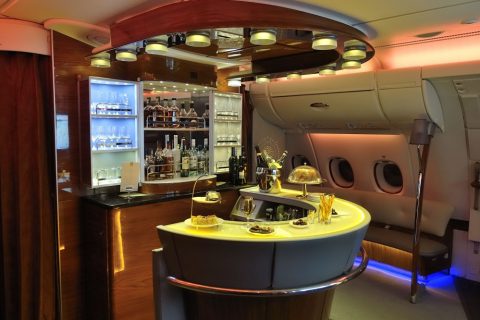 I went there after dinner, and the entire deck behind the business class was a bar lounge. The illuminated bar counter is very authentic, and it is a very nice bar!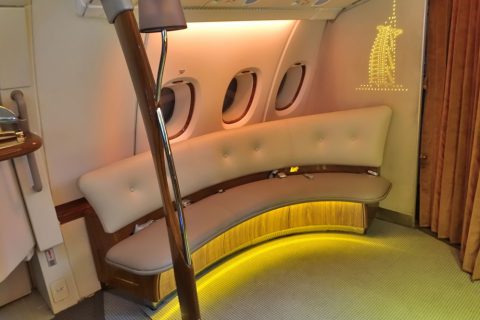 There are long seats on the wall and tables at the emergency exit. The long seat is equipped with a seat belt, and the safety measures are well taken.
The champagne is Moët & Chandon, and there are also expensive wines.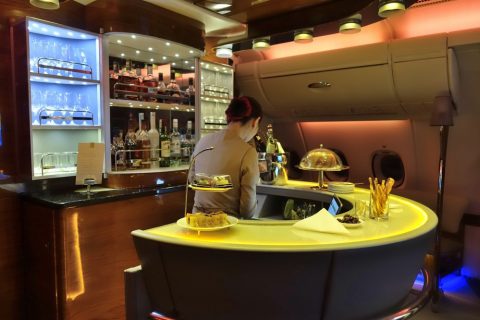 I'd like to order something to drink because it's a good opportunity. There were staff at this bar, and basically all drinks were ordered from the staff, but I was glad that I didn't have to worry about the language because I was a Japanese staff at that time!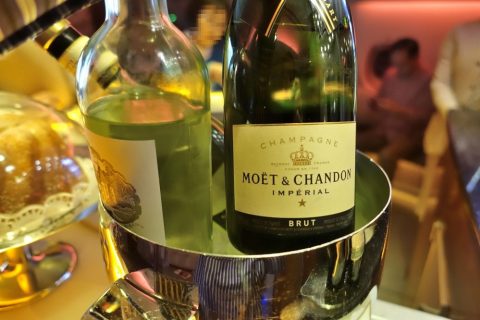 At this bar, you can drink alcohol mainly served in business class, and the champagne is Moët & Chandon. As expected, there was no first-class Dom Pérignon.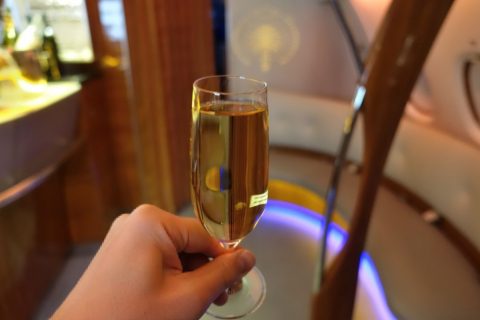 I had a glass of it, but it was served in a different flute glass from the first class. I have written a lot about the taste, so I will omit it, but it might not be much different from Dom Pérignon.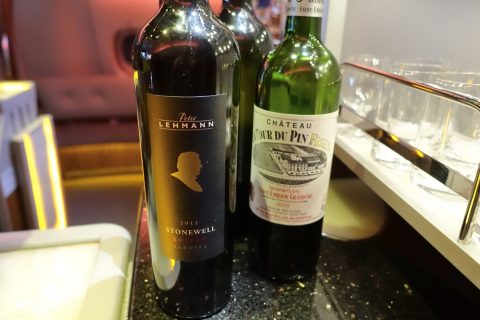 There were also several wines, including "Peter Lehmann Stonewell Shiraz 2011" and "Château La Tour du Pin Figeac 2009". They are all red wines on the business class menu of this flight.
But when I checked the market price of these wines, I was surprised that they cost 7,000 yen! It is said that Emirates Airlines can drink this much wine in business class.
We offer a variety of light meals!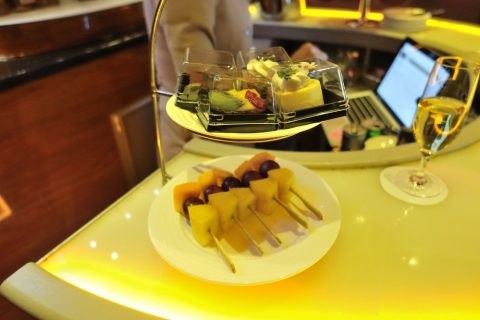 Other than that, this bar had snacks to go with alcohol, and there were bite-cut fruits and sweets on the counter.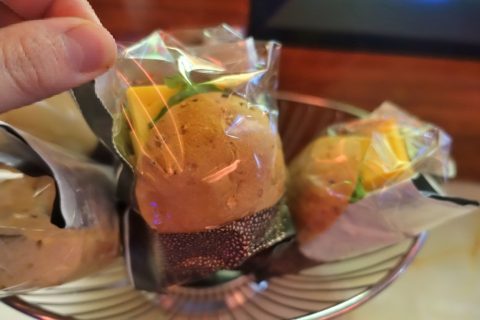 There are also light meals such as hamburgers and sandwiches. It might be just right when you are a little hungry.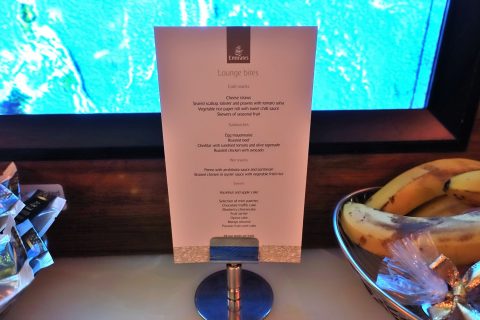 There was a menu list next to it, so when I looked at it, there were snacks, sandwiches, and hot meals such as penne and Arrabbiata, so it was quite substantial! With this, even if a first-class passenger comes, I think I can enjoy enough.
With a commemorative photo service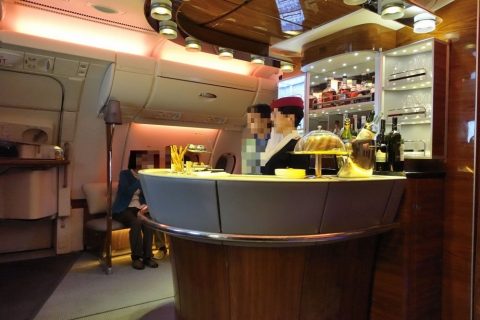 While I was drinking at this bar for a while, a group of other passengers was taking a commemorative photo. I thought it was a personal photo shoot, but I was a little surprised because CA was shooting with a special large camera.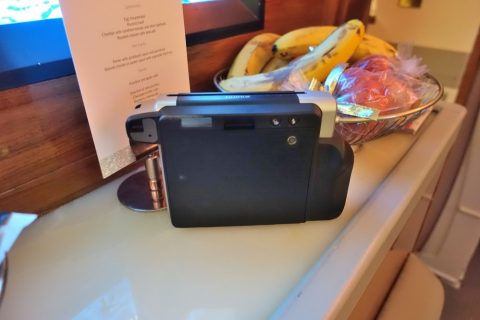 It looks like it's a Polaroid camera and CA will take the photo and turn it into an album for you right away. I was recommended, but I'm a little embarrassed to be alone, so I pass!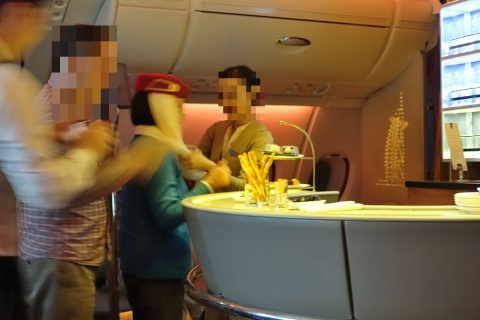 Also, it seems that you can borrow the red hat and white scarf that CA is wearing, and some of the women wore them to take pictures. It will be a souvenir of your trip, and it's a nice service!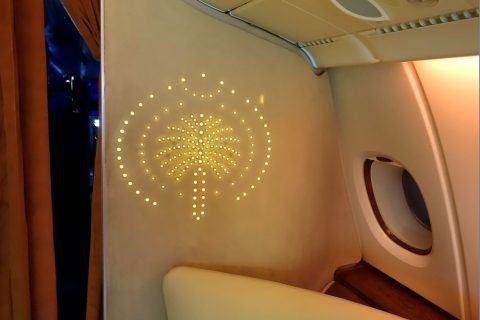 That's why I told you about the bar lounge of Emirates Airlines A380! Next time, I will go back to first class and report the comfort of a full flat bed and breakfast! → Can you sleep on the full flat bed of A380? Emirates Airline First Class boarding report
♪Click here for a List of articles on "First Class & Business Class Airlines worldwide (Seat, In-flight Meal, etc.)"