Take the Vietnam National Railway from Hanoi for a one-day trip to the central city of Hai Phong in eastern Hanoi! This time, I would like to tell you how to buy a Vietnamese railway ticket and how to get on the train.
Can't I use a credit card?
When you make a reservation for an overseas train, the first thing that comes to mind is the railway company's website. Vietnam Railway also has a website where you can book and issue tickets online.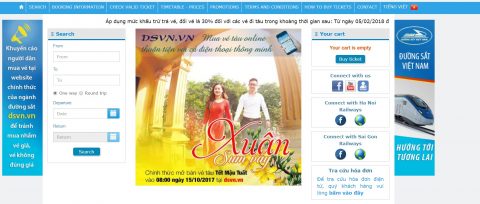 You can also switch to English, enter the station name in the box, specify the date, and press Search to display the availability. It seems that you can make a reservation about a month and a half to two months before departure.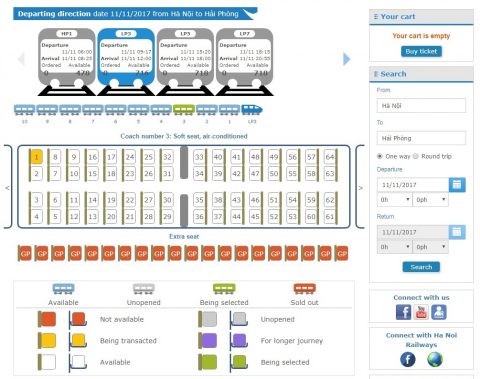 The trains between Hanoi and Hai Phong have 2 class cars (hard sheet) and 1 class car (soft sheet), and the fare is 70,000 dong and 50,000 dong, respectively. You can choose any train, car, and seat, press the Buy ticket in the upper right corner, enter your personal information, and proceed to the payment.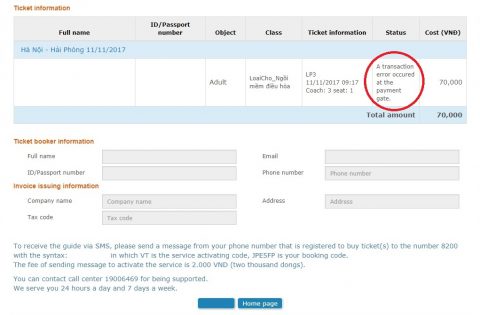 However, although I can choose a credit card as a payment method, when I tried several credit cards I had, all of them failed and I could not pay. Apparently, credit cards issued in Japan are not accepted …。
You can also make a reservation here and pick it up at the station window, but it seems that you have to issue a ticket at the window within 72 hours after making the reservation, so I gave up the purchase and decided to buy it at the station window on the day of …。.
Hanoi has two stations.
This time, I am heading to Hai Phong from Hanoi, Vietnam. In the central part of Hanoi City, there is "Long Biên" station as well as "Hà Noi" station.

All trains from Hanoi Station to Hai Phong are supposed to stop at Long Bien Station, but the train between Hanoi and Long Bien runs through the urban area of Hanoi, so there are many cases where the train service in the section has been suspended due to the fear of traffic jams caused by crossing over.
In that case, the train bound for Hai Phong will arrive in Long Bien, but I recommend that you avoid the train from Hanoi Station unless there are special circumstances. Because the train I took on the way back this time was "For Hanoi Station" when I saw it on the website in advance, but I was told "I only go to Long Bien." when I bought the ticket at the window on the day.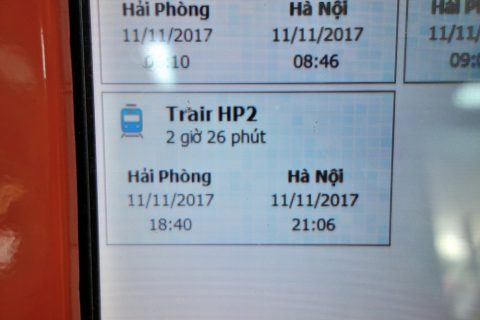 In addition, when I went to Hanoi station later and checked the time of the train, it said that it was operating to Hanoi station. This is something that would never happen in Japan, but that's how sloppy Vietnam Railways is.
This time I used Long Bien station for both the round trip because of the location of the hotel in Hanoi, but if I believe in it and go to Hanoi station, I might not be able to take the train, so be careful!
Long Bien train station in Hanoi
So I head to Long Bien station to catch the train to Hai Phong. The location is in the northeastern part of the old city, but for more details, see the map above.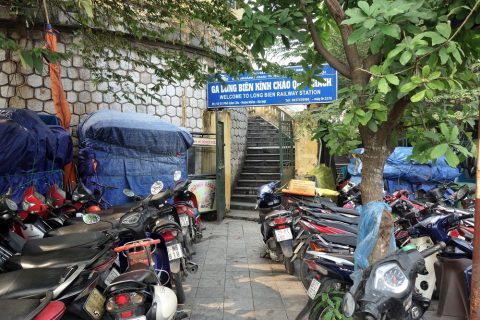 Long Bien Station is more or less like a terminal station in Hanoi City, but unlike Hanoi Station, there is no rotary; instead, you go up the stairs at a small entrance filled with motorbikes parked there.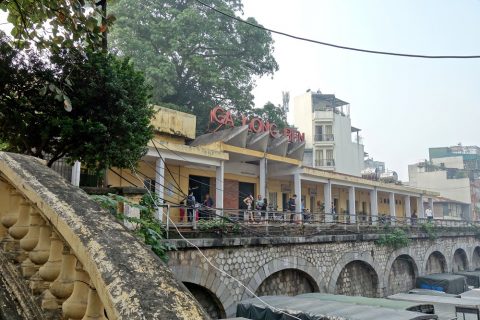 Long Bien Station on the elevated track. But I don't think you'll realize this is a train station unless you get very close to the chaotic old town building.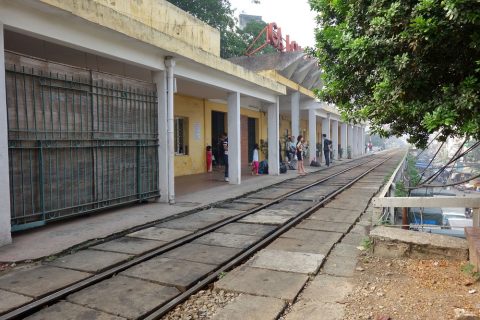 The station premises are beyond the railroad tracks. Trains rarely come, but it might be better to check right and left before crossing.
buy a ticket at the window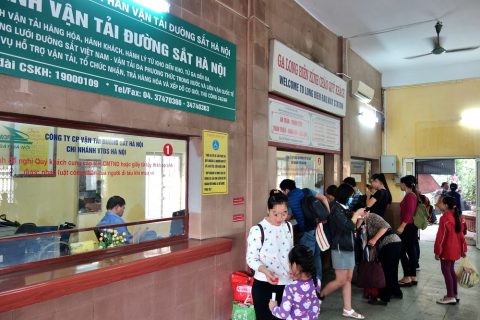 There is a window as soon as you enter the station. The counter is divided into several sections, but it seems that (2) and (3), which are crowded, correspond to each other.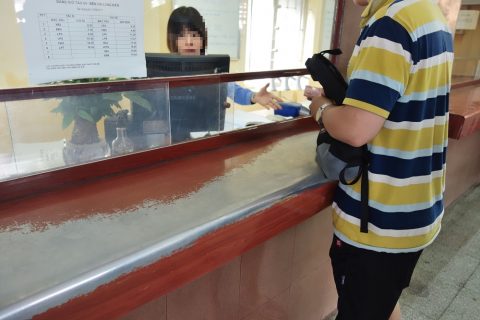 I had researched beforehand that the person at the window could not speak English, but I thought that I could read it without speaking, so I wrote the train number (LP3) and "1 ticket to Hai Phong" on the tag and gave it to him. In addition, the person in charge nods and agrees when I say "Soft seat!" because I want a 1st class car!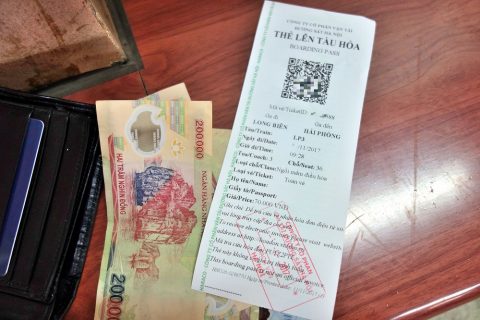 I paid in cash, but when I gave him a large bill with a 500,000 dong bill, he accepted it without showing any displeasure. Train tickets are made of heat-sensitive paper that can also be used as receipts.
At that time, the seat was assigned arbitrarily, but if you say window side or aisle side, they seem to agree to some extent. …。, but I think it is difficult to assign by referring to a seat map like HP.
On the premises of Long Bien Station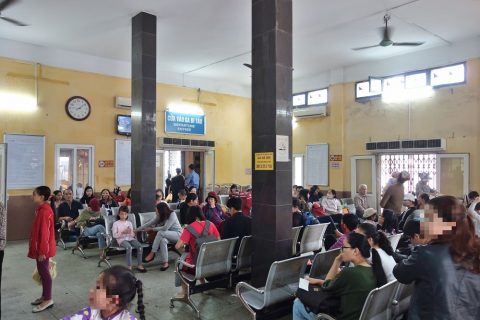 There is still a little time before the train leaves, so I looked around Long Bien station. The place where the ticket window is located is a waiting room, but the air conditioner is not working and the ceiling fan is only running.
There are some benches outside the waiting room and everyone is relaxed. It has the authentic atmosphere of a local city in Japan.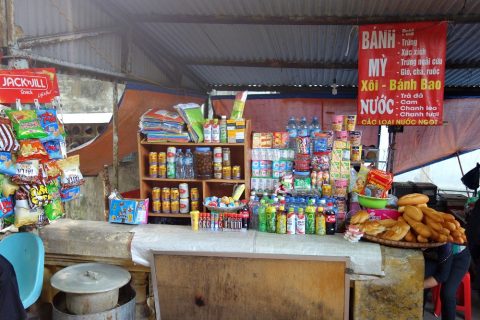 There is a shop outside, and besides drinks and sweets, Bine Mi is also sold. But I don't know the price because there is no price list …。
Go to Home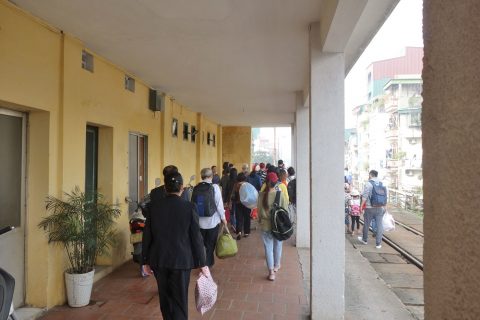 15 minutes before the train's departure, an announcement was made and the passengers started to move to the platform all at once. This time I am going for a day trip, but there are quite a few passengers with big luggage.
At this time, the station staff was standing on the tracks, and was urging passengers not to enter the tracks. They seem to be paying attention to safety.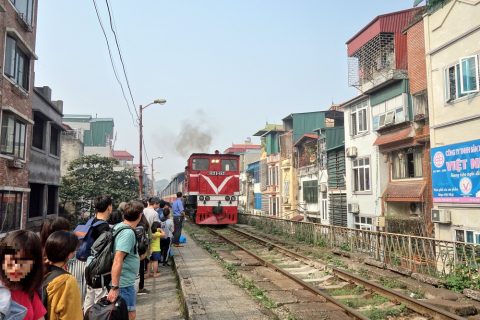 The train arrived four minutes before the scheduled time! So I will tell you about the next train to Hai Phong.
♪Click here for a List of articles on "Ha-Noi"