"Dates" is a dried fruit of the date palm that is popular in the Middle East. When I went to the supermarket in Dubai, there were a lot of different kinds of dates sold by measure, so I bought all kinds and tried them!
Unlike high-grade dates like Bateel, what about the typical dates you can buy in the supermarket? When I tried it, for better or worse, it tasted just as I expected. …
Big Supermarket Spinneys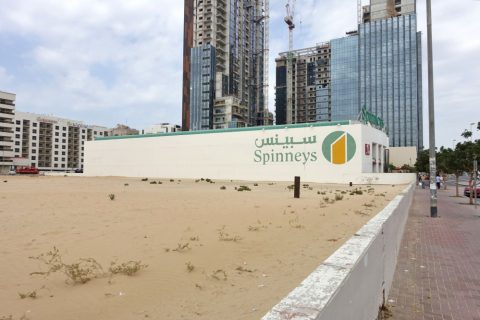 This time, I went to the supermarket "Spinneys" which is a 6-7 minute walk from ADCB Station of Dobai Metro Red Line. When I searched for a supermarket along the Dubai Metro, it was relatively close to the station, the scale was large, and it was very convenient as it was open 24 hours a day.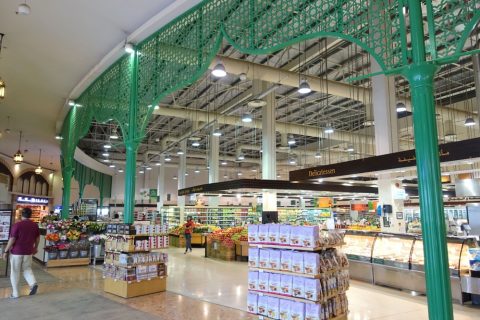 Inside, the ceiling is high and spacious! In terms of size, it's as big as or bigger than the weight rose in the Dubai Mall, and the selection is perfect!
There is also a deli corner, and you can eat chicken biryani at 2.9 DH/100 g, and various salads at around 4 DH/100 g, so it's convenient when you want to eat a meal cheaply.
selling by date
Near the center of the supermarket is this section for selling items by measure. There are a lot of spices and seasonings like what you see in Spice souk! There is also a date showcase in the corner.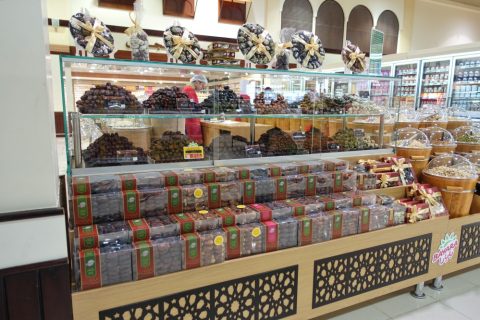 If you look at the date lineup, there are nine plain dates with chocolate, pistachio, or nuts in between. Both are sold by measure.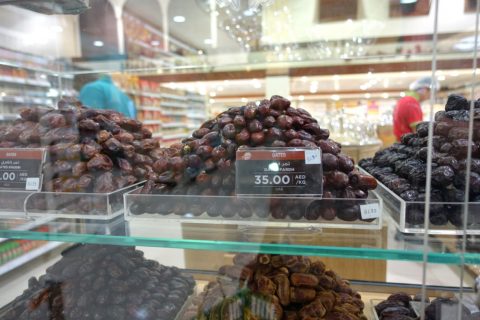 The 9 plain dates come in various colors and shapes. It shows the price per 1 kg, and the price varies from 32 DH to 141 DH.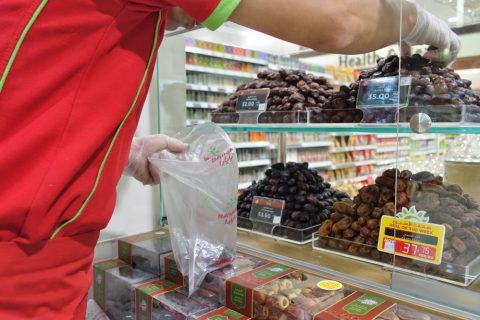 I wanted to try various things this time, so I decided to have 50 g each of the plain dates!
When you place an order with the clerk, they put each item in a plastic bag and put a barcode sticker on it, so you can pay at the cashier with other items. It depends on the type, but the capacity of 50 g is about 7 ~ 8 pieces.
The type of dates, price, and taste are …?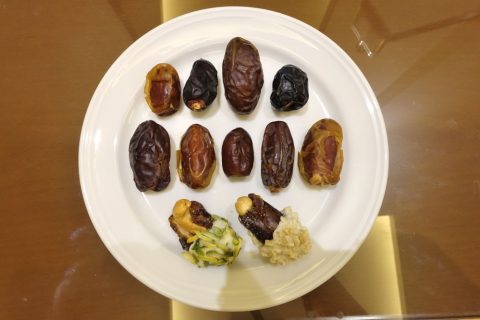 Here is the date I bought this time! Even for the same date, the color, shape, and size vary depending on the type. The names and prices for each date are as follows (Described in order from top left in the photo):
①Khalas Dates(37.5DH/kg)
②Safawi Dates(53.5DH/kg)
③Majdoul Dates(94.25DH/kg)
④Ajwah Dates(141.75DH/kg)
⑤Khudri Dates(32DH/kg)
⑥Sofry Dates(41.75DH/kg)
⑦Fardh Dates(35DH/kg)
⑧Mabroom Dates(64.25DH/kg)
⑨Dates Sagai(37.75DH/kg)
⑩⑪Assorted Coated Dates Pistach(79.5DH/kg)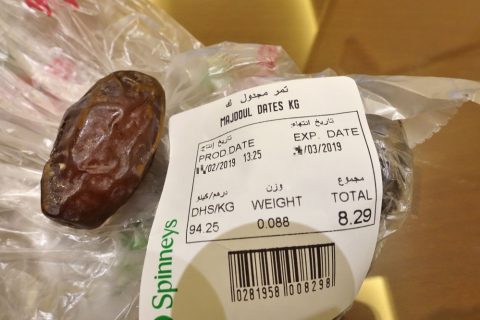 I tried it all, but to be honest, there was no big difference in taste. There is a difference between the degree of sweetness and the moist feeling, but the taste is like adding persimmons and dried potatoes and dividing them into 2, and the texture is like prunes, so it is not particularly delicious.
Also, all the plain dates from (1) to (9) contain seeds and have a hard core, so it's hard to eat compared to Bateel dates.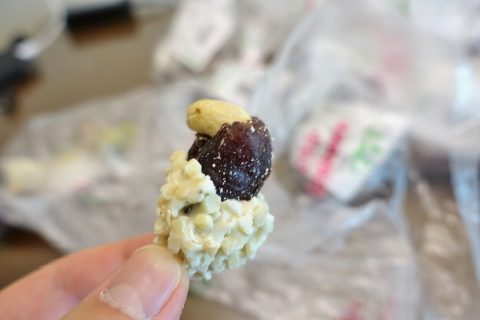 The only one I thought was good was the pistachio and nut dates from (10) (11). It has nuts and almonds inside and is coated with pistachio and chocolate, so it tastes like a sweet with less sweetness.
However, it only tastes like chocolate or pistachio, not the date itself.
packaged chocolate dates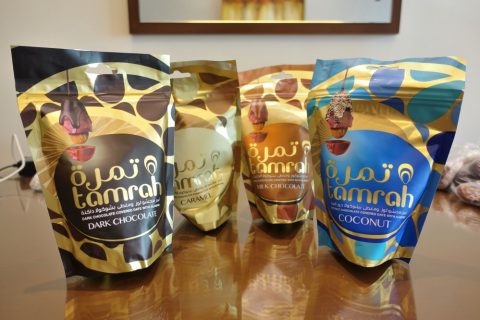 If it's chocolate-coated dates, there are a lot of packaged items without having to buy them by weight. For example, this "Tamrah" chocolate date can be found in any supermarket and costs around 12 DH per bag.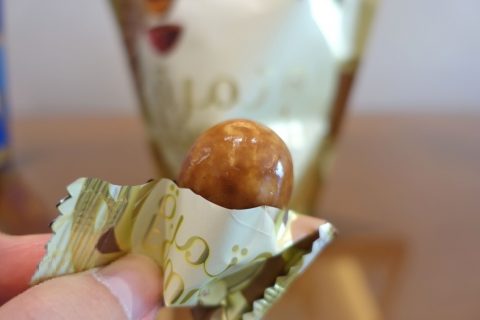 There are 4 flavors such as dark chocolate and coconut, but the most delicious one was the caramel flavor. There are almonds in it, and it is a taste completed as a sweet.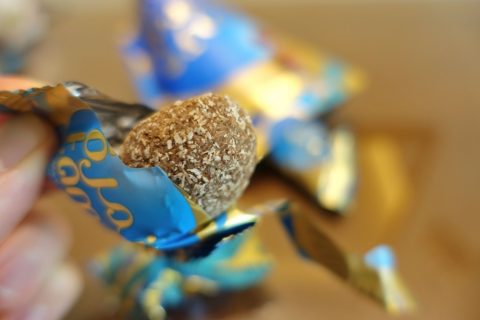 However, this also has no taste of dates. It has a chewy texture of dates, but the taste is completely unremarkable "just".
The purpose of eating dates is achieved, but it is not a very delicious chocolate, so it might be better to eat Glico's almond chocolate …
Bateel's date is safe.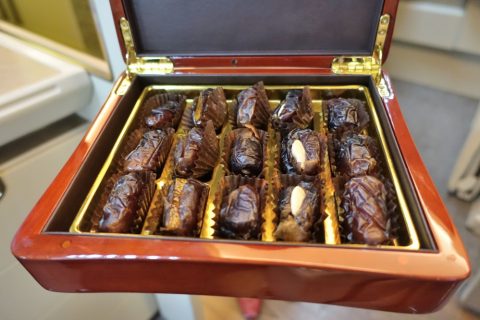 I tried a few more, but in the end, Bateel's dates were the safest. This is not especially delicious, but the fruit of Bateel is soft and easy to eat, and I realized that this area is also called a high-class date!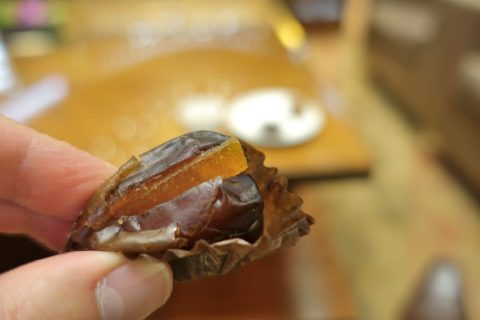 For better or worse, it's just dried fruit. Don't expect anything like the chocolate you'll eat in Paris … Check out more about dates that can be bought in Dubai → Dates are cheap in stores "Choc & Nuts" What's the difference between them and upscale dates? UAE Dubai
♪Click here for a List of articles on "Dubai"