The report from Emirates Airline's first class lounge at Dubai International Airport! Following the concourse B I told you about last time, I came to the lounge of concourse A this time!
A's first class lounge is larger than B. There is also a duty-free shop in the lounge, and the experience … seems to overturn the previous concept, but on the contrary, it is a lounge where you can't relax very much.
※This article was written before the virus scandal. This will be updated.
The golden entrance is amazing!
Here we go, Emirates Airlines First Class Lounge! Concourse A at Dubai International Airport Terminal 3 is located one floor above the concourse with departure gates by escalator or elevator.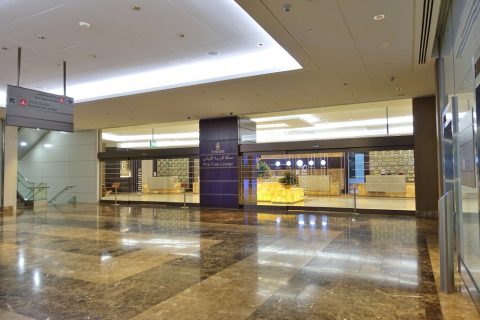 What a stately entrance! The marble in the reception hall is shining in gold! There were about 5 desks at the reception desk, and the receptionist's service was not so good even at … that I couldn't decide where to show my ticket. …
When I left the reception, there was a right and left fork. There is only a simple seat here, and there is nothing like a lounge.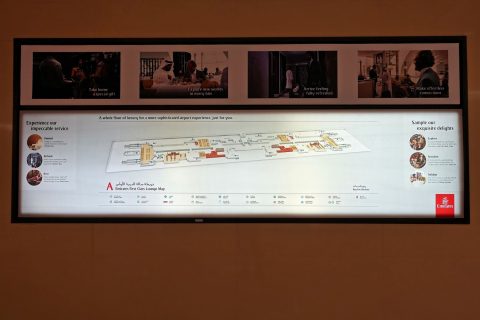 Regarding the first lounge of concourse A, when I looked at MAP, the lounge area is divided to the left and right in line symmetry around the reception. Although there are minor differences, the facilities are basically the same, so this time I will focus on the left side of MAP.
There is a duty-free shop in the lounge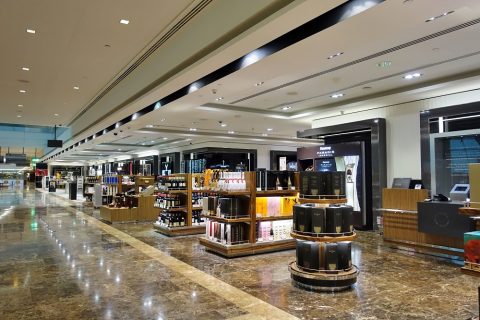 After the reception, the first thing you'll find is a duty-free shop. Champagne, whisky, jewels, watches, and other fine (look like) items line the streets. There is a duty-free shop in this place. I should have gone through the reception. Is this really in the lounge? I doubt it.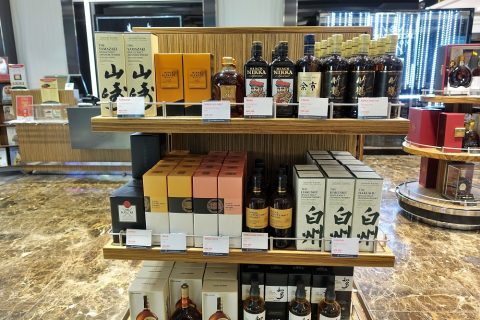 I checked the price of the whisky and found that the NA of Yamazaki is 750 dh which is 5 times the market price! Even NA in Yoichi is 499 dh. No matter how bourgeois the space is, who would buy it in such a serious way …?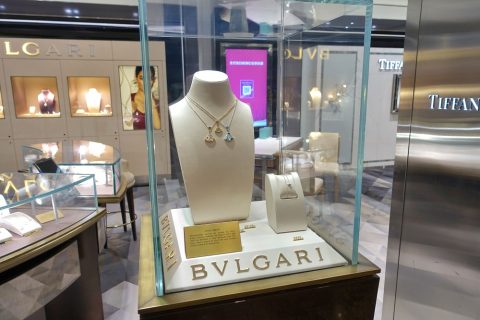 There are also various types of jewelry such as Tiffany and Bulgari, and this Bulgari necklace is 28,100 dh. Do celebrities buy gifts for their daughters?
First class boarding gate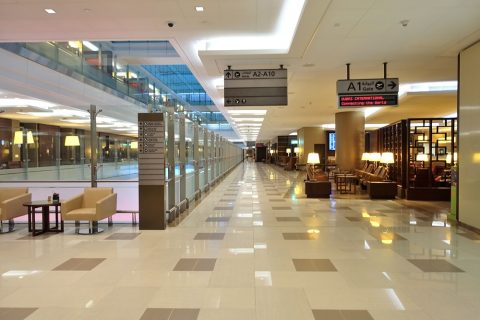 If you go further from the duty-free shop, you will enter the lounge area. Similar to the lounge of concourse B, there is an atrium corridor where you can see the concourse on the departure floor below your eyes, and there are various lounge areas around it.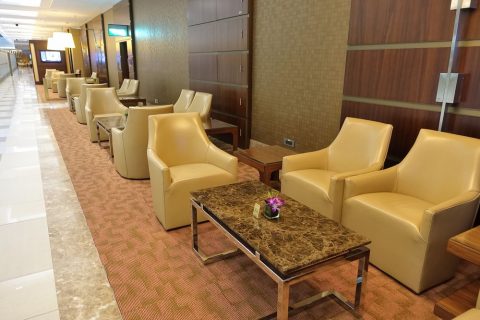 Sofa seats and tables are arranged in a part of the corridor. But this is the place where you can hear the hustle and bustle of the concourse, so if you want a quiet place, it is better to go to the back of the lounge!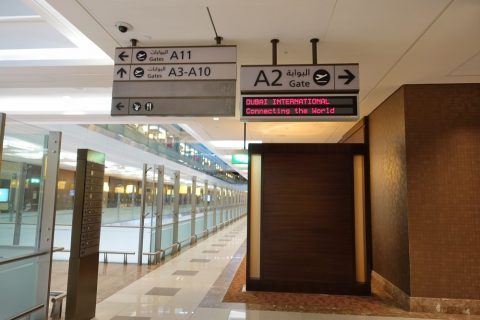 Also, there are entrances to the boarding gate here and there, so you can go directly to the plane when you leave. Being able to board smartly without being seen by other class passengers is also a privilege of the first class.
Check various facilities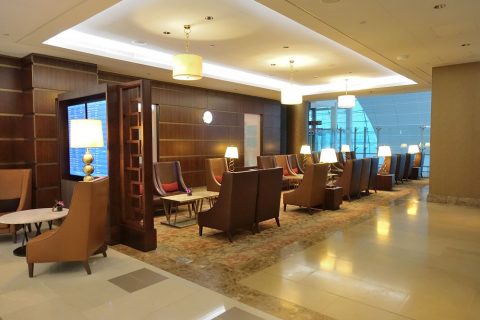 If you turn sideways from the corridor, there are various types of lounge areas. All of them are big sofas like a throne, but it is undeniable that there are only 4 seats facing each other.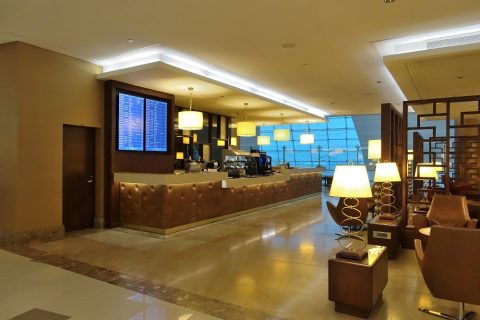 There is also an area with a bar counter. However, in this evening, there are many counters without a person in charge probably because there are not many customers.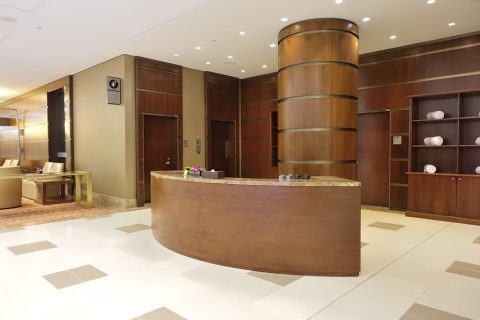 This is the reception for the shower room. The way to put the towel on the back is really luxurious!
They have a smoking room with nice stained glass and a smartphone charging station.
There are also coffee machines in the business area with separate desks.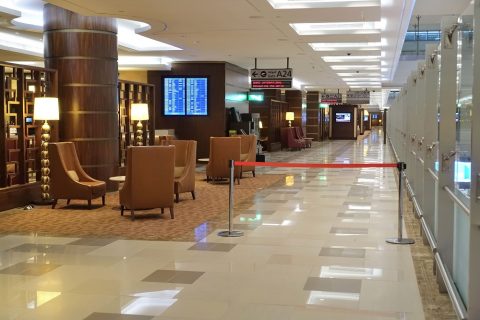 Later, when I went to the opposite side (Right side of the MAP) from the reception, there was a partition and I couldn't go any further. I guess it depends on the number of people who use it at this time of the day, but it's true that there are so many people that it's uncanny that I can't relax. …
A stylish lounge space at the very back
When I went to the very back of the lounge, there was a large area that I had never seen before. This is near the 8 boarding gates from A3 to 10.
The area features dining-like table seating, an egg-shaped space surrounded by pillars in the middle, and a bar counter in one corner of the dining area.
It is an elegant space with a carpet with an expensive design all over.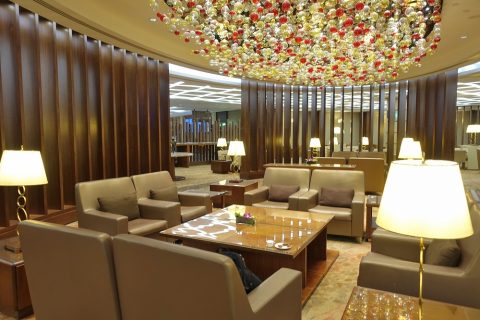 The inside of the egg-shaped pillars is even more gorgeous, and it is a special room with a ceiling decorated with innovative designs sprinkled with glass balls. There was no one there, so for a while I was the only one standing back!
With Arabic Coffee and Dates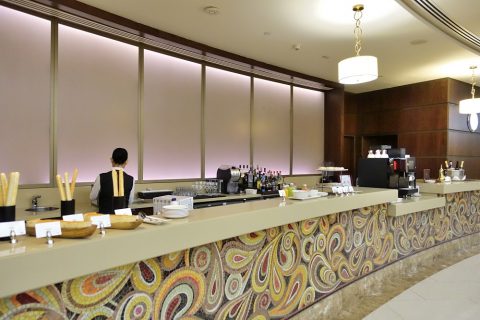 There is an attendant (uncommonly) at the counter, and it seems that you can mainly order drinks here. There are also bite-sized snacks such as pinchos.
There is Arabic coffee in the gold pot and the famous Bateel date next to it.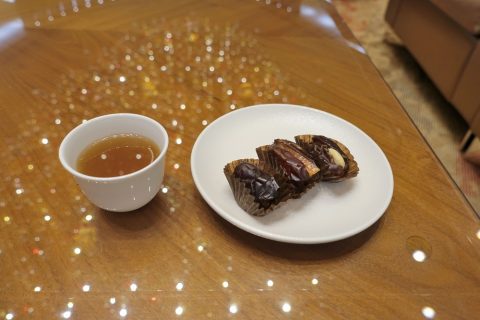 I had a little of it, but the taste of Arabic coffee is completely like tea rather than coffee. It tastes like jasmine tea tightened, and it has a bitter taste, but it has a refreshing taste that doesn't last.
Dates are also available in Narita lounges and in-flight services, so try Emirates Airline's favorite Bateel, again.
I tried shoe polishing!
Finally, when I was wandering around in the lounge, I was approached by an artisan wearing an apron.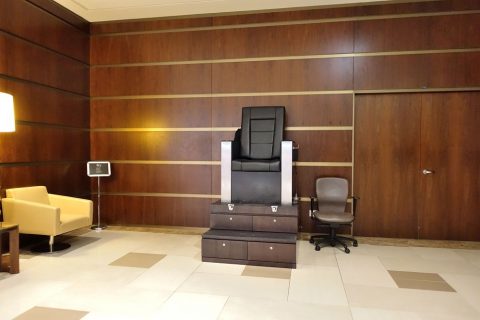 You shoes are nice, so I'll polish them for you! I was taken to a seat that looked like an electric execution chair. When I sat down here, a stand to put my feet on came out and shoeshine work was done on it.
Shoe polishing tools are in the table under the chair.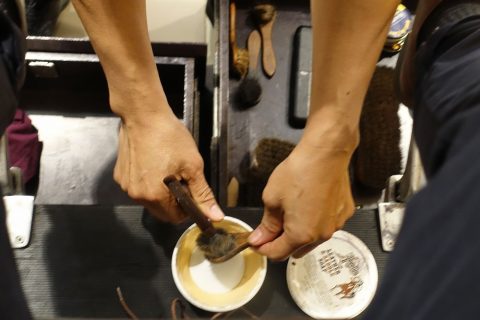 I thought it was just a shoeshine, but this is very authentic! After you untie your shoelaces, you wash them, brush them, apply cream, and finally polish them with several towels.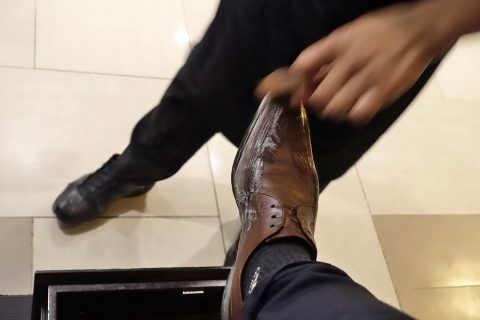 It takes 7 to 8 minutes for both feet, and the shoes I have hardly washed since I bought them are shiny like new ones!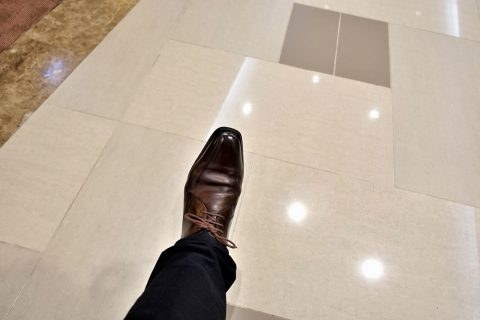 I thanked the craftsman and left, but in this case, maybe I should have tipped him …? The service inside the lounge is completely free, so there's no problem, but it's something that Japanese people aren't used to.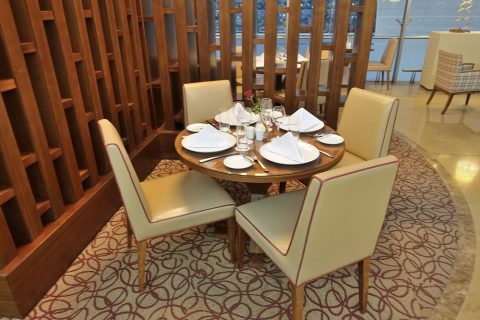 That's why it's been a long time, so next time! Report a full-course dinner at the restaurant in the lounge! Dubai Airport First Class Lounge/Report the menu and taste of the restaurant!
♪I also recommend this link→Collection of AIRPORT LOUNGE Reviews Worldwide! Wine, buffet, Shower, etc.