After arriving at Dubai International Airport by Emirates Airlines, first I exchange money to get UAE currency "Dirham". I didn't exchange money at the airport in Japan where the exchange rate was bad, so I headed to Dubai without any local currency, but I was saved by the baggage claim at the airport in Dubai and many ATMs and money changers in the arrival lobby.
This time, I would like to focus on how to use cash advance services at ATMs at Dubai Airport and their fees.
Baggage claim and ATM beyond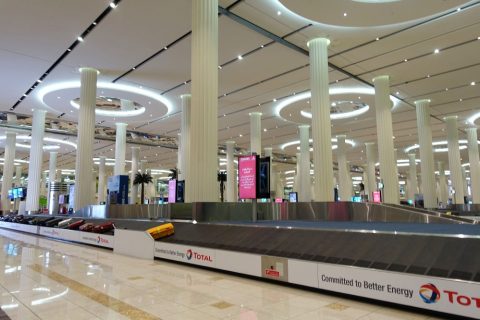 After arriving at Dubai International Airport, follow the Arrivals signs and pass through immigration and baggage checks before you reach your baggage claim (baggage claim).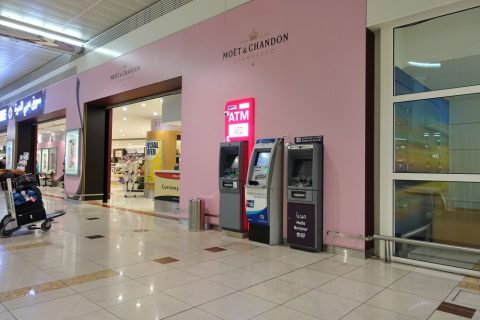 In addition to the duty-free shops, there are also some ATMs where you can withdraw cash, so it's convenient! However, I didn't see anyone using this ATM, maybe because the rate was not so good.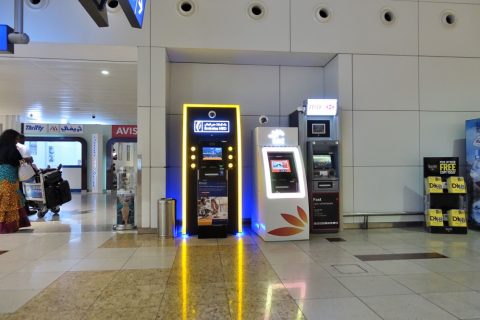 After that, there is also an ATM outside the baggage claim area. The one on the far left is an ATM of a major UAE bank called NBD (Emirates NBD). Perhaps this is the most famous one, but this ATM was always used by people, so I decided to use this one.
It's easy to use! ATM on NBD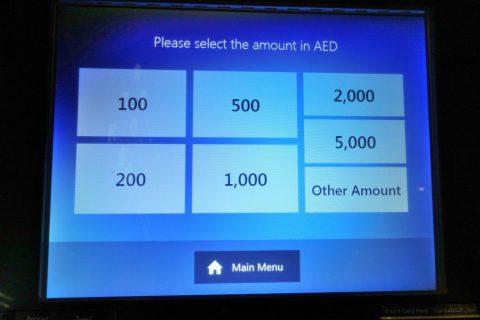 It's easy to use this NBD ATM cashing service! After inserting a credit card, first select switching to English, enter PIN code (PIN number), and then press "Credit" to display the amount selection screen.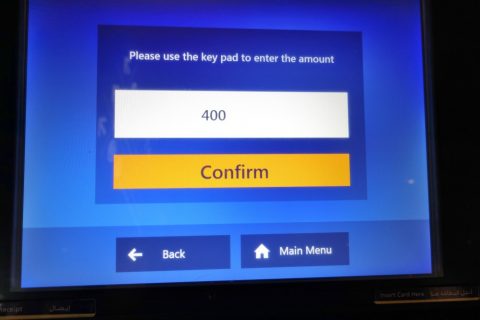 If you press "Other Amount", you can specify the amount of money as you like, but you can't press a number like 290. It seems that it can be specified only in 100 DH units.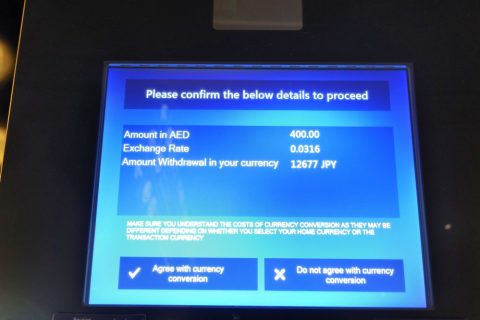 Confirm the exchange amount and rate, and if it is OK, press OK (Agree) to complete the exchange. In this case, the rate is shown as dirhams per yen.
Also, there is no ATM fee listed here, so the actual amount billed will be a little more (to be described later).
The ATM fee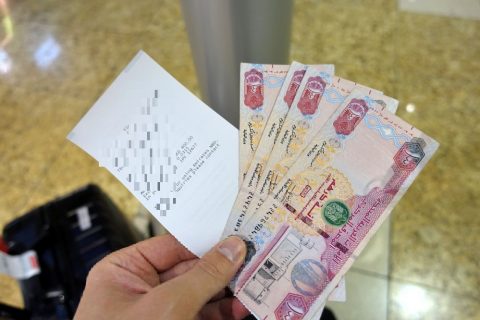 This time I withdrew 400 DH using Rakuten premium card (Master), but the details of rate and commission are as follows.
400 DH → 12,677 yen (1DH = 31.69 JP-yen)
ATM fee … 216 yen
Ribo payment fee … 206 yen
Total payment: … ¥13,099
The official exchange rate on that day was 1DH = 30.15 yen, so the exchange rate difference was about 5.1%. When ATM fees and credit card rebate fees were added, the difference between the posted rates was "8.6% increase".
If I pay by credit card, it's only 1.63% (VISA), so it's rather expensive, isn't it? …。 It's better than the currency exchange at Japanese airports, but I'd rather not use it.
Affordable rate ATM in Abu Dhabi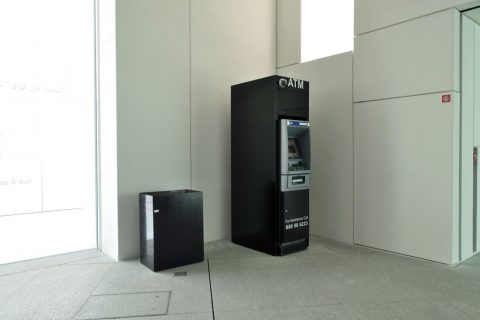 Also, when I visited the Louvre Museum in Abu Dhabi later, I used the ATM installed in the museum, and I was surprised that it was a very reasonable rate!
300 DH → 9,058 yen (1DH = 30.19 yen)
ATM fee … 108 yen
Ribo payment fee … 138 yen
Total payment: … JPY 9,304 JPY
The ATM I used at that time was at a bank called FAB (First Abu Dhabi Bank). In addition to the handling fee of only 108 yen, the rate was extremely reasonable! The posted exchange rate on this day was 1DH = 30.12 yen, so there is almost no exchange rate premium.
Including ATM fees, the difference from the posted rate was 3.0%. It's a world away from ATMs at airports. After all, you should keep the exchange at Dubai airport to a minimum.
How much cash do you need?
By the way, how much cash do you need to use Dubai or Abu Dhabi? It is said that credit cards are widely used in UAE, but there are many cases that need cash, so I used up most of the 700 DH I bought this time.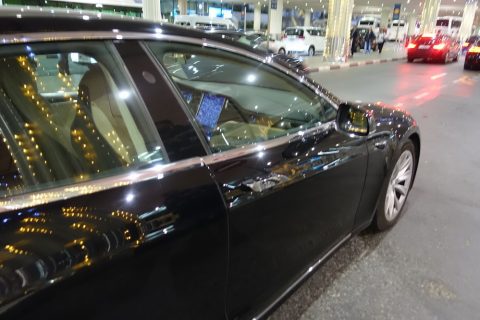 Taxi is a typical example. Dubai taxis take very few credit cards, so you have to have at least enough cash to get to a hotel in the city (100 DH to 150 DH).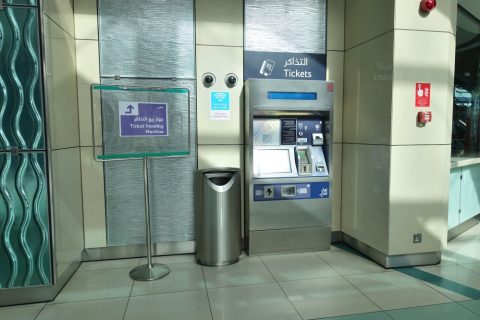 Another problem was the Dubai Metro ticket vending machine. Even though it accepts credit cards, my credit card doesn't accept VISA or Master at all and I have to pay in cash.
You can use it without any problem at the counter, but most stations only have one counter, so you have to wait in line, so it's hard to use it at present …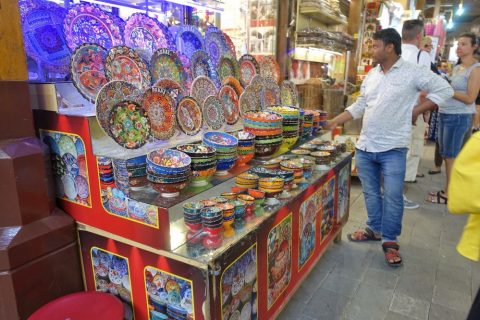 Other than that, shopping at souk (Market), eating at local shops, and the UAE has a habit of tipping unexpectedly, so small change is essential for hotel porter and pillow money.
From the above, it is safer and more convenient to have at least 100 DH to 150 DH (3,000 yen to 4,500 yen) in cash per day.
It's better than changing in Japan, but use it as little as possible!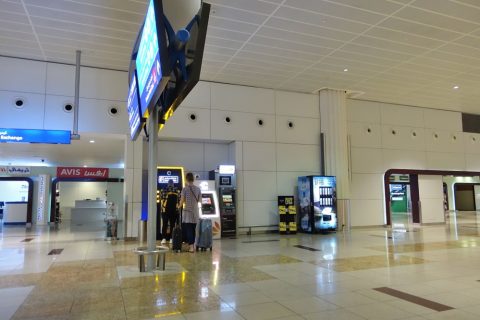 For that reason, I tried to use the cash advance service at the NBD ATM at Dubai International Airport, but I cannot recommend it because the rate is not good.
However, it is very convenient because it is on the arrival line at the airport, and I think it is much more economical than at least forcing a change at Narita or Haneda airport by saying "Just in case."
♪Click here for a List of articles on "Dubai"